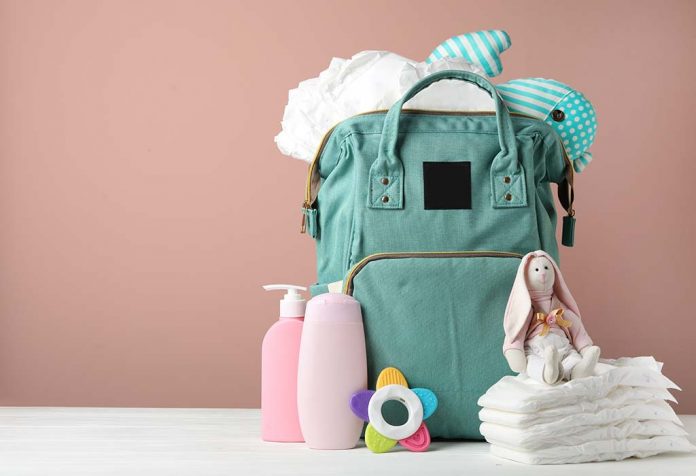 Last Updated on
So if you are a first-time parent or have been an aunt and wondering what a diaper bag is – here is all you need to know about the diaper bag and its dos and don'ts!
What's Inside a Diaper Bag
The diaper bag is nothing but a mini home to your little one which includes obviously diapers and other essentials. Generally, when you are headed out with your little one, you need certain essentials like
Diapers (the count depends on how long you will be out)

Wipes (keep a mini version of the big pack you generally use)

Changing mats (preferably disposable ones)

Garbage bags/disposable bags

Diaper rash cream

Feeding bottles

Formula/regular milk

Water bottles/sippers

1 set of change of clothes (burps and vomits are real and you don't want to travel with that one for sure!)

Sanitisers and masks (an additional mandatory requirement since 2020)

Blanket

Snacks, bowl, spoon, etc.

If there is room, keep your essentials like a wallet, an extra top at least and a water bottle instead of carrying a handbag and a diaper bag! I know you would want to carry your handbag but since you have to manage your baby as well as manage the diaper bag- here one is better than two! Trust me it's much convenient and easier to have one bag.
Do I Need to Buy a 'Diaper Bag'?
The diaper bags available offer neatly organised pockets for keeping the various items making them handy when required. There are also unique features like changing 'section' as an extension but this can be used for not more than 3-4 months as they grow up so fast and won't fit into it!
You can alternatively also use a traditional handbag like Tote or backpack and use a bag organiser to replicate the compartments which a diaper bag offers, this gives you freedom and variety to choose. Since a diaper bag is required to be used for at least 2-3 years when you travel with your little ones, the investment is purely your choice.
How Many Diaper Bags Should Be There?
Here you can use different variations depending on the time you will be out with your little one. Let's see how you can do it.
1. Diaper bag for one hour or less errand.
If you are certain that your errand to the market or bank will be done in an hour or less then you can carry a pre-made formula/milk bottle, water bottle of your baby and a small pack of wipes inside your regular sling bag. Make sure you change the diaper right before you leave & have well-fed the baby, so you have a worry-free hour.
2. Diaper Bag for 1-4 Hours Trip
Here you can use a bag organiser inside a tote. If you have to go to a mall, movie or someone's house, I would strongly recommend having one bag for yourself and the baby together as it's easier to carry and manage. Stack 3-4 diapers, a small pack of wipes, disposable changing mats, garbage bag (for discarding the soiled diaper), pre-filled formula bottles, water bottle for making the formula milk, baby's water bottle, sanitiser, at least one change of cloth of the baby and an extra top for self (you never know!). Baby food along with spoons or bowl can also be added if required.
3. Diaper Bag for Long Trips of More Than Four Hours of Travel Time
So for a long road trip/ air travel or long-distance train travel, use a large backpack with a bag organiser or a diaper bag for keeping the milk bottles. If you use formula milk, then pre-fill the formula in the sterilised milk bottles as per the requirement and carry a water bottle to fill it when required. And if you use regular milk, try using 200 ml tetra packs & open when the requirement arrives. Having a couple of pre-filled ready-made milk bottles will help you keep it handy when the need comes.
Also make 5-6 "diaper kits" with each kit being a transparent zip pouch containing a diaper, disposable changing mat, old page of a newspaper (it eases disposing of the soiled diaper), garbage bag. So it's easy to grab the kit along and two separate zip pouches each containing small wipes and a change of clothes for the baby. Also, some food, bowl, spoons, toys of the little one are part of the bag.
For toddlers you can keep the foldable toilet seats, their favourite snacks, colours/toys for activities, etc. that is mobile to carry and will keep the little ones occupied!
Lastly when you reach the place of the destination – no need for carrying the bulky diaper bag which you had on for hours during the travel. While going sightseeing and you know it won't take longer than 4-5 hours or less then you can carry a sack pack and use your organiser to keep the diaper bag essentials.
You are the mother and it's your diaper bag. Don't keep anything that will make it bulky and won't be required at all. Make sure you carry your essentials as well- you are a mother now which should not mean you should stop being you!
Disclaimer: The views, opinions and positions (including content in any form) expressed within this post are those of the author alone. The accuracy, completeness and validity of any statements made within this article are not guaranteed. We accept no liability for any errors, omissions or representations. The responsibility for intellectual property rights of this content rests with the author and any liability with regards to infringement of intellectual property rights remains with him/her.