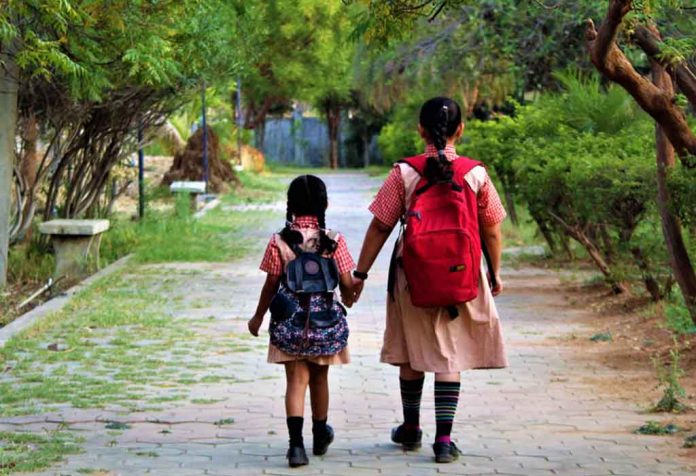 Last Updated on
It was a bright, beautiful sunny day. The sun shone straight on the silvery leaves of her garden; peeking in through the edge of the curled curtains. Is she checking on me? My dreamy, drowsy, half shuttered eyes, quickly followed the ray as the sparkling streak pierced through infinity.
It was Jasmine's first day of school, after a long, long lockdown.
Her mind instantly slipped to the day the reopening date was announced. "Breaking News;" and its thundering music rhymed with her delight. Exhilarated, Jasmine jumped in excitement, clapped crazily and laughed merrily that her heart almost pounded out in ecstasy. Her legs swung here and there, and she didn't know what to do or what she was doing. She immediately picked the phone to call her friends to share the exciting news. Reshmi first, they both laughed crazily as they chatted about going to school. Then Isha. Isha screamed in elation at the thought. And, many more calls followed. She even dreamt of school, her loving teachers, the shiny desks, scribbled boards, lush green lawns. She saw herself running merrily, chatting cheerfully, greeting happily, sensing the warmth of her desk, the feel of her classroom. She cannot contain her happiness, having been in the containment zone off and on for all these days.
But today, as the day of much anticipation arrived, she was not sure whether she should be happy or sad. All her joy escaped in thin air. Her heart was still beating hard, but this time it was different. It was heavy. She tossed around so that she could feel better. But that made no difference.
At last, reality dawned. From today, she has to get up early. She has to hurry and rush to school every day. A whole day of work is awaiting, and she silently prayed for the lockdown to continue. She hopelessly hoped for some announcements declaring holidays. Unwilling to get up, she stretched her time in bed. Only after her mom's third shout out to her, "Jas, get up, you are getting late," that she knew she can't stay in bed any longer. She jerked up, rolled off the bed and got up hurriedly, running to brush rattling a few chairs on her way. It was just like another Monday morning, but the pang of the pain of going to school was manifold.
The school bus arrived. Honking, and screeching to a halt. The children screamed in excitement, calling out her name, "Jas, Hi Jas." And Jasmine's face instantly lit up, caught on the spirit, as she ran towards her friends and on to the bus, with her bags – one in hand and one tucked on both her shoulders, crying "Hi" beginning her animated conversation with Hina, Sara, and Lisa. Her mind remembered the fight that they had on the last day of school. But she brushed it aside. It doesn't matter now. Lisa too seemed to have forgotten, and she shared a big smile with Lisa. She, definitely, showed no signs of her morning blues. The otherwise irritated and rude driver, seemed to be in an unusually good mood, as he enjoyed the chaos in the bus. He too may have longed for this moment to come alive, as he whistled to his favourite number, curving into a lane.
As they neared, the bus fell silent, absolutely silent. The children stared out of the windshield. The driver took a calculative risk and turned back to see if something was wrong. But found nothing. All eyes on school building as the blurred image became clearer, standing tall right in front of them. They felt nostalgic, lips tight, eyes wet, tears dripping. Oh, how much have they missed school? It was part of their lives and then suddenly life was grabbed away by the deadly virus.
The bus swirled to a stop and the children rushed with their bags towards the entrance and jumped down with tears of joy.
And there, laid the big surprise, the icing on the cake, their favourite teachers welcomed them with flowers and candies. Their smile and even their presence made them happier than the candies. They hugged, cuddled, embraced and kissed them.
It was a perfect reunion and a lovely moment to capture for the future….
And the bell rang…
Jasmine jerked, opened her eyes to the darkroom. Only her alarm reverberating the space. And she remembered her assignment that should be submitted in a few hours at the online session…
Disclaimer: The views, opinions and positions (including content in any form) expressed within this post are those of the author alone. The accuracy, completeness and validity of any statements made within this article are not guaranteed. We accept no liability for any errors, omissions or representations. The responsibility for intellectual property rights of this content rests with the author and any liability with regards to infringement of intellectual property rights remains with him/her.