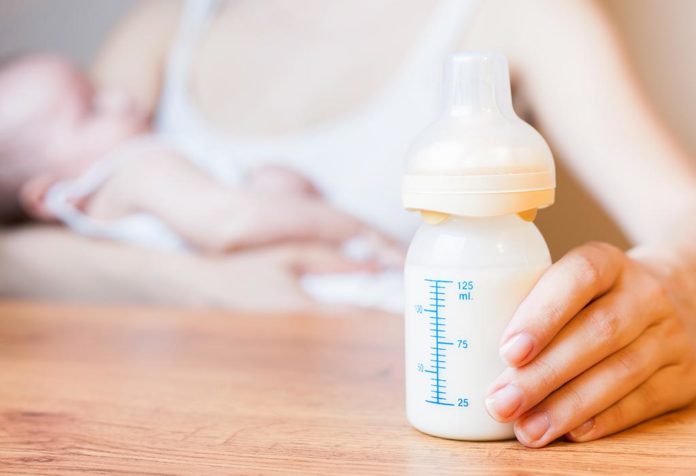 Last Updated on
If you have stepped into the shoes of motherhood recently, you must have come across: "Mother's milk is the best for the baby." This sentence may have been repeated multiple times by your in-laws or the women in your family. There is no denying that mother's milk is the best as it contains many nutrients, Colostrum, anti-bodies, and enzymes for good digestion. Breastmilk has countless benefits, but what if the mother cannot produce enough milk for the baby? Does that mean one fails as a good mother or that her baby will not have a strong bond with her? Sometimes a mother may not produce enough breastmilk to feed the newborn baby due to various reasons. But then the question arises, "Can I give formula milk to my baby? Is it safe for the newborn? Does it have any side effects?"
What Is Formula Milk?
What is formula milk? Formula milk is milk powder for babies that contains all types of nutrients that a newborn needs. Although there is no comparison between breastmilk and formula milk, it is safe to say that it is the best alternative for breast milk for newborn babies. It should also be noted that only breastfeeding doesn't define motherhood. A Baby is connected to the mother from the very first day through the umbilical cord. Skin-to-skin contact strengthens your bond with your baby, so besides breastfeeding, a mother can have skin-to-skin contact with her baby through cuddling, hugging, kissing, etc.
Why Is Formula Milk Better Than Cow or Buffalo Milk?
Formula milk is good, but why not feed your child with cow or buffalo milk. Cow milk contains high proteins and minerals, which is not good for a baby's immature kidneys. It also contains a high concentration of sodium which is sometimes toxic for babies. Formula milk is made up of processed skimmed cow milk with added emulsifiers and stabilizers. It also contains plant-based oils, such as rapeseed oil, palm oil, amino acids, enzymes, and lactose. Some formula milk powder also contains probiotics.
Pros of Formula Milk
Babies born with less weight are sometimes fed formula milk along with breastmilk to increase their weight. On certain occasions, if breastfeeding is not possible, the infant formula milk powder is the best option. Another positive side of formula milk is that anyone can feed the baby. The father can feed the baby at night, and mothers can catch up with some much-needed sleep. Also, mothers don't have to worry about their eating habits compared to breastfeeding mothers who must avoid some foods. Formula milk is also good for lactose intolerant babies as lactose-free milk powder is also available in the market.
Cons of Formula Milk
Besides several pros of formula milk, it has a few cons that need to be kept in mind while feeding newborns with the milk. Sometimes, it causes digestion issues in children, developing gas in their stomach. One should be extra careful about the milk temperature; also, extra care is needed regarding hygiene – sterilized bottles and nipples and boiled water. While expenses for milk powder, bottles, and sterilizers may increase, the advantages of using formula milk cannot be ignored.
To conclude, formula milk is good. It can not substitute breastmilk, but it is in no way inferior to a mother's breastmilk. So, don't let anyone tell you otherwise! In the end, it's all about enjoying motherhood. Enjoy the sleepless nights, the stinky diapers, and the smiles of your newborn when they look at you. You are doing a great job, Mommy!
Disclaimer: The views, opinions and positions (including content in any form) expressed within this post are those of the author alone. The accuracy, completeness and validity of any statements made within this article are not guaranteed. We accept no liability for any errors, omissions or representations. The responsibility for intellectual property rights of this content rests with the author and any liability with regards to infringement of intellectual property rights remains with him/her.