Baby Food and Nutrition Required for First One Year (0-12 Months)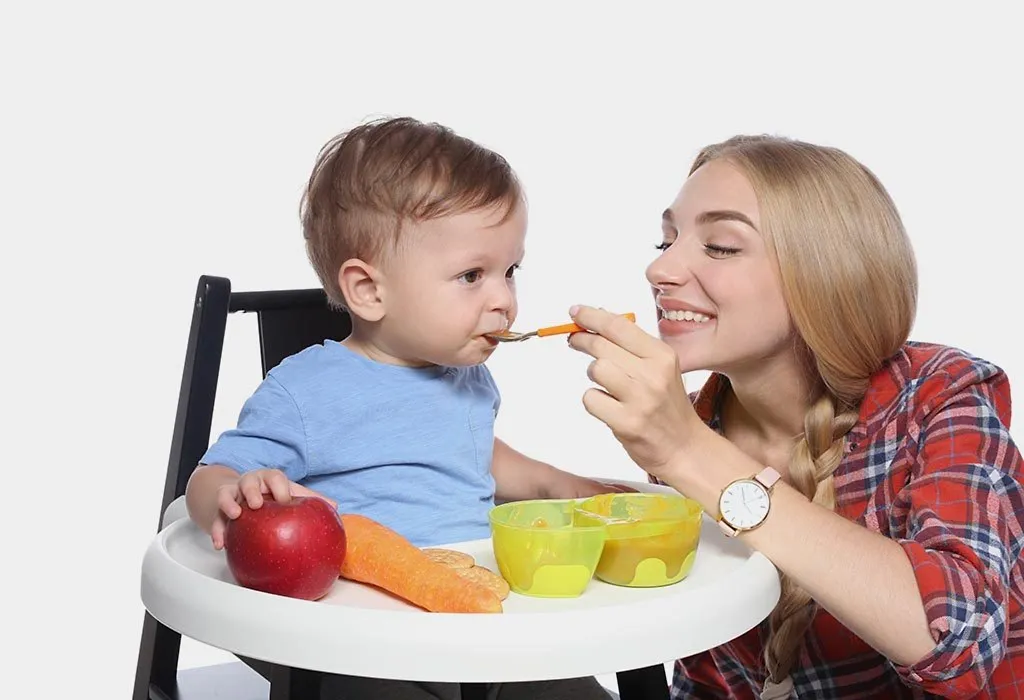 First 12 months of your baby's life is very important where it should be full of nutrition for babies development.
Remember that exclusively breastfeeding for around first 6 months of your baby's life and then continuing after starting solids until 12months and beyond gives your baby the best start in life.
Breastfeeding
Breast milk is fresh and it is easily digestible for babies and it also contains nutrients that baby needs.
Breastmilk helps baby for healthy weight gain and it reduces the breast cancers.
Breastfeeding keeps your baby close to you and helps your baby feel safe and loved, Feeding whenever your baby wants will help you maintain the supply of milk. If not enough milk then breastmilk can be replaced with formula, consult your paediatrician for best formula as paediatrician may suggest suitable formula for your baby.
Starting Solids
Eating solids take practice. Around 6months baby starts to solids. Breastmilk or formula is still very important for your baby.
Start with purées like apple, pear, carrot later move on to mashed fruits like papaya, sapota, banana. No salt, sugar and honey for one year of age. Avoid fortified foods as it is not safe for baby.
Homemade foods are fresh and are always good for your baby. Homemade cerelac, suji kheer, eagi, dalwater can also be given. Always follow 3-DAY-WAIT-RULE so that baby can adapt to the food and you can know any allergies of food.
7-8 Months
Crawling, rolling are all ways baby might be moving around and also tried to chew.
Keep giving your baby breastmilk or formula. Introduce mashed well cooked fruits and vegetables. Can add plain yogurt.
At 7months give your baby apple, avocado, banana, pears, sapota, papaya, carrot pumpkin, sweet potatoes, beetroot, tomatoes, green beans, green peas, rice, ragi, barley, suji, oats, yellow moong dal which are all well cooked.
When your baby enters into 8 months continue with same foods and can also introduce with new foods like kiwi, apricots, figs, broccoli, zucchini and we'll boiled and mashed egg.
Offer finger foods like ripe banana, well cooked pumpkin.
9-10 Months
Around this age the baby can crawl and stand up with support by holding furniture or your hand.
Baby is probably having 3-4 meals, 1-2 snacks, and continue with breastmilk or formula.
Can be given yoghurt with fruits. Continue with foods that are given from 6-8 months and also add watermelon, urad dal, chickpeas, green gram at 9 months.
Later at 10months can add spinach, cucumber, spinach, chicken, fish.
Don't forget to give all seasonal vegetables and fruits except citrus.
11-12 Months
Breastmilk or formula is still needed. Continue with foods that are given earlier from 6-10months and introduce with citrus fruits, all seasonal fruits vegetables all pulses all dairy products except cows milk.
Egg, chicken, mutton all in minced form and well cooked.
Safety is very important when your baby is eating. Watch close with any choking problems or reaction to foods. Never leave your baby alone with food. Don't give hard foods such as whole nuts.
Eat together. Follow a regular meal and snack schedule. If they want to put their hands into food and then into their mouths let them as it is a part of the learning process.
Sometimes new foods take time, Patience works better than pressure. If baby says no to food just avoid don't force them.
Babies and children can choke on food at any age those under 5 years especially children and babies under 3 years.
Sleep when the baby sleeps.
Feed your baby all nutritious food as the best gift you can give your baby is good health.
Disclaimer: The views, opinions and positions (including content in any form) expressed within this post are those of the author alone. The accuracy, completeness and validity of any statements made within this article are not guaranteed. We accept no liability for any errors, omissions or representations. The responsibility for intellectual property rights of this content rests with the author and any liability with regards to infringement of intellectual property rights remains with him/her.