Best Soccer Movies for Kids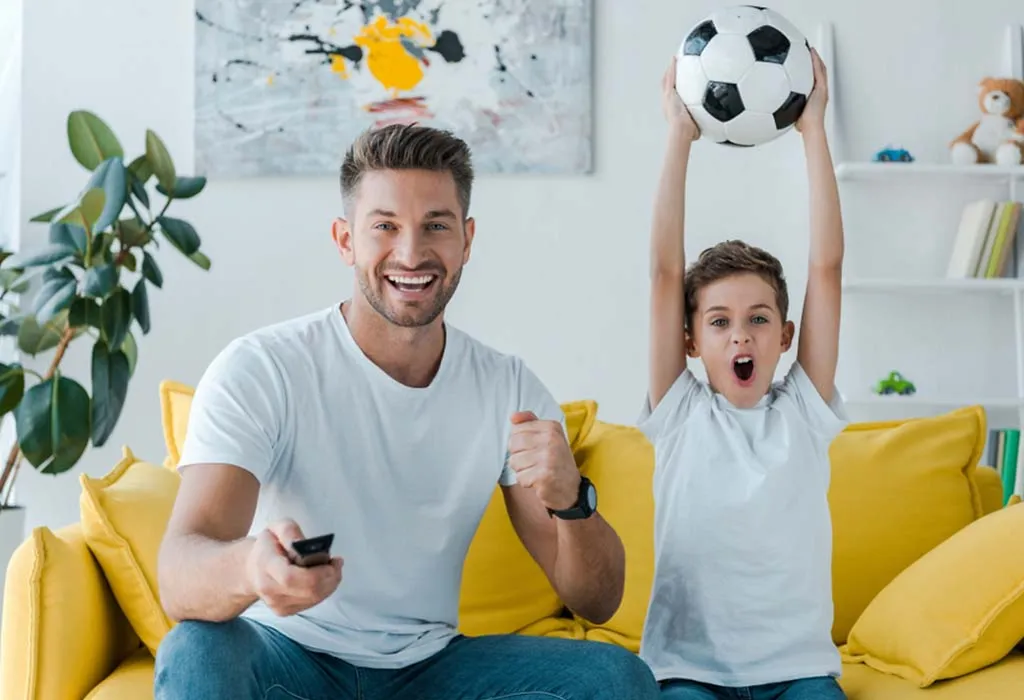 In this Article
There is something about soccer that makes it one of the most popular and loved sports. Apart from adults, kids also enjoy watching this exciting and thrilling sport. Many entertaining soccer movies bring the true spirit of this sport alive on the big screen. And if you are looking for some best soccer movie recommendations that you can enjoy with your kids, well, this post shares with you some of our top picks that are true family entertainers. Read on to know some of the best children's football movies!
Best Soccer and Football Movies for Kids
Here are some great options in football movies for kids that may appeal to young soccer fans!
1. The Big Green
The Big Green is one of the best kid-friendly football movies released in 1995 under the Walt Disney Production Banner!
About the Movie
This heartwarming movie revolves around a bunch of kids from Texas who form an absolute misfit soccer team. However, these underdogs are coached by a foreign coach, and not only do they win the game but also learn some important life lessons.
2. Little Giants
Released in the year 1994, this Warner Bros. Pictures movie is an entertaining sports comedy.
About the Movie
The movie is about a young girl who is a good soccer player, but she does not get selected for the football team because she is a girl. The girl's father then makes a team to compete against the elite football team, which is coached by his own elder brother, to teach him a lesson.
3. The Game Plan
The Game Plan is a 2007 American family comedy that stars Dwyane 'The Rock' Johnson, Madison Pettis, and Kyra Sedgwick in the lead roles.
About the Movie
The movie unfolds the story of an NFL quarterback who enjoys his days as a carefree bachelor before he finds out that he has an eight-year-old daughter. The movie progresses to show How he manages his professional athlete status and fulfills his responsibilities as a father.
4. The Longshots
This 2008 sports comedy is based on the true story of Jasmine Plummer, who was the first female to play in the Pop Warner football tournament in 2003.
About the Movie
This motion picture shares the story of Curtis Plummer, a former high school football coach, and how after being hired to coach his niece, his luck changes as his niece becomes the next star quarterback.
5. Gus
Gus is one of the most adorable soccer movies for the family. Released in 1976 by Walt Disney Productions, a football-playing mule is the movie's central character that kids find utterly adorable.
About the Movie
This humorous and funny flick is about a farm boy who loves soccer but is an absolute damp squib on the field and decides to quit playing the game. However, some strange and utterly funny turn of events gets him a place in the California football team.
6. Air Bud: World Pup
This heartwarming movie that was released in the year 2000 is an endearing and delightful watch for the grade-schoolers.
About the Movie
The story revolves around Buddy the dog and his owner Josh who become a part of the school soccer team, where both meet the love of their lives. Just when they and their team head for an important game, Buddy's puppies go missing. The story follows how the trio saves the game and the pups.
7. Back of the Net
This 2019 Australian-American film is a feel-good and wholesome story that features Sofia Wylie in the main lead.
About the Movie
The story revolves around Cory, who lands up in the prestigious soccer academy where she meets Edie, an Australian soccer champ making her life difficult. How Cory makes the situation better for herself and makes up her mind on defeating Edie is what the story is all about.
8. Strike
This hilariously funny 2018 movie will steal kids' hearts with its unmatched wit and humour.
About the Movie
Mungo Morrison is an adorable young mole who secretly wishes to be a footballer but instead works in a gold mine to honour his father's wishes. When danger starts lurking in his hometown, this little mole not only saves his hometown but also comes face to face with the evil villain and shows him who is the true winner!
9. Early Man
This movie is a charming animated historical comedy released in 2018.
About the Movie
Dug is a plucky caveman whose tribe faces a grave danger that threatens his people's land and existence. How Dug, along with his sidekick Hognob, unite their clan to take on a fight against Lord Nooth will excite the young minds.
10. Soccer Mom
This 2008 warm-hearted comedy is an adorable mom and daughter bonding movie.
About the Movie
This movie shares a hilarious story of a compulsive mother who disguises herself as an Italian soccer star. She does this to coach her daughter's soccer team but finds it challenging to keep the act intact. How her coaching helps the girls win the important football tournament and help her bond with her daughter is heartwarming.
Next time you are planning on having a cosy movie date with your kids, and you are looking for some fun soccer or football movies, do consider some of the recommendations mentioned above! So, plan a fun movie date and grab a tub of popcorn, some piping hot cups of hot chocolate, or any other beverage and enjoy these heartwarming movies with the entire family.
Also Read:
Horse Movies for Children
Robot Movies for Children
Musical Movies for Children