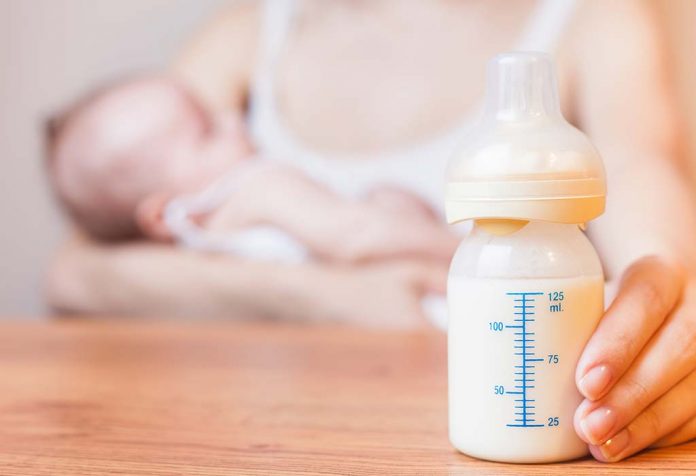 Last Updated on
In this article-
What is exclusive breastfeeding?
Is formula milk feeding good or bad?
How to manage breastfeeding and formula milk feeding simultaneously?
How much milk should a baby drink- be it breast milk or formula milk?
Bottle feeding myths debunked!
Exclusive Breastfeeding:
Breast milk is the only source of nutrition for the babies up to six months of age. I have seen many people start solids from four months of age. If you are a mother with enough milk and your baby is happily gaining weight then strictly go for exclusive breastfeeding. Because there is no other source of food which can match the breast milk during the first six months of the baby.
I also heard from a few mothers who have cut down a bit of breastfeeding because their babies are turning overweight! Seriously there is nothing like that, it's all a myth. You should always feed your baby on demand during this period. Babies themselves know how much they want and know when they are full. So breastfeed your babies stress-free.
Remember, breastfeeding helps you to lose weight too!
If your breasts are engorged and there is a block in the ducts, try manually expressing the milk or use a breast pump. This helps to clear the ducts and also helps in the milk flow functioning smoothly.
So what if there is not enough breast milk? What to do in such situations?
Formula milk feeding:
Many times there arises problems related to breast milk production. After trying various methods, still, the breast milk doesn't increase and we are left with no other way than to rely on formula milk. There are tons of formula milk available in the market. Is it good or bad?
Formula milk is not bad at all. It is a very good alternative to breast milk. They have the same formulation as breast milk. The only difference is that formula milk won't provide immunity to the baby. That's it. Other than that it's totally harmless.
Ok, now how to manage both formula milk feeding and breast milk feeding?
When the doctor prescribes formula milk, it's not that you should completely stop breastfeeding. Even with less milk, give first preference to breastfeeding itself. Express milk often which in turn increases the milk flow.
The feeding pattern:
Firstly directly breastfeed your babies. You can even feed the expressed milk in a paladai or spoon. If they are not satisfied and still hungry, provide the formula milk as much as required. It's always best to start with small doses first. Say about 30ml. As you go on, you will know how much your baby needs in a day.
Avoid solid foods up to six months at least. Some introduce it as early as four months of age. But all babies are different. Some can tolerate it and some cannot. If no other option is available and it's a must, start with thin, soft, pureed ones. There should not be any lumps and it should be smooth to swallow like milk.
Note: Strictly no cow's milk is to be given up to one year of age. Cow's milk has a different protein configuration which is not digestible by infants and invites unnecessary health issues.
Now coming to the last point, bottle feeding myths debunked.
Up to four months of age, you can feed the expressed milk or formula milk in a paladai or spoon. Until this age, the baby won't move much. As they grow and reach milestones it becomes difficult to hold them in one position and these curious tots will have so much planned that they don't like to waste time, feeding. So what can you do? Can you introduce a bottle?
The answer is yes. You can introduce bottles without worries. We hear a lot of things about bottle-feeding like it's bad for the teeth and once it's introduced it becomes a habit and will be very difficult to shift to normal ways of drinking. Frankly speaking, there is nothing like these. There are many exceptions where bottle feeding is not needed at all. But once you introduce it, babies take it happily. They like to play around with it and usually see to it that the bottle is fully emptied.
According to me what is more important, is maintaining proper hygiene while bottle feeding. Sterilize it properly before every feed.
Look for non-toxic ones. Glass or steel bottles are the best options.
Lastly, Providing our babies with proper nutrition and good health should be our utmost priority. For that, you can take up any of the safe techniques. Because a healthy child is a happy child.
Disclaimer: The views, opinions and positions (including content in any form) expressed within this post are those of the author alone. The accuracy, completeness and validity of any statements made within this article are not guaranteed. We accept no liability for any errors, omissions or representations. The responsibility for intellectual property rights of this content rests with the author and any liability with regards to infringement of intellectual property rights remains with him/her.