At What Age Can Your Child Sit in the Front Seat of the Car?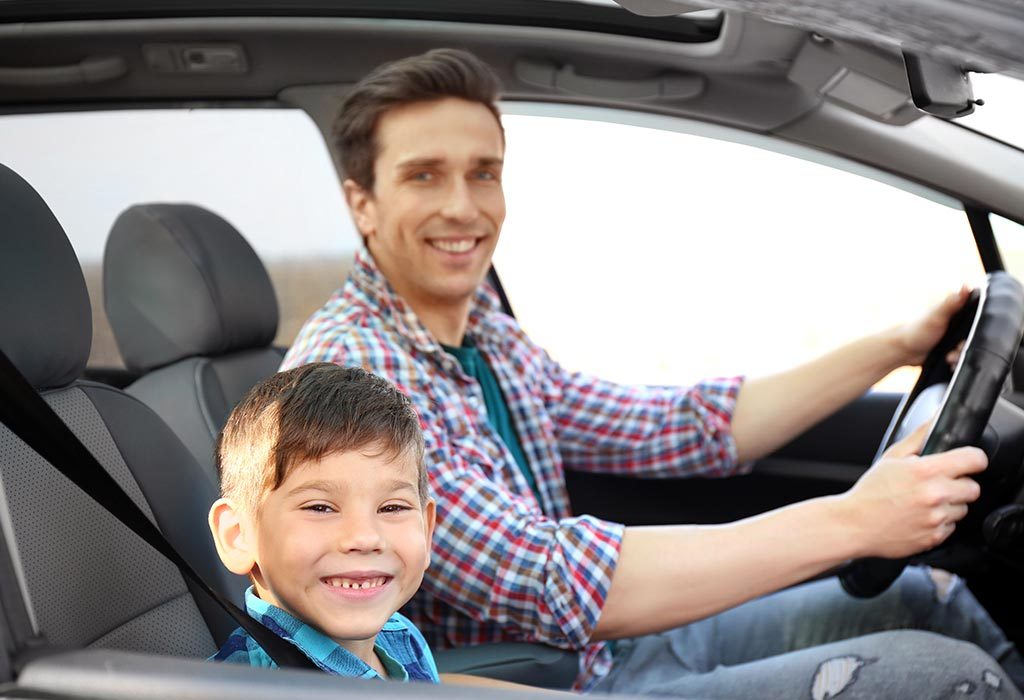 A child's safety holds prime importance for the parents. You, as parents, would do your best to safeguard or protect your kid. Day-to-day activities, such as driving with your child in a car, can raise several questions, including whether or not he can sit in the front seat. This article will put all those questions to rest. Read on to know what age is apt for your little one to sit in the front seat, and some safety rules and tips you can use to ensure he is protected.
When Can Your Child Sit in the Front Seat of a Car?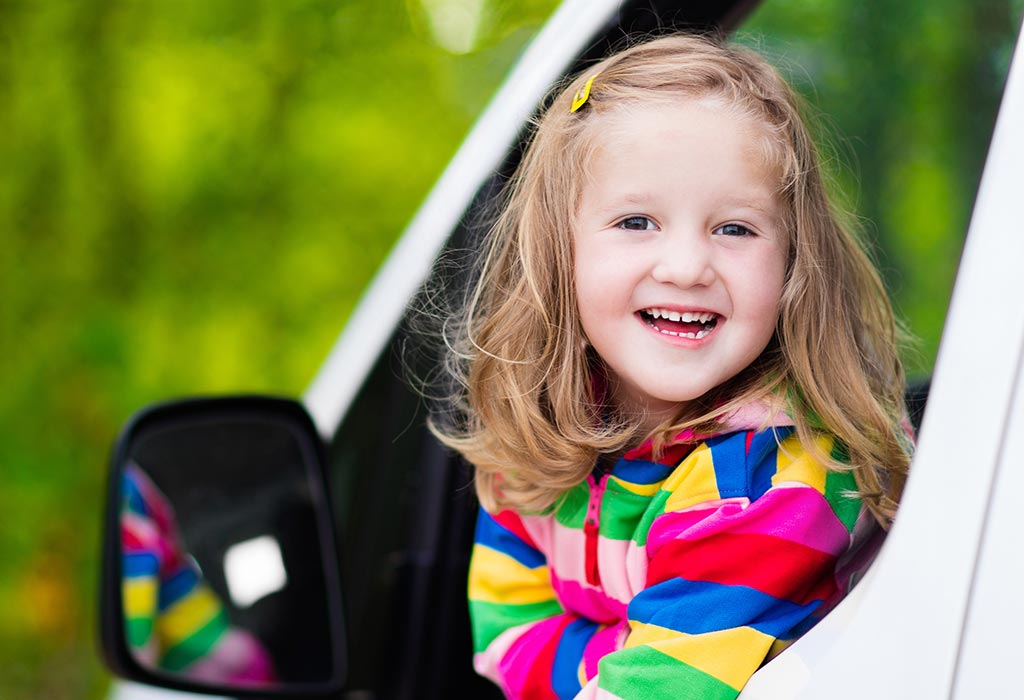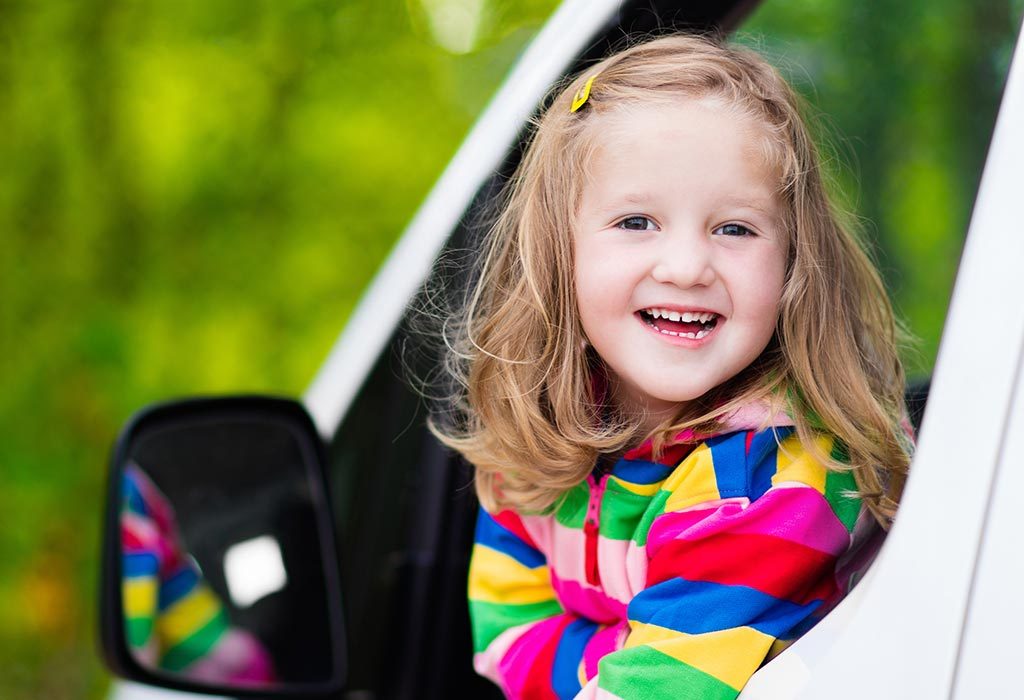 A child is able to use a seat belt, with a booster in the age group of 8-12 years. However, it's only after 13 years of age (or when he is at least 4 feet 9 inches tall) that NHTSA (USA) recommends the use of front seating in the car. Sitting in the back seat is much safer for your kid in comparison to the front seat, as it puts your kid under lesser risks in case of an accident or collision. However, if the child is a teenager, and still wishes to sit in front, a few rules should be followed for safety.
Safety Rules to Keep in Mind When a Child Is Sitting in the Front Seat
If you are planning on making your kid sit in the front seat, then it is recommended that you keep the following safety rules in mind: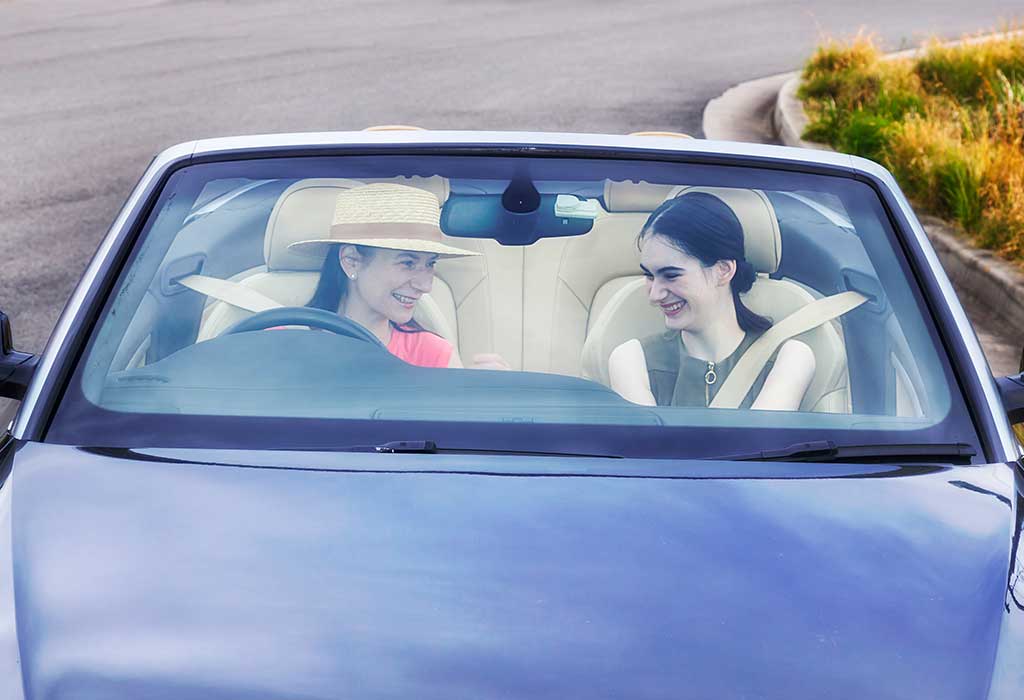 1. Disable the Airbag (for kids under 13 years of age)
It is advised to disable the airbags if your child is sitting in the front seat of the car as airbags can cause severe injuries. Side airbags also can be harmful if the kids have a tendency to lean on the doors. In case your car lacks the feature of disabling airbags, you may get it installed by your car dealer. You may need to get approval from the government before making these amends to the airbags in your car. However, installing a button and deactivating it may not rule out all the possibilities of deploying.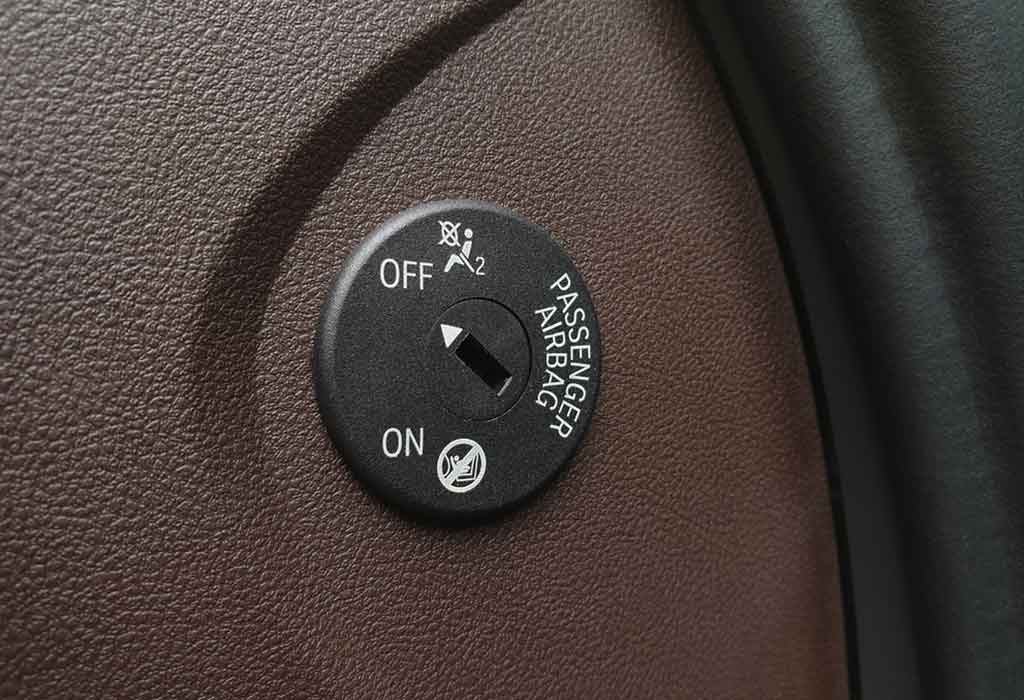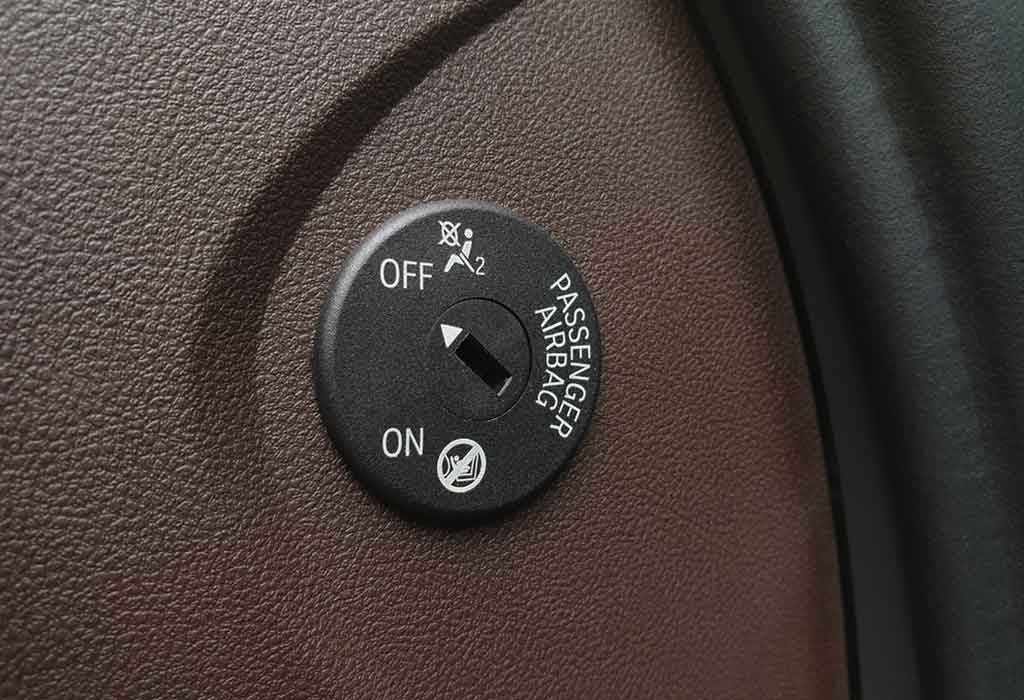 2. Make Your Kid Sit Upright
It is important that your kid sits in an upright position in the front seat. Do not let him slouch or lie down or do any sorts of other things that may hamper the hold of the seat belt or the car seat. Leaning on the door, as mentioned in the point above, can also increase the chances of injuries upon an impact. Therefore, your child must be seated upright through the commute when riding in the front seat.
3. Secure Your Child in a Safety Harness
In case you are not able to get the airbags disabled, then it is recommended not to use boosters or car seats. Try to make your child sit with the complete safety harness. If the child is above 12-13 years (or of the required height as mentioned above), ensure his seat is pulled back with his back against the seat so he is away from the dashboard and the seat belt is harnessed properly.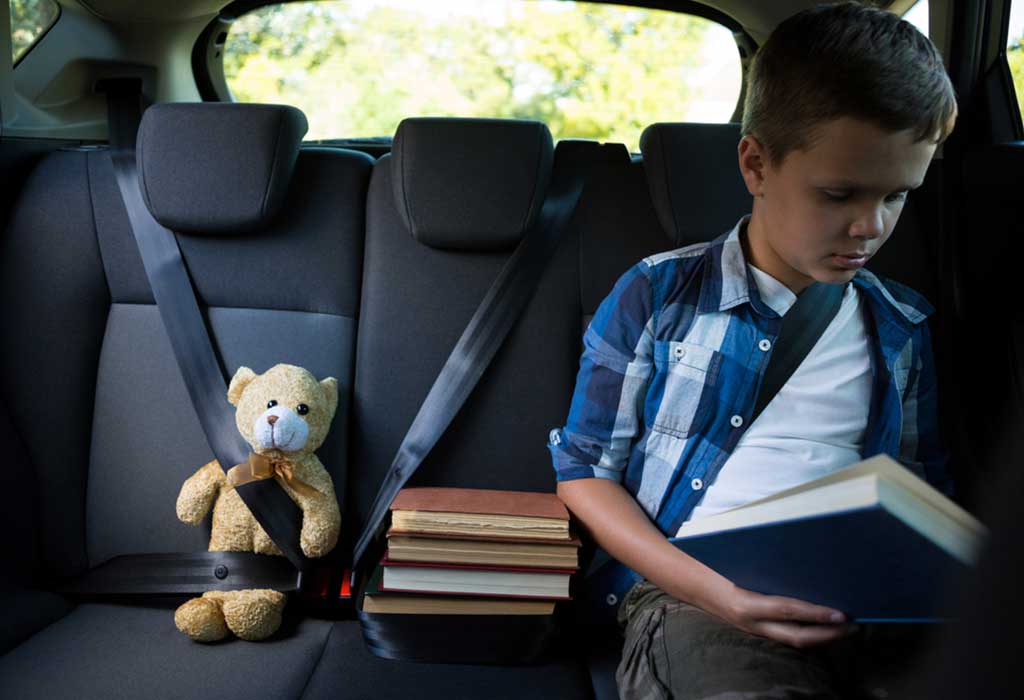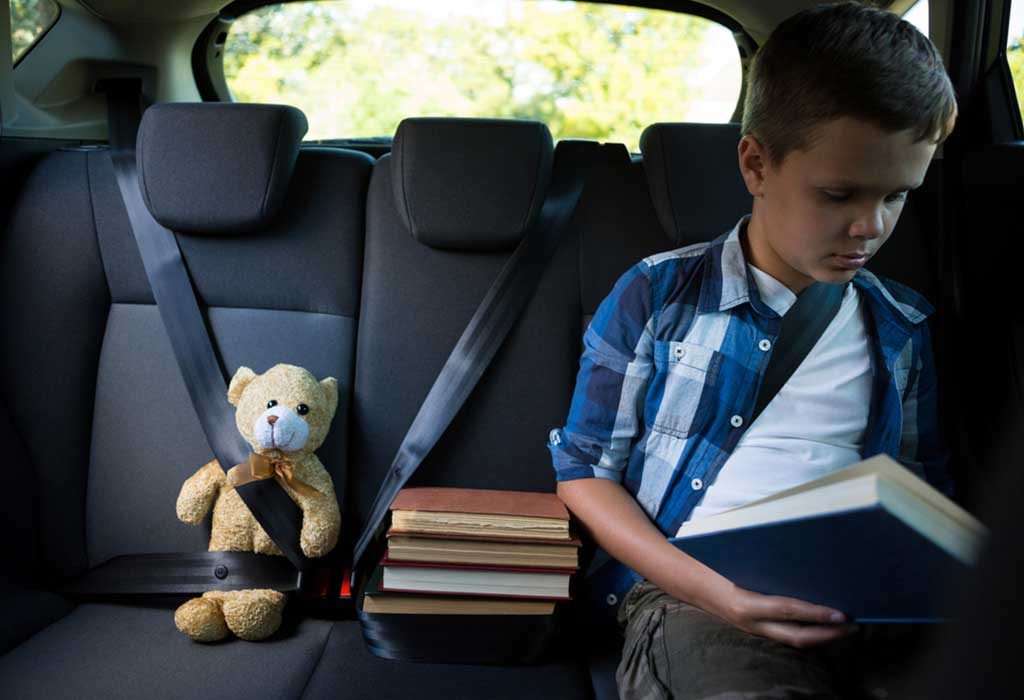 4. Buckle up Your Child
Buckle up the shoulder belt and the lap belt nicely. Do not place the shoulder belt below the shoulder or behind your child. The seat belt should go across the upper chest, not the neck. The lap belt should lay across the lap, not on the stomach.
Ensure your child does not play with the seat belt as it may get entangled if he pulls the seat belt all the way out and wraps it around himself. Most seat belts have a locking mechanism that gets activated when the belt is pulled out. There are chances of injuries if the seat belt is wrapped around his head, neck, or even his waist when he is not able to free himself.
In case your child is too small to fit into a seat belt, then it is recommended to make your kid sit in a booster seat.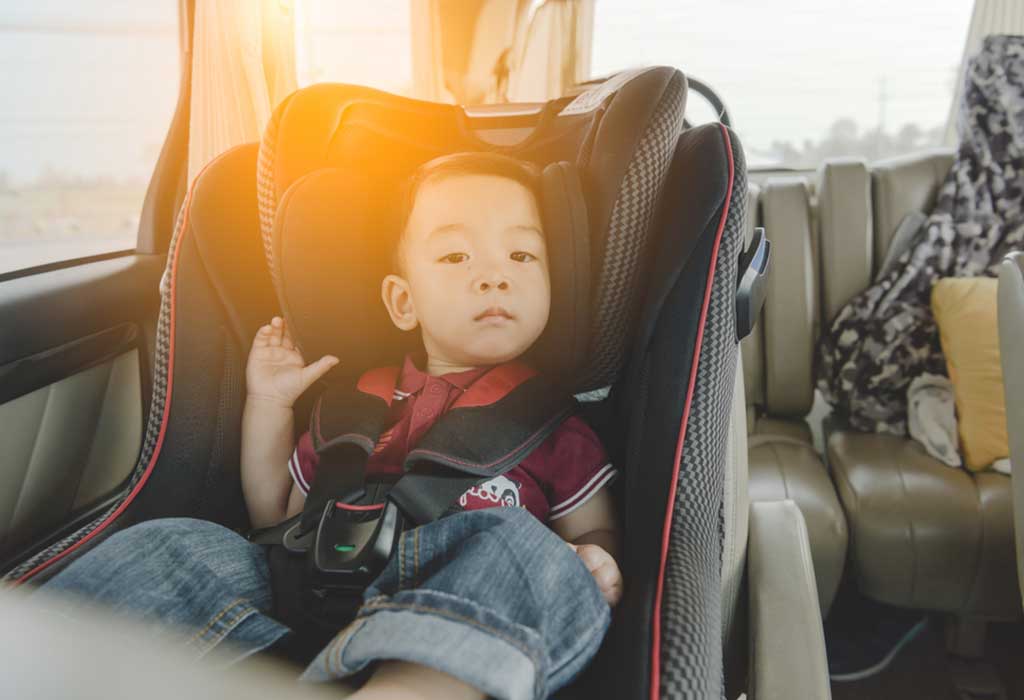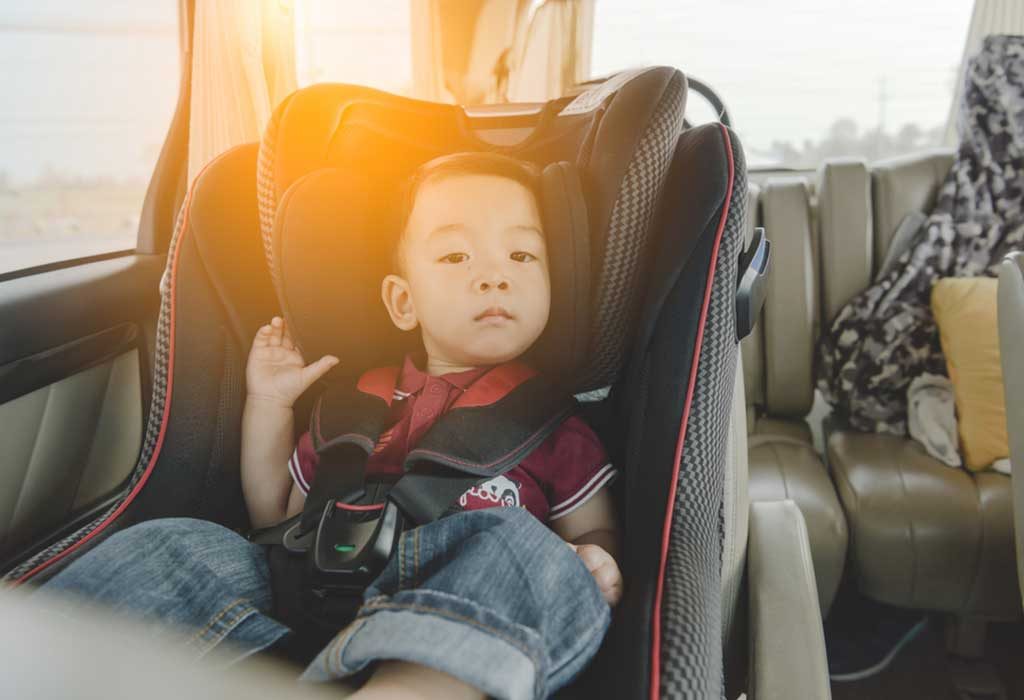 5. Keep the Area Around Your Kid Clutter-Free
You should make sure that there are no objects between your kid and the door of the car. Any kind of toy, pillow or other things may cause harm to your child in case the airbags inflate.
Video: Airbag Safety for Infants, Toddlers and Children
Watch this video to know the airbag safety precautions you need to take to protect your child riding with you in the front seat.
Tips to Ensure Safety When Seating Your Kid in the Front Seat
Here are some tips that may help you to ensure the safety of your kid when putting him in the front seat of a car:
It is very important that your infant must ride in a car seat only. It is also seen that babies or kids who do not ride in an infant seat are four times more at risk of getting injured during an accident in comparison to babies who ride in car seats.
It is recommended to get a correct infant seat installed for your baby or toddler. It should be placed right in the car, and your baby should be secured in it properly. You may get it checked by an expert, too.
Always use a car seat for your baby; rather, it is advised that you make this into a habit. In case you have two cars, then it is recommended that you place one in each car rather than shifting the car seat every time you need to drive a different car.
Never compromise on safety and buy a car seat that is best suited to your baby's safety requirements and one that fits perfectly in your car. In case you plan on buying a second-hand car seat for your baby, ensure it is in a workable condition and in accordance with the current safety rules.
As your baby grows, switch to bigger car seats or booster car seats. If your kid outgrows the safety harness (usually present in front-facing car seats), you may remove it. However, until the time your child fits into the harness, do not remove it as it provides the optimum protection to your baby.
These are some of the tips that you should follow for the safety of your kid. It is very important that as parents, you are up-to-date with the rules of travelling with kids and you should also abide by them. As suggested previously, the front seat of a car is not the safest place for your kid. Therefore, it is important that you understand the pros and cons before allowing your kid to sit in the front seat of the car.
Also Read:
School Bus Safety Rules for Kids
Road Safety Rules for Children