10 Lifesaving Child Car Seat Guidelines You May Not Be Aware Of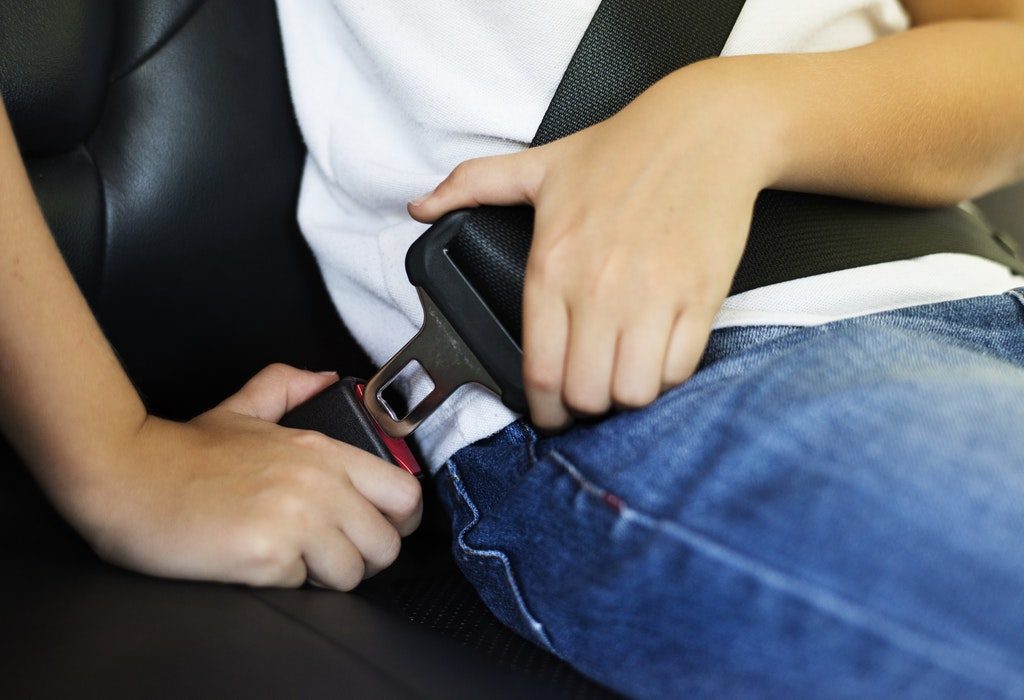 In this Article
You can choose from various categories of car seats like baby, convertible or booster seats depending upon whether your baby is an infant, toddler or 4 yrs and above. Using a child car seat consistently and installing it correctly is as important as putting on your seat belt every time you turn the engines on!
Buying and installing the correct model doesn't ensure protection. You should make sure that you are using the car seat properly. Though this isn't mandatory under child safety seat laws in India, it's a regulation in many advanced countries of the world.
The following pointers can give you a much needed heads up on life saving child car seat rules that you may not be aware of.
10 Important Child Car Seat -Rules
1. Avoid Front-Facing Seats
Children have heads that are larger in proportion compared to their neck, shoulder and spine. In the event of a head on collision, a front facing seat/baby can suffer deadly injuries. So it's advisable to use only rear facing seat till your child is at least 2 years old.
2. Strap it Right
When a baby is rear-facing, the shoulder straps should be at or below the baby's shoulders, at a right angle from the recline of the back of the seat. Check that the fabric of the seat is properly stretched out so you can locate the strap easily.
3. Remember the "Pinch Test"
You should ensure that the straps are not too loose that your baby flies off or too tight that he suffocates. A pinch test should be carried out by first pulling tight any slack from the lap portion and then pinching the straps near the collar bone. You need to tighten up more if you are able to pinch the strap.
4. Check the chest clip
Chest clips should be placed in the mid to upper chest area ideally at armpit level. The truth is that even if it's a little lower than armpit level, it will still do its job as a pre-crash position of the harness straps. Just make sure the belts are strapped tightly and correctly.
5. Outgrowing a Seat
You need to change your child's seat type if he has out grown it. It's time to change when he has reached the maximum weight that can be supported by the seat. This is not negotiable and a replacement should be immediate.
6. Chuck the Fancy Coat
Dressing up your kids in coats is a strict no while strapping him up in his car seat. The coat creates a lot of room under pressure from the harness which might result in dangerous loosening of the harness. Replace the coat with a blanket in case it's cold or put it back once you've reached your destination. It's best to keep cloth layering thin.
7. No Gapping
An important check in case of newborns should be complete elimination of gaps between the baby's groin area and harness. In case you notice some gap, you can roll up a soft piece of cloth and put it an upside down U position with the middle sealing the gap.
8. Manual Smart
All car seats come with an instruction manual. Do remember to go through all the features and dos and don'ts for a safe journey.
9. Used seats
Never go for a second hand car seat. Your child's car seat safety comes first and these second hand seats might not meet all the quality standards of a fresh product. Also keep your eyes open for seat designs or brands which have been recalled. Get in touch with the manufacturer of your current seat under such a scenario.
10. Airbags
Rear facing seats should not be used in cars with airbags in front passenger seats. The bags can inflate during an accident and cause serious head /spinal injuries in your child. Hence it's best to prop your child in the back seat till he's old enough to forward face in the front seat.
Hope these child car safety rules will be helpful next time you go baby outing in your car.