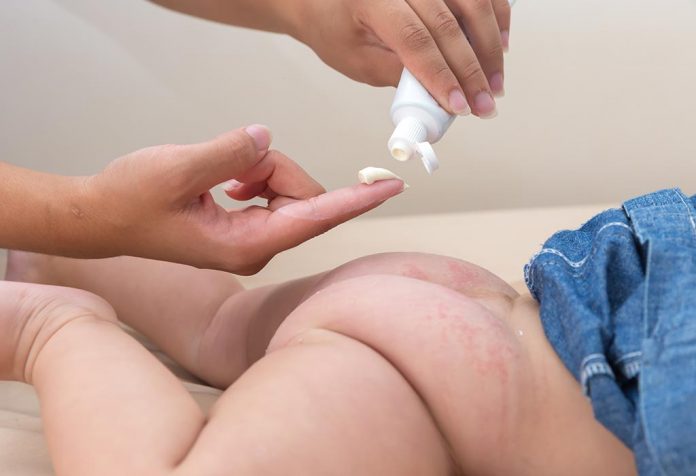 Last Updated on
Diaper rashes are an unavoidable part of babies' lives and even the most well-cared-for babies get it. When moisture or wetness is present in the areas surrounding the butt and urine leaks are added to that, the pH level rises and irritates the skin. This leaves her feeling very uncomfortable.
But the good news is that it doesn't always have to be that way. Just keep reading and you'll find a list of diaper rash creams that give you fast and effective results.
List of Top 10 Diaper Rash Creams in India
If you're searching for the best diaper rash creams in the market or online, then look no further. These are guaranteed to restore the pH balance of your baby's skin and heal inflammation. These are very useful for babies with sensitive skin. Try them on your baby to experience the results.
1. Sebamed Baby Rash Cream
Sebamed Baby Rash Cream is the best nappy rash cream out there since it balances the skin's pH, and is rated as 5.5 on the pH scale. It heals inflammation on the skin and gently nourishes it.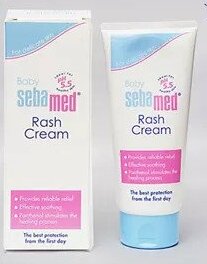 Product Description
Boosts the development of 'mantle' which is your baby's skin's protective acid
One of the ingredients, titanium dioxide is known to shield the skin from harmful irritants
One of the best formulations that includes lecithin and squalene
Panthenol naturally heals and soothes the skin
2. Himalaya Herbal Diaper Rash Cream
You can say goodbye to diaper rashes with this cream as it is a combo of herbs and zinc oxide. Himalaya Herbal Diaper Rash Cream is also the best organic diaper rash cream.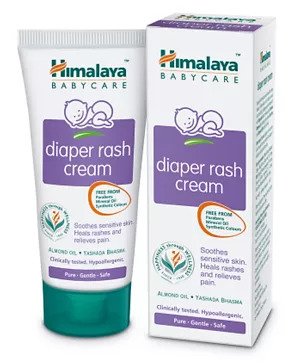 Product Description
Zinc oxide is known to prevent moisture from building up and heals rashes
Combination of nirgundi and majistha provides relief from pain, redness, and discomfort
Your baby gets soft and smooth skin with the goodness of aloe vera and almond oil
The formula is free from parabens, mineral oil, and synthetic colours, thus preventing allergies and breakouts
Shows results from the very first use
3. Curatio B4 Nappi Cream
We like the Curatio B4 Nappi Cream because of how simple and effective it is against diaper rashes. But don't take our word for it. Just use it on your baby and see. It's also one of the best over-the-counter diaper rash creams.


Product Description
Creates a thin protective layer between the skin and the diaper, thus protecting sensitive skin from the toxic effects of stools
Prevents rashes when used regularly due to the zinc oxide content
4. Mothercare All We Know Baby Nappy Cream
Mothercare All We Know Baby Nappy Cream is a dermatologically-tested diaper rash cream and is even hypoallergenic. It's one of the few diaper rash creams in the market that's formulated only with natural ingredients and is paraben-free. If you're looking for the best natural diaper rash cream, this is the one.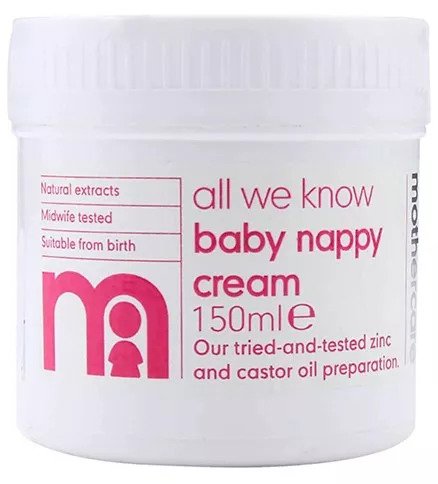 Product Description
Effective and proven diaper rash cream that shows quick results
Made from natural extracts and ingredients like olive oil and chamomile soothe and nourish the skin
Can be used right from the time of birth
5. Lotus Herbals Baby Plus Happy Bums Diaper Rash Creme
Let your baby experience the power of wild plants, herbs, and flowers with this unique formulation.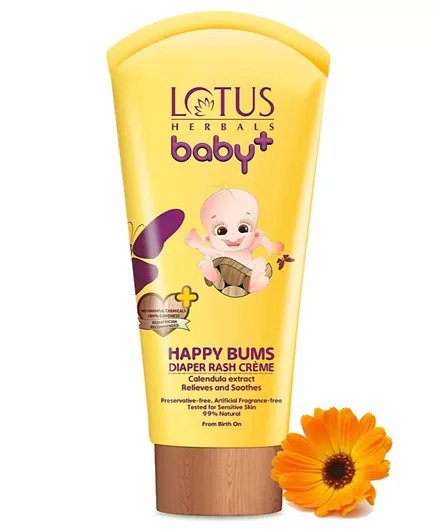 Product Description
Prevents bacterial growth and is paediatrician-recommended
Balances the skin's pH and reduces sensitivity
Protects against diaper rashes and is completely natural
Free from sulphates, synthetic colours, preservatives, harmful chemicals, and phthalates
6. Bebe Nature Natural Diaper Rash Cream
Bebe Nature Natural Diaper Rash Cream is ideal for babies with sensitive skin. It soothes and heals the skin, and protects it from diaper rashes. In addition, this cream is made from natural ingredients which means that there are zero chances of allergic reactions happening to your baby.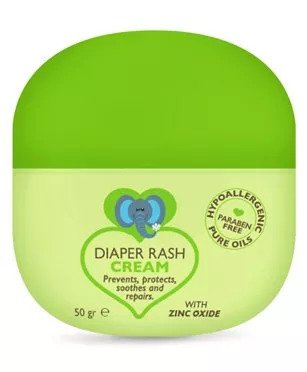 Product Description
Contains antioxidants which nourish the skin and protect it from oxidative stress
Heals inflammation and promotes skin regeneration
Free from preservatives, artificial colours, and fragrances
Eliminates and prevents diaper rashes
7. Dermadew Diaper Cream
Deramdew Diaper Cream is an anhydrous cream made from a soap-free formula. It's one of the best diaper rash creams crafted from natural ingredients like barbadensis leaf juice, white soft paraffin, Vitamin E, and zinc oxide.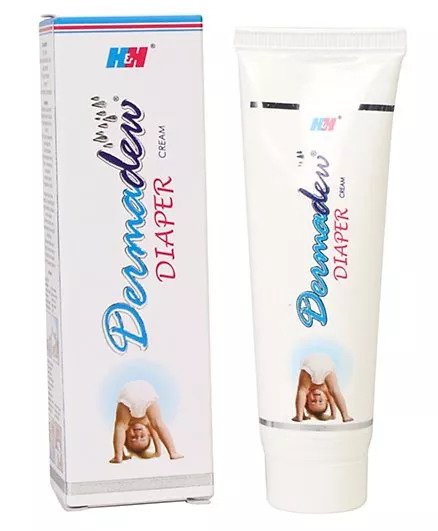 Product Description
You can apply this cream using wet wipes
Has antibacterial and antifungal properties
Suitable for sensitive skin and restores the pH balance
Has natural colloidal oatmeal
8. The Moms Co Natural Diaper Rash Cream
If you need a diaper rash cream that gives fast results, this one would definitely qualify. The Moms Co Natural Diaper Rash Cream is clinically tested and perfect for babies with sensitive skin.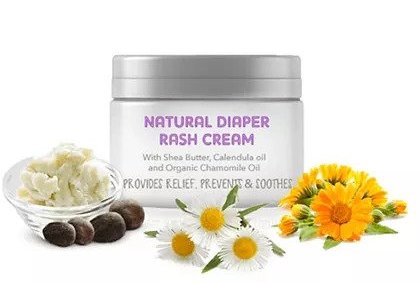 Product Description
Made from natural ingredients like calendula oil, organic chamomile oil, hydrolyzed oat protein, organic shea butter, and organic jojoba oil
Moisturizes the skin and heals inflammation
Free from mineral oil, sulphates, parabens, DEA, TEA, Phenoxyethanol, synthetic fragrances, PEG, and harmful chemicals
Creates a protective barrier between the baby's skin and the diaper, thus shielding it from chemical irritants
Tested and recommended by dermatologists
9. Pigeon Diaper Rash Cream
Pigeon Diaper Rash Cream is the best anti-rash cream for babies. When you apply this regularly, your baby won't have to suffer from the nuisance of diaper rashes again.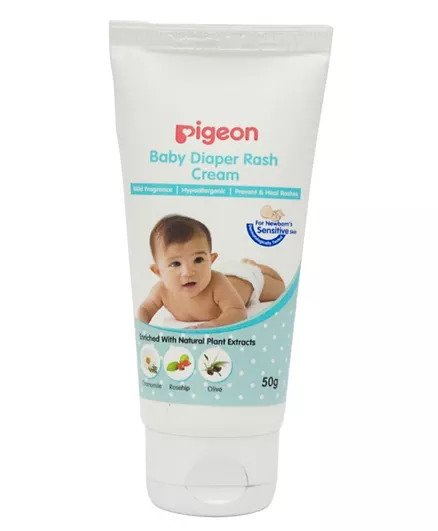 Product Description
Balances the pH and provides long-lasting results
Soothes the skin and protects from irritation and inflammation
Contains natural plant extracts
Hypoallergenic and suitable for sensitive skin
10. VLCC Baby Diaper Cream
VLCC Baby Diaper Cream is one of the best diaper rash creams for sensitive skin. It's free from parabens and crafted using natural ingredients. The formula's key ingredients include zinc oxide (Yashada Bhasma) and coconut oil.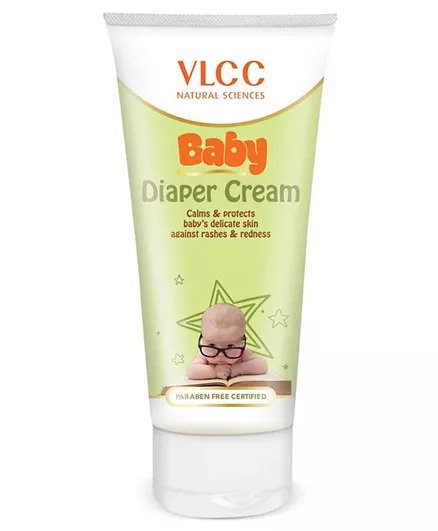 Product Description
Works actively to protect the skin from inflammation and exposure to harmful chemical irritants
Contains chamomile extracts which soothe and nourish the skin
Prevents inflammation, itchiness, and redness
Gets absorbed into the skin easily without causing any discomfort
FAQs
Have questions about diaper rash creams and curious about how to make the best use of them? Don't worry, we're here to answer. Keep reading to find out.
1. How To Apply Diaper Rash Cream?
Remove your baby's dirty diaper first and clean her bottom using wet wipes. Before putting on a clean diaper, apply a dime-sized amount of a diaper rash cream to your baby's bottoms. Wrap up the fresh diaper, wash off the excess cream from your hands, and you're done!
2. Should I Use Diaper Rash Cream Every Time I Change My Baby's Diaper?
The answer to this will depend on how often your baby gets diaper rashes and how sensitive her skin is. Most mothers apply diaper rash creams regularly as a preventive measure to protect against irritation and rashes. The best time to apply the cream is overnight since when babies sleep for long stretches, their bottoms are most susceptible to moisture and harmful irritants. If your baby is going through her teething phase, has a cold, or diarrhoea, you should use diaper rash cream at every change just to be safe.
3. Can I Use Diaper Rash Cream on My Newborn?
Yes, you can, as long as the diaper rash cream is made from natural ingredients and doesn't contain any harmful chemicals. For more information on this, you can talk to a dermatologist.
4. What To Look for in a Diaper Rash Cream?
The best diaper rash creams will contain these four ingredients – zinc oxide, calendula oil, lanolin, and aloe vera. These ingredients are known to hydrate and heal the skin from inflammation, and also protect it from harmful irritants. Thick diaper rash creams, pastes, and over-the-counter options are suitable for severe cases of rashes and irritation but it is always advisable to check with a dermatologist before using it, especially if you have a newborn on your hands.
Using diaper rash creams is a good practice which you'll be thankful for. There's nothing more emotionally aggravating for a mother than to see her newborn suffer the pain and discomfort caused by rashes. The good news is that these creams and OTC products have you covered, so your baby will be able to rest or move around in peace.
You May Also Like:
10 Best Baby Diapers
10 Best Baby Wipes
Diaper Rash Creams Offers & Deals:
Baby Diapering Products
Baby Diapering Brands
Baby Diapering Offers & Deals
Diapering Products on Sale
Also Read:
Diaper Rash – Types, Symptoms and Treatment
Natural Remedies for Diaper Rash in Infants
Disadvantages of Using Diapers for Babies