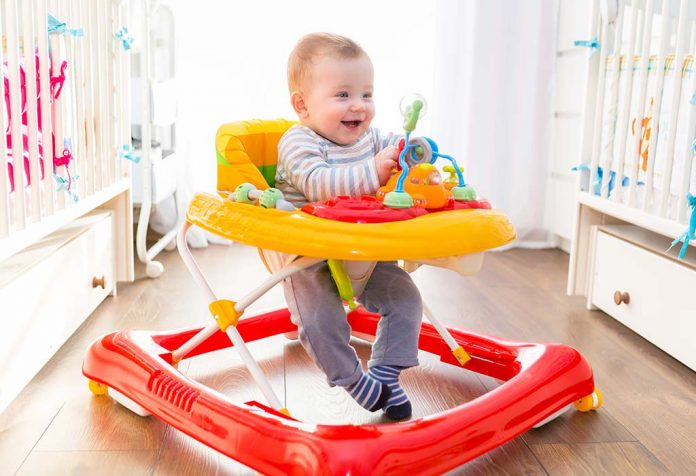 Last Updated on
A baby walker is the best gift you can get for your growing toddler! A baby walker or a jumper walker is perfect for preparing your little one reach those first steps and finding their feet for life. However, with so many options in the market, it can get hard to pick the right one. Your mind will be confused with so many questions like which one will be the best baby walker for her age, best baby walker for short legs, best baby walker for wood floors, baby walker for carpet, and so on! Hence, this list of top selling baby walkers with all the essential features and specifications which will help you select the best one for your kid.
List of Top 10 Baby Walkers in India
1. Babyhug Tiny Trotter Musical Musical Walker With Parent Push Handle & 2 Level Height Adjustment
Cutely designed, this baby walker makes your baby's first steps safe and memorable. It comes with a musical play tray, comfortable seating with full back support and is perfect for toddlers in the age group of 6-12 months. The overall dimension of the walker is 68 cm*59 cm*56 cm and it requires two 1.5 V AA batteries.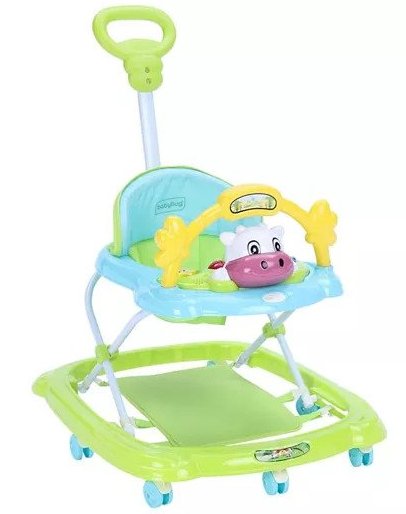 Product Description
Compact and lightweight: Weighs around 3.38 kg and can be folded flat for easy storage.
Durable construction: Crafted from supreme quality plastic, and is strong and highly durable.
Musical toy tray: The toy tray with music keeps the kids engaged while walking.
Push handle: Parents can control the walker using the push handle.
Wheels: Comes with eight wheels to provide smooth movement.
Adjustable height: Comes with a height adjustment of two steps, which makes it an ideal walker for tall babies and safely accommodates your growing child.
2. Mee Mee Simple Steps Baby Walker
This cute little baby walker is specially designed to encourage little ones to take those first tiny steps of their life. It is ideal for 6 to 18 months babies and comes with a 3 level height adjustment. It is a musical baby walker and requires three 1.5V AA batteries.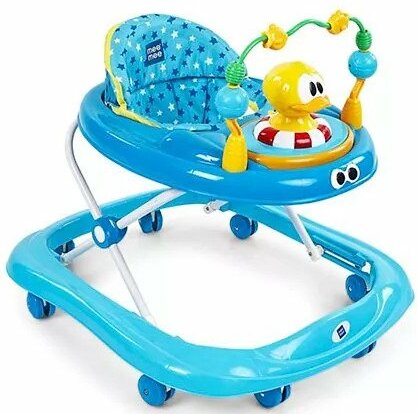 Product Description
Safe and hygienic: Designed according to international safety and hygiene standards.
Sturdy and robust design: Sturdy and strong enough to support your baby's first steps.
Comfortable seating: Has a cushioned seat for maximum comfort.
Material: Crafted from premium quality material.
3. Fisher Price Learn with Puppy Walker
This puppy walker from Fisher Price is the perfect pal for your growing little one! The walker comes with a cute puppy design and exciting hands-on activities for babies, such as introducing them to shapes, alphabets, colours, and counting. It comes with three levels, starting from 6 months up to 3 years. The overall dimensions of the walker are 50 cm * 40 cm * 45 cm and it requires two AA batteries.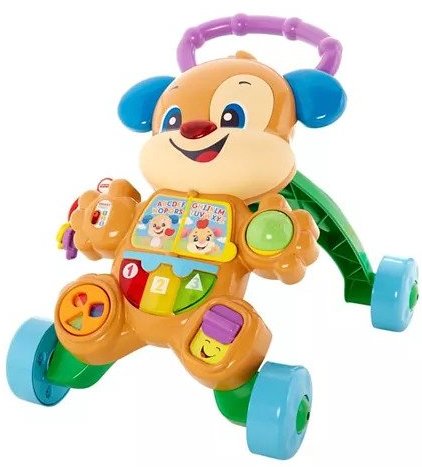 Product Description
Comfortable handles: Comes with easy grab handles for steady first steps.
Fun activity features: Has more than 75 songs, sounds, tunes and phrases, peek-a-boo slider, chunky clackers, colourful bat at the roller, etc.
Light-up nose: Gently push the nose for sound, phrases, and light.
Flipbook​: Learn alphabets and counting, by flipping the pages of the book.
Light up piano keys: Learn more about colours, shapes, numbers, and Spanish, as well, with a gentle press.
4. Sunbaby Butterfly Baby Walker
This colourful baby walker from Sunbaby is ideal for babies of 6 to 24 months of age. Comes with funky musical toys, which will keep your child engaged throughout. The overall dimensions of the walker are 63 cm * 55 cm * 50 cm, and it has a carrying capacity of 15 kg.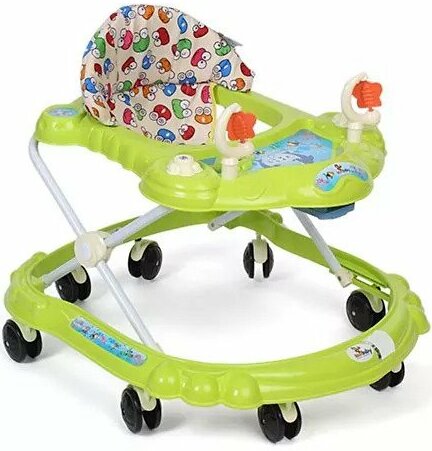 Product Description
Cosy: Comfortable seating with soft and printed backrest.
Toys: Musical toys for entertainment.
Portable: Weighs 2.2 kg and can be easily folded for convenience.
Flexible: Comes with three-position height adjustment to accommodate your growing baby.
5. Mothertouch Bear Rider Activity Walker
This uniquely designed bear rider is perfect for 9 to 18 month old kids. Crafted from high-quality material, it's highly durable, and your kid will love its attractive shape and colour.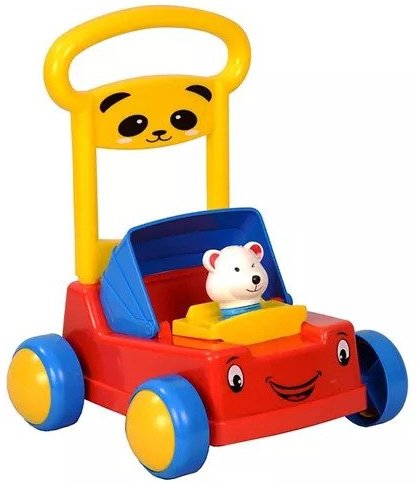 Product Description
Toys: Comes with rattle spinners and spinning balls to entertain kids.
Easy handle: The comfortable grip handle provides adequate support to your baby, when he/she tries to stand and walk.
Sound: The soft ting tong sound when the bear moves up and down entertains kids.
6. Toyshine Rattling Push Walker
Toyshine presents one of the best baby push walkers, designed for 12 to 18 months old toddlers. It comes with a detachable centre and is equipped with educational toys for fun interactive learning. It weighs around 1.88 kg, and the overall dimensions are 40 cm * 40 cm * 33 cm.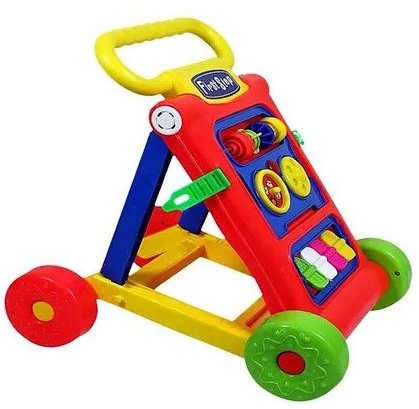 Product Description
Durable design: The strong and sturdy design provides adequate support to your kid while taking his/her first few steps.
Rattle sound: Comes with a toy panel with beads and toys, which make a rattling sound when the walker moves or the baby tries to grab them.
Detachable centre panel: Comes with a lot of educational toys.
Textured wheels: The textured wheels provide better grip that helps the babies to access the walker easily.
Foldable design: The foldable design makes for easy storage and is easy to carry.
7. Luvlap Starshine Baby Walker
This cute and colourful walker will soon capture the attention of your little one! It is sturdily built and comes with detachable musical toys for the complete entertainment of your kid. It is designed for 6 to 12-month-old babies. The overall dimensions are 23 cm * 10.5 cm * 30 cm, with the walker weighing around 830 grams.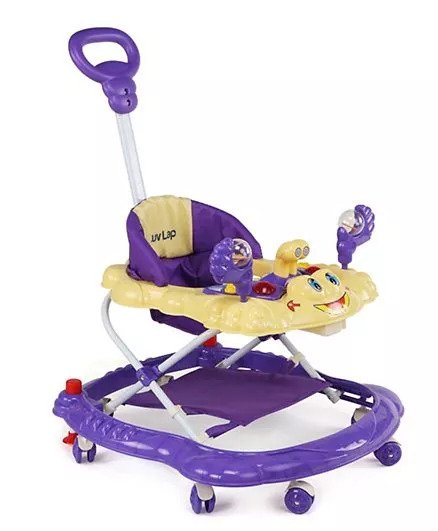 Product Description
Seat: Comes with a soft and comfortable washable seat.
Stopper: Comes with an attached stopper for extra safety of the baby.
Toy panel: Comes with attractive, removable toys for entertainment.
Storage: Lightweight and foldable design makes for easy storage and convenience while travelling, as well.
Music and Light: The toy panel comes with light and music, which will fascinate the baby.
8. Chicco Baby Activity Walker
Chicco presents this smartly designed baby walker for kids in the age group of 9 to 24 months. This is probably the best baby activity walkers, that comes with a fun activity centre for kids, with sound effects, lights, and games. The overall dimensions of the walker are 38 cm * 40.5 cm * 40.5 cm and it requires two 1.5V AA batteries to operate.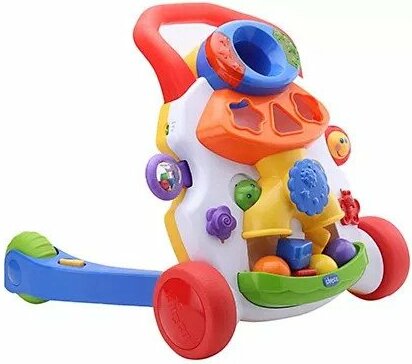 Product Description
Motion sensor: Comes with a motion sensor that encourages the baby to walk while listening to the fun melodies, as once the baby stops, the music stops as well.
Activity centre: Comes with a fun-packed activity sensor with sound effects, games and lights.
9. Dash Oscar Musical Baby Walker Cum Rocker With Canopy
This smartly designed baby walker encourages your kid to walk and learn! Comes with a removable umbrella hood, parental handle and a washable seat, and weighs around 3 kgs.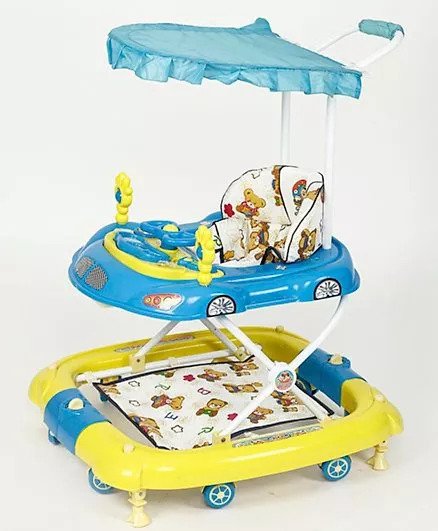 Product Description
Safe: Comes with foot mat to protect your child's feet.
Construction: Extra padded seat and long backrest provide total comfort.
Toys: Attractive design with activity play tray including light, rattles and hanging toys.
Wheels: Multi-directional wheels make it simple to manoeuvre even on uneven roads.
10. Tomy Funskool Toddle Activity Walker and Ride on
Tomy Funskool presents this toddle rider cum walker for one year olds and above. It features a removable activity board with interactive fun activities, detachable pull along trailer, beeping horn, and an ideal walker for the outdoors and indoors.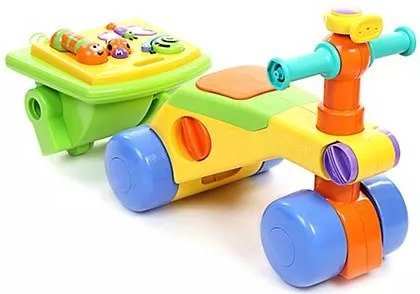 Product Description
Walker cum rider: Baby can start using it as a walker, and can later ride on as a bike.
Sturdy construction: To support the baby's first steps.
Removable activity board: Loaded with an interactive whirly snail, glittery butterfly, and caterpillar telephone.
Coordination: Strengthens hand to eye coordination.
FAQs
Some frequently asked questions regarding the baby walker:
1. When Can a Baby Use the Walker?
To use a walker, the baby must be able to hold his/her head up steadily, and his/her feet should be able to touch the floor easily. Ideally, walkers are designed for babies in the age group of 4 months to 16 months. Buying a walker for four month olds can be quite a challenging task as it is considered too early for the kids.
2. What Should Be the Weight Limit of the Baby Walker?
Most of the baby walkers are designed to support a weight range of 10 to 15 kg.
3. How Can I Buy the Right Walker for My Baby?
There are no fixed criteria for buying a baby walker. You must consider the age, weight, height, strength, and growth of your baby, to choose the best one that suits your requirements.
4. For How Long Can a Baby Use the Walker?
A baby can use a walker till he/she can walk comfortably and independently, which should be around 16 months. Once the baby starts walking, you can gradually switch them on to cycles.
5. How to Use a Baby Walker Safely?
Adhere to all the instructions mentioned before using the walker. Make sure that you choose the right one which is perfect for your child's age, strength, height and growth.
We hope that the above post helps you buy the best walker for your little one. Babies grow much faster than we can actually imagine, so embrace those precious moments and make each one memorable! Happy parenting!
You May Also Like:
10 Best Prams & Strollers
10 Best Car Seats
10 Best Baby Carriers and Carry Cots
10 Best Baby Swings
Offers & Deals
Baby Gear Products
Baby Gear Products Brands
Baby Gear Products Offers & Deals
Baby Gear Products on Sale
Also Read:
Baby Walkers – Advantages, Disadvantages and Precautions
At What Age Do Babies Start Cruising?
When will Your Infant Start Walking?