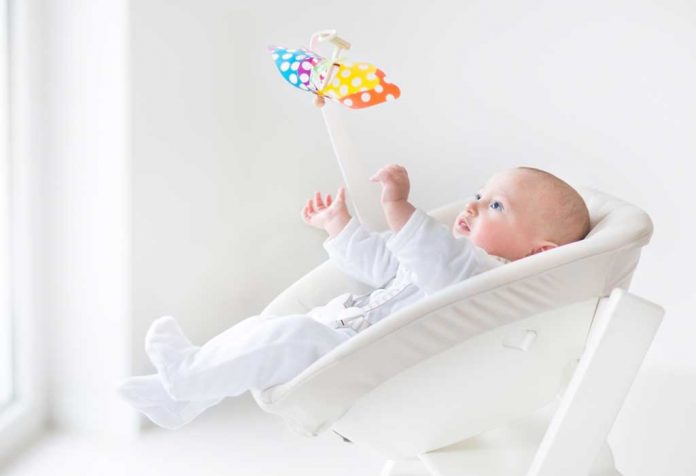 Last Updated on
Most parents come to realise soon enough that a swing can make their life much easier when they have to put their baby down to attend to other things such as work, chores or even a shower. Cradling babies and swinging them back and forth is one of the best ways to soothe them down when they're grumpy or annoyed or throwing a tantrum. Here's a list of the best selling baby swings and how to choose them.
List of Top 10 Best Baby Swings, Bouncers and Rockers in India
Whether you have an infant or toddler, these swings can serve all your needs:
1. Mothertouch 2-in-1 Swing


This is the perfect infant outdoor swing which can also be used indoors or anywhere there's enough space to put it up. This swing is compact and portable, allowing you to take it with you when travelling. Featuring a 2-position recline, it can be used to gently rock your baby to sleep or even to feed her. Comfortable cushions offer great support and it is perfect for babies from infancy to three years.
2. Natraj Rocko Swing with Toys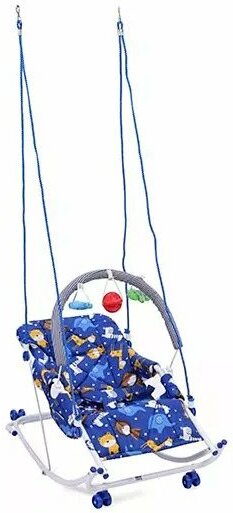 Designed for Infants between 5 to 18 months, this rocker that doubles as a swing is everything you need to keep your baby entertained and soothed, making it one of the best baby rockers out there. The multipurpose rocker is made of premium quality materials for durability and comfort. It also features wheels for moving around, 2 recline positions for play and comfort, and a toy bar for fun.
3. Fisher Price Infant-to-Toddler Rocker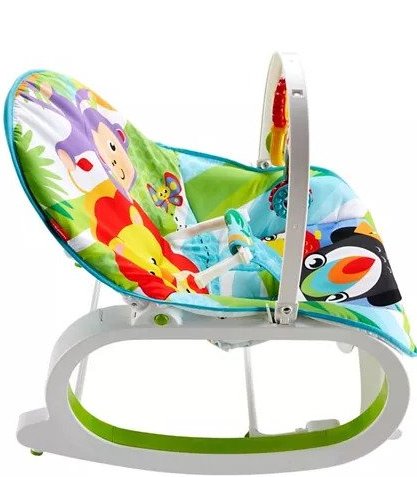 Designed to calm fussy babies, this rocker is perfect for putting newborns to sleep. The rocker is good for playing with, feeding, soothing and resting babies with the help of vibration for comfort. This baby rocker sleeper can be used from infant to toddler years and it features a three-point safety harness with two reclining positions. The overhead entertainment bar can be removed as they grow old to convert it into an infant rocker that can carry babies up to 18 kg.
4. Flyers Bay Infant-to-toddler Rocker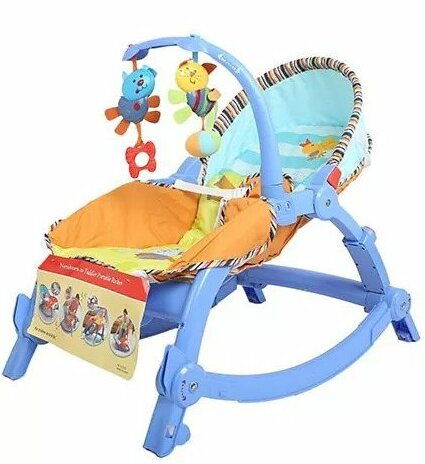 This infant-to-toddler rocker is highly portable and can be extended for use as your baby gets older. The calming vibrations are great for soothing your baby, while the movable seat allows you to position her closer to the toy bar. 3-position recline seat features a seat belt for safety and soft pads for comfort.
5. Babyhug Tiny Tots Musical Baby Bouncer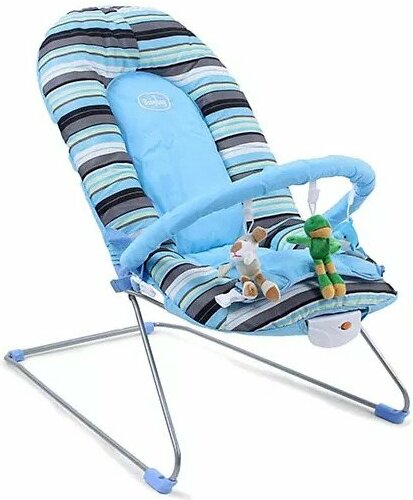 This is one of the best baby bouncers to keep active, energetic babies busy all day while you attend to other things. A strong metallic frame that wide gives a good bounce while keeping the body stable. Padded seats offer comfort while vibrations keep the baby calm. The bouncer also features music, a safety harness and a detachable toy bar.
6. R for Rabbit Snicker the Playfull Baby Swing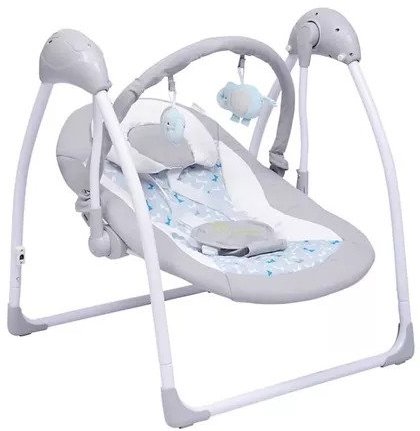 This highly portable remote-controlled model is one of the best baby swing for small spaces that you can carry around. It features 5-speed control automatic swinging with music for comfort and soothing. This swing with an EN16232 certification is one of the top-rated infant swings out there.
7. Luv Lap Jungle Tales Musical Rocker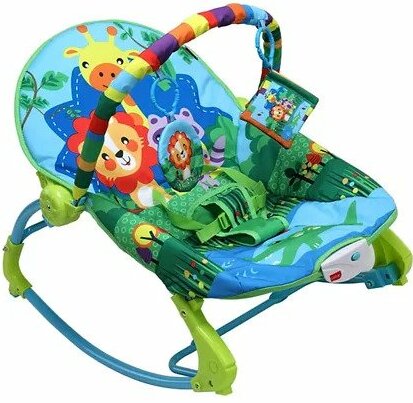 Designed for napping, playing and feeding, this baby rocker is perfect for keeping your fussy baby happy all day. It has three versatile seat angles to help your child sit independently. 8 melodies with volume control and vibrations keep the baby soothed or entertained. This baby rocker also features a detachable toy bar.
8. Tiny Love 3-in-1 Cozy Rocker Napper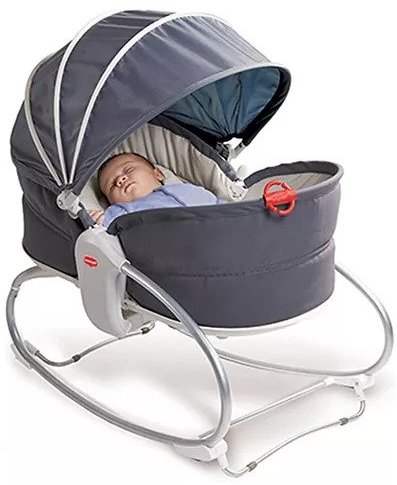 One of the best automatic baby rockers out in the market, it features premium quality build and easy-to-use options. Gentle rocking combined with 3 reclining positions, soothing melodies and vibrations are perfect for putting babies to sleep or calm them when they are fussy. It can be used from infant to toddler and can hold weight up to 18 kg.
9. Chicco Polly Swing Up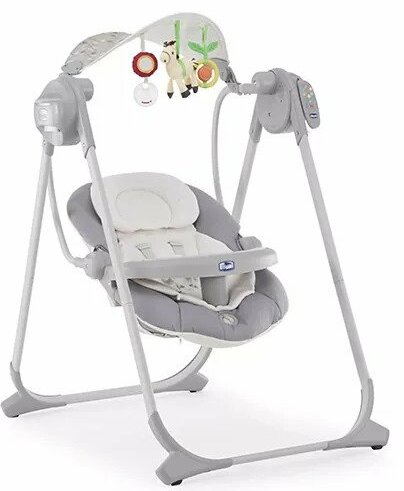 This advanced portable swing for babies by Chicco has all the best features you could expect from a baby swing. It has 4 rocking speeds with a 5-point safety harness and a 2-position reclining seat for the best comfort and safety. Vibrating seats, nature sounds and soothing melodies help make it the best swing for a fussy baby. It can be carried around easily and it keeps your baby entertained and happy the whole time she is awake in the rocker.
10. Playgro Toys Super Swing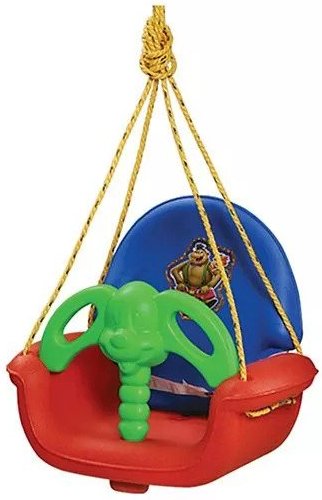 This one is a wonderful swing for older babies between the ages of 2 to 4 years. The swing comes with a bouncer seat that has a safety guard to ensure the baby is secure. It can be put up anywhere and from any height, making it an ideal swing for a big baby. It features a comfortable seat, rounded corners and a smooth plastic build.
FAQs
1. What Are the Different Types of Baby Swings?
There are four main types that you need to be aware of:
Bouncer Swings: Bouncers move up and down and are something babies will absolutely love. They're perfect for keeping your baby busy while you're occupied with other things. Bouncers are only good until your baby is in the infant stage.
Jumper Swings: Jumpers have your baby suspended from cords, allowing them to stand, walk or jump around. They are best for very active babies.
Rocker Swings: As the name suggests, they move back and forth similar to a rocking chair. Their main purpose is to soothe babies who are cranky and crying or send them to sleep if they're used to being rocked to sleep in your arms.
Battery Operated Swings: Swings move in all four directions and are suspended from the overhanging structure. They can either be long swings or portable swings that come with overhead toys.
2. Full-size Swing or a Portable- Which One to Choose?
Whether you want to choose full-sized swings or portable ones depends on how much space you have for them and your budget. If you already have a spacious room specifically for your baby, you could opt for a full-sized swing. They tend to be bigger, sturdier and have a wider range of swing. Portable swings are great if you don't have much room for it or you're off vacationing. They run on batteries and can be easily set up.
3. What Should I Look for When Buying a Baby Swing?
Here are some of the things you need to consider before making your purchase of a baby swing:
The height of the swings can be different. Although they're all well-balanced and stable, you may feel safer with a shorter one.
Pick models that have more speed settings. This will let you slow down or speed up based on how your baby likes it.
Seat belts give extra safety, so you should preferably go for a three or five-point harness.
Portability is a good factor to consider if you often travel and need to take your baby with you.
Swings work on both batteries and AC power. While you can run on AC whenever you're home, having one that can switch to a battery will help you on the move.
Your baby will inevitably make the swing dirty, therefore pick one which comes with a removable cover that can be washed. It's easy to clean and maintain.
Ensure the swings are well padded and comfortable so the baby won't cry or object every time you put her in the swing.
The seats need to be adjustable; a swing with a permanently recumbent seating position isn't fun for too long. As your baby grows older, she will prefer to sit upright.
Swings with timers are excellent; they stop when the time runs out.
Preferably go for swings with a metal frame. Plastics degrade or get weaker because of fatigue. A sturdy metal frame can last for years.
Look for all the extra features they offer, such as toys, play music, vibrating seats or a wider range of motion.
4. When to Start and Stop Using Baby Swing?
Your baby can be introduced to swings right from birth to till she is a toddler (12 to 36 months).
5. How Long Can I Leave My Baby in a Swing?
Though there are no hard and fast rules on how long you can let your baby stay in the swing, most experts recommend keeping it as short as possible. It's best to limit the time on it to less than an hour a day. As soon as your baby falls asleep, transfer her to her crib.
The type of swing you need to buy should ideally be decided by how much space you have. Portable swings are great for small spaces, while long swings are wonderful for outdoors.
You May Also Like:
10 Best Prams & Strollers
10 Best Baby Carriers and Carry Cots
Offers & Deals
Baby Gear Products
Baby Gear Products Brands
Baby Gear Products Offers & Deals
Baby Gear Products on Sale
Also Read:
Should You Allow Your Infant to Sleep in the Swing?
Tips to Buy a Good Infant Cradle
Common Sleep Problems in Babies