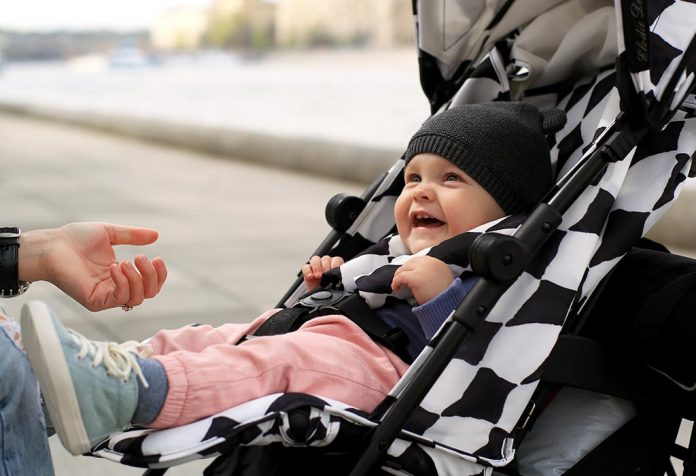 Last Updated on
Parents carrying their little ones in prams or strollers is a common sight these days. That's because it's one of the most convenient ways of taking your child along. Responsible parents these days ensure that they provide the best care and comfort to their kids. A child in a stroller gets a protected ride from sunlight and rain. Other necessary requirements of the child can be carried as well.
List of Top 10 Best Baby Prams and Strollers in India
It is very important to give your baby a breath of fresh air every day. So, take your baby to the park in these superbly designed strollers. The strollers for six months and up are also very convenient for moms to handle.
1. Babyhug Cosy Cosmo Stroller
This stroller for 0 to 3 years is comfortable and has an added advantage of reversible handle and back pocket.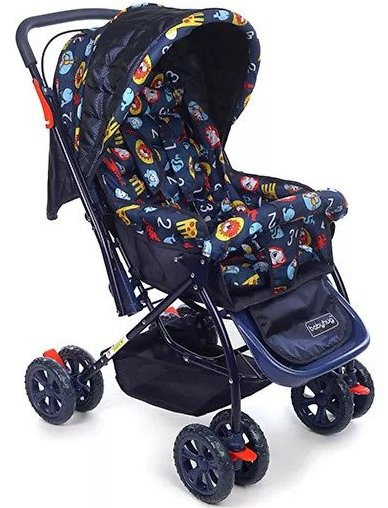 Product Description
It is navy blue in colour and is among the top rated baby prams. The carrying capacity is up to 25 kg. There is an adjustable canopy for the baby.
2. R for Rabbit – The Chocolate Ride Designer Pram
This is an excellent and safe designer pram.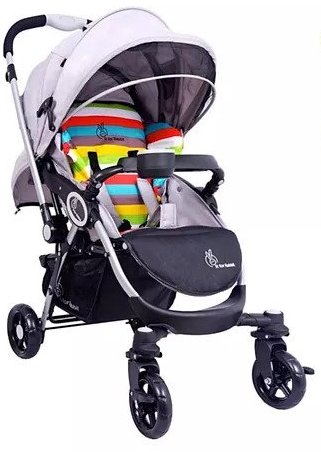 Product Description
It can be easily folded, has an excellent suspension system and safety certification. It has a reversible handle, link brake, 3 position recline, 2 position leg rest, UV canopy, removable front tray and cup holder, 5 point safety harness, and a huge storage basket. It is one of the best baby pram brands.
3. Evenflo Minno Light Weight Stroller
This lightweight stroller makes outings comfortable and has a carrying capacity of 20 kg.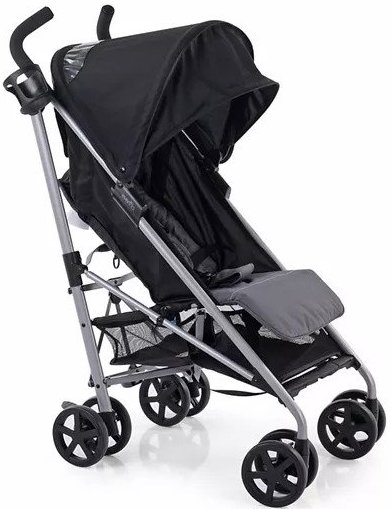 Product Description
It also has foam-padded handles, an extended canopy, and a window in the canopy. This stroller is equipped with 5 point safety harness and a cushioned seat to provide extra safety and comfort to your infant. This stroller for 6 months to 3-year-olds is a boon for moms.
4. LuvLap Galaxy Baby Stroller
Being adaptable, this stroller has been designed for a royal strolling experience.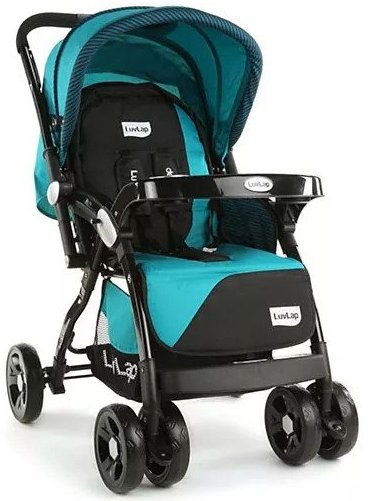 Product Description
It is incredibly versatile with high-quality fabric and a sturdy frame. It is certified for safety and has a unique folding mechanism, reversible handle, 3 position seat recline, safety harness, brakes, double canopy, detachable food tray, adjustable footrest, peek – a – boo window, storage basket, and pocket which makes it an all-in-one stroller.
5. Fisher Price Hiker Luxury Stroller Cum Pram
This stroller from the house of Fisher Price has lockable front-swivel wheels with suspension.
Product Description
This stroller comes with 4 seating options, a large basket and one-step folding feature. The wheels are specifically designed for Indian roads and the brake system allows you to stop the stroller easily. Its multi recline position and flexibility makes it adaptable to any parenting scenario.
6. R for Rabbit Poppins Plus Pram
It is a good quality product, extremely lightweight, and guarantees a comfortable ride.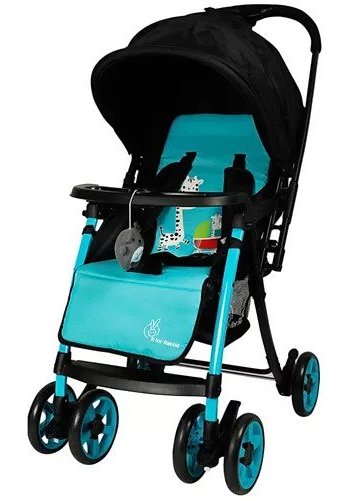 Product Description
The product is certified for strength and has safety certification. It is built around one hand fold technology which provides the option of multi-position recline. It also has a mosquito net apart from the 5 point harness, reversible handle, and adjustable leg rest.
7. Mee Mee Twin Pram
This pram provides maximum comfort to twin babies with a carrying capacity of 25 Kgs each.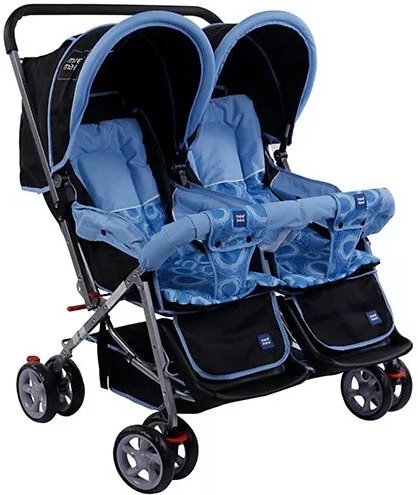 Product Description
This pram has an ultra-lightweight frame making it agile and easy to handle. This Mee Mee pram has two extremely comfortable seats with two independent backrests making it ideal for use from the birth of your twins.
8. Chicco Cortina CX Stroller Lima
This product is counted among lightweight strollers and is capable of giving comfortable rides to your baby.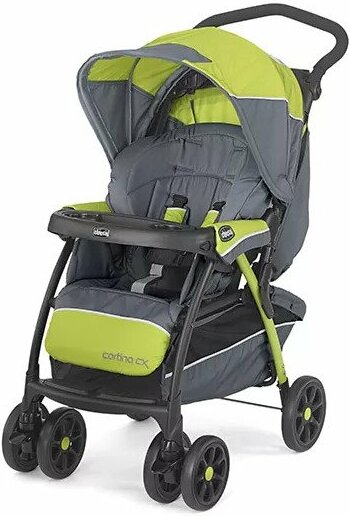 Product Description
It has 5 point safety harness, reclining seat, reversible handle, swivel wheels with suspension, and a good folding mechanism with canopy and wheel lock function. It is one of the best double prams for toddlers and newborns.
9. 1st Step Baby Rocking Pram
This rocker cum stroller has a reversible handle so it's easy to keep an eye on your baby when he's sitting in it.
Product Description
It has 5 point harness, leg rest, storage basket, storage pocket, strong sturdy frame, swivel wheels, reclining position, and a large canopy.
10. Fab n Funky Musical Baby Stroller Cum Pram
This is a stylish product that will keep the child engaged and safe while they are on their ride.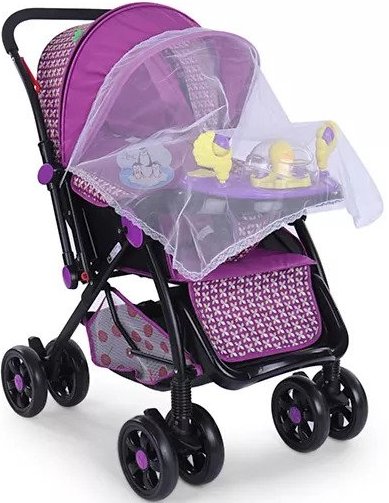 Product Description
This stroller is designed to meet all the high safety standards as it contains a three-point safety harness, front-wheel suspension, reversible handle, mosquito net and a ventilated canopy. This baby stroller cum pram lets your baby experience new sounds, movement, colours and shapes.
FAQs
Below, we answer some questions asked by parents when buying a stroller for the baby.
1. What Is the Difference Between a Baby Pram and Stroller?
A wheeled carrier or perambulator is called pram in short. These are best suited for newborn babies. The baby can sleep inside it if needed. The strollers, also known as pushchairs, are carriages in which the baby can sit upright. The safety belts, harness, and crotch straps ensure the safety of babies.
2. When Can I Start Sitting My Baby Up in a Pram?
By the time your baby is six months, his head and neck strength would have developed, making it easier for him to sit up on his own. Once this is noticed, you can make your baby sit up in the pram without any worries.
3. Three Wheeler vs Four Wheeler – Which Type of Baby Pram Is Safer?
Though three wheeler strollers are easier to push around and manoeuvre, four-wheelers are much safer. Three wheelers have the risk of tipping dangerously, toppling over or rolling away unexpectedly. They also tend to tip sideways. Four wheeler strollers are comparatively more stable. You should buy the stroller which best suits your situation.
4. Why Isn't It Good to Use Second Hand / Used Pram for Babies?
A used stroller, no doubt, will cost a little less but there are also potential risks that come with it. If you still decide to go for a used stroller, then you must ensure that it is in good condition. The risk of child death and fingertip amputation are quite likely if the stroller is in bad shape.
5. When Should I Stop Using a Stroller?
Children outgrow the stroller at the age of three. Many parents make their outgrown children sit in strollers and be chauffeured around. This just gives rise to a generation of lazy kids. Paediatricians say that strollers used past toddlerhood can only do a disservice to growing children.
6. How Long Can My Infant Lie Flat in a Pram?
Newborn babies shouldn't be propped up on an inclined seat or placed in a bucket-shaped seat. They should be made to lie flat in the pram so that they can breathe properly and their hips and spine are in a correct posture.
Strollers are the perfect option when you want to take your baby outside without causing discomfort to both. They offer convenience and safety throughout the ride. Choose one which suits your child from the range of options we've provided you with.
You May Also Like:
10 Best Baby Swings
10 Best Baby Walkers
10 Best Baby Carriers
Offers & Deals
Baby Gear Products
Baby Gear Products Brands
Baby Gear Products Offers & Deals
Baby Gear Products on Sale
Also Read:
Important Tips for Travelling with Baby
Why Do Babies Always Want to Be Held?
Styles of Carrying Baby Which are Not Recommended