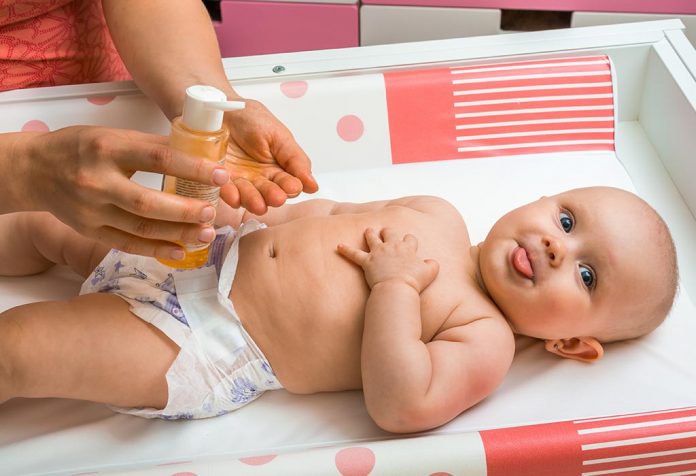 Last Updated on
Massaging can be quite beneficial for the growth of the baby. It is common to massage a baby before bathing. Massage therapy offers many health benefits for the baby, from the development of strong bones and muscles, promotion of sound sleep, better digestion to the improvement of skin texture and a strong mother-baby bond. While picking a massage oil for your baby, go for organic oils made from almonds, coconuts, olives, and sunflowers which are considered safe. Be sure to choose one that suits your baby's skin type and sensitivity.
List of Top 10 Best Massage Oils for Babies in India
Some of the best baby massage oil brands in India specially formulated for babies are:
1. Dabur Lal Tail
This Ayurvedic oil is one of the best baby massage oils for strong bones.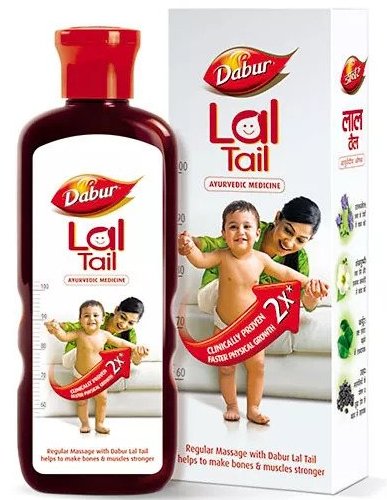 Product Description
Research has shown that massaging with Dabur Lal Tail can be advantageous for the overall development of the baby as compared to applying other oils, talcum powder or no massage. It is considered safe to use. It contains Ayurvedic ingredients like Bala Ashwagandha oil and Chandanbala Laxadi oil which can positively influence sleeping patterns and help increase weight and height in babies.
2. Himalaya Herbal Baby Massage Oil
It is a gentle and mild baby oil. It is one of the best massage oils for premature babies.


Product Description
Enhanced with olive oil, winter cherry and aloe vera, this pure massage oil can suitably nourish and advance your baby's skin quality. Regular massage with this non-staining, light oil can significantly benefit your baby's well-being. It is free from lanolin and mineral oil. Its antimicrobial properties help in maintaining healthy and radiant skin.
3. Johnson's Baby Oil
This specially formulated baby oil is apt for your baby's delicate skin.
Product Description
This gentle non-sticky oil includes the goodness of Vitamin E which can prevent your baby's skin from becoming dry. It gets absorbed easily and adequately moisturises the skin, thus keeping it soft and supple. It has been dermatologically tested for allergy.
4. Sebamed Soothing Baby Massage Oil
This non-greasy oil may be ideal for taking care of your baby's sensitive skin.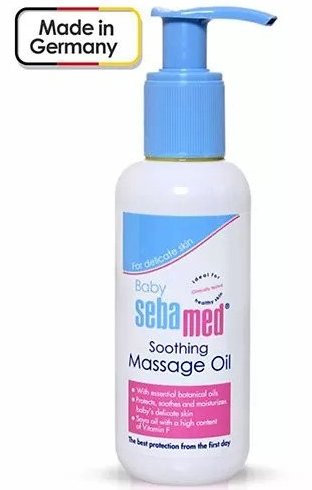 Product Description
This mild oil has essential botanical oils like wheat germ oil which helps in softening and soothing a baby's tender skin. It also has natural soy oils and Vitamin F, a soya oil composite which aids in strengthening your little one's skin tolerability. It spreads easily and gets absorbed quickly. It does not harden even at a lower temperature.
5. Figaro Olive Oil
This gentle non-irritant oil is one of the best baby massage olive oils.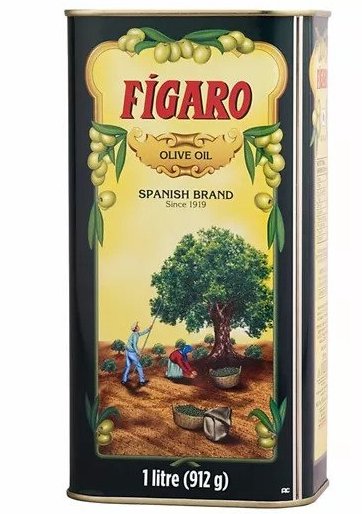 Product Description
This natural oil has high levels of antioxidants which provide baby skin with a glow. It is multipurpose as it is beneficial for the hair as well. Figaro Olive Oil does not contain any chemicals that can produce allergic reactions.
6. Maxcare Virgin Coconut Oil Cold Pressed
This natural cold pressed oil is perfect for baby care.


Product Description
This oil, a by-product of fresh coconut milk, is rich in lauric acid which assists in boosting your baby's immunity. It can also be used to tackle cradle cap issues and nappy rashes in infants. Its potent anti-bacterial, antiviral and anti-fungal qualities can help to combat various skin issues while keeping the baby's skin smooth and soft.
7. Lotus Herbals Baby Plus Eternal Love Massage Oil
Massage your little one with this natural oil for his optimal welfare. It is one of the best massage oils for baby eczema.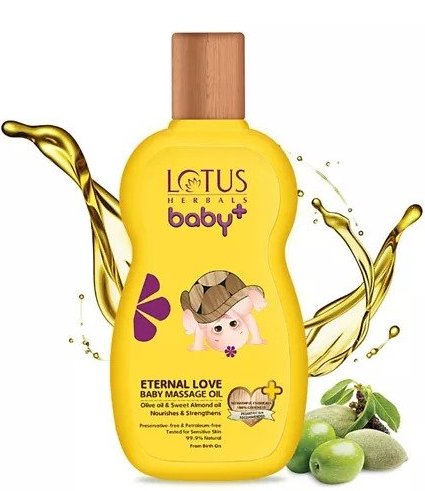 Product Description
This oil has ingredients obtained from herbs, rare plants and flowers. It is a safe oil for your baby's delicate skin as it does not contain alcohol, synthetic fragrances or colour, mineral oil, preservatives and phthalates. It has antioxidants in a good quantity which help to maintain the pH balance of your baby's skin.
8. Bey Bee Extra Virgin Organic Coconut Oil
This amazing oil extends complete protection to your baby's fragile skin and hair.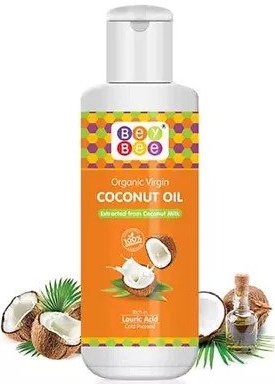 Product Description
This organic cold pressed oil is chemical-free, thus safe for your baby. It offers protection against harmful UV sun rays. It may also be used to cure rashes and other skin troubles.
9. Baby Dove Rich Moisture Baby Massage Oil
This moisture-rich baby oil will work magic on your baby's skin.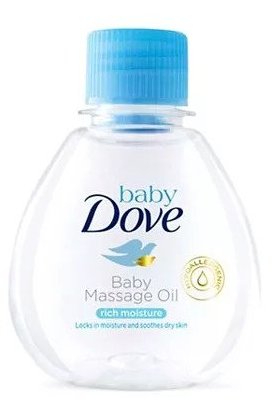 Product Description
This non-greasy, light oil is fast-absorbing. It has been carefully designed to seal in the moisture, thus helping to keep a baby's skin nourished and soft all day long. It has a mild fragrance which is a pleasure for the baby.
10. Bebe Nature Natural Baby Massage Oil
This oil contains natural ingredients for your baby's growth and development.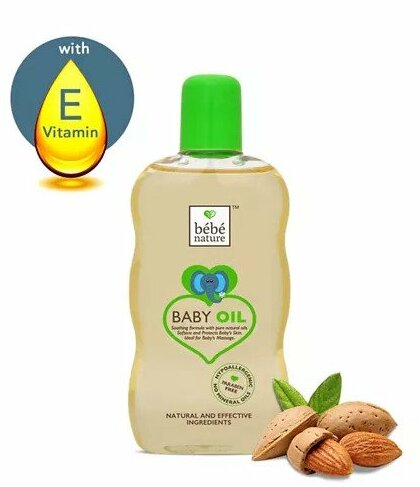 Product Description
This oil is free from mineral oil and paraben, thereby making it a safe option for massaging your baby. Further, it has been boosted with almond oil and Vitamin E to support your baby's skin in the best possible manner.
FAQs
We answer a few frequently asked questions about baby massage oils:
1. How Can I Choose the Best Massage Oil for My Baby?
Different babies have varying types of skin ranging from normal to dry, oily or even extra sensitive. Thus, it is always advisable to do a patch test before applying any massage oil. Simply rub a little oil on a small area of your baby's skin to check for any likely reactions.
2. How Can I Give My Baby a Massage at Home?
Pour a little oil in your hand, begin from the thighs going down to the feet massaging gently. Massage the belly area lightly using circular motions. Turn the baby over and massage the back to soothe him. Next, massage the arms followed by the head slowly to relax him.
3. When is the Best Time to Massage My Baby?
The best time to massage a baby is when he is alert and calm. Look for when the baby seems interested in his surroundings and not bothered by any outside disturbances. Avoid massaging after a feed or when the baby is sleepy or cranky.
4. What All Do I Need Before I Start Massaging My Baby?
You will need the following things:
A baby massage oil or lotion
A soft towel
A sheet to spread underneath your baby
5. How Soon After Birth Can I Massage My Baby?
You can start massaging your baby from the very first week of his birth. Be mindful of choosing the best Ayurvedic baby massage oil. Remember to be very gentle with your massaging strokes.
6. Which Oil is Best for My Baby in Summer?
Coconut oil is an ideal option in summer as it has cooling properties. You can also consider olive oil to nourish your baby's skin.
Various types of baby massage oils are available in the market, so making the right choice may prove difficult. Be extra careful while selecting a baby massage oil to avoid any probable skin and health-related complications later on.
You May Also Like:
Baby Massage Oils Offers & Deals:
Baby Skin Care Products
Baby Skin Care Brands
Baby Skin Care Offers & Deals
Skin Care Products on Sale
Also Read:
Advantages and Techniques of Giving Baby Massage
Which Oils Are Most Effective for Baby's Massage?
How to Massage Infant with Mustard Oil?