Babies need extra protection and care as their skin is extremely sensitive. While choosing diapers for your little one, you will have to be very careful. Most new parents prefer buying disposable diapers for their babies. The fact that these diapers can be used easily and are hygienic makes them all the more important. They are a blessing indeed! But choosing the right brand and size of diapers for your baby is of extreme importance. If there's one thing that we'd rate baby diapers on is the comfort factor. So, if you've been searching for good options in diapers, we have prepared a list for you.
Top 10 Diaper Brands for Babies
Below is a list of the best baby diapers for sensitive skin available online and in the market today.
1. Pampers Pant Style Diapers
All of you must be familiar with this brand. The pant-style diapers by Pampers will help keep your baby dry and comfortable throughout the night.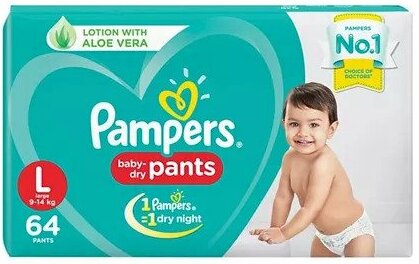 Product Description
It will be a comfortable fit and will be closer to your baby's body.
Includes air channels to make a baby feel dry overnight.
Aloe vera gel helps protect a baby's delicate skin from diaper rashes and skin irritation.
The outer layer of this diaper is made of soft cotton.
2. Huggies Wonder Pants Pant Style Diapers
Huggies Wonder Pants Diapers are one of the best baby diapers available in India. These overnight diapers can provide ultimate comfort to your baby at night. Once you start using these for your baby, he will sleep peacefully.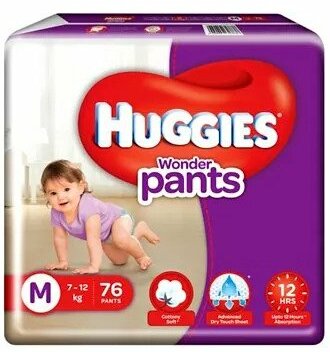 Product Description
It has a super stretchy elastic that adapts to a baby's waist and fits comfortably.
Soaks the moisture and keeps a baby dry up to 12 hours.
Its double leak guard included prevents leakage and ensures dryness for up to 12 hours.
It can prevent diaper rashes.
3. MamyPoko Pants Extra Absorb Pant Style Diapers
MamyPoko Pants extra absorbent pant style diapers are also very good. By making your baby wear this diaper, you will have nothing to worry. Your baby will sleep soundly at night.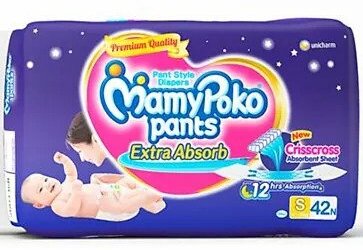 Product Description
It is easy to wear.
Features fun and colourful graphics inspired by Disney's 'Winnie-the-Pooh.'
Its breathable cotton-like cover will prevent stuffiness even if used for long hours.
It has a crisscross absorbent sheet which can absorb up to 7 glasses of urine and spreads it evenly.
4. Pampers Splashers Pants Style Disposable Swim Diapers
Do you want pool diapers for your baby? We have covered those too. These are comfortable and also ideal for babies who visit the beaches with their families often.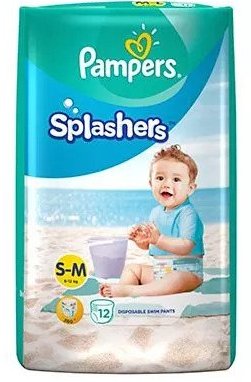 Product Description
Its stretchy waistband ensures that it can be pulled on and off easily even when wet.
The dual leak guard barriers of this diaper ensure that the mess remains within the diapers.
It has fun and cool graphics which will make your baby look cute.
It is comfortable to wear and doesn't swell in water, unlike regular diapers.
5. Bella Baby Happy Diapers
Bella Baby Happy Diapers is one of the few baby diapers which protects the navel area and assists babies who have undergone special umbilical cord cutting. It's definitely worth a try.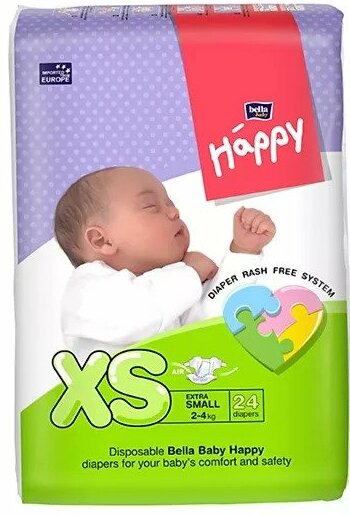 Product Description
It prevents diaper rashes.
It is 100% breathable which will keep your baby's skin healthy.
It is chlorine-free and suitable for sensitive skin.
Contains green-tea extracts which have antibacterial and anti-inflammatory properties.
Includes a wetness indicator and elastic fasteners for supreme comfort.
6. Himalaya Herbal Total Care Baby Pants Style Diapers
Himalaya Herbal diapers offer premium comfort and extra protection to babies who have sensitive skin. This diaper will protect your little one against diaper rashes and ensure a comfortable sleep.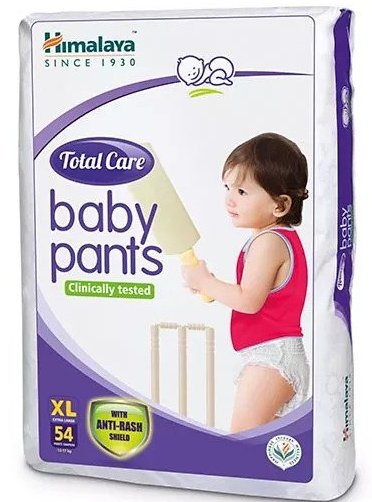 Product Description
It has the goodness of aloe vera and Yashada Bhasma.
Comes with a breathable fabric.
Absorbs moisture quickly.
It has an anti-rash shield which prevents diaper rashes.
It has a wetness indicator that turns green when a baby soils his diaper.
It is leak-proof.
7. Pigeon Ultra Premium Baby Diaper Pants
Pigeon Ultra Premium Diapers are comfortable and fit easily. These diapers provide maximum absorbency. Here's what you need to know about these diapers.

Product Description
The crisscross pattern and highly absorbent material of these diapers keep a baby dry for up to 12 hours, and prevent diaper rashes and infections.
These diapers include a wetness indicator which tells the parent the time to change the diaper.
These diapers have breathable fabric and a soft elastic waistband to ensure a comfy fit.
8. Teddyy Baby Easy Pant Style Diapers
Teddyy Baby Easy Pant Style Diapers are one of the best disposable baby diapers out there. These diapers are ideal for babies with sensitive skin. These diapers also fit comfortably and your baby will be able to move around with ease.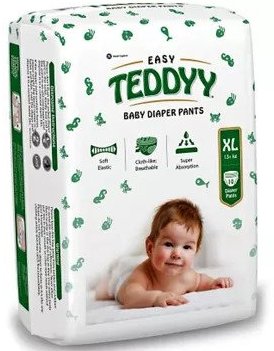 Product Description
These diapers have a cloth-like fabric.
The soft and breathable fabric ensures that a baby stays dry all night long.
These diapers are a snug fit around the waist and thighs, thus giving freedom of movement.
9. Pampers Active Baby Diapers
Pampers Active Baby Diapers are the best washable baby diapers available out there.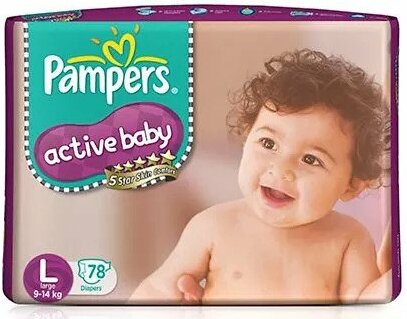 Product Description
These diapers are made from ultra soft cotton material.
Infused with baby lotion to shield delicate skin from rashes and infections.
The best tape-style diaper out there in the market.
10. Huggies Dry Taped Diapers
Huggies is a brand we all are familiar with and there's a reason why – it's because they make some of the best diapers for babies.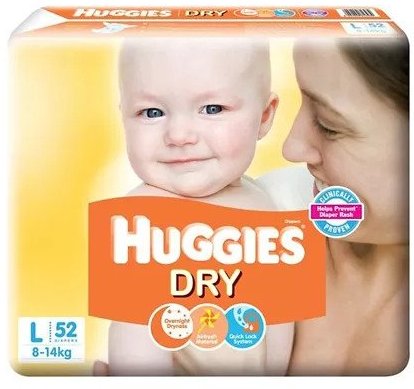 Product Description
These diapers have an air-fresh cover that keeps a baby's skin fresh.
Quick lock system prevents leakage.
Blue speed dry layers soak up the moisture in a jiffy.
Clinically-tested and prevent diaper rashes.
FAQs
Here are a few frequently asked questions by our readers and their respective answers.
1. What are the Different Types of Diapers?
Here's a list of different types of diapers that are available in the market today.
Disposable Diapers – Disposable diapers are basically use-and-throw diapers. You can make your baby wear it once then discard it.
Pull-Ups – These diapers are worn like pants.
Preemie Diapers – These are designed for preterm infants whose umbilical cord stub is healing. These diapers are smaller than the standard disposable diapers.
Underwear Diapers – These diapers are designed to transition your baby to wearing regular pants during the potty training phase.
Swim Diapers – These have elasticated cuffs, are leak-proof, and prevent spills in the water. The term speaks for itself.
2. Are There Different Types of Diapers for a Baby Girl and Baby Boy?
Yes, there are different types of diapers available for baby boys and girls.
3. What Size of Diapers Can a Newborn Wear?
Newborns can wear baby diapers that come in small size.
4. How Can I Use a Diaper Safely on My Baby?
Go for gel-based diapers when shopping and change diapers once every two to three hours to prevent rashes and infections. Don't put on a diaper immediately after you remove the used one. Give some diaper-free time to your baby to allow his skin to breathe.
5. Do Baby Diapers Expire?
Most baby diapers don't have an expiry date, but it is always advisable to contact the brand and inquire just to be sure.
6. How Can I Save Money on Baby Diapers?
Here are some ways by which you can save money on baby diapers:
Buy Online: Shopping online will help you save money. You can compare prices of different brands and choose a brand that suits your budget.
Use Coupons: There are coupons available online which you can avail during checkout and get exclusive discounts for recurring purchases.
Subscription Services: Special subscription services like the Pampers Guaranteed Savings Offer lets you get discounts on Pampers products like baby diapers and other purchases and is valid for different lengths of time depending on the subscription plan you go for.
7. How Many Diapers Should I Use for My Baby in a Day?
Newborns will require changing around six times a day.
8. How Many Times Should I Change My Baby's Diaper at Night?
There's no magic number to this but the consensus is that you should change your baby's diapers only when soiled. Use extra absorbent diapers and let your baby be if he hasn't pooped in it.
Your baby's comfort matters and these diapers will ensure they get the best quality of that possible. Let your little one enjoy a night of restful sleep by wearing these diapers and say goodbye to leaks and rashes for the better.
You May Also Like:
10 Best Baby Diaper Rash Creams
10 Best Baby Wipes
Offers & Deals:
Also Read:
DIY Cloth Diapers
How to Select The Best Diaper Material for Babies?
How to Prepare Child for Toilet Training?