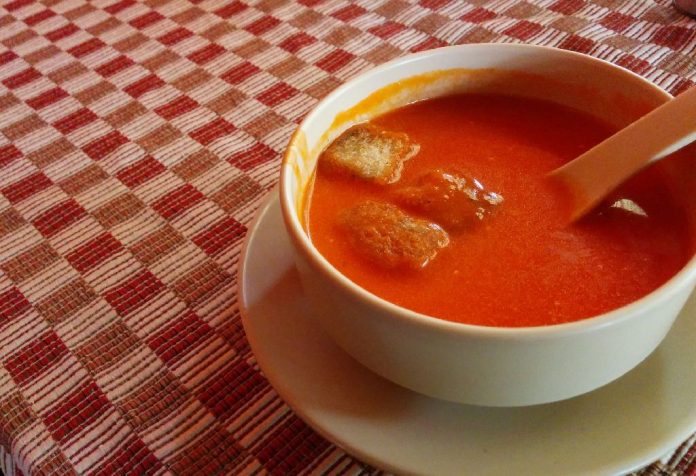 Last Updated on
There are many things in the kitchen for which you can ask your pre-teen to pitch in. Gathering the ingredients, cutting, chopping, mixing are all activities that expose them to the world of cooking. And from the nutrition and taste aspect, this velvety yet light soup gets big thumbs up.
| | | |
| --- | --- | --- |
| Serves | Preparation Time | Cooking Time |
| 4 People | 10-15 Minutes | 15-20 Minutes |
Ingredients
1 tbs. olive oil
1 small zucchini
1 small onion
1 clove garlic
100 g crushed, unsalted tomatoes
500 ml vegetable broth (or low-sodium chicken stock to make this a non-vegetarian recipe)
½ tsp. black pepper
250 g cooked brown rice
Method
Step 1
Ask your pre-teen to cut the zucchini into ¼-inch pieces. Next, comes peeling and chopping the onion and garlic. Assist them if they are not used to cutting vegetables with a knife.
Step 2
Heat olive oil in a large stockpot over medium heat. Cook zucchini and onion just until they begin to soften, i.e. for about 5 minutes. Add the garlic and stir for another 1-2 minutes.
Step 3
Drop in the tomatoes and pour the chicken stock. Lastly, add black pepper and cook over medium heat until soup thickens slightly and veggies are tender. It would take around 15-20 minutes for the soup to be ready.
Step 4
Turn off the heat and stir in the brown rice. Serve hot.
Nutritional Information
| | |
| --- | --- |
| Calories | 140 Kcal |
| Proteins | 5.0 g |
| Fat | 2.5 g |
| Carbohydrates | 24 g |
| Cholesterol | 0 mg |
| Sodium | 620 mg |
| Potassium | 258 mg |