Zucchini and parsley spread with toast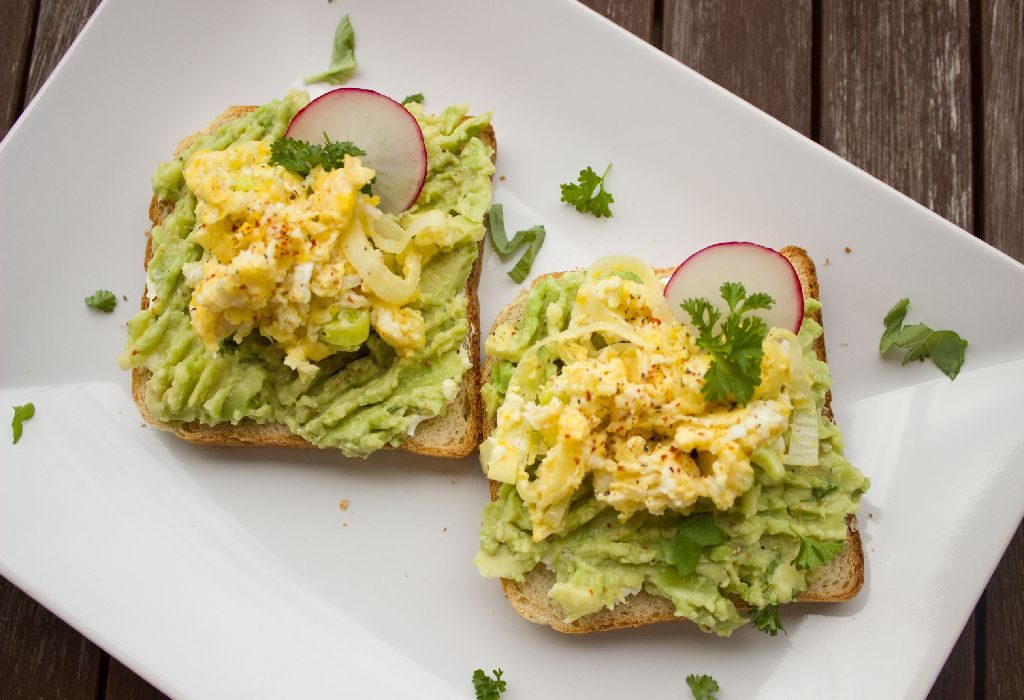 In this Article
Spreads transform simple bread or a toast into a lavish recipe. This spread is a nice combo of water-filled zucchini, and vitamin rich parsley pepped up with the flavors of chilies, garlic and black peppers. Kids are bound to love it if you pack it up in their tiffins. Also, this is a healthy option for those conscious weight watchers as you will surely not head for fat-laden butter and cheese after you have tasted brown bread with this yummy hung curd spread!
| | | |
| --- | --- | --- |
| Serves | Preparation Time | Cooking Time |
| 2 People | 00 Minutes | 05 Minutes |
Ingredients
1 cup hung curd
2 cloves garlic, minced
1 green chili, finely chopped
1 large zucchini, grated
Salt to taste
Black pepper, freshly ground
1 tbsp parsley, chopped
4 slices whole wheat bread or multi-grain bread
For hung curd
1 cup milk
1 tsp (teaspoon)
yogurt to use as starter culture
Method
To make hung curd
Step 1
Take 1 cup milk.
Step 2
Heat if on flame till lukewarm, around 30 degrees C.
Step 3
Add one tsp of starter culture, mix well with a spoon and allow to set for around 5-6 hours or overnight depending on the weather.
Step 4
After the fresh curd is ready, collect four equipment from your kitchen-a bowl, one strainer or sieve, one muslin cloth or cheese cloth and one heavy weight bowl, pan or lid. You can use a clean cotton kitchen napkin instead of a muslin cloth.
Step 5
First line the strainer into a bowl.
Step 6
Then line a muslin cloth on the strainer.
Step 7
Pour the fresh curd.
Step 8
Bring the four edges of the muslin together and tie one edge tightly around the rest.
Step 9
Gently press and you will see the whey (curd water) dripping.
Step 10
Tie the muslin to some handle or holder in your kitchen.
Step 11
Place a heavy bowl or pan below it so that the whey gets collected.
Step 12
Allow the why to collect for about 5 hours or overnight.
Step 13
Take it down from the handle and open the knot of the muslin cloth. You will get a creamy hung curd.
Step 14
You can use the collected whey to make any gravies, or chapati dough and in pulaos.
Step 15
Use the hung curd immediately for any recipe or keep in the fridge to be used later.
To make the zucchini and parsley spread
Step 16
In a small mixing bowl, add hung curds, the minced garlic, zucchini, parsley, black pepper and salt as per taste.
Step 17
Stir to make a thick paste.
Step 18
Lightly toast four slices of multi-grain or whole wheat bread in a pan or a toaster.
Step 19
Spread one side of each toast with the zucchini, parsley spread.
Step 20
Cover the dip with another toasted slice and take a bite. Your toast tastes amazing with this zucchini parsley spread.
Nutritional Information
Servings Per Recipe: 4
Serving Size: 1 serving
Amount Per Serving
Calories
151
Total Fat
4.9 g
Saturated Fat
3.7 g
Polyunsaturated Fat
0.7 g
Monounsaturated Fat
0.5 g
Cholesterol
19.9 mg
Sodium
676.8 mg
Potassium
320.8 mg
Total Carbohydrate
7.6 g
Dietary Fiber
3.2 g
Sugars
1.2 g
Protein
4.4 g
Vitamin A
30.8 %
Vitamin B
12 4.9 %
Vitamin B
6 4.7 %
Vitamin C
9.9 %
Vitamin D
0.0 %
Vitamin E
3.1 %
Calcium
15.1 %
Copper
4.5 %
Folate
5.9 %
Iron
3.1 %
Magnesium
6.9 %
Manganese
9.3 %
Niacin
2.0 %
Pantothenic Acid
4.2 %
Phosphorus
12.5 %
Riboflavin
10.1 %
Selenium
4.2 %
Thiamin
4.3 %
Zinc
3.2 %
*Percent Daily Values are based on a 2,000 calorie diet.
Your daily values may be higher or lower depending on your calorie needs.
?>