Your Hospital Bag Checklist for Delivery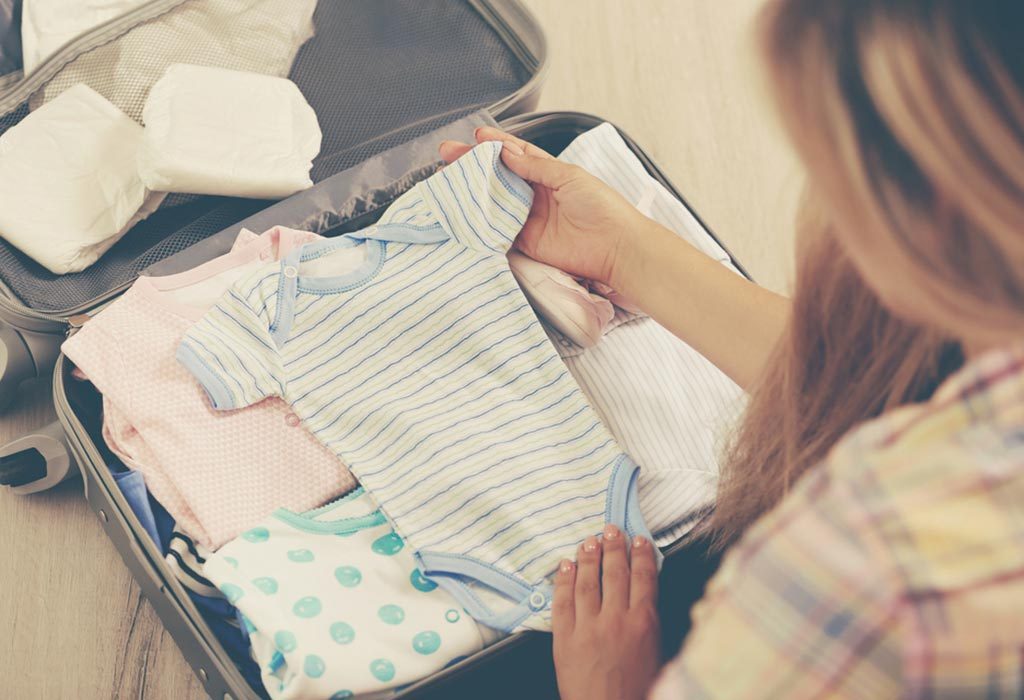 Going into labour can be an exciting and anxious time in your life and pregnancy. All the effort and care of the past nine months is finally coming to an end with the delivery of your baby. Whether you have your delivery date fixed already or not, you should be prepared to rush to the hospital the minute you go into labour. This includes having a bag already packed with all the essentials you will need during your stay at the hospital.
Video : What to Pack in Your Maternity Hospital Bag
When to Pack Your Hospital Bag
A good time to pack a bag for the hospital is around the 34th and 35th week of your pregnancy. If you are a high-risk pregnancy, then you can pack a bag a couple of weeks earlier. You must not delay packing your bag beyond the 38th week. The baby will not wait for anyone, least of all for an unpacked bag!
Infographics: Hospital Bag Checklist for Delivery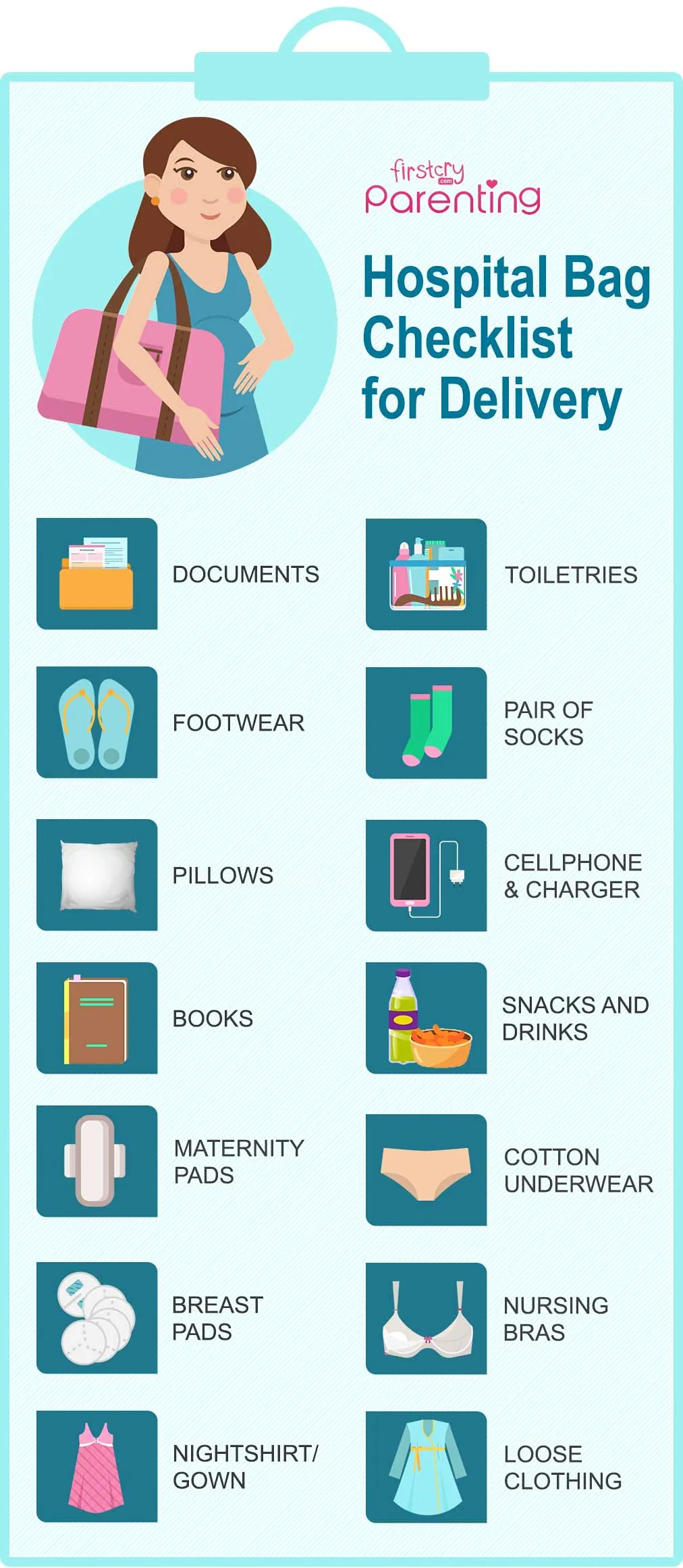 What to Pack for Labour
Mothers who are delivering vaginally will have to stay for one to two days post-delivery at the hospital while mums who've had a C-section will stay longer, up to a period of 3 to 4 days. You must keep in mind the length of your stay in the hospital when packing your bag. You must also ask your hospital what they provide for mothers and you can keep those items off your list of things to pack. Make a hospital bag checklist for mom and baby, as this will help you keep track of what you have sourced and what you need to still find.
Documents: Make sure that you make a folder that contains all your documents such as ID proof, insurance documents, and hospital forms.
Dresses: Be sure to pack loose clothing like maternity dresses that have buttons on the front in order to be able to quickly undo them for breastfeeding. Flowy dresses are best as comfort is key during this delicate stage. When going to the hospital, if you do have the time, wear loose clothing that is old as it could get stained by various fluids.
Footwear: Take slip-ons as they are the easiest to get in and out of. You can also carry socks in case you feel cold in the air conditioning.
Lip balm: Most mothers find that outside their labour room their lips start to dry out. Keep a lip balm to protect your lips from the air conditioning.
Snacks and drinks: Labour can sometimes extend for hours. This will be the time that you are glad that you carried some small snacks to help you through the pain. Sugar-free candies are a great snack.
Pillows: Pillows can help ease the pains of the contractions. Also, remember to pack a breastfeeding pillow for use soon after birth.
Underwear and sanitary napkins: You will need extra pairs of underwear and sanitary napkins during your stay in the hospital post-delivery. Bella Mama has a good range of maternity lingerie that offers the utmost comfort. They have expandable bands at the belly as opposed to regular underwear.
Toiletries: If you are particular about using a particular brand of toothpaste or cannot do without your floss, then you will appreciate having taken the time to pick up extra toiletries and packing it into your hospital bag.
Nursing aids: Be sure to pack nursing bras and pads to make breastfeeding a more comfortable experience.
Glasses or lenses: It is quite easy to forget your glasses and lenses in regular life without having the excitement of labour to distract you. Buy an extra pair of glasses and keep them in your bag beforehand.
Gadgets: Be sure to pack your mobile and tablet charger and an mp3 player if you desire to listen to some music to ease the pains of the contractions.
Accessories: Buy a couple of headbands and hair clips to help keep away the hair during labour. After delivery, these will help you as you learn how to breastfeed.
Going home clothes: Be sure to pack comfortable clothes for you to wear when you are discharged from the hospital.
Books: Keep it light and stick to one or two titles that will help you stay calm and relaxed. PG Wodehouse is a great option as is Alexander McCall Smith.
Nursing bras: Read up on the different types of nursing bras and try a few to select a style that you are most comfortable with. Pack at least two nursing bras. Maternity bras that are wireless make all the difference and will make your life as a new mom really easy!
Breast pads: This will help soak up any unexpected leaking of milk as you learn to breastfeed.
Maternity pads: You will need pads after birth and be sure to pack at least an entire pack.
Nightshirt: Pick a nightshirt with a front opening as it will help with breastfeeding. You can also buy nursing sleepwear which comes with side panels that can be opened to feed your baby.
Toiletries: Do not forget to pack towels, soap, shampoo, toothpaste, hairbrush, and floss.
Old or cheap underwear: Do not carry new or expensive underwear and stick to cotton underwear.
Eye mask or earplugs: These will help you sleep, particularly if your ward is noisy.
Handouts: Your prenatal classes or consultations will give you material to read up on how to breastfeed.
Books: Carry a couple of books for entertainment that will keep your mood light.
What Should Your Birth Partner Pack?
Packing for the hospital is a two-way street; while you may need your essentials it is important to communicate with your partner and prepare them for what they may need in the hospital and what you may need from them during the delivery of your child, here are a few points to consider:
Neck-pillows
Calming music
Blankets
Earphones
Cash
Comfortable shoes
Appropriate clothes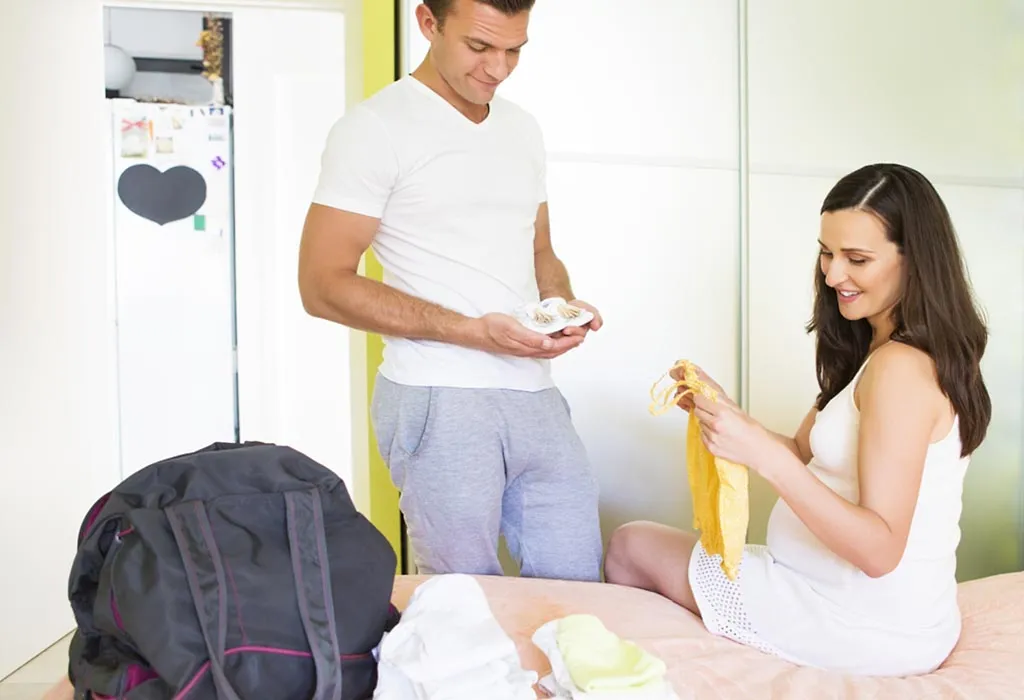 What to Pack for Newborn Baby
Your newborn baby hospital bag checklist should include the following:
Two to three bodysuits and vests.
A baby blanket to keep your little one warm especially when you and your baby are heading home.
Nappies: Be sure to pack as many as you can as a newborn can go through as much as 12 a day.
Muslin handkerchiefs for mopping up any milk.
One pair of socks and booties for the journey home.
A woollen hat to protect your baby's head on the way home.
An outfit to go home in when you and your baby are discharged.
A baby car seat can be the best way to transport your baby back home as it is safe and comfortable.
Jacket or sweater if the weather is particularly cold.
Things You Should Not Carry in Hospital Bag
Here are some things that should stay out of your pregnancy hospital bag.
Jewellery, as it can get in the way of your tests and procedures and can even get stolen.
Cash or other valuables as they are easy to misplace in a large hospital.
Medications that have not been recommended by your doctor. This includes even vitamins.
Breast pumps are provided by the hospital and you will not need to carry your own to the hospital.
Get your bag ready a couple of weeks before your ninth month of pregnancy begins. Do not stress out about what to pack in the hospital bag for baby and mom as some family members can always bring one or two items to you at the hospital. You can also run a few drills with your partner in preparation for when you are rushing to the labour room.
Also Read: Hospital Bag for C-section delivery