Yoga for Back Pain – Poses to Strengthen Your Spine and Reduce Ache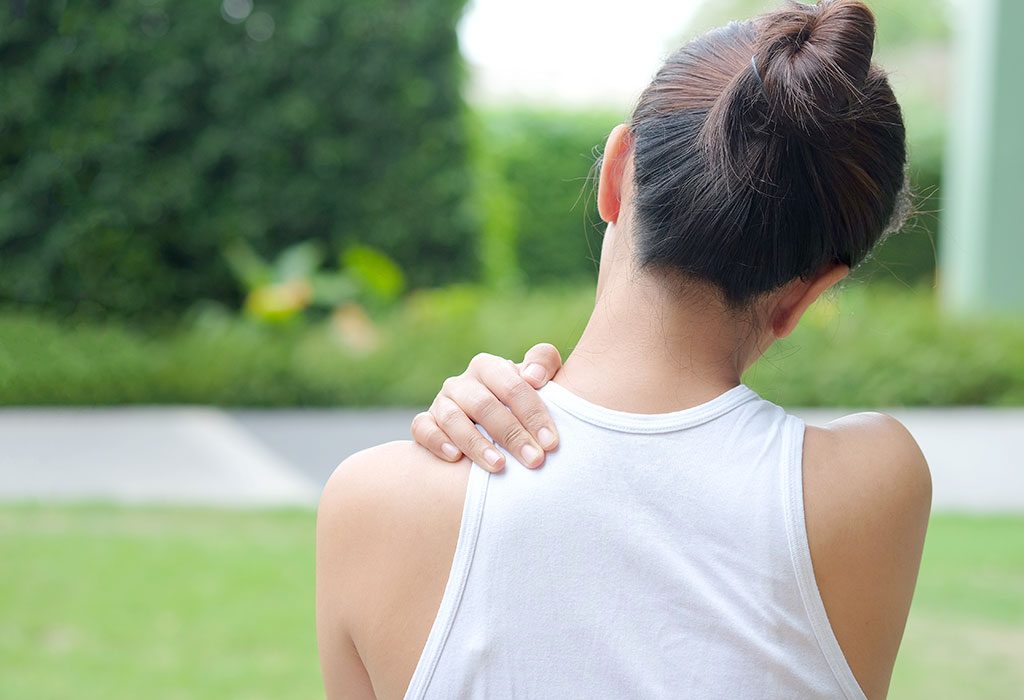 Yoga has been practised and constantly developed for over 5,000 years now, and it has spread all across the planet. A lot of people are aware of its benefits and the positive impact it has on the human body. Yoga poses or asanas, combined with pranayama or regulated breathing can help lower your heartbeat and make your body flexible and fit all at the same time. Pains can be common as people grow older and back pains are probably very common. Yoga can strengthen your back muscles and help reduce the pain. Let's read on to find out more information about how you can keep your back safe and remain healthy.
How Does Yoga Ease Out Back Pain?
Yoga is a great tool to remain flexible and healthy. At the base of it, yoga incorporates a lot of stretching, breathing and relaxing which helps your muscles and your organs to rejuvenate and takes the stress off them. Here is how it helps to ease out back pain.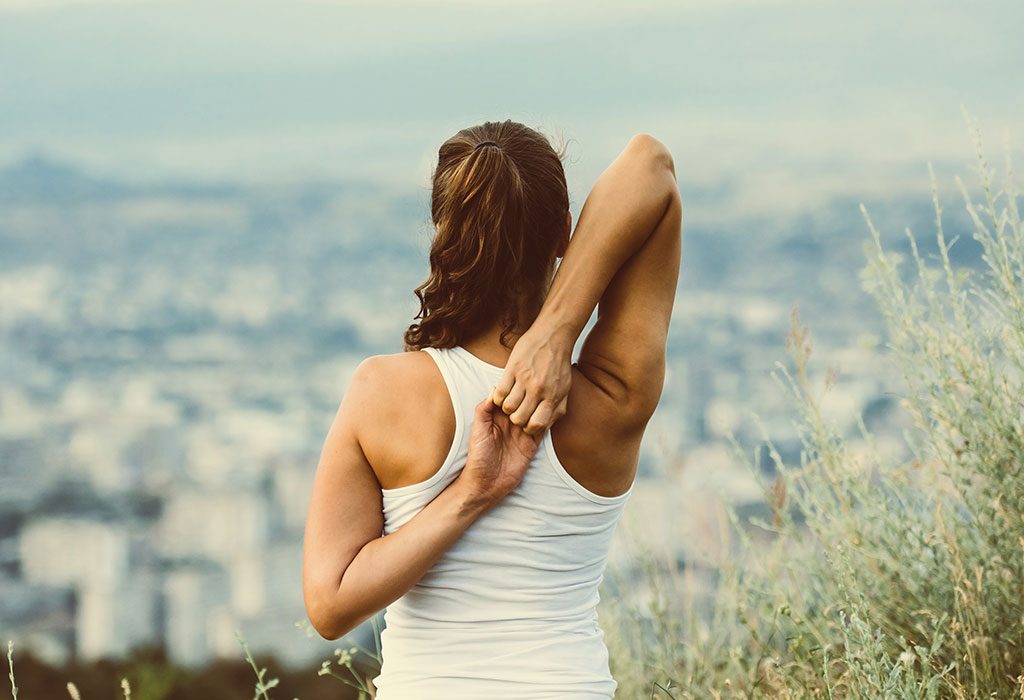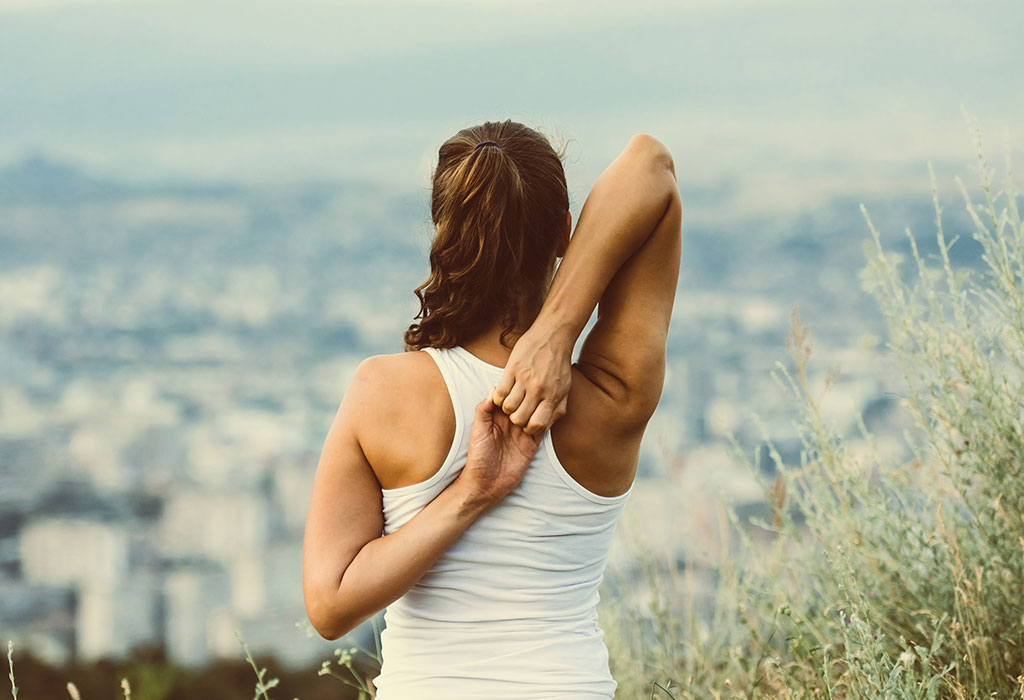 Stretching and relaxing your muscles improves range of motion, which helps avoid back pain.
Holding yoga poses or asanas helps strengthen muscles.
Yoga helps maintain posture and alignment, which alleviates pain symptoms.
Better body awareness.
Yoga Exercises for Upper Back Pain Relief
There are different kinds of yoga nowadays catering to different kinds of people like Hatha yoga, Bikram yoga, Iyengar Yoga etc. but there are certain poses that you can practice within the comfort of your house which will help reduce back pain and allow you to go about your work easily. Some of them are listed below.
1. Cat Stretch (Marjariasana)
How to Do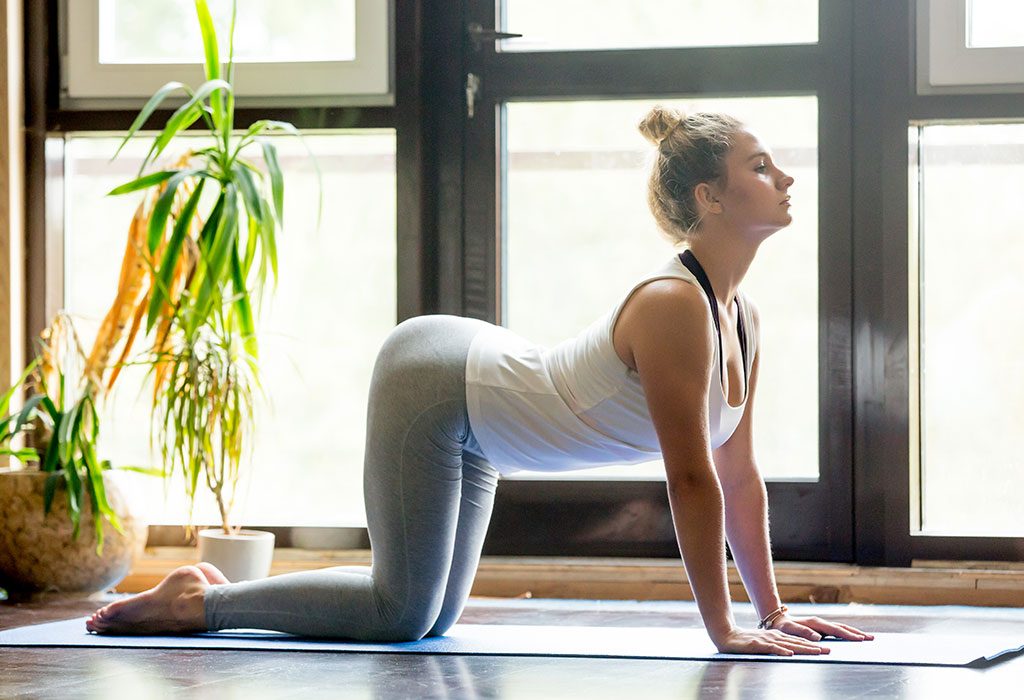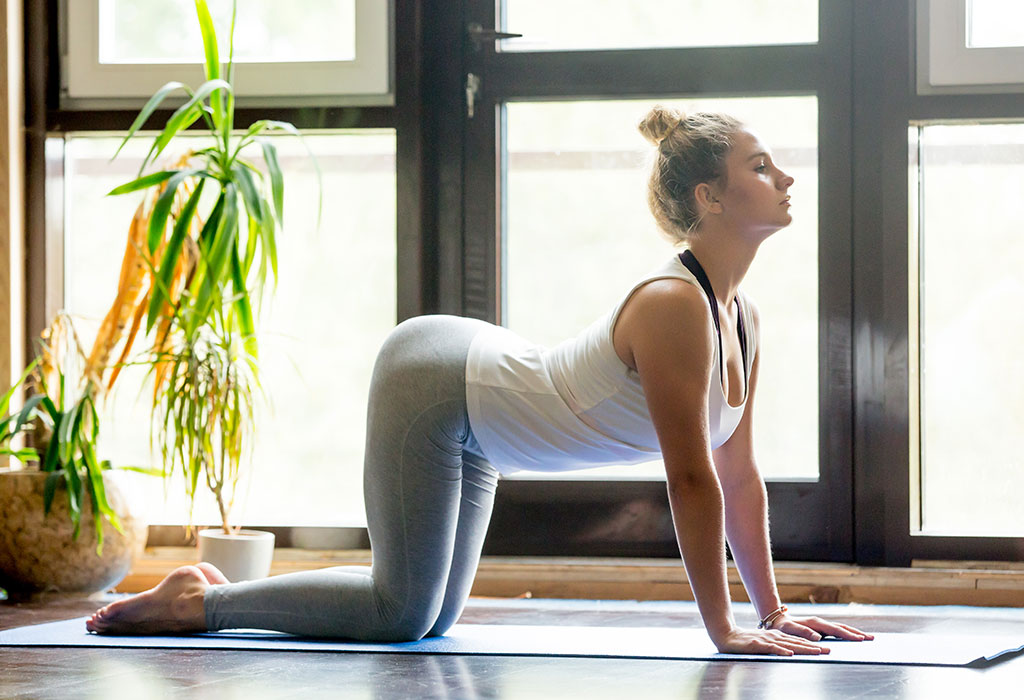 You will have to get down on your hands and knees. While pushing your stomach downwards, curve your spine and look up. Then arch your spine and look down. Repeat about 12 times and do 3 sets. Breathe deep while doing this asana.
Why It Works
This is a compound asana that helps multiple parts of your back including the spine, the rhomboid and the trapezius. It also aids in loosening up any tight muscles in the upper back region. Use this as a warm-up in case you are planning to exercise or participate in a sport.
2. Double V Pose
How to Do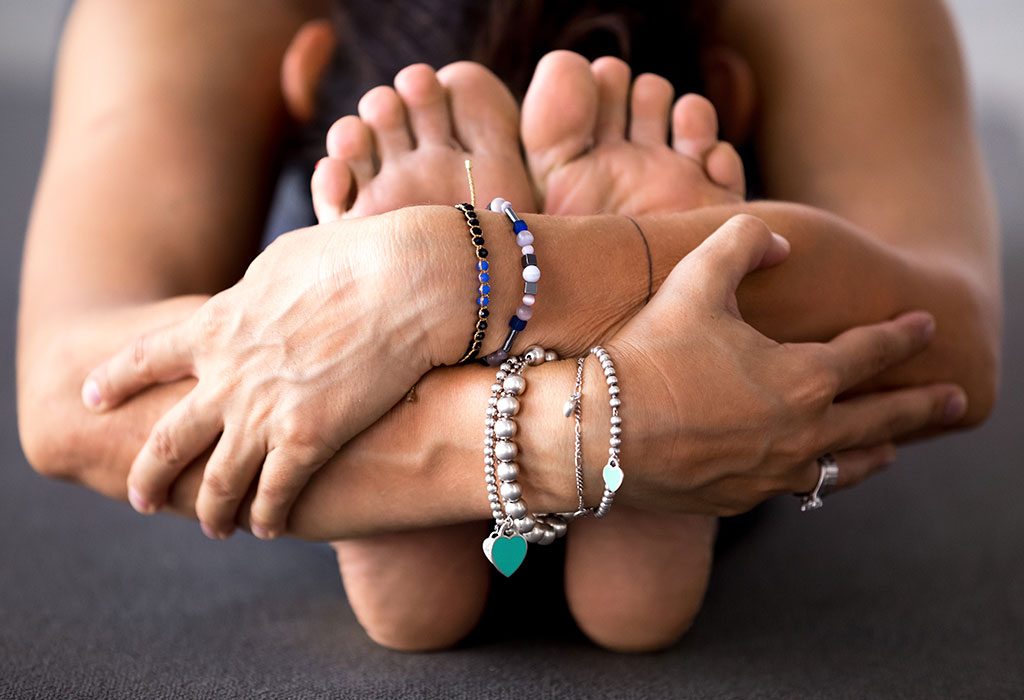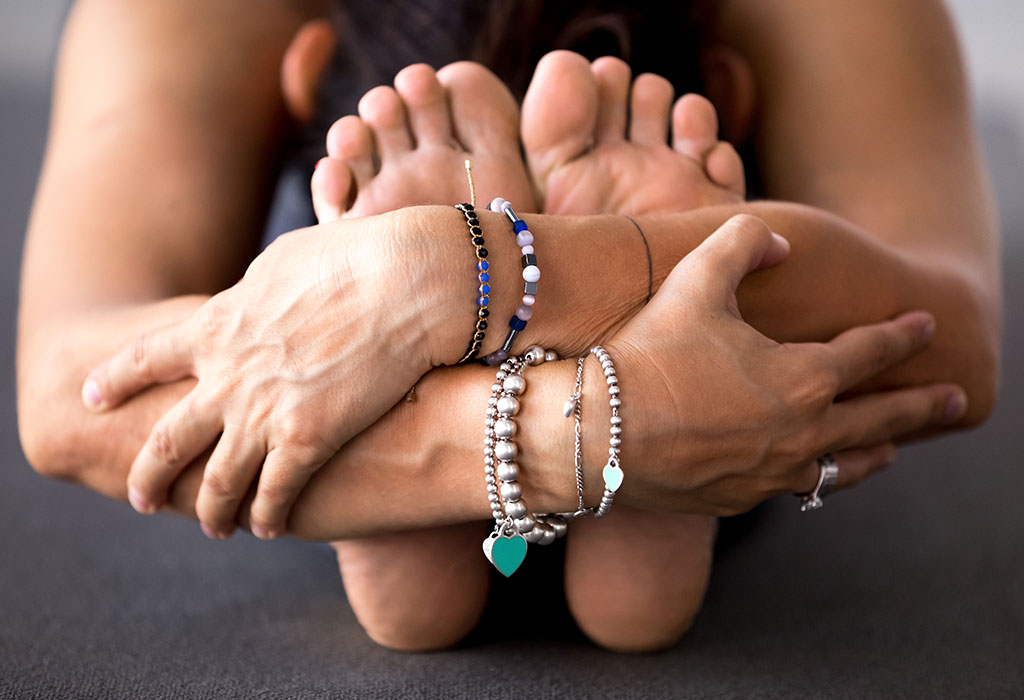 Lie on your belly and prop up your body with your forearms underneath you. Extend your arms in the opposite directions such that your left arm is extending rightwards and vice versa. You can keep your face on a pillow or a book and try to walk your fingers outwards, stretching your back in the process.
Why It Works
This posture helps extend all the muscles on the upper back including the trapezius, rhomboid, your lats and neck. Neck pains usually travel downwards into the back, so this is a good pose to practice.
3. Diagonal Child Pose(Shishuasana)
How to Do
Begin on your knees and hands touching the ground. Extend your arms forward with your head and touch the ground while extending your spine. Start crawling your hands towards the top right and top left edges of the mat. Hold this for a few seconds and inhale while coming back up.
Why It Works
This asana helps to stretch out the spine and also the muscles surrounding the rib cage. It also assists in warming up and loosening the latissimus dorsi muscles. Make sure to try this at night because it is of great help to those who find it tough to sleep.
4. Rabbit Pose(Shashankasana)
How to Do
Start on your hands and knees. Bring the top of your head to the mat and bring your legs together. Now slowly, hold the back of your heels with your hands and push your head in towards your knees. Draw your chin to your chest and feel the stretch in your back. Hold this position for about 5-7 seconds and release. Repeat about 10-12 times.
Why It Works
This position helps to curve out the spine entirely which improves flexibility. At the same time, it helps to relieve the back muscles as well as your shoulders.
5. Supported Fish Pose(Matsyasana)
How to Do
You will need two yoga blocks/books for this pose. Keep one at the top of the mat and another one a few cms below. Sit in front of the blocks and slowly lie down in such a way that the block at the top of the mat supports the back of your head and the other one is placed in between your shoulder blades. Keep your arms to the side, and your legs stretched out. Hold this pose for about 2 minutes.
Why It Works
This is a very helpful pose for those people who spend a lot of time driving or sitting every day. It helps to stretch out your chest and shoulders.
6. Cow Head Pose(Gomukhasana)
How to Do
Sit on a mat, fold and bend the right leg over the left thigh such that the heel of the right heel touches the side of left buttock. Raise one of your arms above your head and bend it with your elbow pointing upwards and clasp the other hand bringing it from behind your back. Hold this position and breathe for 30 seconds to a minute. Change sides and repeat the process.
Why It Works
It helps to strengthen the upper back muscles along with the chest. It promotes the roundness of the spine and improves the sideways curvature. Make sure to do this in the mornings to ensure a fresh and easy day!
7. Backward Bend(Supta Vajrasana)
How to Do
Sit on your knees with your legs folded under your buttocks. Keep your elbows on the ground on either side and start bending backwards until your head touches the floor. Bring up your arms and rest them on your chest. Hold this pose for a minute or two.
Why It Works
This posture helps to increase the flexibility of the entire spine and also stretches your pelvis. For people who have the tendency to keep a rounded back, this asana is very useful.
8. Plough Pose(Halasana)
How to Do
Lie down on your back and lift your legs up. Start to slowly bring them backwards such that your feet touch the ground over your head and your knees are close or almost touching your face. Hold this position for a minute and remember to breathe. Return to original position and breathe again.
Why It Works
Usually, this posture is practised at the end of a yoga session in order to make you feel fresh and to get the blood pumping in your body. This stretches out the spine and assists with neck pains. It is a rejuvenating asana that must be performed with every session.
Yoga Poses for Lower Back Pain
Similar to certain yoga poses that provide relief from upper back pain, there are some that help with lower back pain as well. Here are some of them.
1. Spinal Twist (Supta Jathara Parivartanasana)
How to Do
Lie down on the ground forming a T shape. Bend the knees and move them towards your chest. Now while looking towards one direction and keeping your torso in the same direction, drop your knees to the other side so that you get a twist in your back and midsection. Hold for 3 breaths and repeat on the other side.
Why It Works
This helps open up your lower back and loosen the muscles. It also helps in giving it a better range of motion apart from improving stability in the long run.
2. Sphinx Pose(Salamba Bhujangasana)
How to Do
Lie down on your stomach on a yoga mat. Extend your arms and bring them next to your head. Point your elbows down, and using your forearms for leverage, push your torso up such that you imitate a sphinx. Hold the pose for about 1-2 minutes before returning to neutral position. Finally, return to child pose for a few breaths.
Why It Works
The Sphinx Pose is great for helping shape the spine and also works on the sacral-lumbar arch. Since many people tend to sit on their backs all day, there is a lot of pressure exerted on the lower back
3. Downward Facing Dog(Adho Mukha Svanasana)
How to Do
Tuck your toes and with your hands, rise into the Downward Facing Dog. With the back straight, keep your knees slightly bent for now. Push your tailbone up toward the sky. Now slowly, straighten out the legs and try to touch the ground with your heel. Activate your back muscles by squeezing your shoulders and hold for a few breaths.
Why It Works
This is a great pose, not only to decompress and stretch your entire spine, but it also works your shoulders, biceps and stretches your hamstrings as well. This, in turn, helps further with lower back problems.
4. Thread the Needle
How to Do
Lie down on your back on the floor and keep the soles of your feet on the ground. Lift your left leg and place the ankle on the thigh of the right leg. Hold the right leg at the shin with both your hands and pull towards your chest. Stay there for about a minute and change legs.
Why It Works
If your hips and glutes are not well stretched out, your body overcompensates by using the help of the lower back which leads to straining. With your hips and hamstrings loosened, it helps your body maintain its natural gait.
5. Bridge Pose (Setu Bandha Sarvangasana)
How to Do
This asana can be performed anywhere. You will have to lie down with the soles of your feet on the ground. Now using your glute muscles, lift your pelvis towards the ceiling. Hold this position and squeeze the glutes at the top for a second before returning. Repeat 12-15 times with 3 sets.
Why It Works
This is a therapeutic asana for people with hypertension as well as osteoporosis. It helps to strengthen your glutes as well as your lower back.
6. Touch Your Toes (Padangusthasana)
How to Do
This is a very basic but very effective yoga pose. Stand straight, bend down and try and touch your toes, leading with your chest. Keep your knees straight. Are you able to touch your toes? Try to bend further in and touch your knees with your head.
Why It Works
Touching your toes greatly improves the flexibility of the spine and the body. While stretching your lower back, it also controls nervousness and helps with high blood pressure.
7. Triangle Pose(Utthita Trikonasana)
How to Do
Stand up with your feet together. Now lunge your right foot back a couple of feet and point the foot at a right angle. Turn your chest to the side and extend your left arm downwards along your left leg and the right arm towards the ceiling. Be careful to not overstretch; it's okay if you are not able to touch the ground on your first go. Hold that for 12 seconds and switch sides. Repeat 5-7 times.
Why It Works
This asana helps to stretch out the glutes, hamstrings, hips, groin, obliques and even the lower back. It is important to have excellent lower body mobility and strength in order to keep your back safe from unforeseen injuries. Make sure to exercise caution, and all these poses will make you feel great in no time!
Tips and Precautions
Although there are various asanas that you can practice which will help reduce or even get rid of the different kinds of back pain, there are some pointers that you should keep in mind. These will help you be safe while you perform the poses.
Try practising sitting and standing better. Posture goes a long way in assisting the yoga poses as well as your upper and lower back.
Don't forget to keep your core tight. Although stretching is great for you, a tight core helps keep the core and lower back strong.
If you have had your head bent down for long, make sure it's the last part that becomes upright when you get up. A rush of blood can make you pass out.
Do not make sudden movements during asanas for the back or get up suddenly. If your muscles are not trained, you may injure yourself.
Make sure to breathe while doing poses for both upper and lower back. Your muscles need the oxygen to rejuvenate.
Some Yoga poses are not good for your back. You may take the assistance of a yoga teacher or even the Internet to find out more details.
FAQ
1. Which Yoga Poses are Safe for Back Pain during Pregnancy?
Staying active during pregnancy is good not only for you but also for your baby. You can go for light jogs and even lift light weights unless specified otherwise by your doctor. Yoga is the perfect way to not only keep in shape but also help the baby through breath control. Some poses that you can perform to ease back pain during pregnancy include the Goddess Pose, the Sumo Squat, the Wide-Legged Forward Bend, the Butterfly, Child's Pose and the list goes on. These are all back pain Yoga exercises, and you can have a look on the Internet on how to perform these poses. They are sure to relieve you from your pain.
2. How Often Do I Practice Yoga Asanas for Lower Back Pain?
You can start by practising gentle yoga for back pain two to three times in a week for about an hour. Listen to your body because it will be able to tell you whether you are feeling better or straining yourself. Once you think you have put together some strength, you can increase your weekly frequency. You could also increase the amount of time for which you practice.
3. Should I Do Yoga If I Have Severe Back Pain?
Yoga need not be the best solution if you suffer from severe back pain. It would probably be a better idea to seek medical attention in that case. However, if you suffer from occasional soreness, yoga for lower back or even yoga for upper back pain between the shoulder blades can provide you with a lot of relief.
Yoga has innumerable benefits for different parts and ailments in your body. You and your body will find it benefiting you just after a few sessions. If you are one to suffer from back pain, upper or lower, yoga is sure to provide you with some relief and also help you become strong and flexible. All it takes is along with yoga is a few small lifestyle changes, and it will change your life and your mood.
Also Read:
Yoga Asanas to Perform for Getting Stress Relief
Yoga Poses for Boosting Your Immune System
Health Benefits of Yoga for Your Family