Woof, Woof! Cute Little Ziva and Daddy Dhoni Just Did Something Really Funny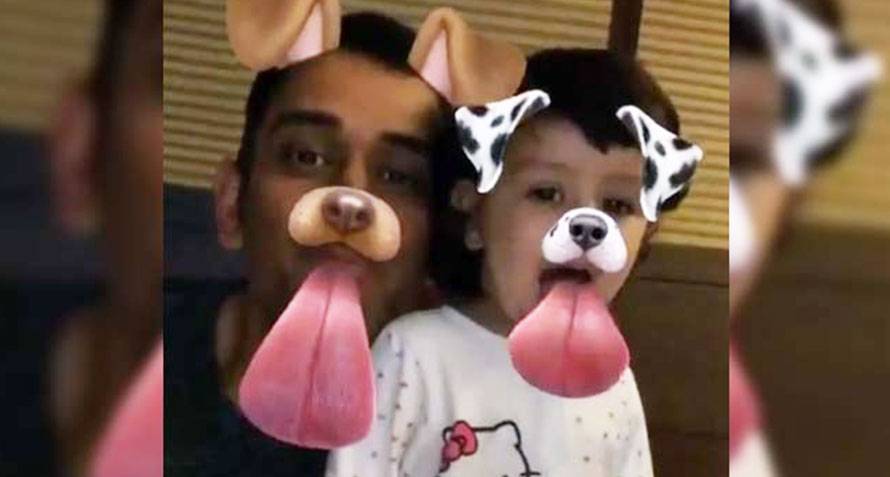 Tucked up at home, in the comfort of some leisure time that he has got after really long, MS Dhoni was thinking of fun things to do with his daughter dearest. What activity would be the most enjoyable, the most engaging, and have the most scope for being wild and crazy? Guess what he decided!
Well, it's not that difficult a guess. What could be possibly more fun than making puppy faces at the camera, complete with puppy ears and nose? We are talking about Snapchat, of course!
Snapchat is a mobile application lets you use various filters to transform yourselves into cute members of the animal kingdom (monkeys too!) and this is what the father daughter duo were busy doing recently. Ziva was in a Hello Kitty outfit and looked absolutely adorable, while her Daddy supported her the best he could by mimicking her expert noises!
https://www.instagram.com/p/BIRpMUQASc1/?utm_source=ig_embed&utm_campaign=embed_video_watch_again
Aww, we must say MS Dhoni is making the most of his time away from cricket. After all, he has been playing cricket non-stop – almost continuously for several years now! This means Daddy has had to spend long hours away from his home and family and with a cute little daughter who misses you so much, that can be very, very difficult! With Team India away playing a Test Series in the West Indies, MS Dhoni has got some highly sought-after time to spend with Ziva. And surprise, surprise! Both MS and Sakshi have got quite a skill for being crazy and wacky, as this old picture of a bearded man and a baby will tell you. Or the picture of the little angel with the glowing flowers in her head…
Find Out How Ziva Once Became Virat Kohli's Stress Buster
There is nothing more fulfilling and peaceful than spending time with the kids. Children have a unique sense of innocence and playfulness – qualities that can rejuvenate you instantly. This is why Dhoni tries his best to spend time with his daughter whenever he can. Her birthday, his matches, random family time…there's no occasion too big or small for bonding time, right? As for Mamma Sakshi, we are sure she is enjoying the bonding time with Daddy too! Touché, Dhonis!