Winter Looks You Can Steal From Sonam Kapoor's Wardrobe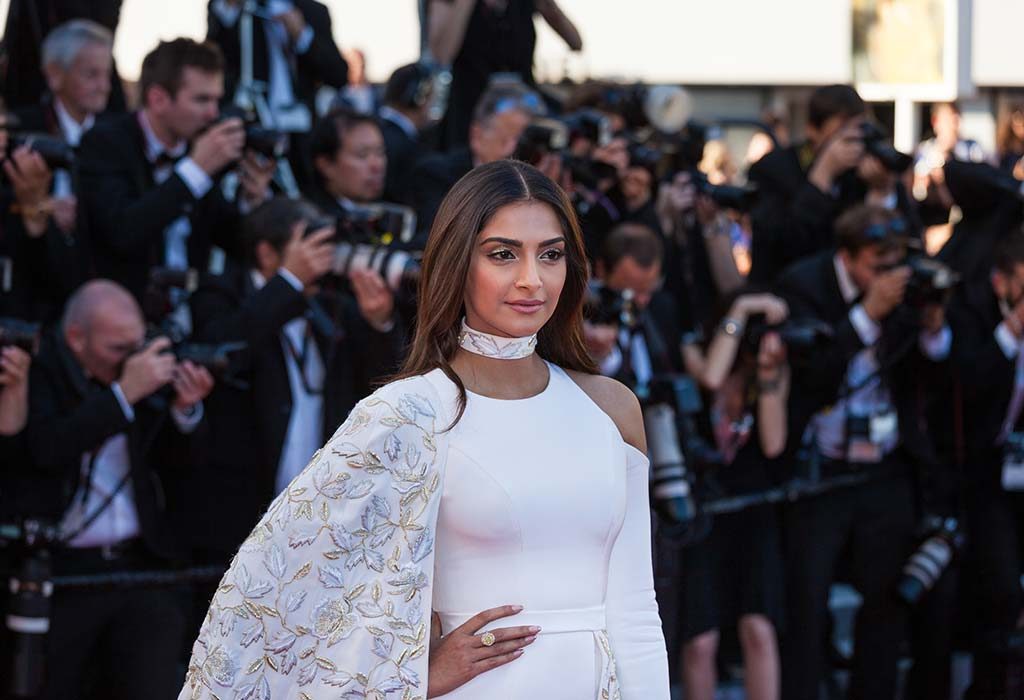 In this Article
Every year when winter rolls in, we love the warm blankets, fuzzy socks and the woollen pyjamas but we dread that we look like Big Foot when we step out of the house. Our sleeveless kurtis, denim skirts and halter-necks get pushed to the back of our closet, and we drown under bulky jackets. But this year, it doesn't have to be that way. Your OOTD's can be so much more than a chunky sweater, messy hair and vampy lips. This winter, you can hate the cold but still love your winter clothes. And who better to turn to for some winter fashion inspiration than the fashionista herself, Sonam Kapoor!
TOP 5 WINTER OUTFITS WORN BY SONAM KAPOOR
We all know that ever since Sonam Kapoor made her debut in Bollywood, she has been acclaimed as the fashion diva of the film industry. Whether it was the pretty pink dress in Aisha, the royal look in Prem Ratan Dhan Payo or the chic pantsuit in Veere Di Wedding, we've loved all the outfits she's sported. Every year, her outfits at the Cannes Festival take the red carpet by storm, and she is touted as a fashion trendsetter. Recently she also collaborated with her sister, Rhea Kapoor who designs most of her clothes, and started a new fashion line with her called 'Rheson'.
Since it's pretty evident that Sonam is the fashion icon of the millennials, it was necessary for us to find out what our fashionista wears during winter. She has never backed out from trying out new fashion trends and from starting her own, and this winter, she showed how plaids, chunky sweaters, knee-high boots and oversized blazers could be paired up to create great winter outfits.
1. Convent School Inspired Outfit
This convent-school-inspired outfit might give you a school girl vibe, but it can be styled in various ways. Sonam wore this outfit at the Business of Fashion conference earlier this winter. With this outfit, she has taken plaid and checks to a whole new level. She has paired a cotton check pencil skirt by Escada with a matching blazer from their Escada PS19 collection. The twist in this outfit is that Sonam wears a white turtleneck sweater inside the blazer and a black overcoat on top to feel extra snug. This outfit is perfect for working moms as you could wear the blazer and turtleneck with tapered black trousers and black mules for your next important business conference, and you'll look formal as well as chic without putting in much effort. Just accessorise your outfit with some golden or silver hoop earrings or pearls, and you're good to go.
2. Western Meets Eastern Outfit
Now that spring is knocking at our doors, and we can still feel the light, receding nip in the air, we are ready to go out for our Sunday picnics and barbecue parties. This is the perfect outfit for mommies to wear when they plan to go out with their little ones for a fun weekend outing. In this ensemble, Sonam has worn a beautiful floral sari dress along with a braided black belt from her own brand, Rheson. To cover herself up and to keep the outfit trendy, she has thrown on an uber cool denim jacket. Pretty cool, right! This outfit is perfect for new moms who are trying to cover up their post-delivery weight and want to dress up in something comfortable yet stylish. The flowy pastel sari dress will make you look pretty and will also cover up the pregnancy bulge!
3. The Party Perfect Outfit
If you plan on going on a date with your spouse on Valentine's Day or for your friend's wedding cocktail party, this is an outfit you should definitely consider wearing. Sonam looks classy as always in a floor-length flowy, beige gown and she has paired it with a floor-length blazer to add a winter vibe to the outfit. She wore this outfit for the 14th International Film Festival in Dubai. This outfit will make you look like you're about to attend a MET Gala, but it doesn't take much effort to conjure up this outfit. Go for a long flowy gown of your choice and pair it with a long cashmere shrug if you don't want to go overboard with the blazer. Don't forget to wear a classy watch and some rhinestone studded earrings to glam it up.
4. Cowboy Inspired Outfit
This outfit is perfect for days when you feel like dressing up a little quirky and out-of-the-box. Sonam has paired a pastel pink turtleneck with black culottes from her brand, Rheson. Even though the outfit is stylish, what inspired us is the way she has paired knee-high black boots with this attire, which is adding an extra 'oomph' element to this look. You could recreate this very outfit this winter, or you could customise it by wearing skinny jeans or black leggings in place of culottes and ankle-length boots if you don't feel very adventurous.
5. Boho Inspired Outfit
If you feel that you're not going to be able to wear your pretty skirts as they'll get covered with those drab jackets, don't worry, we've come up with a solution. Actually, Sonam has! She has worn a beautiful, floral, violet maxi skirt by a British brand called Temperley London. But, the twist in this outfit is that she has paired it with a chunky black turtleneck which makes the outfit look incredibly chic. The statement necklace adds a little boho vibe to the outfit. This winter, you too could wear your pretty maxi skirts or wrap around skirts with a turtleneck. Don't forget to wear a fringed necklace and pair of juttis to go all boho.
Even though it's winter and it's time to wear your cardigans and woollen coats, that doesn't mean you cannot slay in style this season. These outfits inspired by Sonam Kapoor will help you level up your winter fashion. We hope you enjoy recreating these outfits!
Also Read:
Style Lessons to Learn from Sonam Kapoor
Priyanka Chopra Fashion Tips And Style Lessons for You
?>