Why We Should All Consider Becoming a Mom Entrepreneur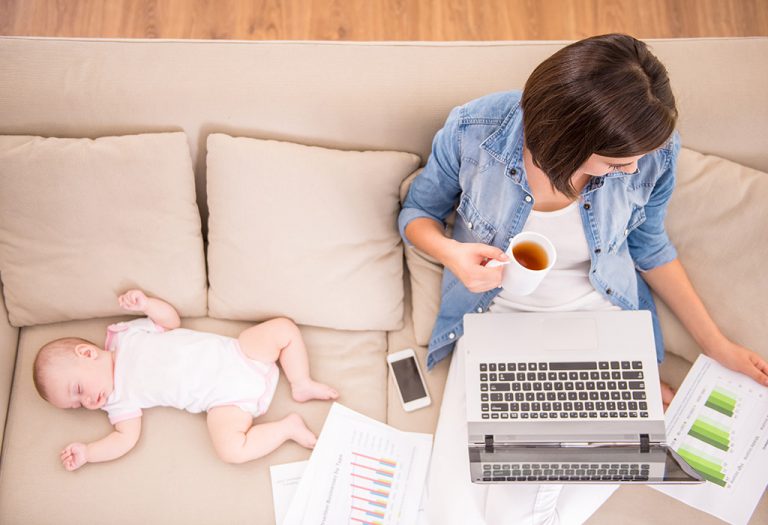 Moms are among the most efficient and hard-working people we know! They look after every need of their child, run around finishing all the household chores, cook delicious food for the family, and yet find the time and energy to play with their children, listen to their partners and entertain guests. Whew! However do moms manage their time and have the stamina for all that? Many of us would pin this down to the happiness we see on our family's faces – that makes everything worth it. However, at some point in our lives, we find ourselves faced with a lurking question that refuses to leave us. What happened to the dreams we nurtured before getting married or before becoming a mom?
In the not so distant past, some of us held jobs that we quit to take on our new responsibilities. We passionately pursued art, writing, cooking or another interest we wanted to shape into something bigger. But life moved on and left us behind. In the overwhelming wave of motherhood we often give up on a lot, including our goals and ambitions, our financial independence, and even our friends and social circles. However, this does not mean all is lost. There is an excellent thing you can do to redeem all you have lost. You can become a mom entrepreneur.
A mom entrepreneur is a woman who runs her own business while also managing all her household and parenting responsibilities. She pursues a field that interests her – from gardening and beauty to hobby classes and pottery – and not only earns her own money but also earns rewards that are even more important. She feels fulfilled, more self-confident, happier and connected to the world. Before you brush this off as something not everyone can do, check out the excellent benefits of becoming a mom entrepreneur. You'll also find out how you too can get started – yes, even if you have no past experience or are apprehensive about embarking on a new course of life!
As a mom entrepreneur, you will be able to supplement the household income and help your husband. You will also be able to increase your family's savings and contribute even more toward building your children's future.
There's a good chance to apply your education and use your skillsets. Giving up everything after motherhood often leaves us feeling empty; all the effort you put into building a career for yourself now seems futile. But as an entrepreneur you can apply all your skills while also ensuring things happen on your terms and rules. You are your own boss and no other job can give you this kind of leeway – the space and time that moms require.
You get an outlet for creative expression and for following your dreams. Always wanted to make and share your art with others? You can. Loved makeup and loved making people around you beautiful? You can. In fact, a great opportunity for starting your career as a mom entrepreneur is offered by Netsurf and theirdirect selling venture called Asmita. This opportunity pertains to marketing of personal care and health care products especially for women and children. It is a giant direct selling network of around 8 lakh distributors including more than 97 thousand Asmita's. These Asmitas enjoy socializing while doing networking and retailing, achieve greater club levels, and cherish greater income with a new sort of confidence and social recognition.
Mom entrepreneurs have a way of becoming financially and emotionally independent. This is excellent to feel more self-assured and also build your own rain fund to be protected against any emergencies that may arise.
You teach your children the lesson of time management early in life. When they see their mom prioritizing everything so well, they understand how to do it too. With Asmita, for example, you have amazing flexibility of time and location. A lot of the business can be conducted via the computer and a smartphone. You can choose your hours as well and be there for your child whenever he needs you.
You get a brilliant opportunity to meet new people and make friends. As an entrepreneur, socializing and networking will be essential for your role and what better an excuse to connect with all the people you have lost touch with over the years?
Becoming an entrepreneur does seem a challenging proposition at the outset. But the good news is that as a mom, you already manage things so well that this can be less a challenge, more a rewarding experience. Taking out time for yourself to do things you enjoy is important to feel happy as a person. And only a happy woman makes a happy mom, right? So pull up your socks, bid adieu to the negative thoughts that plague you, and seriously consider embracing a new way of life. All the best!