Why Green Peas Are the Perfect Food During Pregnancy
Expectant mothers should be aware of all the food that is good (and not good) to eat during pregnancy. While we know alcohol and coffee are better avoided, there are other foods we may not be so sure of. Expectant mothers should not only know what not to eat during pregnancy but also know what to eat so that she can provide proper nutrition to herself and her growing baby.
Nutritional Value of Green Peas
Green peas might look small and humble, but in reality, they are packed with Vitamin A, Vitamin B complex, magnesium, Vitamin C, fibre and protein. They are perfect for pregnant women to get their daily protein and vitamin intake.
(Source: USDA National Nutrient Database)
Benefits of Consuming Peas During Pregnancy
There are several benefits of eating green peas when you are pregnant:
1. Rich in Folic Acid
When there is another human being growing inside you, you need more than ever to raise the amounts of nutrients and minerals in your body. Peas contain folic acid which is great for cell DNA synthesis. So eating peas when you are pregnant will help avoid any genetic defects in the neural tube of your baby.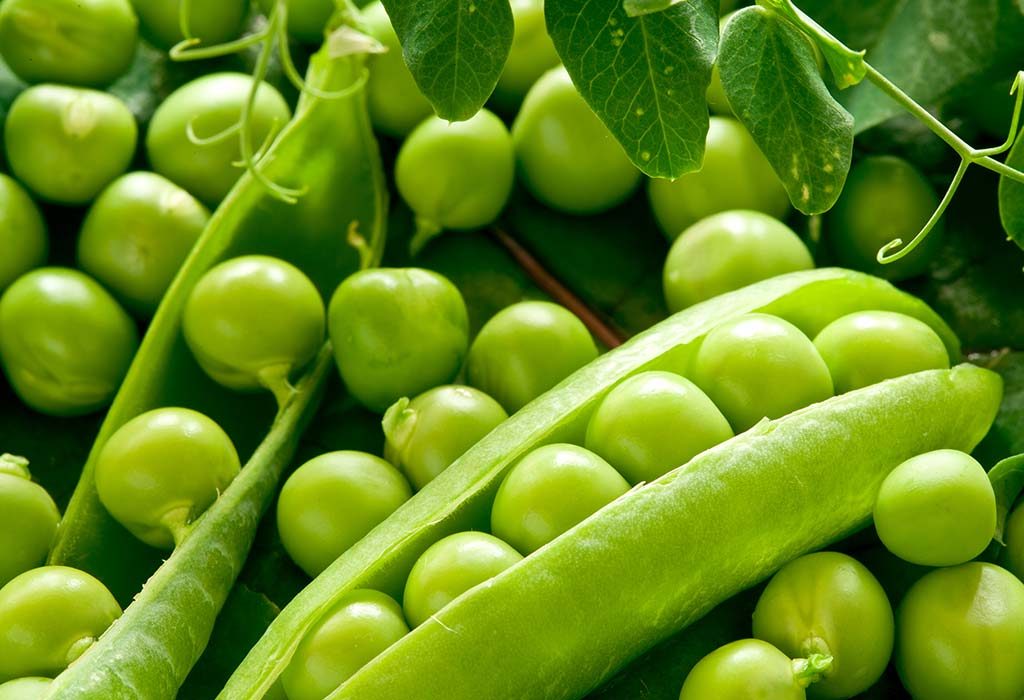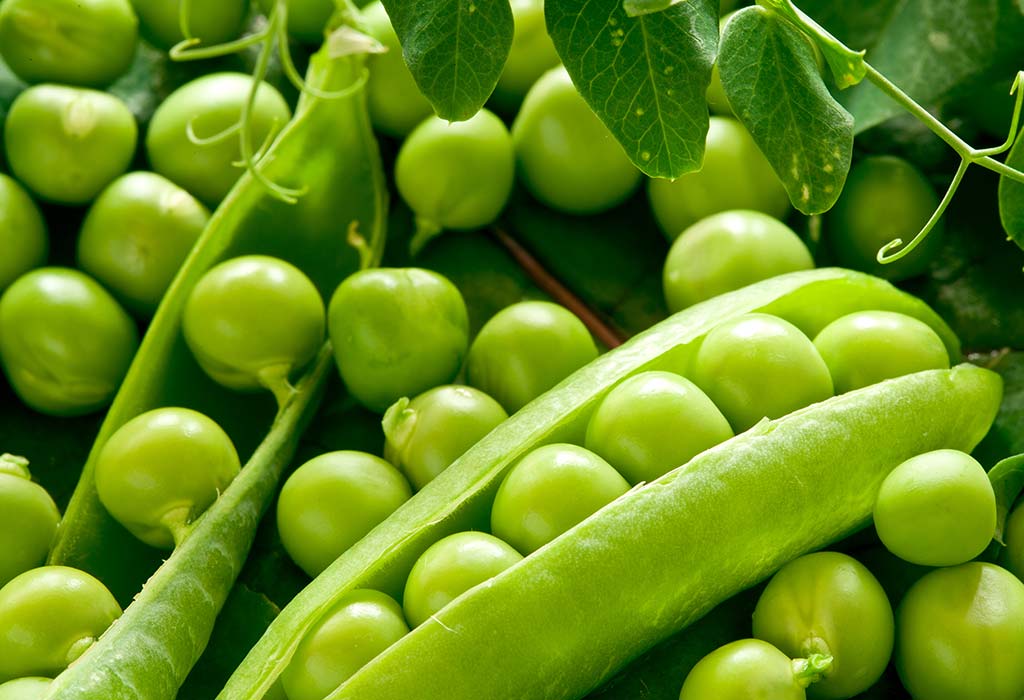 2. Heart-Healthy
Peas are packed with fibre, lycopene, and lutein which work for the maximum function of the heart. Lycopene is an antioxidant that prevents damage to cells. Peas contain other nutrients which help decrease LDL cholesterol levels and increase HDL cholesterol levels in the body. This is important, as too much LDL cholesterol increases plaque that builds up in the arteries, decreasing the heart's capability to pump blood at maximum efficiency. Having a healthy heart is vital for pregnant women.
3. Rich in Vitamin B9
Vitamin B9 is known to lessen defects during pregnancy and subsequent childbirth. Peas contain high levels of Vitamin B9 which can prevent neural tube defects in your baby, which are caused by the B9 deficiency. Also, peas are legumes which are needed for the healthy cognitive functioning of their unborn babies.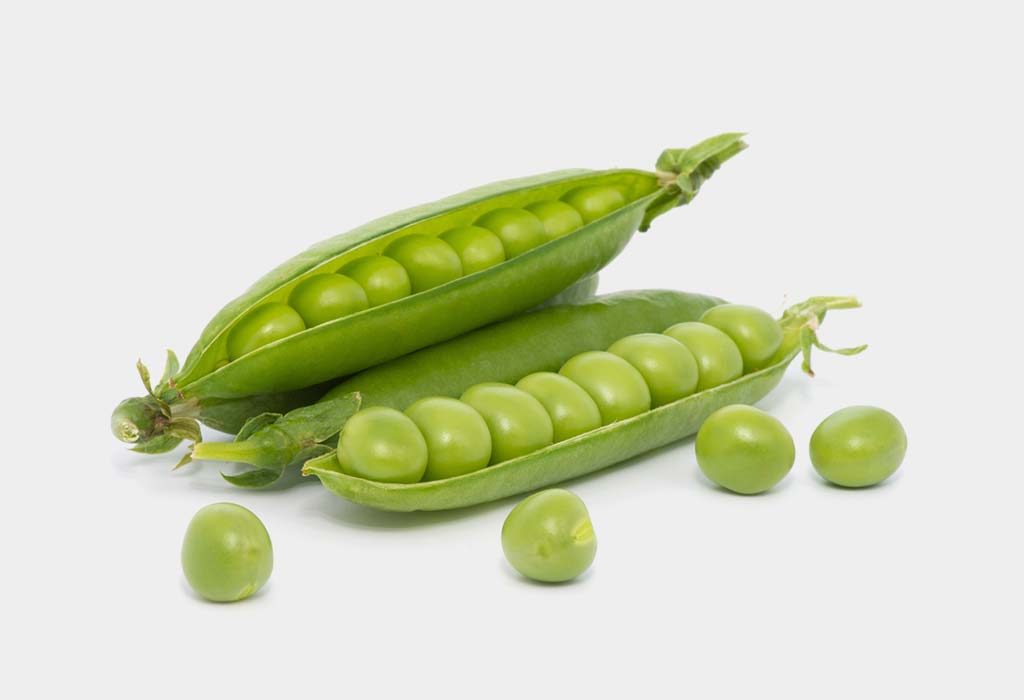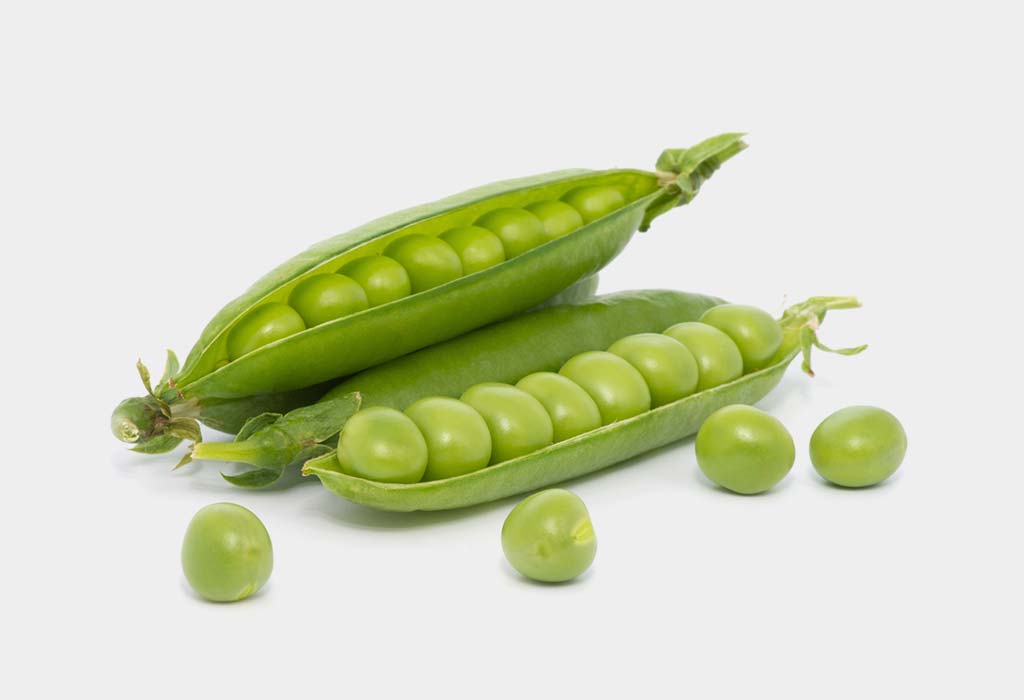 Green Pea Recipe for Pregnant Women
Having green peas during early pregnancy is extremely beneficial as not only are they high in protein, fibre, and vitamins essential for a healthy pregnancy, but are also easy to cook and prepare dishes with. Here is a delicious green pea recipe for pregnant women:
Green Pea Soup Recipe
This tasty green pea soup can be enjoyed by the entire family!
Ingredients
500 grams of fresh green peas
1 large onion (chopped finely)
A pinch of butter or a dash of sunflower oil
1 cup of milk
½ cup of curd or yoghurt
Salt and pepper to taste
A sprig of mint
Mint leaves (to garnish)
How to make
Add the chopped onions to a cooking pot and stir on medium heat along with the oil or butter, till they become translucent and soft.
Add the peas with the hot stock. Bring it to a boil, switch to low heat, cover the pan and let simmer for around 10 minutes.
Put in the mint sprig and blend using a handheld blender. Add the yoghurt, milk, and seasoning to taste.
Your green pea soup is ready! You can serve it with fresh bread.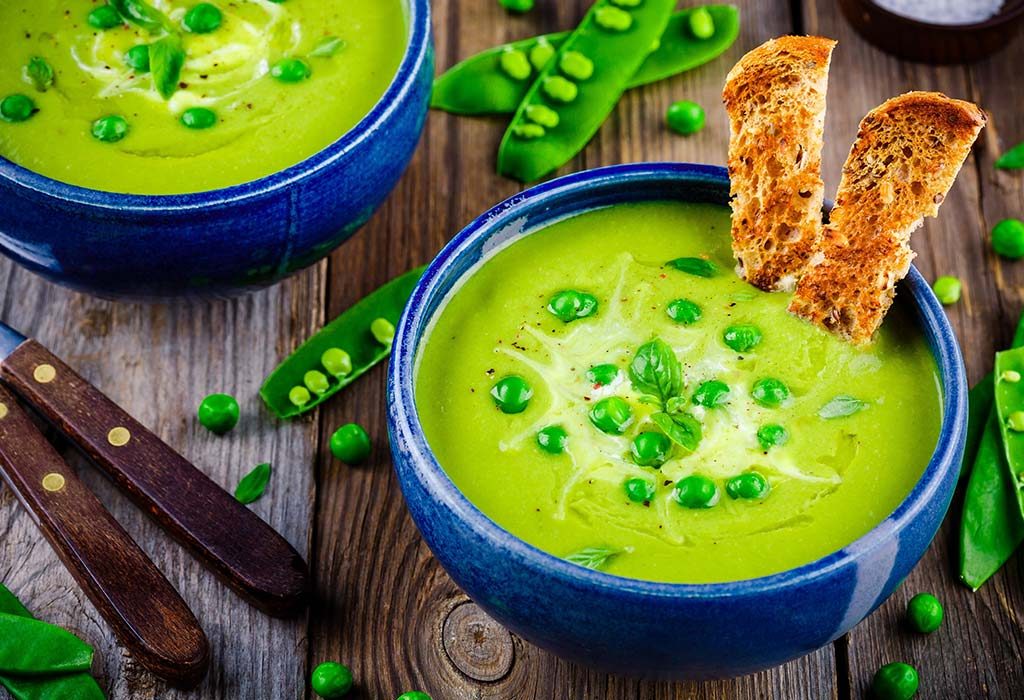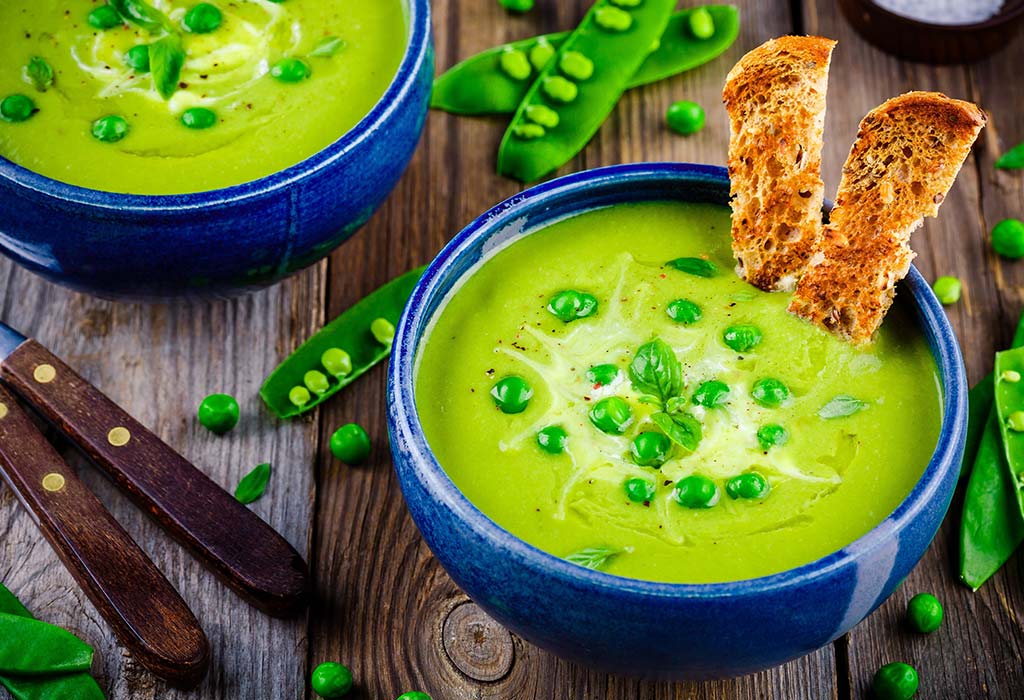 Peas may be healthy, but don't go overboard! Two servings of peas per day are enough for a healthy pregnancy diet, and you can always mix it up with legumes other than peas for a change too.
Also Read: Can You Consume Soya Bean When Pregnant?