We've Collected the Best Weight Loss Tips Real Moms Have Shared With Us!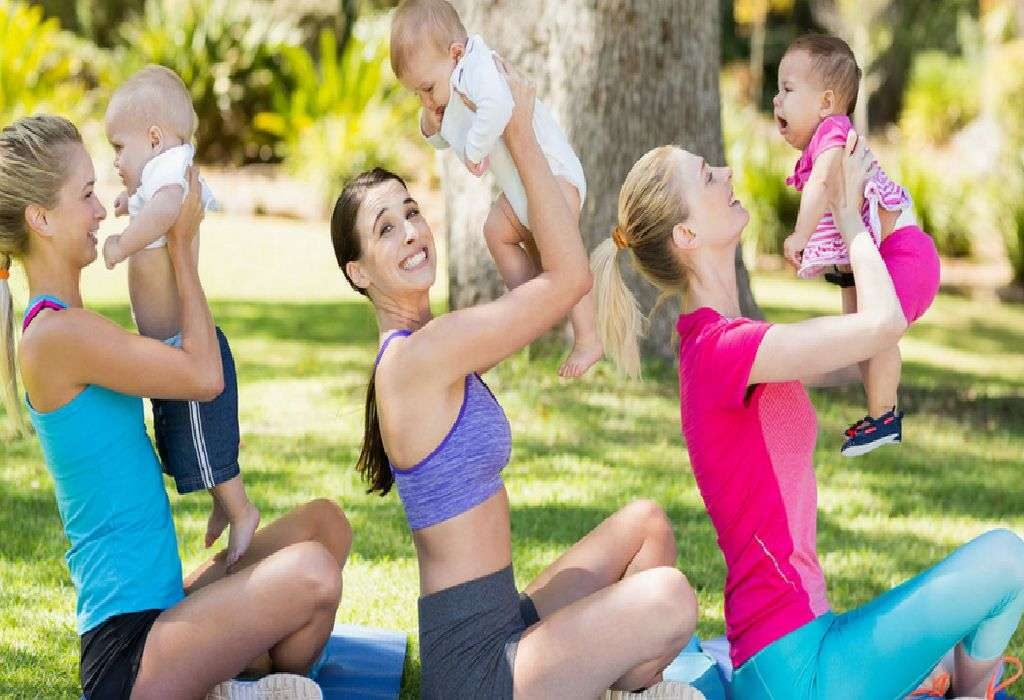 The year 2016 is almost behind us; we are into the last fortnight! There must have been promises you kept this year, and resolutions you fulfilled. But there will also be a few nagging things that still remain pending, and for busy mothers, one of the biggest of these is the age-old enemy: weight loss!
Mothers have packed days from dawn to dusk – and beyond. Where is the time to focus on your health, or join a gym, or eat a diet that makes no sense? You certainly don't have the time to pursue weight loss with anything that involves long hours or too much effort, and so, losing that post-pregnancy weight seems to be just a dream.
With the onset of a new year, it is only natural that you want to finally lose that baby weight. Well moms, we bet you are real tired of reading generic and unreal weight loss tips from celebrities. So here are 12 weight loss tips by real moms that actually work – all from REAL MOMS just like you! Read the experiences of these moms below and find out what worked for them so you can consider taking it up too!
1. Begin the Day with Detoxification
What you do first thing in the morning plays a big role in whether or not you are able to lose weight. Do you start your day with coffee or tea? Well, making a little change there can make all the difference. Mumbai mom Devashree Relekar swears by lemon ginger water for shedding those excess kilos. All you have to do is drink a glass of lime juice and some grated ginger first thing in the morning. This drink removes the toxins from your body and helps eliminate fat. She shares:
"Prepare lime juice and add half inch of grated ginger to it. This can be a perfect detox water to lose weight and for a healthier you."
2. Change Your Cooking Oil Frequently
We all know that oily food is best avoided when trying to lose weight, but who knew that changing your cooking oil frequently is just as important? So if you have stuck to one oil all this while, consider switching between the following healthy oils: sunflower, coconut, groundnut, mustard, canola, olive, and sesame. This is what mommy Shipra Trivedi has to say:
"Recently I met with a nutritionist and she suggested to change cooking oil every month. Changing or rotating oils is healthy as it gives the body different essential fatty acids which it needs. Normally, no single oil has all the essential fatty acids or the fatty acids ratio which the body needs."
3. Walking is One of the Best Exercises for Weight Loss
With gyms mushrooming everywhere around us, it's commonly assumed that the gym life is what's needed to lose weight. How much can walking actually achieve? Well, quite a bit provided you do it right and regularly! Mommy Su Gupta managed to lose several kilos simply by walking every day:
"I started walking back home from office after I shifted to Bangalore. The distance between my office and my home is around 3 Kms and it takes me around 40-45 minutes to reach home – that is my fitness mantra right now. I can now easily fit into my old well-worn jeans :)"
4. Or Else You Can Tap into the Power of Yoga
If walking is not your thing, why not give yoga a shot? Mommy Swati Gupta (pictured above) swears that she lost weight owing to daily yoga sessions. Many moms claim that yoga is one of the best ways to get back into shape after delivery. It is not very difficult or time-consuminh either. Take a look at the best postnatal yoga poses to get back to your pre pregnancy body.
5. What You Drink Post Workout is Important Too
It is tempting to have a refreshing cola or sugary juice after you sweat it out. Don't! Just like mommy Neha Sharma, sip on this post workout drink that helps melt fat. She says:
"Take one cup of water in a pan and put cumin seeds and boil it. After that, pour one more cup of water at normal temperature in the pan and add one lemon's juice into it. Filter it. Add this into two cups and add honey (one tablespoon). Drink these two cups of honey-lemon and cumin seeds water after workout. It will help in melting the fat after workout."
6. Make Some Slight Food and Lifestyle Changes
You don't need to make a drastic change in your life or start a crash diet to lose weight. People may tell you that you need to work very hard as post-pregnancy fat is adamant. Well, you don't need to! Just making some healthy diet swaps and lifestyle changes can work wonders! Agnes Anita Gomes, who struggled with her weight post delivery, reveals exactly what she did to get rid of excess weight:
"Never had I scored a full 100 in anything in my life…be it academics, sports or anything for that matter. Until I became pregnant…I weighed a whooping 105 kgs! I looked puffed up. Even my doctor used to call me Sumo Wrestler. Now that was quite a bit for me. For a person who has always been extremely active, this was totally unfathomable. Six months after giving birth to my baby I decided to join back full time work and I was in for a boon: the workplace I joined had a gym at the top floor. So after working for a full 8 hours I used to rush to the gym on the top floor and sweat it out.
(I also made) a little bit of lifestyle change from cold drinks to green tea and from sandwiches to chilla and voila! I lost 10 kgs. Now that was quite a feat. I started working out in July 2013 and till date I have successfully lost 26 kgs. Though I am yet to reach my goal which is 7 kgs more to go, I have never been this fit in my life. So if you are struggling with your weight like I did….just make a few healthy diet swaps and be persistent with your workout routine and you will soon discover a fitter, healthier You!"
8. Do it as per your baby's schedule
A major roadblock that moms find when it comes to weight loss is finding time to focus on themselves. The baby can be so very demanding, so where't the time to do even basic exercises or fix a detox drink? Mommy Siddhi Dholakia has the perfect solution for moms who struggle to find time to exercise.
"When my baby sleeps, I lie down on a mat and do all floor exercises like curl ups and leg raising exercise. When my baby plays I do all standing exercises with a rod like twisting trunk side to side and forward backward. When my baby strolls in his walker I join her for a long walk. So all exercises can be done with baby's schedule smoothly!"
9. Substitute Your Late Night Snacks with Healthier Alternatives
Mommy Vaishali Somnath Garudkar is well aware that late night snacking—particularly when it comes to late night sugar cravings—are tough to ignore. She suggests a better way to fix that need for sugar:
"To satisfy your sweet tooth without pushing yourself over the calorie edge, even in the late night hours, think 'fruit first'. So resist that chocolate cake siren and instead enjoy a sliced apple with a tablespoon of nut butter (like peanut or almond) or fresh fig halves spread with ricotta. Then sleep sweet, knowing you're still on the right, healthy track."
10. Do it Like the Japanese
Do you know that the Japanese have hot green tea after very meal? That's one of the reasons why Japanese people are generally slim. Luckliy for us, grren tea has the same benefits for us and is one of the most magical drinks for weight loss. Priyanka Dadich shares two useful tips which helped her in reducing pounds.
"1. Drinking a mug/glass of green tea/hot water after half an hour of lunch and dinner.
2. Taking a walk for at least 20 minutes after 10- 15 minutes of having meals."
11. Tired of Belly Flab? Try Kettlebells
Everyone knows that belly fat is one of the biggest problem areas for both men and women. Fret not, mommy Aastha Singh shares her secret to losing stubborn belly fat: kettle bells. This is a form of exercise involving a steel weight that can be used to perform cardiovascular, strength and flexibility exercises. Just make sure you consult your gym trainer to avoid injuries and do it right. She divulges:
"Kettle bells helps a lot in reducing effectively from belly in a short span of time. I lost 3 kgs in 10 days…. ladies try that!"
12. Never Forget to be Patient and Keep Yourself Motivated
Losing weight is challenging, more so when you become a mother. Make sure you don't beat yourself up on days you can't workout or eat healthy. Try your best – and be content in that knowledge. The best manta therefore is to "Do what you can and hope for the best!" The results will show slowly but surely. Take a look at how Pooja Tiwari lost weight with this method:
"I am full time working mother of 21 month old baby boy. I was 67kg at the time of delivering my baby. I started thinking of reducing weight when he was 6 month old. But it was not possible as I had to breastfeed him and I just couldn't go for any kind of dieting plans. Still I started doing exercise whenever time permitted and reducing a few grams in a month.
When he reached the milestone of one year and started taking other food along with milk, I started moderate dieting and doing exercise on regular basis. And I am happy to tell you that now I am 52 kg! My suggestion is don't lose hope for reducing weight. Do at max whatever and whenever you can but not at the cost of your child's health or time spent with him. It will take time but you will definetly come back to your original shape."