Vegetable soup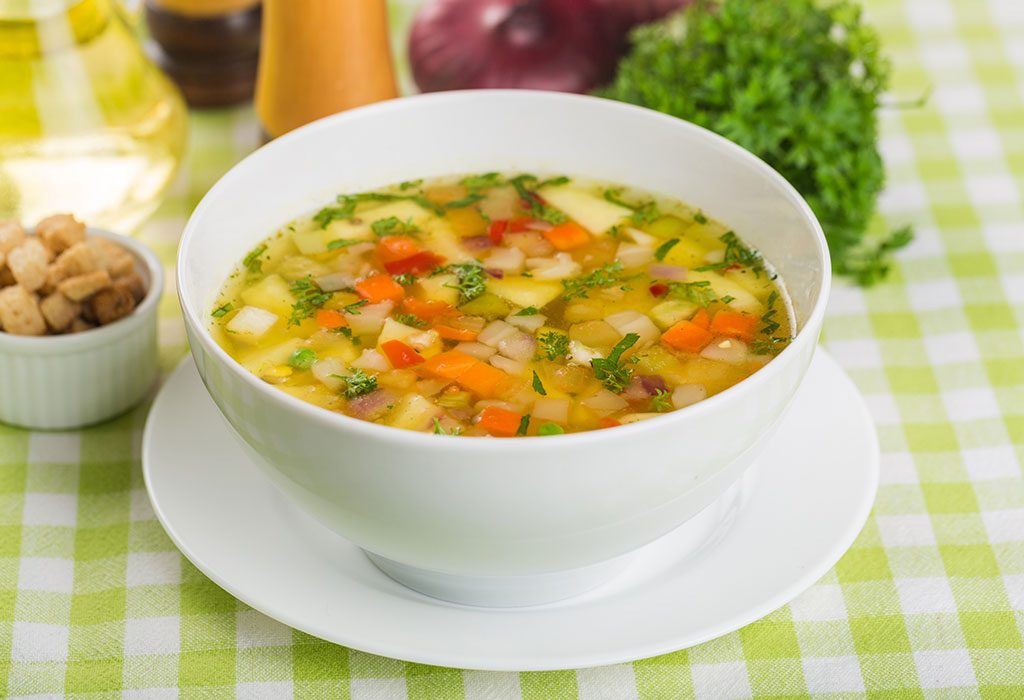 In this Article
This vegetable soup is a classic favorite, served in restaurants and homes across the world! It has a kind of universal appeal, cutting across boundaries. There are a wide variety of ways to make it, and you are sure to like them all. Any combination of vegetables with sauces or spices of choice is possible. In this recipe, we have tried keeping it simple by adding simple spices like pepper. This soup is high in fiber content, so is good for people suffering from constipation and for weight loss too. Also, getting more vegetables in your diet will detox your body. So, enjoy this vegetable soup, hot and fresh.
| | | |
| --- | --- | --- |
| Serves | Preparation Time | Cooking Time |
| 3 People | 10 Minutes | 20 Minutes |
Ingredients
1 1/2 cups tomatoes, roughly chopped
1/4 cup onions, roughly chopped
1/2 cup cabbage, roughly chopped
1/4 cup capsicum, roughly chopped
¼ cup french beans, lengthwise chopped
2 tsp oil
salt to taste
Method
Step 1
Heat oil in a pressure cooker.
Step 2
Add the onions and sauté on a medium flame for 1 minute.
Step 3
Add the tomatoes, french beans, cabbage and capsicum and sauté on a medium flame for 2 minutes.
Step 4
Add 1½ cups of water, mix well and pressure cook for three whistles.
Step 5
Cool and blend ½ the contents in a mixer to make a smooth paste.
Step 6
Transfer the smooth paste and the rest of the cooked contents into a deep non-stick pan.
Step 7
Add salt and pepper, mix well.
Step 8
Cook on a medium flame for 2 minutes, stir occasionally.
Step 9
Serve hot.
Nutritional Information
Serving Size 1 cup (241 g)
Calories
67
Calories from Fat
17
Total Fat
1.9 g 3%
Saturated Fat
0.3 g 1%
Polyunsaturated Fat
0.7 g
Monounsaturated Fat
0.8 g
Cholesterol
0 mg 0%
Sodium
815 mg 34%
Potassium
207.26 mg 6%
Carbohydrates
11.8 g 4%
Dietary Fiber
0.7 g 3%
Sugars
3.8 g
Protein
2.1 g
Vitamin A
68%
Vitamin C
2%
Calcium
2%
Iron
6%