Vegetable Ratatouille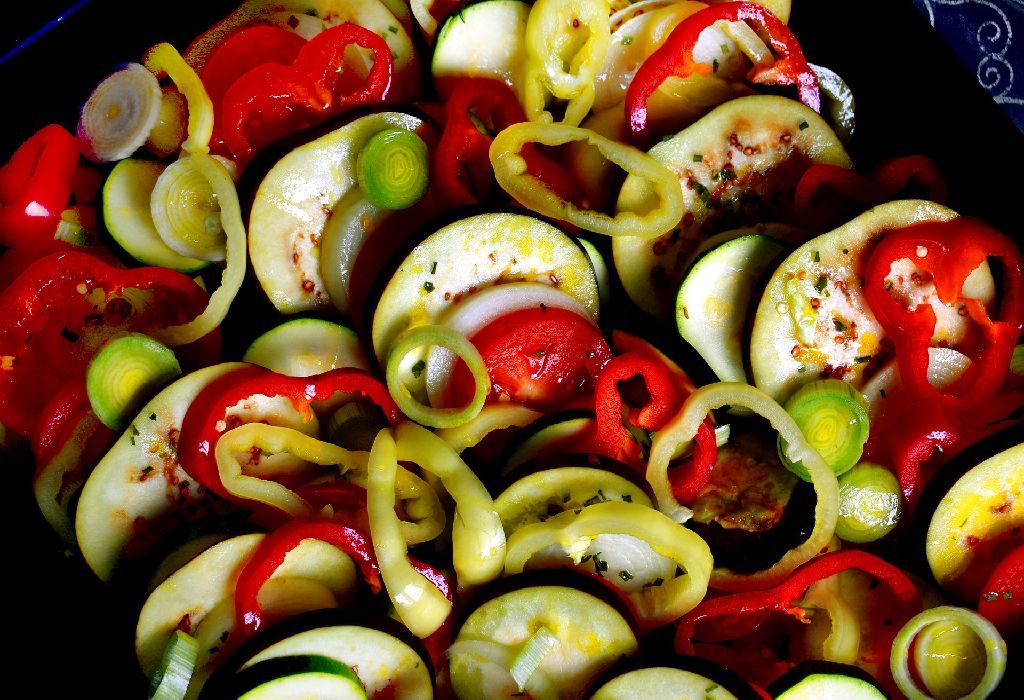 In this Article
Ratatouille, a dish of the Occitan cuisine, is usually served as a dish accompanied by bread, pasta or rice. The taste of tomato stands out in the midst of other veggies like zucchini, egg plant and onions. A mix of green herbs are added to give it that authentic taste and flavour. There is a traditional way of preparing this stew, where each of the vegetables is cooked separately and then layered. However, we are presenting a simple recipe where all the vegetables are simply roasted together.
| | | |
| --- | --- | --- |
| Serves | Preparation Time | Cooking Time |
| 4 People | 5 – 10 Minutes | 25 – 30 Minutes |
Ingredients
3 medium sized zucchini, sliced
3 eggplants, sliced thinly
2 medium sized red bell pepper, seeded and thinly sliced
2 onions, sliced to thin rings
4 medium sized tomatoes, chopped
4 – 5 garlic cloves, minced
1/4 cup parsley, chopped
1/4 cup basil, chopped
5 – 6 sprigs thyme
1/3 cup olive oil
Pepper to taste
Salt to taste
Method
Step 1
Heat olive oil in a large heavy bottomed pan. Add garlic and saute until it turns brown.
Step 2
Add onion and bell pepper. Saute until the onions turns soft.
Step 3
Next, add tomato. Keep cooking until the tomatoes turn soft and has released liquid.
Step 4
Add the remaining vegetables – zucchini, eggplant, parsley, basil, thyme and salt. Combine well.
Step 5
Cover with a lid and allow the vegetables to cook for 15 – 20 min. Stir occasionally.
Step 6
Now, open the lid and keep simmering until the liquid evaporates. Cook until you get the desired thickness to the gravy or further if you require it dry.
Step 7
Switch off the flame. Add pepper to taste and serve hot with bread.
Nutritional Information
| | |
| --- | --- |
| Calories | 339 K cal |
| Proteins | 8.4 g |
| Fat | 18.4 g |
| Carbohydrates | 44.4 g |
| Cholesterol | 3 mg |
| Sodium | 75 mg |
| Potassium | 1869 mg |
?>