Using a Microwave for Baby Food – Is It Safe?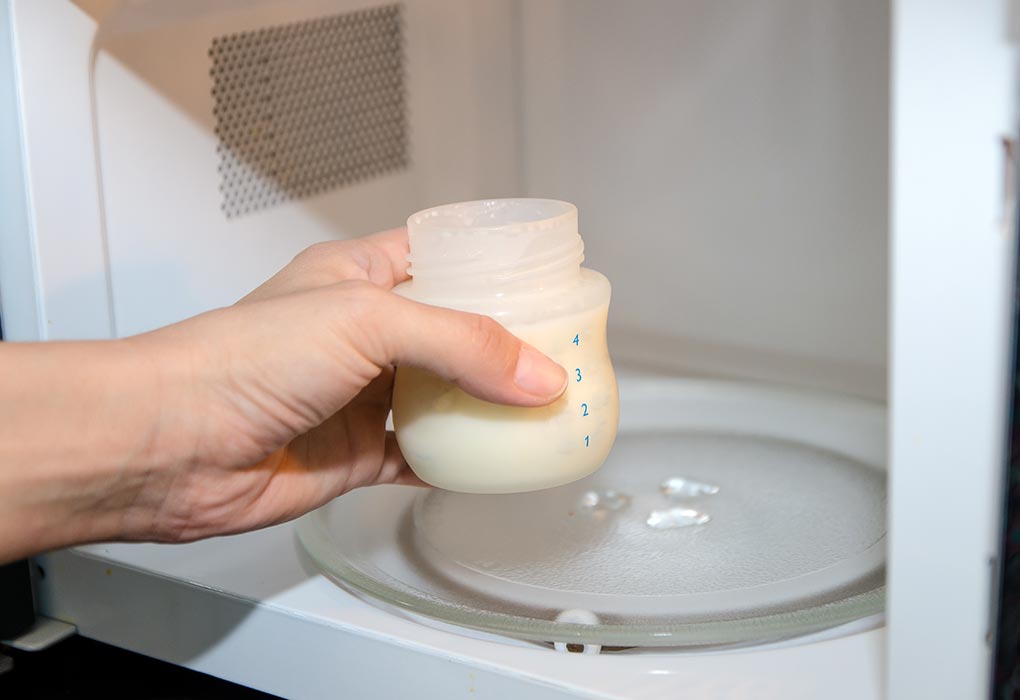 Many people believe that heating or cooking food in a microwave can destroy the nutrients present in that food items. But that is not true…well, not completely true. You cook, heat, and sometimes even reheat the food (leftovers) in the microwave and eat it without giving it much thought. But when you have a baby in your house, you give a serious consideration to it. You must be thinking if you can heated baby food in a microwave or not. To find answers to this thought of yours, read this article. Find out if heating or cooking baby food in a microwave is a good or bad idea.
Can You Use a Microwave for Cooking or Heating Your Baby's Food?
Any raw food which undergoes a process of cooling or heating has a change in its physical characteristics, chemical structure, and nutritional form. Usually, moms tend to be in a dilemma when it comes to using a microwave for cooking or heating baby food. But there is no research to prove that cooking or heating baby food in a microwave can be detrimental to the health of the baby. But there are certain things you need to bear in mind while cooking or heating baby food in the microwave. Always cover baby food with a lid when heating it in the microwave. Also, avoid using plastic containers for heating as it can transfer harmful chemical to the food. Use microwave-safe containers but not plastic. And do not heat up leftover food of the baby.
Risks of Cooking or Heating Baby Food in a Microwave
Following are the risks associated with cooking or heating baby food in a microwave.
Microwaves heat up the food unevenly. The temperature in some portion of the food may seem just right whereas some portions may be very hot forming "hot pockets" which can burn a baby's mouth.
Use of cheap plastic while heating or cooking baby food in a microwave can prove harmful to a baby's health.
It is believed that the radiation emitted during the cooking or heating process in a microwave can cause serious health problems.
Precautions while Using a Microwave to Cook Infant Food
Listed below are some precautions that parents need to take while using a microwave to cook food for a baby:
Use microwave-safe containers or heat-resistant glass containers to cook or heat baby food. Plastic containers are best avoided.
Cover the food with a glass plate or lid while cooking or heating the food. It will help in retaining the moisture in the food.
Make sure to cook or heat the food well. It will kill the bacteria, if any, and cause food poisoning to the infant.
Do not keep the food to cook or heat while you go about your chores in order to avoid burning the food.
After taking the food out, transfer it to another utensil. Then stir it well so that there are no air pockets left which may scald the baby's mouth while eating.
Safety Tips for Reheating Baby Food in a Microwave
A common question that most moms ask is, "can you heat baby formula in a microwave"? Of course, you can if you use a microwave-safe bottle or container to heat it. Also, remember to heat it in medium temperature for not more than 10-15 seconds. Before giving it to your baby, shake the bottle well so that the temperature gets equal. Apart from this, there are other tips which one should follow for reheating baby food in a microwave.
First and foremost, always use microwave-safe baby food containers to reheat your baby's food in order to avoid any kind of health issues.
Use a microwave which can cook and reheat your baby's food well.
Always read and follow the literature manual that comes with the appliance to avoid any mishaps.
You should always preheat the microwave before reheating your infant's food.
When food is heated, it gets very hot at the edges and remains cold at the centre. Therefore, stir it at different stages to heat it uniformly.
Reheating means to keep the food in the microwave until it is piping hot. This will help in destroying all the bacteria that may be there in the food.
Remember to check the temperature of the food before giving it to your baby so as not to scald your baby's mouth.
Reheating should not be done more than once. The leftover should be thrown away even if you feel bad to waste it.
Tips to Thaw or Defrost Baby Food in a Microwave
After the first 6 months are over, babies start taking semi-solids. From heating milk in the microwave for babies, mommies start cooking food for their little ones. This is when tips to thaw or defrost baby food in a microwave come in handy. Listed below are few of them to help you sail through.
Always defrost or thaw baby food using a microwave-safe container, preferably a microwave-resistant glass container.
Do not use any plastic containers since they may give out harmful chemicals which may prove to be detrimental to the baby's health.
Use a microwave that has defrost settings to thaw or defrost baby food.
Rotate the container manually from time to time if your microwave does not have a rotating table.
Stir it several times while thawing it to avoid any hot spots in the food.
In order to thaw the frozen food cubes, you need to put the microwave in the defrost mode for 30 – 40 seconds.
After the frozen food is defrosted or thawed, heat it immediately, or else bacteria may start thriving.
Heat the defrosted food thoroughly for 5 to 15 seconds so that it turns piping hot.
Keep the hot food aside till the food temperature is appropriate for the baby to eat.
Test the temperature beforehand in case it is too hot for your baby.
Although there are no studies or research to prove that food heated or cooked in a microwave is harmful to your baby, it is best to use it sparingly.
Also Read: Best Foods To Feed Your Baby