Twinkle Khanna Has a Brilliant Response On Why She Didn't Change Her Surname After Marriage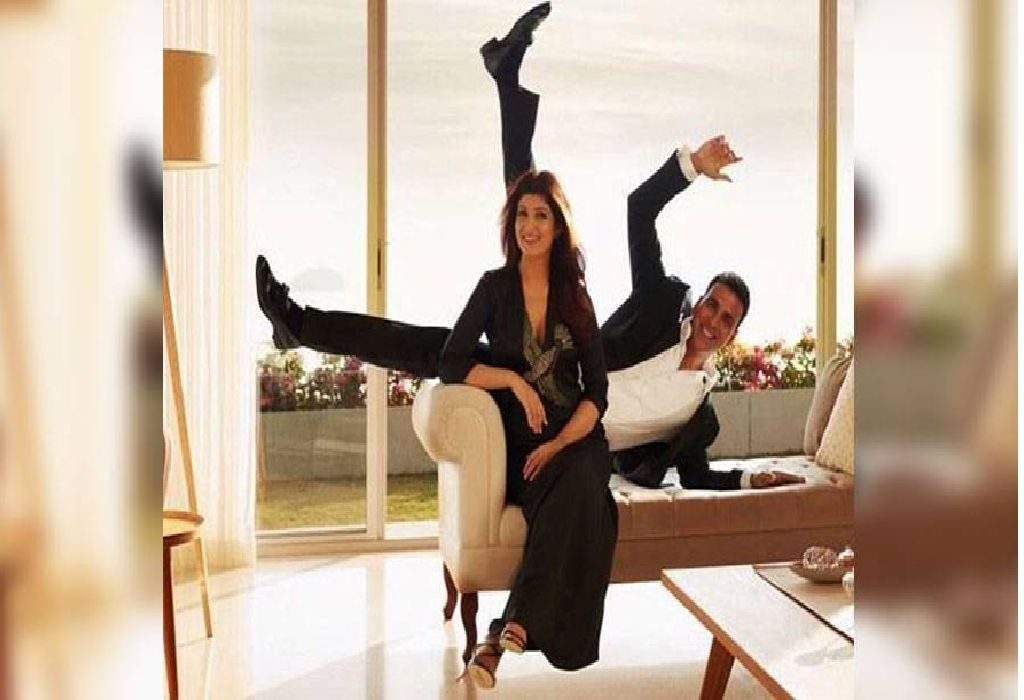 As women, we go through so many changes in our life that there are always new friendships and new traditions to be explored. Our social circles change as we move from our roles of a wife and daughter-in-law to a mom and we do our best to keep our world happy. But it takes a lot to please our society. No matter what you do, there will always be some tradition or notion you don't quite embrace 'properly' and this is hailed as your weakness. Bollywood mom and columnist Twinkle Khanna recently had a taste of just how interfering society can get when a Twitter user decided to pester her. He grounded her for using her maiden name even after marriage. How she responded to him reveals volumes about just what makes her life and relationships work…
Twinkle Khanna got married to Akshay Kumar in 2001 and the couple have two children together – 14 year old son Aarav and 2-year-old daughter Nitara. Twinkle quit acting after her marriage and instead pursued her other passion in life – writing. Mrs FunnyBones is now a top columnist and best-selling author with her first book selling over one lakh copies in India. They are a happy, close-knit family and don't let the glamour and glitz invade their personal lives. While Twinkle looks after everyone and keeps the household working well, Akshay too takes time out to be with the children and go on walks, vacations and important school events. But there will always be some people who find fault and ferret out reasons to question other people's decisions….
Recently, on Twitter, a gentleman called Prabhakar Menasinkai grew very curious and interfering about why Twinkle goes by her maiden name 'Khanna' instead of using her husband's surname 'Kumar'.In his opinion, she should call herself "Twinkle Kumar" and not "Twinkle Khanna". The practice of the wife changing her surname after marriage is a very old one and popular in Indian society as a tradition.Many women don't think twice about getting this done – across paper work, certificates, and in regular usage. But some women prefer to stick to their maiden name.It is a completely individual decision and neither is right or wrong. However, the women in the latter group are often pestered by elders and relatives to change their surname.Not doing this, they feel, is an insult to their husband and his family and showcases a lack of commitment and dedication.It is almost as if being married must mean the woman is branded for life and must mandatorily carry signs of this brand on her person.
In response, Twinkle had something crisp but meaningful to say. We love this smart mommy for being so honest yet so polite!
"A lot of people bring this up, though not as stridently as this gentleman. Khanna it will always be.
#MarriedNotBranded"
Brilliant, Twinkle! Adopting your husband's surname is hardly a must-do to make a marriage work. Love, affection and sharing in responsibilities are far more important than sticking to a tradition unless you want to.As a couple, Akshay and Twinkle have learned to embrace their differences, listen to each other, spend quality time together, and trust and respect each other without question.Now these things stick out a mile – much more than any other ritual can! Twinkle, in any case, has always 'loved' her name – her little daughter teases her about it,asking why she doesn't live in the sky if she's a star! If left to her mom, says Twinkle, her other names could have been Sparkle and Sprinkle!
That said, Twinkle Khanna has been fulfilling her role as a parent and wife beautifully. As a mother of two young children – a teenager and a toddler – Twinkle has a hundred things to do every day.She wakes up early in the morning to get her son ready for school and play with her little daughter. She takes out time to catch up with her yoga – something she has always been practising,stay up to date on official mails, and finally get on with her writing. In her 15 years of marriage to Akshay Kumar, there have been several ups and downs but her willingness to make things work and her ability to create a work-family balance have kept things in order.
Thank you, Mrs Funny Bones, for showing us just how to stand up for something we believe in, irrespective of what the society dictates.Our decisions are our very own and no one else should have the right to dabble with affairs that our not theirs. We only hope your kids grow up to be as a fiery and strong as their Mamma !!!
?>