5 Special Karwa Chauth Makeup Ideas You Must Try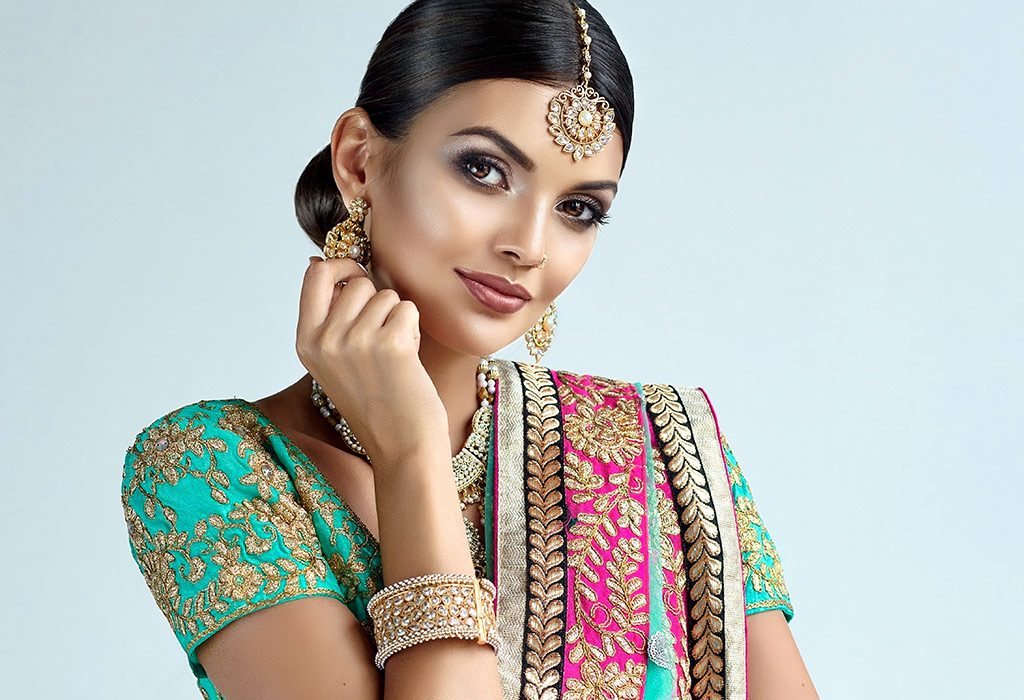 Every woman has different makeup preferences – while some women like to experiment with bold colours, others may like to keep it down with nude hues and colours. When it comes to dressing up for an occasion like Karwa Chauth, every woman wants to feel special for the man she loves, and rightly so. Here are some special makeup picks and ideas for Karwa Chauth that will make you feel like a true diva.
How to Prep Your Face Before Karwa Chauth Makeup
Before you adorn your pretty face with any kind of makeup, it is essential that you prep your face for it. Prepping not only helps the makeup to stay longer but it also helps protect the skin from any harsh effects of chemicals. Here is what you need to do:
Deep cleaning is vital to feeling radiant. Pick a cleanser as per your skin type and cleanse your face and neck with it.
If your skin needs exfoliation, you can use any good scrub suitable for your skin type and scrub off the dead skin cells from your skin. Exfoliation is also essential to get rid of any blackheads or white heads from the skin.
You can apply a face pack on your face and neck to pep up to dull and tired skin.
Toning is essential after you cleanse your face to close the open pores. Choose a good toner to give your face a boost of freshness.
Apply serum before applying the moisturiser for added nourishment of essential vitamins and minerals. It also makes your skin feel hydrated and glowing.
Apply moisturiser to nourish and give a natural glow to your skin.
You should finish your prepping ritual by applying primer on your face. Primer is an excellent base for makeup and helps achieve a clean and even look.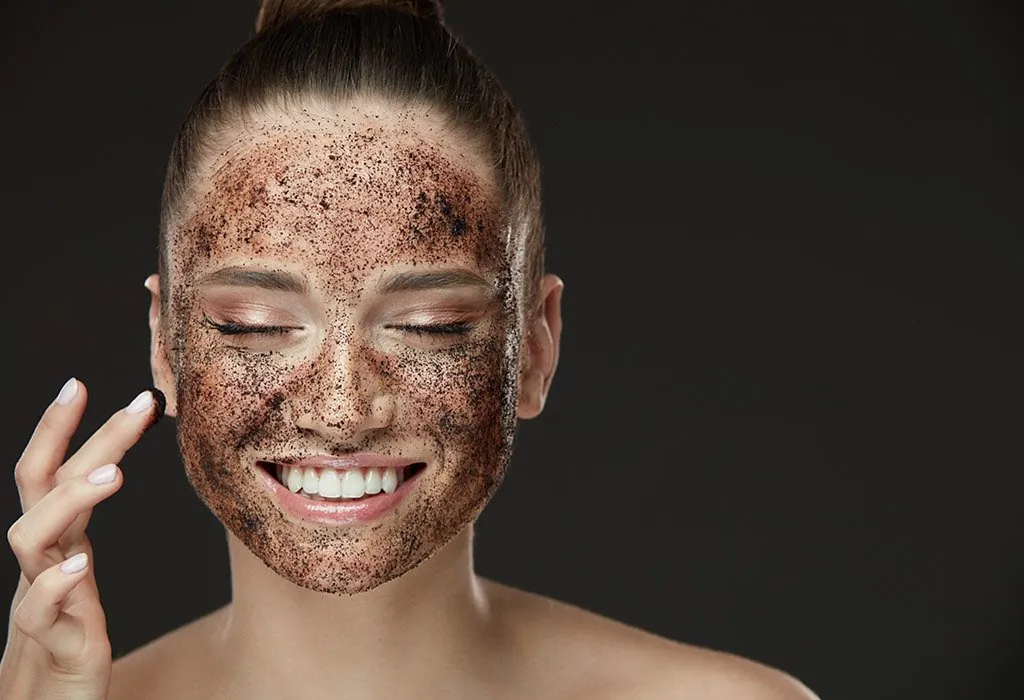 These Karwa Chauth Makeup Looks Will Brighten up Your Face
If you wish to look your best and dazzle everyone around you, try one of our unique Karwa Chauth makeup looks along with your beautiful dress and exquisite jewellery and look splendid. Here are some makeup looks that will brighten up your face:
1. Get Ready To Shine!
This look is for the diva in you! The shine and bling will add the extra oomph factor and make you look like a million bucks! If you are going for a dewy, natural look, this shimmery makeup is something you should try! This is also an ideal Karwa Chauth bridal makeup look for new brides.
Makeup for Eyes
Accentuate your eyes with a shiny eye shadow. Make sure you don't add too much colour on your eyes. Stick to lighter hues like pink and brown. You can add drama around the eyes with the eye-liner. Winged eyes will look perfect – however, if you cannot achieve the look, swipe your eyes with a gentle stroke of black or brown eyeliner. Make your eyelashes look fuller with a couple of mascara strokes.
Makeup for Cheeks
Highlight the apple of your cheeks with a bronzer, but do not go overboard. Choose a shade that compliments your skin tone. You can add a dash of blusher on your cheeks too.
Makeup for Lips
Whenever trying the shiny makeup look, keep the lips close to their natural colour. Opt for lighter shades of pinks, peaches or browns. Muted lip glosses are ideal for this look, but you may use shiner lip colours in muted colours too.
Hairstyle
You can wear your hair down after giving it a nice blow dry. However, if you wish to tie up your hair, a messy bun would be a great option to complete the look.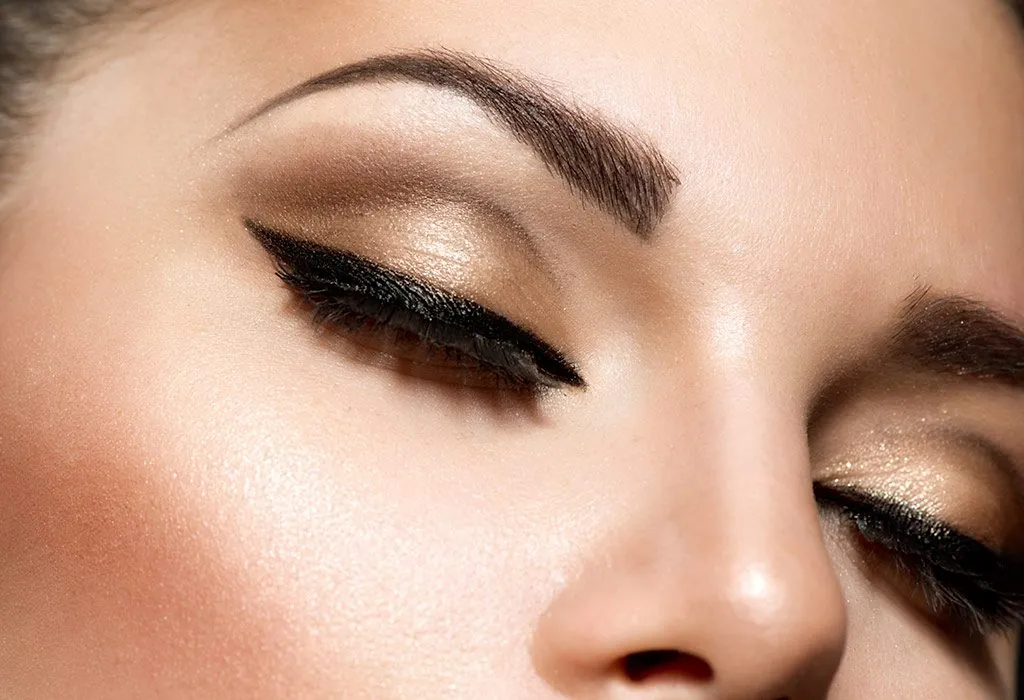 2. Splash Of Colours
Why not try something new and add a punch of fresh colours to your usual makeup routine? This look is a contrast to the neutral monochromatic hues as this look is about crazy lip colours and bold eyes.
Makeup for Eyes
Pop some contrasting colours on your eyes. If you have a fair complexion, yellows and greens are good options; for dusky beauties, purples and blues are preferred colours. Just apply a thin line of eye-liner on the upper lid and apply a gentle stroke of mascara.
Makeup for Cheeks
You can skip the blusher to avoid any colour confusion on the face. However, if you want, you can apply a natural colour blusher to highlight the cheeks.
Makeup for Lips
You may go bold with this look. You could apply a contrasting popping shade on the lips, or just let the eyes do the talking and play muted around your lips – the choice is yours. Remember not to try and make this look too over-the-top, lest you create a makeup faux pas.
Hairstyle
You should keep your hairstyle neat and non-fussy. Do not add much drama around the crown. Use some styling gel and comb your hair straight for a neat look.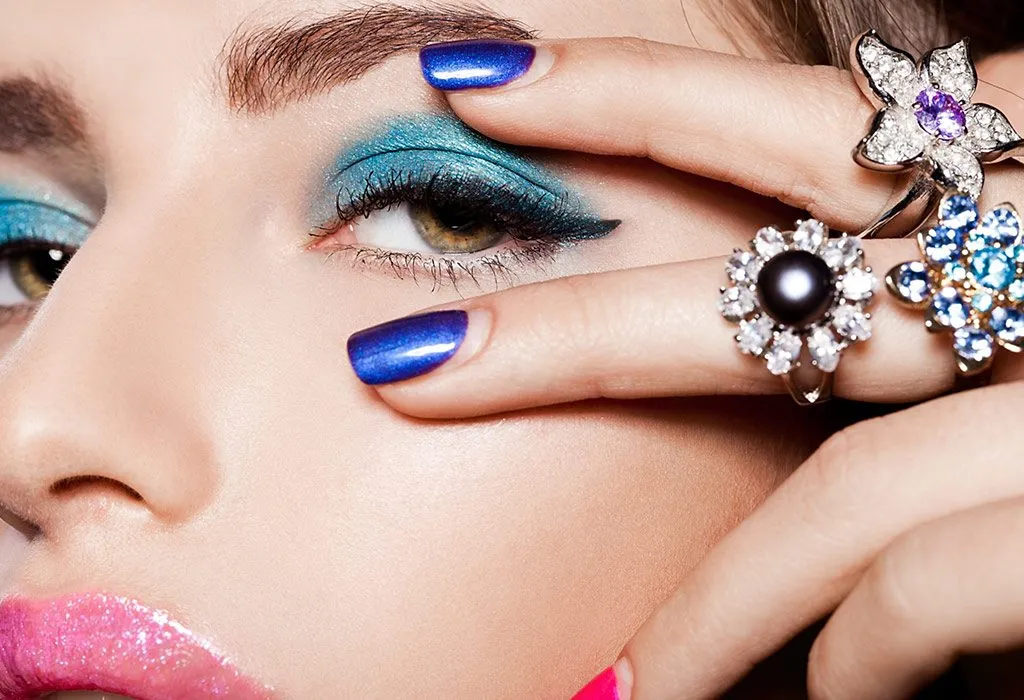 3. The Smokey Eyes
This dark-eyed look is a great makeup trend that looks good on all complexions. If you like to accentuate your eyes, this is the perfect look for you.
Makeup for Eyes
Take a dark blue, charcoal or black coloured eye-shadow and apply all over your upper lid. Carefully take the eye-shadow outwards and give it a winged look. Apply a thicker stroke of eye-liner on the upper and lower eyelids. Finish the Smokey look with few strokes of mascara. You may wear false eyelashes to add some more glam to the look.
Makeup for Cheeks
When playing around the eyes with darker hues, you should skip the cheek area or keep it as natural as possible. Just add a tinge of pink to give some freshness to the look.
Makeup for Lips
The lips should have just a hint of a muted colour. A nude pink or peach would work well for fair skin, and a lighter shade of mauve or violet will look good on the dusky skin.
Hairstyle
Add some extra zing to the look by curling your hair in soft curls. You can also tie them in a French knot for a neater look.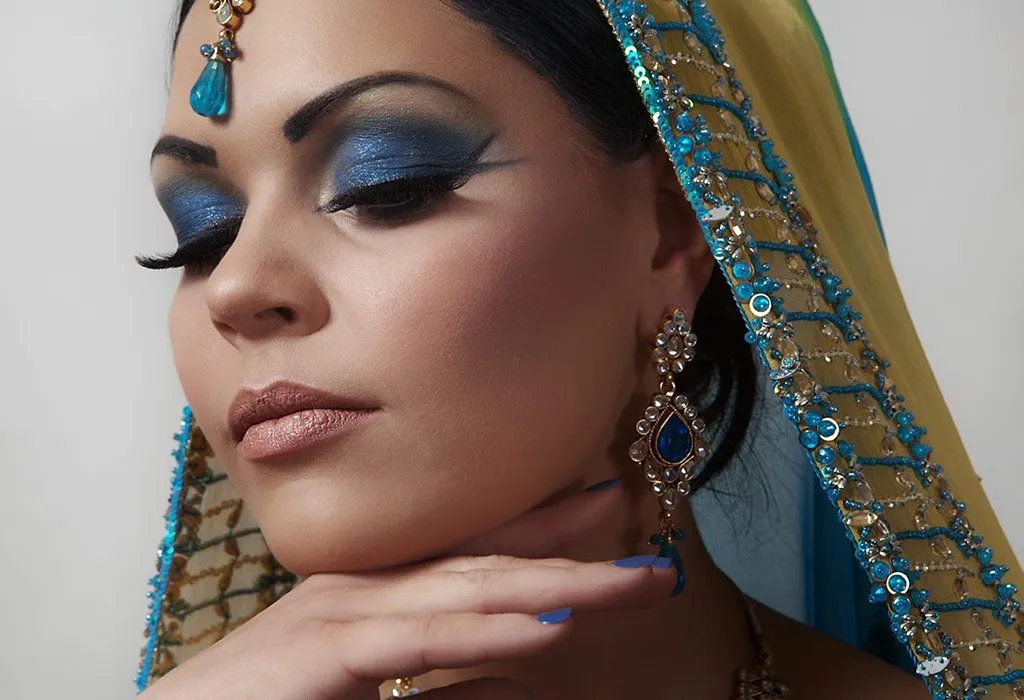 4. The Ultra Traditional Look
If you wish to keep your look traditional for Karwa Chauth, you can try these classic makeup looks.
Makeup for Eyes
The most prominent feature of traditional makeup is the eyes. Start by using golden eye-shadow on your eyes. Highlight the lower brow area with some highlighter. Apply thick kohl on your inner eyelids and add a thick line of kohl on the upper eye-lids as well. Mascara is a must for this look.
Makeup for Cheeks
Use a darker shade of blusher on your cheeks for contouring and blend it well.
Makeup for Lips
You can either apply a darker shade of red or maroon on the lips to achieve a traditional royal look or apply mellowed shades of lip colour to look more clean and fresh.
Hairstyle
Tie your hair in a neat low-back bun. Alternately, you may braid your hair into a long plait and wear fresh flowers around it.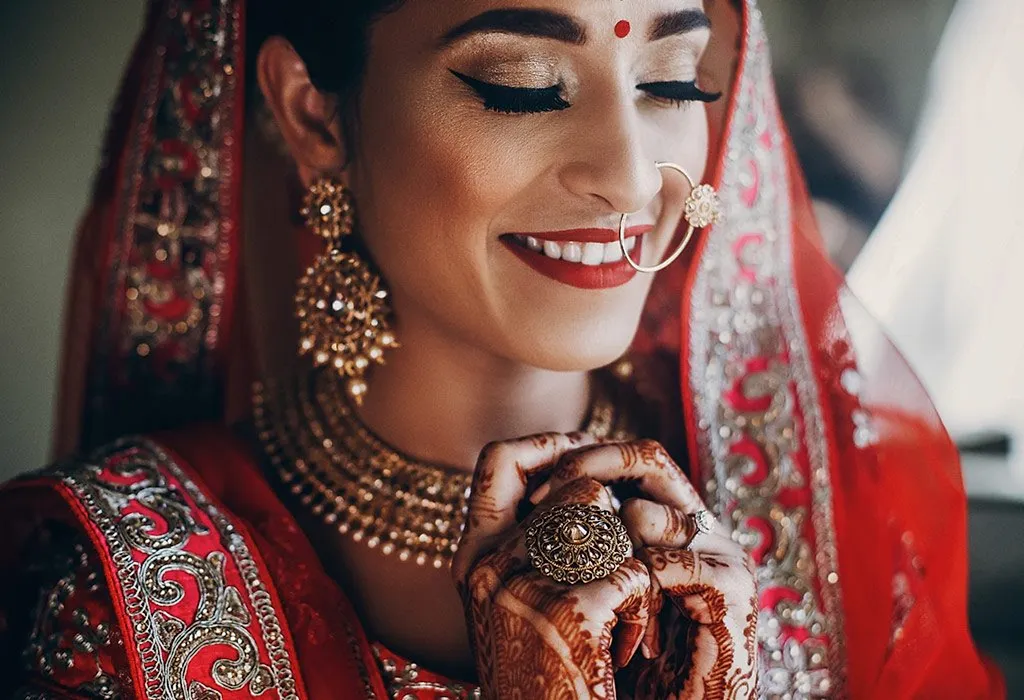 5. The Classic Nude Look
If you are not in for bolder hues or stronger shades, your calling may be a nude look. Add the classic nude twist to your usual karwa chauth makeup and hairstyle routine and look angelic.
Makeup for Eyes
Add a lighter shade of eye-shadow and highlight your eye area. Use brown or grey liner to define your eyes. Skip the black mascara for this look; or if you wish, you can opt for brown or grey mascara.
Makeup for Cheeks
No contoured cheeks for this look. Just add a hint of colour to the cheeks to compliment the look. Stay closer to natural or nude shades to keep it minimalistic.
Makeup for Lips
No popping colours for this look. Use dewy or fresh looking pinkish hues to accomplish the perfect nude look. You can either apply gloss or tinted lip balm on your lips, or go with neutral to pink shades.
Hairstyle
Because you have opted for a more natural look, the hairstyle has to be hassle-free and straightforward too. Backcomb and give a little height to your crown area, pull back your hair and tie it in a neat ponytail or a neat bun.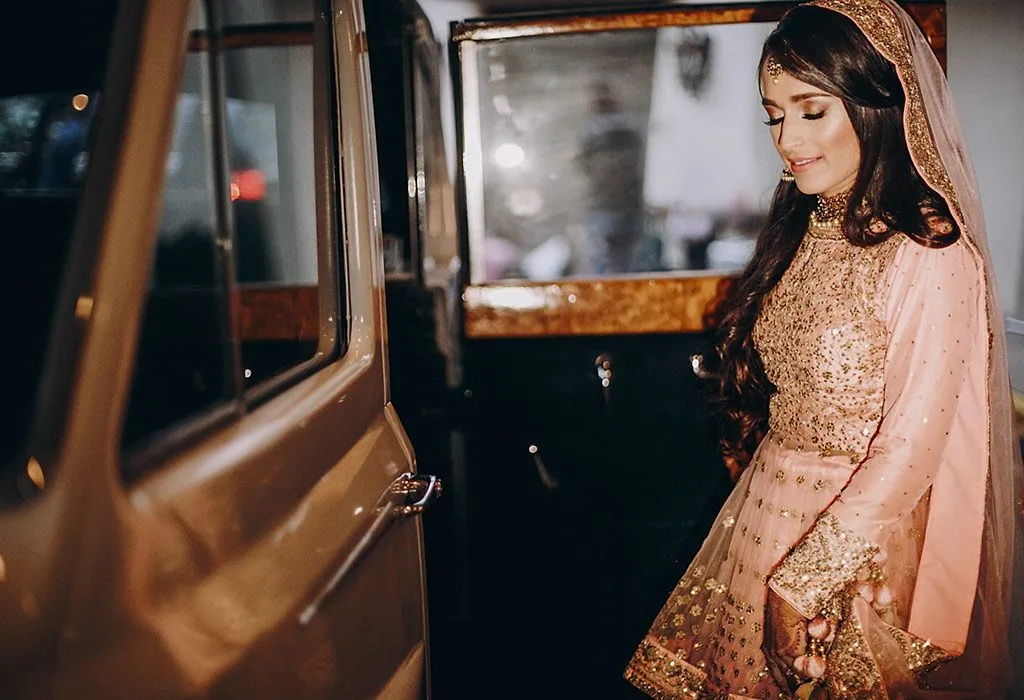 Wear a nice outfit, accessorise with some statement jewellery and try any of the above makeup looks to look like a diva for the love of your life. To complete your Karwa Chauth look, you may adorn a bindi, some sindoor and some bangles. You're all set to feel and look special this Karwa Chauth.
Also Read: How to Survive Karva Chauth Fast: Procedure and Tip