Trending Styles to Dress Up Your Kid This Diwali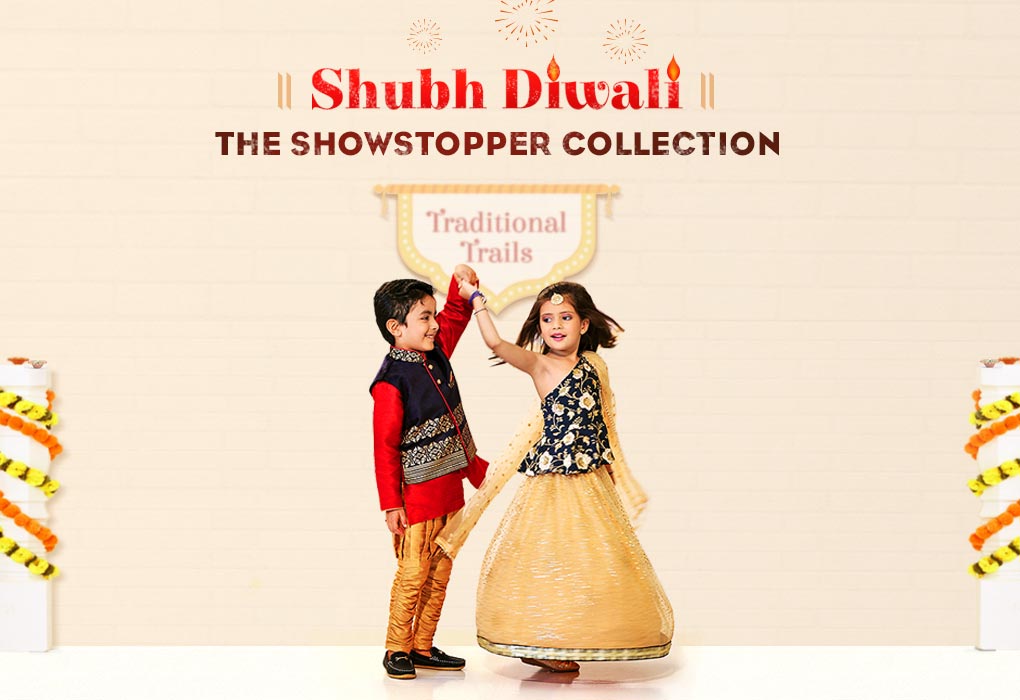 In this Article
Every Indian child looks forward to the beautiful festival of Diwali. Some kids can't wait to get their hands on firecrackers, while others seem to get taken away by the beautiful lights. Even though our little ones have their own reasons to fall in love with this festival of lights, they seem to have one thing in common – they love dressing up for the day!
Diwali is around the corner, and as a parent, you're probably on the hunt for fashionable outfits to dress your child. With so many beautiful styles and cute ethnic outfits out there, it is hard to pick the perfect one. And of course, the gear should be such that it matches the latest trends. So what is better than classic Indian kid's ethnic wear to give your child that ravishing look you desire? Here's a list of trending styles to dress up your child this Diwali!
Trending Ethnic Styles for Children – 2022
While you're busy shopping for some classy outfits for yourself, we have some latest Diwali trends for your kids that will make them look like little fashionistas this season. These styles are bound to grab the attention of all!
1. An Era of Tradition
Nothing says Diwali better than a brightly coloured lehenga, a blouse in contrast and a light choli. These cute ethnic styles are perfect for dressing your baby girl. Your daughter will shine like a pretty little diya when she dresses up in a lehenga with dazzling mirror work. Bright colours, floral designs, and cold shoulder blouse patterns are super trendy. Pair these up with some golden bangles, cute hair accessories, and a pair of footwear that says bling and your princess is all set for the day.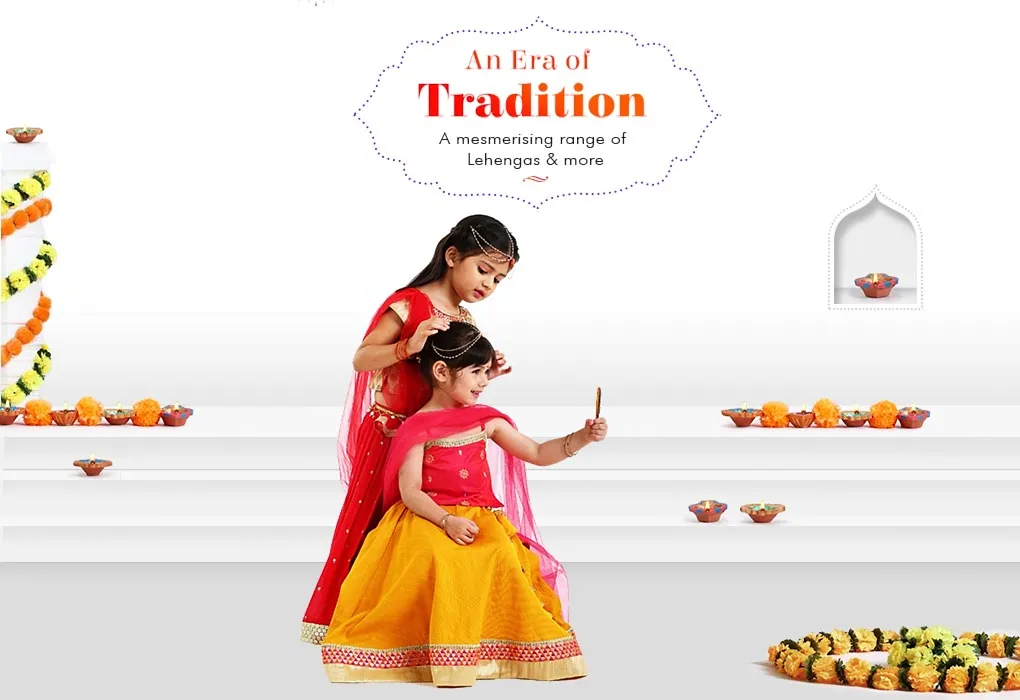 2. Pillar of Perfection
Why keep your baby boy waiting for the perfect look when Dhoti Kurta is an ideal option this Diwali. It is the perfect ethnic outfit and completes the festive look you seek for your child. Jodhpuris too are quite the trend for boys. You can pick out a simple style in white or something more flashy; your boy will look handsome as ever in these cute trendy styles. Complete this outfit with a nice pair of loafers or juttis to keep up with the trend.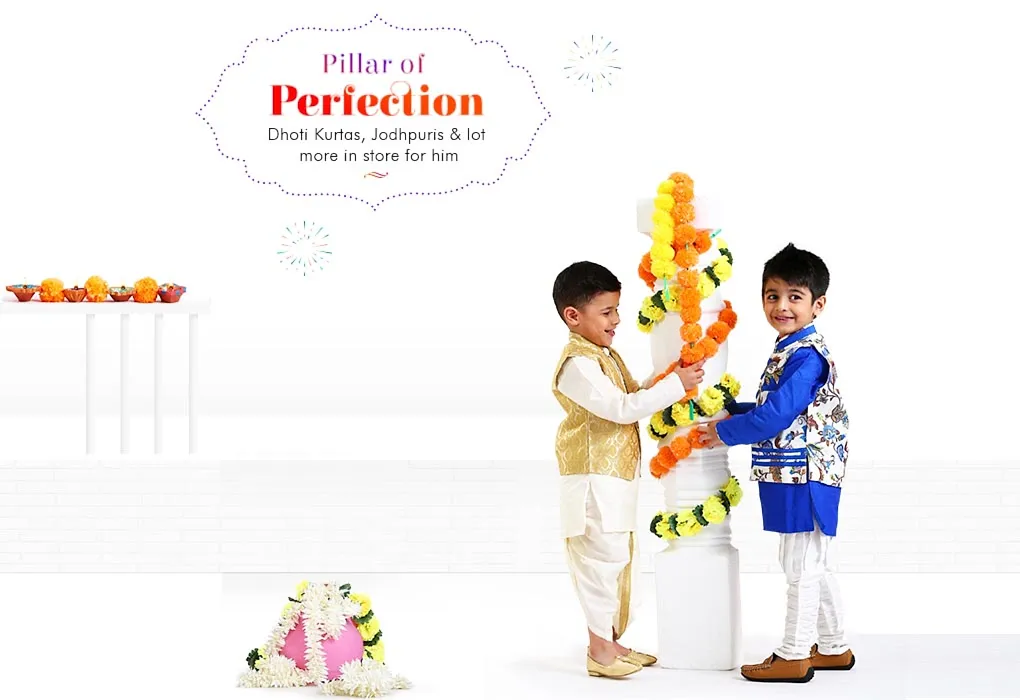 3. Pour More Elegance
If you're not quite convinced with a Dhoti Kurta for your baby boy, then you can get him something elegant like a Kurta Pajama. For girls, however, an embellished kurta-salwar spells elegance! Bling, of course, is this season's trend along with embroidered Anarkalis and net dupattas. You can blend pastel shades or bright colours and create a beautiful ethnic look for your daughter.

4. Always in for a Party
Why stick to traditional wear when there's a whole bunch of classy western outfits in stock for your little ones? Your daughter will instantly fall in love with these shimmery gowns that are super comfortable. The pretty florals, pastel shades, and cap sleeves will help your daughter keep up with the trends. You can opt for a cute pair of ballet flats or open sandals to complete the look. Your baby boy is in for a treat with this jaw-dropping party wear collection. An elegant Nehru jacket with a trouser or a three-piece suit with a tiny bow looks perfect for this season. You can pick these up in darker shades and pair them with lovely formal shoes. Your son will attract the attention of all in this look!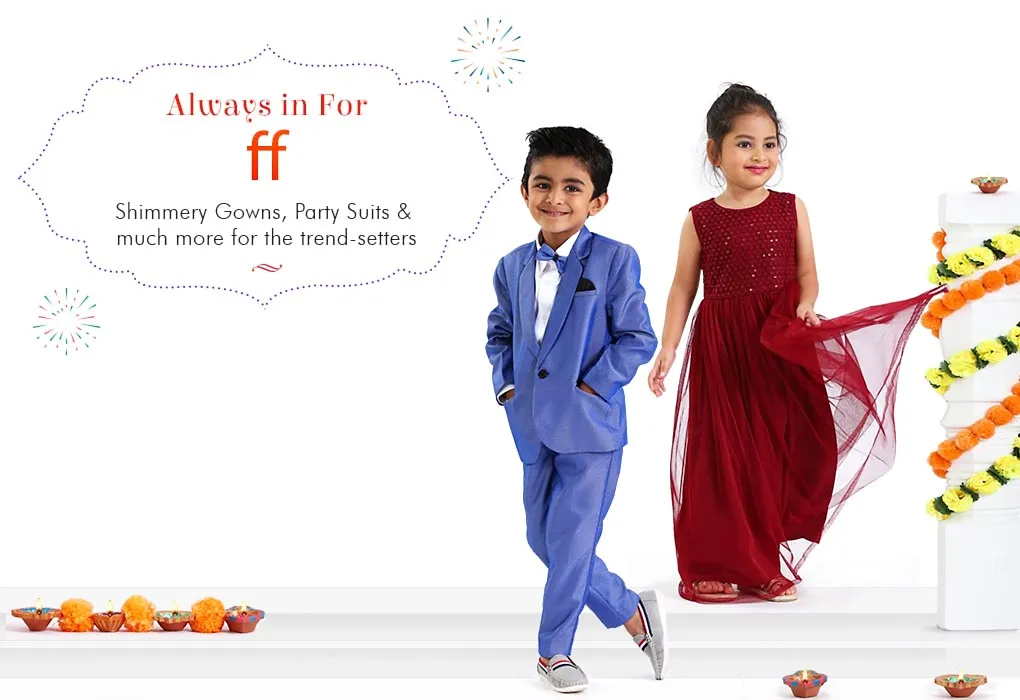 5. A Touch of Fusion
Looking for something Indo- Western for your child? We've got you the perfect styles this Diwali. Girls will love these styles featuring fresh shades and floral prints. These outfits are a beautiful combination of smart embroidered tops and quirky palazzo pants. Your daughter will look super fashionable when you dress her in a long gown-like jacket or a shorter one too. Ghagras embellished with mirror work are trending this Diwali, and your daughter will find it hard to pick one from this wide range of fusion wear. Fancy open sandals and pretty earrings will get your daughter the look you desire.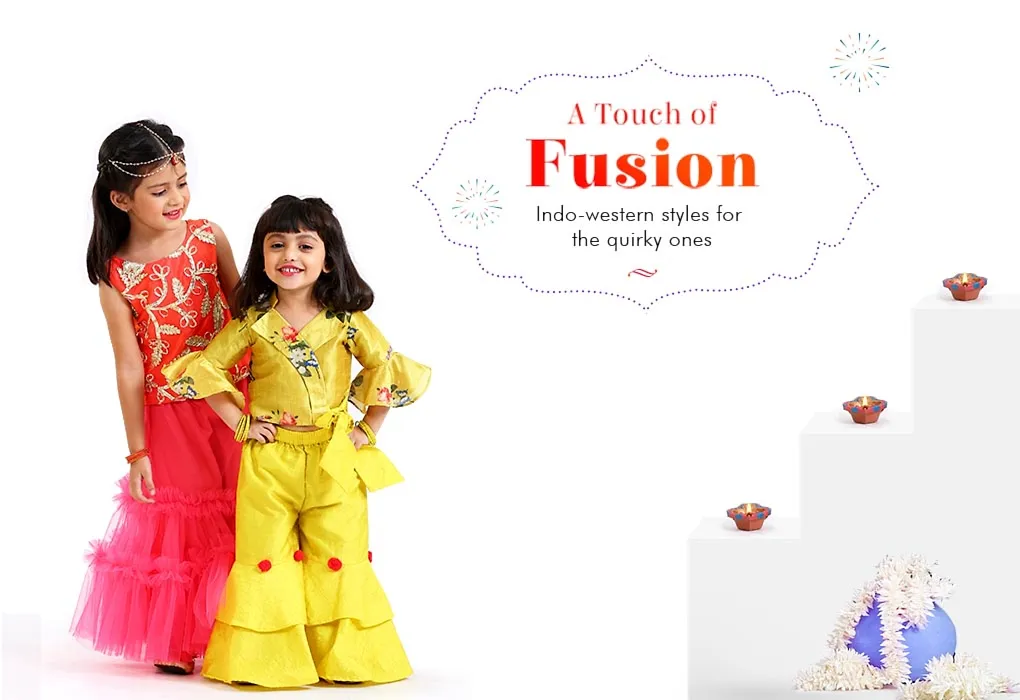 So go ahead and dress your child in the most classy Diwali outfits and accessories. You will be surprised to see your favourite celebrities draped in these stylish attires. These fresh styles will really make heads turn, so grab the perfect Diwali outfits for your children as soon as you can!
Note: While the COVID-19 pandemic may have subdued the energy and vibe of the festival of lights, you and your little one can still have a lot of fun, provided you follow some basic safety guidelines. Always wear a mask and make sure you're practising social distancing at all times. Keep hand sanitisers far away from firecrackers, as they're highly flammable. You can carry soap paper and water for washing your hands. Avoid greeting each other with a hug; the traditional Namaste is the way to go. Hope you have a happy and safe Diwali 2022!
Also Read:
Creative and Interesting Diwali Activities and Games for Kids
DIY Diwali Craft Ideas for Children
Easy and Beautiful Diwali Card Ideas for Kids
?>