Traditional Hot cross bun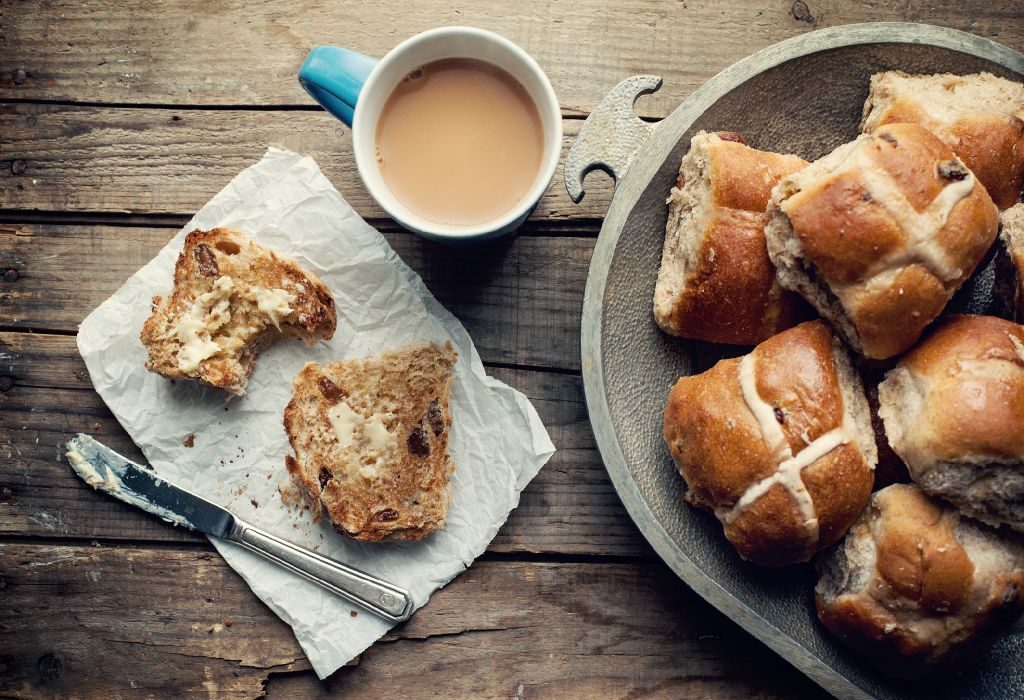 In this Article
You no more need to buy hot cross buns for one a penny or two a penny! You can very well make them at home with this easy recipe. Make your Easter worthwhile by creating these perfectly decorated fruit buns with this step-by-step recipe.
| | | |
| --- | --- | --- |
| Serves | Preparation Time | Cooking Time |
| 15 People | 3 Hours, 30 Minutes | 20 Minutes |
Ingredients
330 ml full-fat milk
50 g butter
500 g maida flour
1 tsp(teaspoon) salt
75 g caster sugar
1 tbsp(tablespoon) sunflower oil
7 gm sachet fast-action or easy-blend yeast
1 egg, beaten
75 gm sultanas zest
1 orange
1 apple, peeled, cored and finely chopped
1 tsp ground cinnamon
For the cross
75 g plain flour, plus extra for dusting
For the glaze
Method
Step 1
Boil milk, remove from the heat and add butter to it. Leave it to cool.
Step 2
Add the maida flour, salt, sugar and yeast into a bowl.
Step 3
Make a pit in the center. Pour in the milk and butter mixture, then add the egg.
Step 4
Using a wooden spoon, mix well.
Step 5
Knead with hands until you make a sticky dough.
Step 6
Lightly flour and knead the dough again. Repeat for 5 mins until smooth and elastic.
Step 7
Lightly oil a bowl and put the dough in it.
Step 8
Cover with oiled cling film and leave to rise in a warm place for 1 hour or until doubled in size. Do a finger test.
Step 9
Add in the sultanas, orange zest, apple and cinnamon. Knead into the dough well so that everything is well distributed.
Step 10
Leave to rise for 1 more hour, like before.
Step 11
Divide the dough into 15 parts of similar size (about 75gm per piece).
Step 12
Roll each piece into a smooth ball on a lightly floured work surface.
Step 13
Line 1 or 2 baking trays with parchment paper.
Step 14
Arrange the buns on the trays in a manner that you leave enough space for the dough to expand.
Step 15
Cover with more oiled cling film, or a clean tea towel, then set aside to prove for 1 hour more.
Step 16
Heat oven to 220C/200C fan/gas 7.
Step 17
For the cross, mix the flour with about 5 tbsp water to make the paste– add 1 tbsp water at a time, so you add just enough for a thick paste.
Step 18
Spoon into a piping bag with a small nozzle.
Step 19
Pipe a line along each row of buns, then repeat in the other direction to create crosses.
Step 20
Bake for 20 mins on the middle shelf of the oven, until golden brown.
Step 21
Gently melt the apricot jam by heating. Sieve to remove chunks, if any.
Step 22
While the jam is still warm, brush over the top of the warm buns and leave to cool.
Nutritional Information
Serving Size 1 Bun (60 g)
| | |
| --- | --- |
| Calories | 190 |
| Total Fat | 3.6 g 6% |
| Dietary Fiber | 1.8 g 7% |
| Calories from Fat | 32 |
| Carbohydrates | 33 g 11% |
| Protein | 6 g |