Toys for 8 Months Old Baby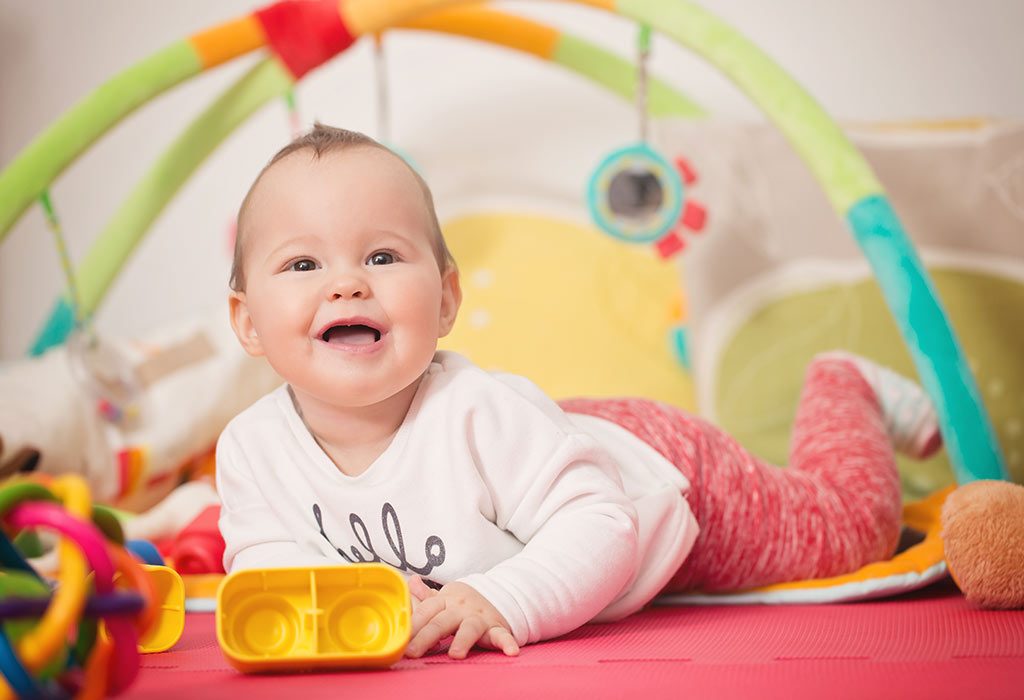 Most babies during this period demonstrate notable physical development. They may gain better control of their movements including hands and fingers. They may be able to pick up things properly and even throw them. They become quite the explorer by this age, curious to know things and constantly on the move. Shapes, bright colours, textures may captivate them. So it is important to provide your baby with age-appropriate toys that are not only entertaining but may also help in furthering his dexterity, motor, and cognitive skills.
Musical Toys
You can enhance your baby's visual, audio and tactile development by giving him toys with light and music.
1. Skill Development
Offering musical toys to your baby may expose him to an extensive sensory environment where he gets to explore different sounds, colours, textures, words which may boost his brain development and receptive language skills.
Dancing to music may allow your baby to learn about coordinated movements and develop his motor skills.
Playing with musical toys may let your baby practice self-expression.
It may also assist in strengthening your baby's memory skills.
2. Recommended Toys
Stacking and singing rings
Squeaky balls or stuffed toys
Sounds and lights activity table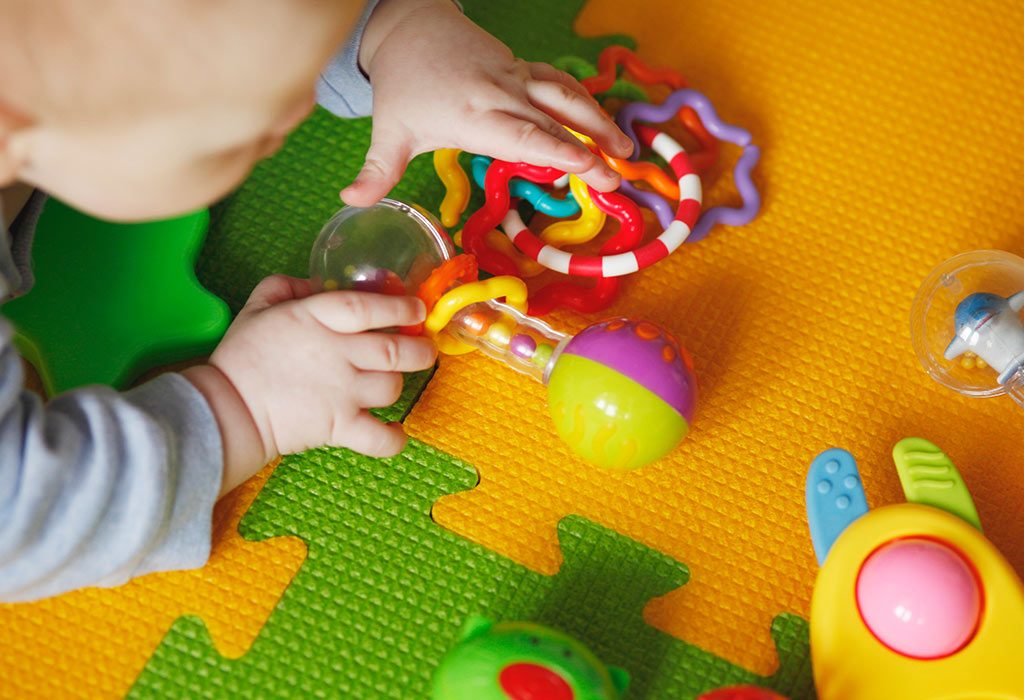 Sorting and Building Toys
Sorting and building toys can be a fun way to present various colours, letters, numbers, shapes to your baby.
1. Skill Development
Building toys may help in developing your baby's eye-hand coordination, gross and fine motor skills.
He may get his early lessons in the concept of geometry, balancing, shapes thereby improving his maths skills.
These activities entail great concentration which may prove beneficial in advancing his attention span.
Sorting objects may aid your baby's understanding of matching objects to their purpose.
2. Recommended Toys
Shape sorting toys
Stacking cups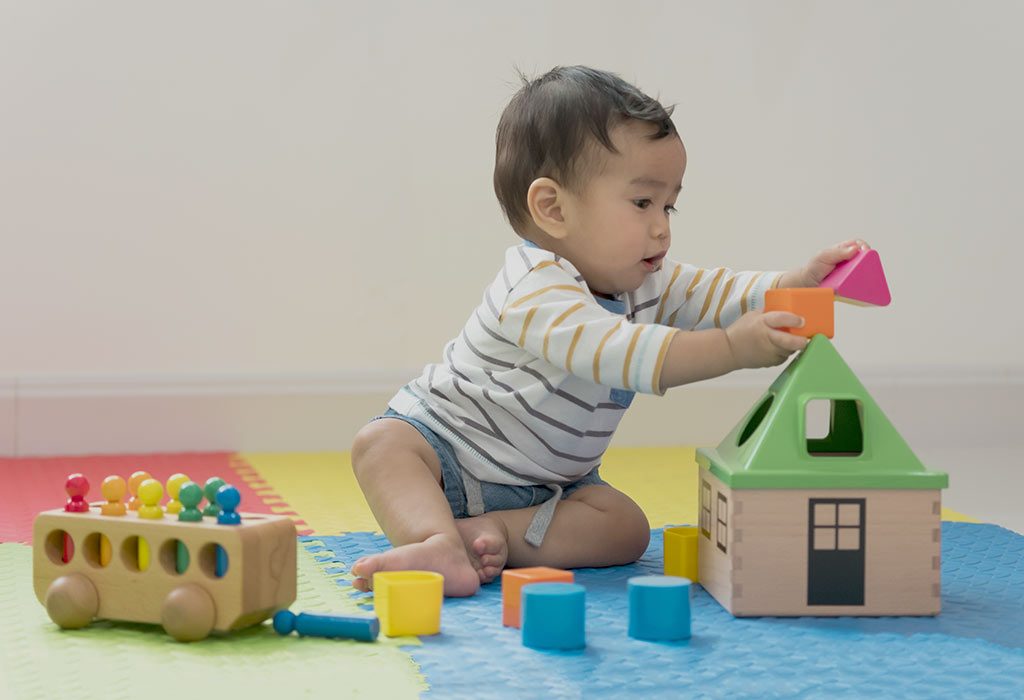 Toys With Buttons and Dials
Parents can foster the development of many skills by providing their baby with toys with buttons and dials.
1. Skill Development
Use of toys with different buttons and dials may promote your baby's fine motor skills.
Learning toys with buttons and dials can encourage the development of cognitive skills.
2. Recommended Toys
Space toys
Toys with levers
Animal keyboards
Developmental Toys
Developmental toys can be great learning tools and may significantly contribute to your baby 's overall development.
1. Skill Development
Brightly coloured toys may promote your baby's growing vision.
He may learn about cause and effect associations between different objects.
Developmental toys may stimulate hand-eye coordination and motor skills.
2. Recommended Toys
Infant gym
Handle cars
Adventure learning table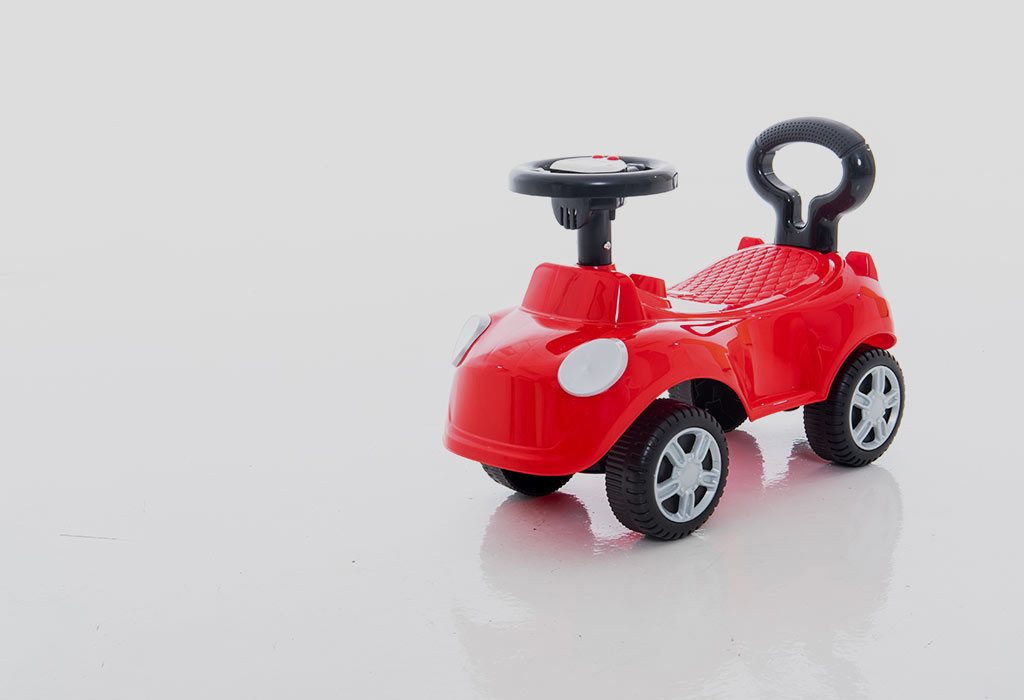 Activity Toys
Activity toys can be engaging and may help boost your baby's growing skills.
1. Skill Development
Activity toys may shape motor skills and provide scope for lots of physical
They build hand-eye coordination and cognitive skills.
2. Recommended Toys
Play tunnel
Developing carpet mats
Inflatable tubs or horse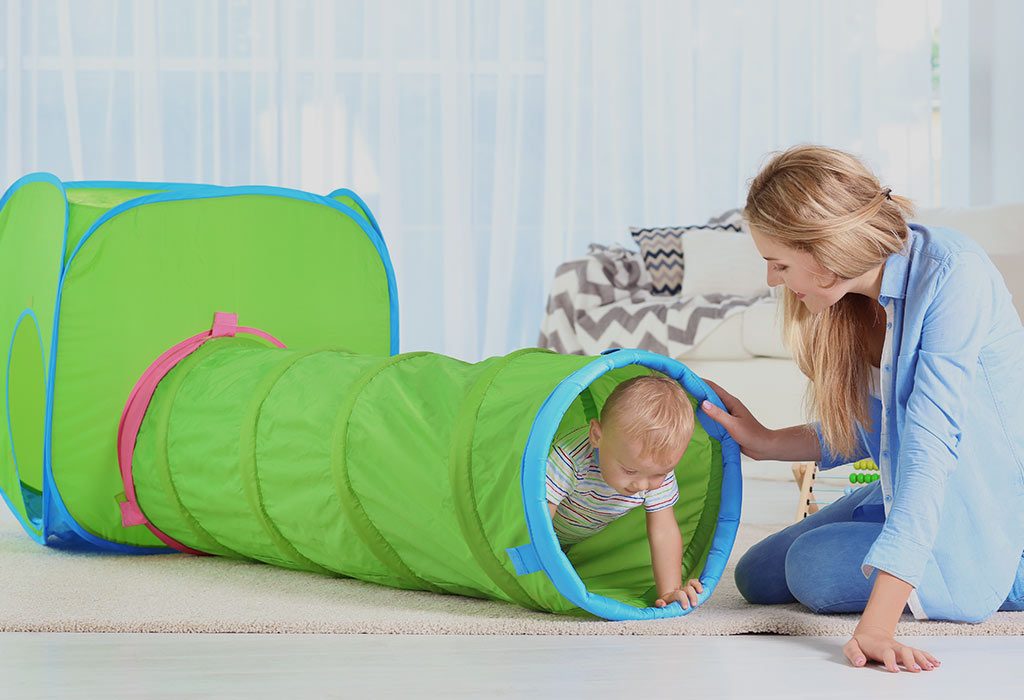 Sensory Toys
Sensory toys can have great benefits for your baby.
1. Skill Development
Sensory toys can nurture the social and emotional development
They help in structuring language and listening
They advance fine and gross motor skills
2. Recommended Toys
Sensory balls
Sensory toy room furniture
Plastic mirrors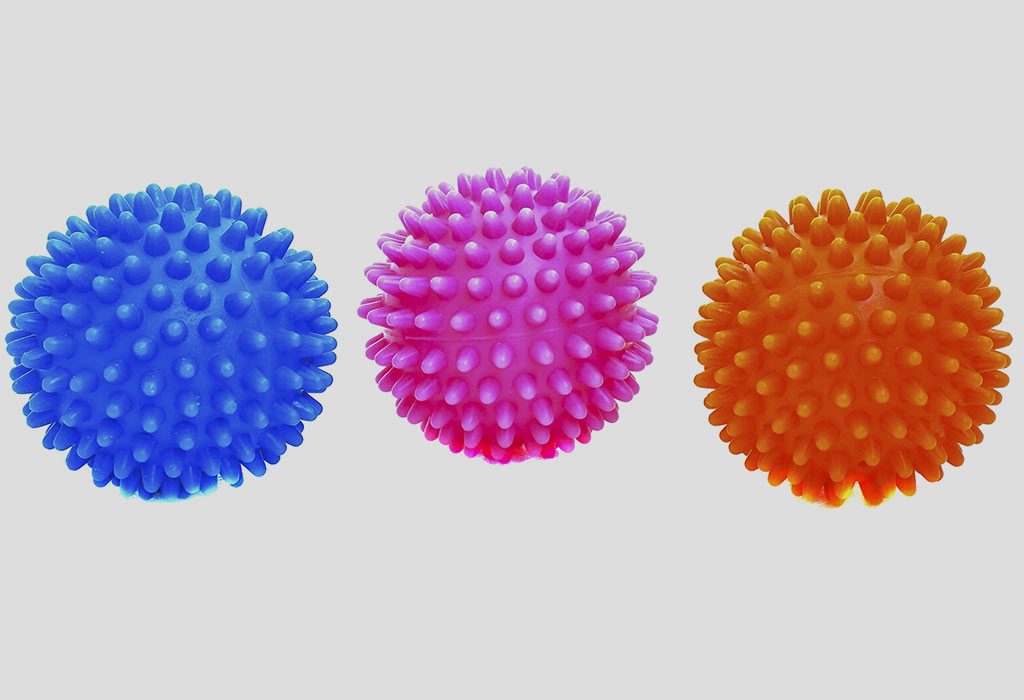 Crawling and Pushing Toys
Crawling and pushing toys may be a valuable addition to your baby's toy collection.
1. Skill Development
These toys may provide adequate exercise for your baby's growing muscles thereby helping his physique
Manipulating pushing toys may foster fine and gross motor skills
Playing with crawling and pushing toys may strengthen your child's creative play, problem-solving and coordination skills.
2. Recommended Toys
Toy trolleys
Wheelbarrows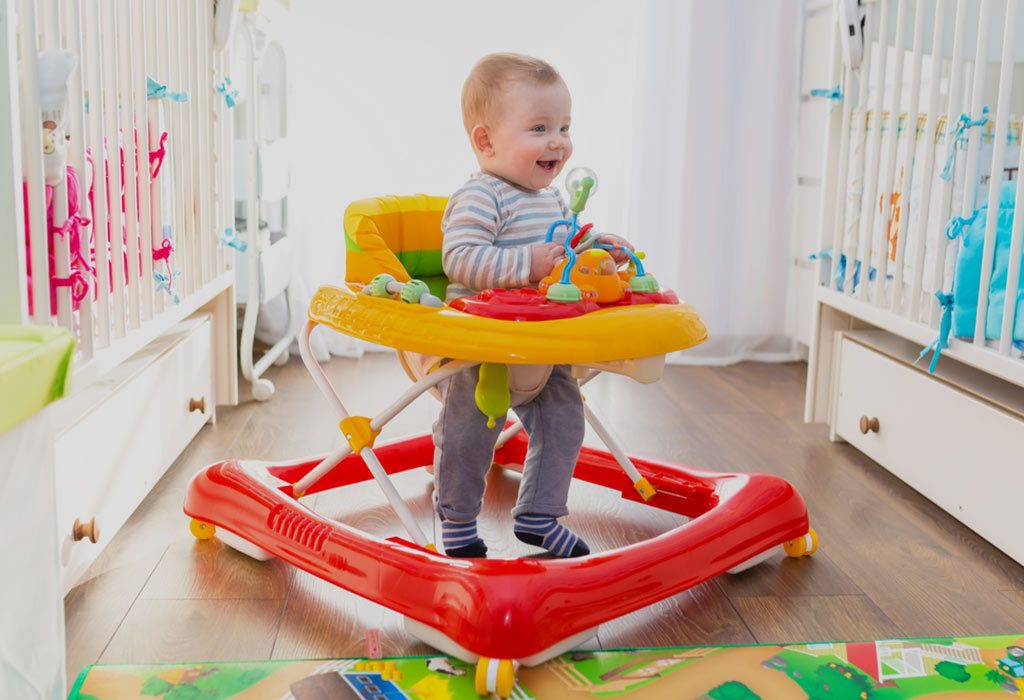 What Does Age Recommendation Labels On Toys Mean?
It is important to understand what age recommendation labels on toys usually mean. The following pointers may help:
The mentioned age label means that the particular toy is suitable for the interests and average abilities of children in that age group.
It also indicates the safety aspect of the toy.
It shows that a child may be physically able to handle it and possess the mental ability to appreciate it.
Safety Tips for Babies
Some safety tips that you may like to keep in mind can be:
Try and childproof your house as much as you can. Move things that are likely to fall out of your baby's reach.
You can keep your baby safe by creating supervised play areas. You can clear the place of all furniture and portable things and go in for ground-level settings to prevent any likely accidents.
Avoid giving toys which have small removable parts as they can become potential choking hazards.
Clear all loose or dangling wiring which can become a risk for your baby.
How to Help Your Baby Learn While Playing?
Some useful ways to help your baby learn while playing can be:
Talk and interact with your baby as often as it is possible as babies tend to learn more by watching and imitating.
Respond to your baby's vocal expressions with suitable facial, verbal comebacks and gestures which may encourage him to express more and learn about sounds of language.
Provide bright and colourful age-appropriate toys of different shapes, sizes, and textures that may help your baby practice his current skills and cultivate new ones.
You can make your baby's bath time playful and educational by providing squeeze toys and cups to splash around.
How to Choose Best Toys for Your 8-Month-Old-Baby?
Some guidelines for selecting the best toys for 8-month-old development include:
Go in for toys that allow your baby to play a variety of games with it. He may be able to put in, pull out, put back together, build on, add-on things with the toy which can enable the development of spatial and motor skills.
Toys that may spark your baby's imagination and increase his logical thinking and problem-solving skills like nesting cups, blocks, water play may be ideal for him.
Try and choose toys that may be fun for your baby at diverse developmental stages like action figures, cars and trucks, stuff toys, play dough.
You may like to opt for toys that build your child's language skills, and the ability to arrange things in a logical order like toys for an 8-month-old boy can be toy tools, and toys for an 8-month-old baby girl can include dress-up
You may like to give your baby toys that are similar to the real thing like a toy mobile, musical instruments, child-size mops, brooms as babies find playing with 'real' stuff fascinating.
Look for toys which may prepare your baby for early reading and writing skills like books, art supplies, magnetic letters, and alphabets.
Seek out toys that inspire your baby to be involved and active rather than simply sitting and seeing the toy perform.
Toys which can involve your baby's mind and body to the optimum level may be best suited for him. Playing with useful toys can help your baby discover and build new skills by constantly challenging and appealing to his senses.
Also Read: 10 Best Activities for 9-Month-Old Baby