How to Wear a Saree During Pregnancy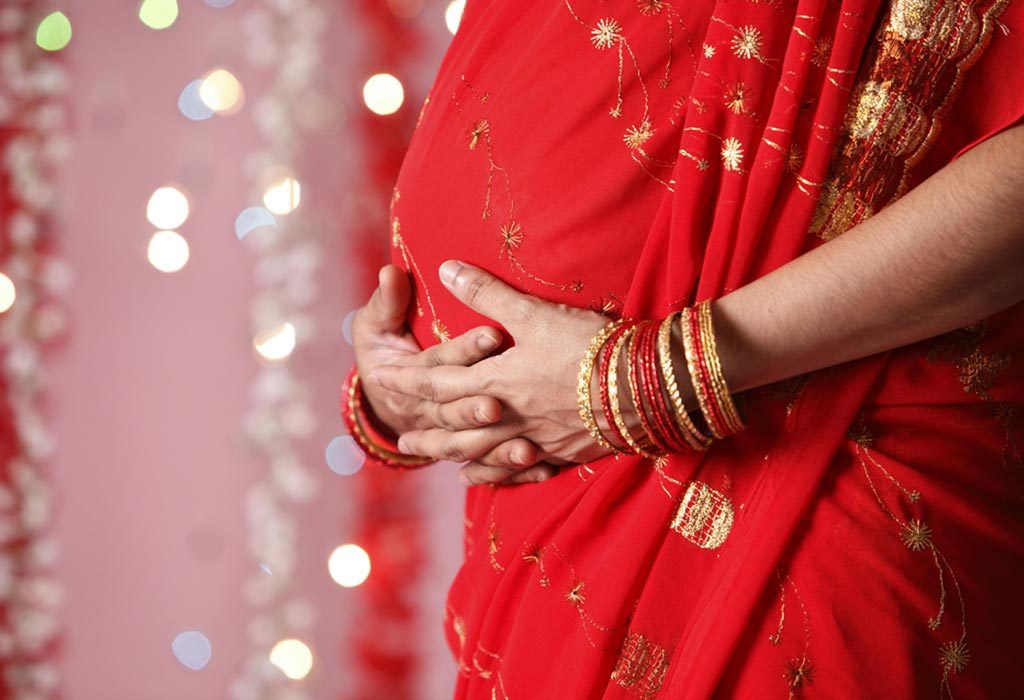 A saree is a graceful garment that can make a woman look beautiful. Sarees are a symbol of cultural pride and can look truly elegant when worn the right way. Pregnant women may feel hesitant to wear a saree because of their baby bump. However, it is possible to drape a saree while pregnant and look very graceful without feeling any discomfort.
Useful Tips on Wearing a Saree During Pregnancy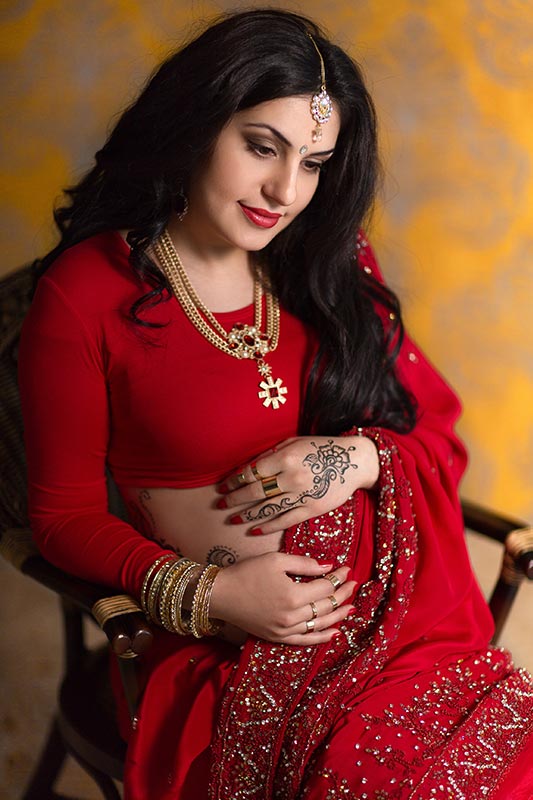 Here are some useful tips on wearing a saree during pregnancy:
1. Do a Trial Run
If you are planning to wear a saree for any important occasion, it is a good idea to do a trial run the day before. Try the saree on at home and make sure you feel comfortable walking around and sitting in it. Confirm that the saree causes you no discomfort. Once you are convinced that you are comfortable in the saree, you can wear it for the occasion.
2. Pick Loose Fabrics Without Heavy Embroidery
Although it may be tempting to pick a Banarasi or Zardosi saree with heavy embroidery and stiff fabric, it is better to avoid these. Heavy embroidery will weigh you down and can make you itchy and uncomfortable during pregnancy. Also, stiff or rough fabrics could give you rashes and also make you look heavier.
3. Use Lightweight Fabrics
Choose lightweight and soft fabrics like cotton, chiffon or Georgette. These fabrics are comfortable, easier to drape, and will look beautiful on your pregnant body. Sarees with thin borders and small prints like floral patterns will flatter your body nicely during pregnancy.
4. Use a Pregnancy Belly Band
Pregnancy belly bands are tube-shaped fabrics made of elastic or stretchy material. They fasten around the baby bump and are safe and comfortable. They come in a variety of colours. You can choose a belly band that matches your saree colour that can cover your baby bump and help hold up the saree comfortably.
5. Try a Different Draping Style
The traditional saree-draping style may not work for you during pregnancy. Try a different draping style which is loose and comfortable and can hide the baby bump if you do not wish to show it off. Some examples of different draping styles are Bengali, Gujarati, and Coorgi.
6. Get Help
During pregnancy, you will need help draping a saree and perfecting the pleats. You may not be able to bend down to straighten the pleats or twist around to drape it properly. So, ask someone to help you out and get them to pin up the pleats so that you do not have to worry about them coming apart later. Also, get help to wear the saree slightly higher than usual to avoid tripping over the pleats.
7. Wear a Longer Blouse
If you do not want to show off your baby bump, opt for a longer blouse like the Choli-blouse. This blouse covers you till the midriff and is also comfortable. It could have full-length or short sleeves depending on your preference. Make sure the blouse is comfortable and does not feel tight on your belly when you sit.
8. Drape it Over or Under Your Baby Bump
If you are comfortable showing off your baby bump, you can tie the saree below your belly. However, in case you do not want to show off the baby bump, you can tie the saree above the baby bump so that it is fully covered. Check in a full-length mirror to ensure that the saree pleats are not dangling high above your feet, exposing your ankles. The pleats should also not be low enough to make you trip over them.
Different Saree Styles You Can Try During Pregnancy
The traditional saree-draping style may not feel comfortable during pregnancy. There are a variety of other draping styles that are loose and comfortable, but also look beautiful. Here are some different styles of saree draping for pregnant ladies:
1. Bengali Style
The Bengali saree-draping style is loose and comfortable, but also looks elegant and sophisticated. It does not involve too much pleating and uses folds to give it an interesting look. The pallu comes down in front and can be used to conceal the baby bump easily.
2. Gujarati Style
The Gujarati style saree is another way for pregnant women to look graceful and hide their baby bump if they wish to do so. The pleated pallu is draped around the belly and is perfect for women who want to conceal their pregnant belly. You can team up the Gujarati-style drape with a long blouse that comes up to your midriff for a fashionable look.
3. Coorgi Style
The Coorgi style saree is draped across the upper body just above the chest with the pallu tucked over the shoulder, and the pleats tucked in behind the waist. It is different from other styles that have the pleats tucked into the front. The Coorgi style completely hides the belly and is easy to drape. It also feels very comfortable.
Pregnancy does not mean that your options are limited. If you are not comfortable wearing a saree at all, it is better to avoid it as you may end up tripping and hurting yourself and the baby. If you love wearing sarees but are hesitant to try it during pregnancy, make sure you are comfortable first. Do not be afraid to experiment with different fabrics, blouses and draping styles. Find the saree-draping style that suits you best, and is both comfortable and gorgeous.
Also Read: Right Clothes to Wear during Pregnancy