Top 7 Entertaining Spy Movies For Kids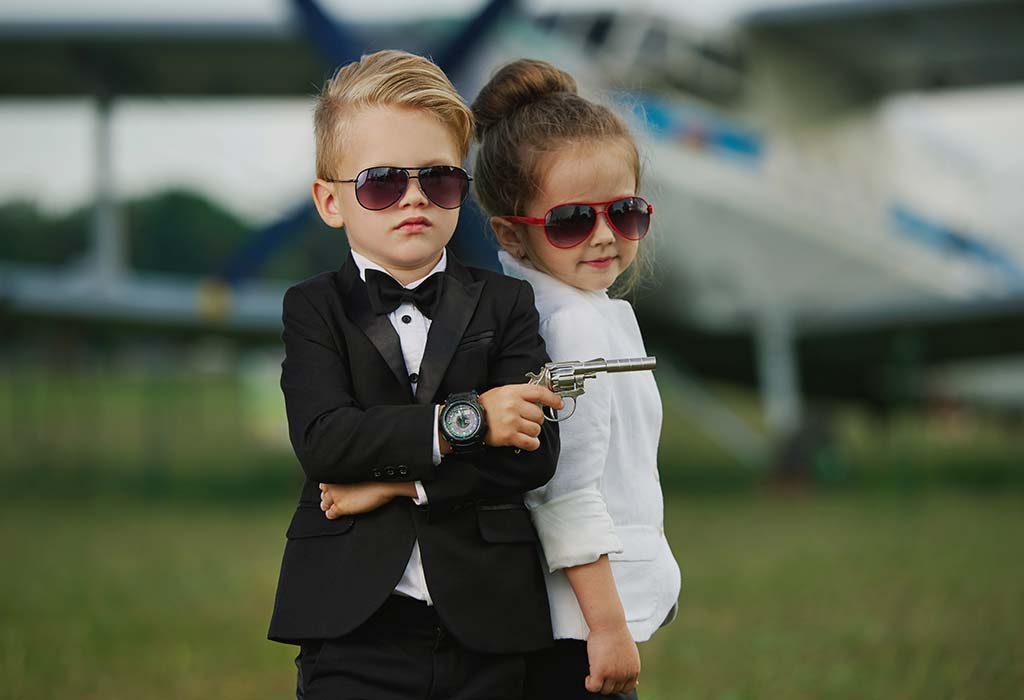 In this Article
Picking the right genre for children can be quite tricky since you may want to put on something they would be interested in watching while making sure there aren't any violent or inappropriate scenes. However, you can never go wrong if you choose a family-friendly spy movie for the children since every little kid loves the coambination of comedy and adventure!
7 Best Kid-Friendly Spy Movies
Check out this collection of funny and good spy movies for children!
1. The Spy Kids Series
Watch all four movies of this adventurous series!
Duration: 1 hour and 30 minutes to 2 hours each.
About the Movie
The Spy Kids is a spy-based adventure comedy film series that was created by Robert Rodriguez. The Spy Kids series centres on Juni and Carmen Cortez, a brother and sister team, as they attend a top-secret spy school for young agents, the Spy Kids Academy. The central theme of the series is how united a family can be. The series contains four films namely, "Spy Kids (2001)", "Spy Kids 2: The Island of Lost Dreams" (2002), "Spy Kids 3-D: Game Over" (2003), and "Spy Kids: All the Time in the World" (2011). This is a very popular spy movie with kids as protagonists.
2. The Spy Next Door
This is a fun kids' spy film your child would definitely love!
Duration: 1 hour and 34 minutes.
About the Movie
The Spy Next Door is an action-comedy film about Bob Ho, a former CIA spy who takes on the toughest mission to date – looking after the three children of his long-time girlfriend. He retired from Intelligence after putting a Russian terrorist behind bars and wishes to lead a normal life. After one of the children accidentally accesses a top-secret formula, the Russian terrorist pays his family a visit, and it is up to him to save his girlfriend and her children.
3. Harriet the Spy
With an interesting plot, this makes for a nice weekend movie for your children.
Duration: 1 hour and 42 minutes.
About the Movie
The movie is about an 11-year-old girl, Harriet M. Welsch, who aspires to become a writer and a spy. She usually carries around with her a notebook, to record her thoughts about the people she comes across and to write down anything she thinks is suspicious. This spy book is meant to be a secret that only Harriet should read, but a girl who does not like Harriet finds this notebook and reads it out loud to the rest of the class – turning her friends against her. Harriet then has to find ways to expose the secrets of everyone who had bullied her and try to win her friends back.
4. Agent Cody Banks
Agent Cody Banks is an adventurous American spy comedy movie released in 2003.
Duration: 1 hour and 42 minutes.
About the Movie
The movie is about the adventures of Cody Banks, a 15-year-old high school junior, who goes undercover for the CIA to save the world while maintaining a normal teen life. To his family, he is a typical teenager who hates math, loves skateboards, and is a very awkward person around girls. However, in secret, he is a very efficient agent whose mission is to spy and stop Dr. Connors – a brilliant scientist whose evil intentions and weapons can destroy the world. The movie has everything from secret missions to an incredible collection of awesome gadgets, which is the dream of every little child.
5. The Pacifier
This is a fun movie your children would love to watch!
Duration: 1 hour and 35 minutes.
About the Movie
The movie is about U.S. Navy SEAL Lieutenant Shane Wolfe, who, after failing to protect Howard Plummer, a scientist working on the government's top-secret project, is assigned to protect the scientist's children. He also has to simultaneously look for the device containing top government secrets that the scientist may have hidden in his house. Along the way, he must cope with taking care of a baby, rebellious teens, an overbearing school official, and must also protect the home from foreign spies who are looking for the device.
6. Spies in Disguise
An animated children's spy movie is a genre any kid would enjoy.
Duration: 1 hour and 40 minutes
About the Movie
Spies in Disguise is a 2019 animation movie about a super-spy Lance Sterling and a scientist Walter Beckett. Lance is a confident agent while Walter, who does not have any social skills, makes up for it with his awesome inventions and gadgets that Lance uses on all of his epic missions. However, there is an unexpected turn, and Lance and Walter have to suddenly completely rely on each other. The odd couple has to work together as a team to save the world.
7. Sam Steele and the Junior Detective Agency
This is an adventurous movie for children who love the idea of becoming spies.
Duration: 1 hour and 30 minutes
About the Movie
Sam Steele Jr. is a young boy who wishes to become a detective like his father. So when the summer vacation finally begins, he starts a Junior Detective Agency and turns his clubhouse into the agency headquarters. Sam Jr., with the help of his friend Emma and her dog, takes on the case of the mysterious burglar who was new to their town. This is an adventure and fun-filled movie that kids would surely love.
This list of adventurous and family-friendly spy movies will make sure your movie night is full of action and comedy!
Also Read:
Space Movies for Children
Back-to-School Movies for Children
Dragon Movies for Children