Top 50 Baby Girl Names That Mean Queen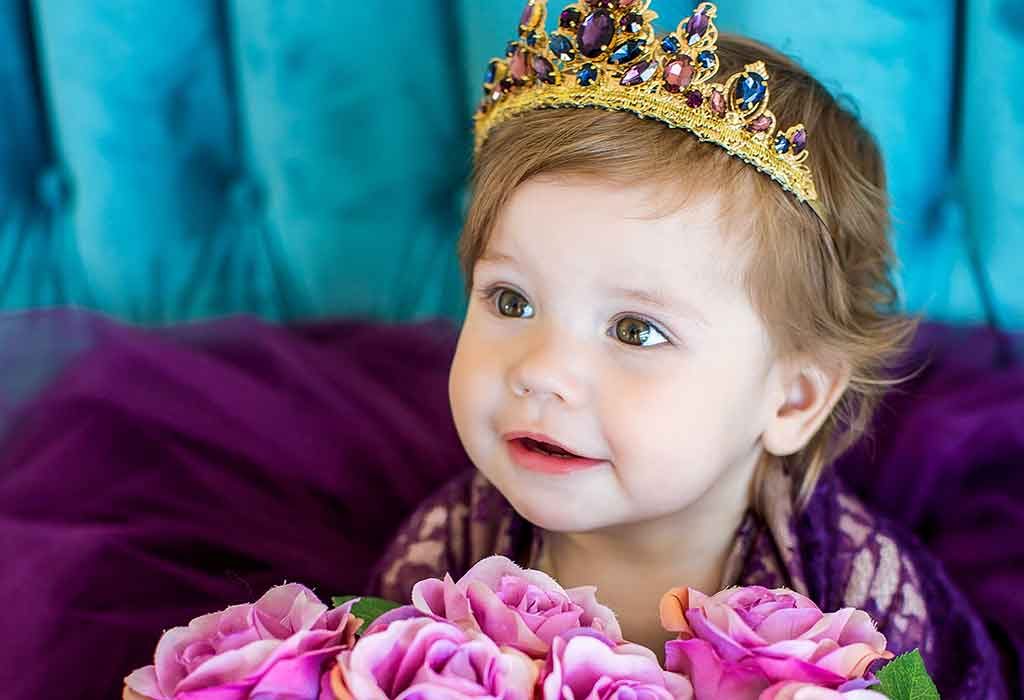 In this Article
For every parent, their daughters are queens! It does not matter if parents belong to an aristocrat family, but their daughters are princesses, and they provide all comfort and luxury to their daughters within their means. Selecting a suitable name for a baby girl who is no less than a princess is challenging. According to the latest trend, parents are looking for unique names which are cool, adorable and currently in fashion. If you are looking for same, you have come to the right page as below we have listed out some names that mean Queen in different languages.
Beautiful Baby Girl Names Meaning Queen
Your search for a baby girl name that signifies Queen comes to an end here. Here we are putting some Irish, Greek, Arabic, Latin, English, French, Sanskrit, Hebrew, and African names that mean Queen.
Names
Meaning
Alexandra
Alexandra is a Greek word, and it means defender of man.
This lovely name is deeply associated with Princess Alexandra.
It is also the name of the first-born child of the Duke and Duchess of Cambridge.
The first English Royal child was named Alexandra.
Alice
Alice is a cute and adorable name, and it means noble or kind.
Alice is an English originated name.
This name got popular with the "Alice in Wonderland" Disney female character, who was a young girl with a great imagination!

Aubrianna

This name has a unique origin.
The 'Anna' comes from Hebrew, and the 'Aubrey' comes from German.
Americans were the first to merge the both together to form the name!
Berenice
A classic name with Greek roots and it means Bearer of victory.
This name is attached to a remarkable history; it was a queen's name.
She was the wife of King Ptolemy I of Egypt.

Belphoebe

The name became popular because of Edmund Spenser!
It was used to represent Queen Elizabeth I.

Contessa



This sweet name is of Italian origin.
Diona
Diona is an English baby name which means from the sacred spring.
This name is unique, and a perfect choice for your baby as this name came
from a Diona, a Greek goddess, Queen and wife of Zeus, the King of the Gods.

Dione

It's the name of one of Saturn's rings!
The name also presents itself in Greek mythology.
Dione is gender-neutral and is of Greek origin.

Empress

The name is quite self-explanatory! The name is of English origin.

Federica



The name is a female version of the name Frederick and is of German origin.

Fritzi



This sweet name is of old German origin and means 'peaceful ruler'.
Elizabeth
Elizabeth word represents Queen in Hebrew.
A Hebrew originated word means God is my abundance.
This name was popular among England Queens which made it widely used.

Henrietta

It is a derivation of the name Henry.
It is also a British version of the name Henriette.

Iolani



The name Iolani is of Hawaiian origin.

Iphigenia



This complex yet sweet name is of Greek origin.
Juno
This name has Latin roots, and it means Wolf Queen or Queens of the Heavens.
Juno is an ancient name that sounds as new.
This name was also the name of a powerful Roman goddess.
Kahina
It is an Arabic originated name that means soothsayer.
Queen baby name Kahina is the regal choice of name for your baby girl.
This name was 422nd most popular baby name in France.
In the 7th century, Kahina was a rebellion against Islamic expansionism
in North Africa.
Ketevan
A Beautiful Georgian originated word means Queen of the house.
It was British-Georgian singer Katie Melua's birth name.

Maelys

This name was once very popular among people.
The name is of Breton origin and is a French feminine name.

Malika
It is a famous Arabic name that means Master of Queens.
It was used for Queens during Ancient time.
There are also a few popular actresses with the same name.
This name is quite attractive, and it is used in the Multi-Cultural Community.
Malka
Malka comes from the Hebrew word, which means Queen.

Milcah

This sweet name too is of Hebrew origin.

Mira



Mira has multiple origins; Indian, Hebrew, and Slavic being some.
Morrigan
A Classic Irish Originated word which means Phantom Queen.
This name was given to the ancient Goddess of War,
which was also symbolized as a crow.

Orla

There are many versions of this short and sweet Irish-origin name.
Proserpine
Proserpine is the Roman name of goddess Persephone, the Queen of the Underworld.
Persephone's story is very popular in classical mythology.

Putri

This unique name is of Indonesian origin and is often used as a pet name for daughters.
Quanda
An English origin word which means Queen.
Queenie
Queenie is an old English word which means the ruler or the Royal Lady.
It is a sort of nickname given to Queen.

Quenby

This sweet name is of Scandinavian and English origin.
Rani
A beautiful and simple name for your beautiful princess.
Rani is a Sanskrit word, and it was used for King's wife during ancient times.
This word is quite popular in India, and nowadays it is becoming
famous all over the world.
Raina
It is a classic name that means like a Princess or Queen.
It is a Latin-origin word.
Raine
An old French Queen was named as Raine.
A perfect name if you are looking for French originated word which
means Queen.
Rainey
An Anglo-Irish Originated word which means Queen.
It's a trendy name which a Queen used to name her daughter in ancient times.
Rainy
An American Classic name means Abundant Blessings or Queen.
This word came from Brittany.
Reggie
A Latin originated word means the Abundant Ruler.
Queens used this in Germany.
Regina
A name of Latin, Italian and Romanian origin that means the Queen, The Ruler.
It is also the name of a Christian Saint.
Reina
A Spanish word for Queen. A Spanish Queen was named with the same.
Reine
It is a French origin word that means Queen.
Reinette
A French royal word means Queen, used by
Madame de Pompadour (mistress of King Louis)
Rhiannon
A Welsh originated term means Queen. It's an ancient Celtic name.
A famous American Musician was named the same.

Roderica

The name is of German origin, and is the feminine version of the name Roderick.

Royal

The name is mainly gender-neutral and represents royalty.

Royaly

The name means what it says – A royal figure!
Saowanee
Saowanee is a Thai origin word. Thailand's Queen has the same name.
Thailah
A Thai origin word which means Queen.
Thema
An African-originated name means Queen.

Theresa

The name originates from Greek culture and is also spelled as Teresa.
Victoria
A Latin word which means Goddess of Victory.
Tiana
A Russian-originated word means Queen.
A name is something that becomes one with your identity and personality throughout life. We can never choose our names; it is a gift given to us by our parents! So, parents select a perfect name for your baby girl to make her feel positive, happy, and proud. We wish you luck in this exciting quest to find the ideal name for your little one. Happy parenting!