Top 15 Space Books For Kids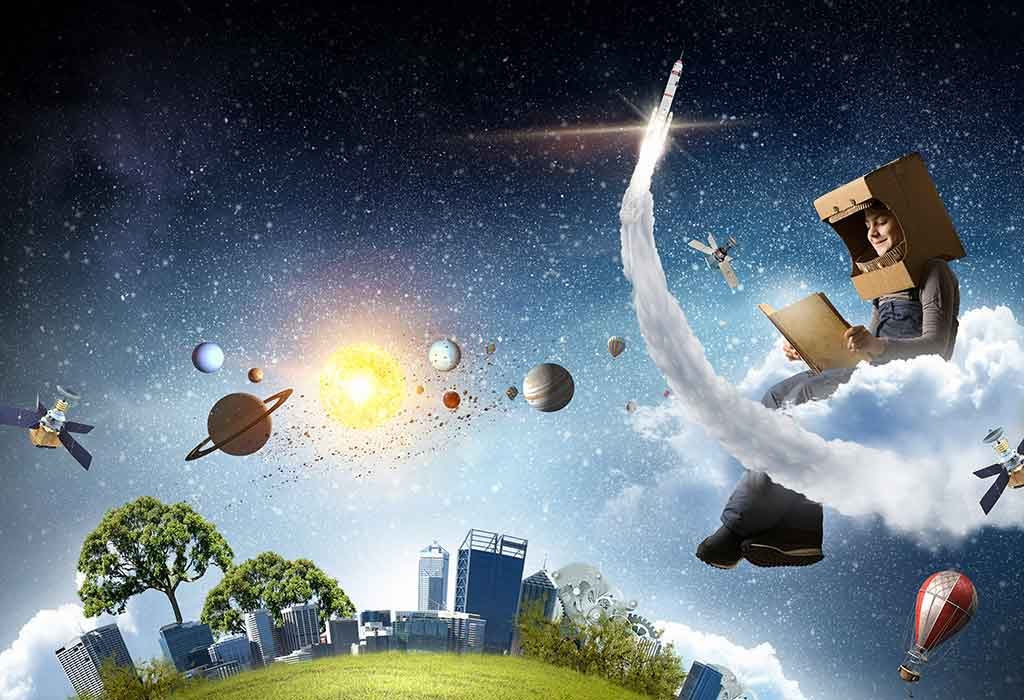 In this Article
The mystics and marvels of space ensure that everybody who learns about it is absolutely astonished. Curiosity in kids should be channelised in a manner that gets them to learn more about the right things. Although space is a concept that is difficult even for the smartest adult minds, there are books available for kids that can help them understand some of it slowly but surely. Read this article to find out more about the best space books for kids.
Amazing Books About Space for Kids
Although there are many books available to gain knowledge about space, it can be a bit difficult to find the right ones for children. Here's a list of space books for toddlers that can come to your rescue.
1. A Moon of My Own
Author: Jennifer Rustgi
What Makes It Interesting:
This children's book about space is a great place to start because it has multiple colourful illustrations and it is funny. Pictorial storybooks can capture your little one's attention. This story talks about a sweet yet spunky girl's journey all around the world, and how she observes the different phases of the moon from different continents.
2. Apollo 13 (Totally True Adventures): How Three Brave Astronauts Survived a Space Disaster
Author: Kathleen Weidner Zoehfeld
What Makes It Interesting:
This is a great book to inspire the inner astronaut in your child. It is about the adventures of the astronauts involved in the Apollo 13 space mission. Other than their adventures and survival, the book also has maps and pictures to help your child understand space better.
3. Goodnight Spaceman
Author: Michelle Robinson
What Makes It Interesting:
Inspired by the first official British ESA astronaut, Tim Peake, this astronomy book for kids tells the story about two young boys, who blast off from their beds on an intergalactic journey to visit their dad. Along with the illustrations, this story makes for a perfect book to read to your little one before bed.
4. The Darkest Dark
Author: Chris Hadfield
What Makes It Interesting:
This is written by an astronaut and is inspired by his childhood. It is about a boy named Chris who is scared of the alien-like shadows in his bedroom the night Buzz Aldrin and Neil Armstrong land on the moon. Kids get to know how he is able to overcome his fear. The book also comes with a full glow-in-the-dark poster!
5. Me and My Place In Space
Author: Joan Sweeney
What Makes It Interesting:
This book takes kids through the solar system. A young astronaut, leading a tour, answers questions about the stars and planets. The kids can enjoy the story as well as the beautiful illustrations.
6. The Dinosaur that Pooped A Planet
Author: Tom Fletcher & Dougie Poynter
What Makes It Interesting:
Written by two members of a band called McFly, this book disgusted and delighted many across the world. It is a funny story about Danny the Dinosaur and how he goes into space and travels to the moon. While there, he gets so hungry that he ends up eating the rocket and now they all have to hatch a plan in order to get back to earth.
7. The Three Little Aliens and the Big Bad Robot
Author: Margaret McNamara
What Makes It Interesting:
This is a retelling of the classic story The Three Little Pigs and The Big Bad Wolf with a twist of events taking place in space. The big bad Robot is out to destroy anything in its path, including the little aliens who are settling in their new homes in the space. This is one of the best space books for preschoolers.
8. National Geographic Little Kids First Big Book of Space
Author: Catherine D. Hughes
What Makes It Interesting:
NatGeo is known to produce amazing documentaries. This book, with colourful illustrations, photographs, and interactive stories is perfect for your little one to learn more facts about space and everything that is found there.
9. Gravity
Author: Jason Chin
What Makes It Interesting:
Gravity is a concept that kids must learn to understand from a young age. The realities of gravity and the effects that it can have on day-to-day activities must be inculcated in kids from a young age. This book does exactly that without making the concept too foreign for kids. It talks about space and its effects in the most understandable way possible.
10. There's an Alien in your Book
Author: Tom Fletcher
What Makes It Interesting:
Watch out! There's an alien that has crash-landed in the book, and it's up to your child to help it out! Kids have to blow the smoke away from the crash, turn the book upside down, shake and jiggle the pages and do whatever it takes to send the alien back on its way because aliens don't belong there!
11. The Stars: A New Way To See Them
Author: H. A. Rey
What Makes It Interesting:
Constellations are intimidating, not just for kids, but for adults as well. But this book is perfect for your young ones as they start to learn more about space and everything that is found inside of it. It is a guide for constellations that will help your child understand the nuances of space better.
12. You Are The First Kid On Mars
Author: Patrick O'Brien
What Makes It Interesting:
This is one of the books that will help your child understand the "Red Planet", Mars where humanity is trying to find life. There isn't a better way to learn about the red planet than to be the first kid there!
13. Super Space
Author: Lon Lee
What Makes It Interesting:
This book is a great way for kids to learn about the world of stars, planets, moons etc. Children are taught age-appropriate facts through fun rhymes, colourful illustrations, as well as a turn-and-learn wheel. It is an interactive book that kids of all ages love.
14. Toys in Space
Author: Mini Grey
What Makes It Interesting:
Toys, including the Cowboy, the Dinosaur, the Wonderdoll get left out in the backyard. While they were gazing up at the stars, they get beamed up into space. They all take the magical, intergalactic adventure and meet aliens. The illustrations in the book help jog your little one's creativity and get their imaginations running wild!
15. Field Trip to the Moon
Author: Jeanne Willis
What Makes It Interesting:
Author Jeanne Willis has written this wonderful, witty book about a fun adventure just for your little one. The story is about a girl who gets separated from her class on a field trip to the moon. She sits down and pulls out her crayons to start drawing and realises that she is not by herself, and she finds out what happens when we reach out to those who are different than us.
Space books are great to teach your child the beginning of the Universe. These storybooks can get kids curious and also inspire them to become space explorers! Teach your little one about space through our list of books and watch him explore endless possibilities.
Also Read:
Best Adventure Books for Children
Best Animal Books for Kids to Read
Top Funny Books for Children to Read