Top 15 Easy and Smart Tips to Organise Your Kitchen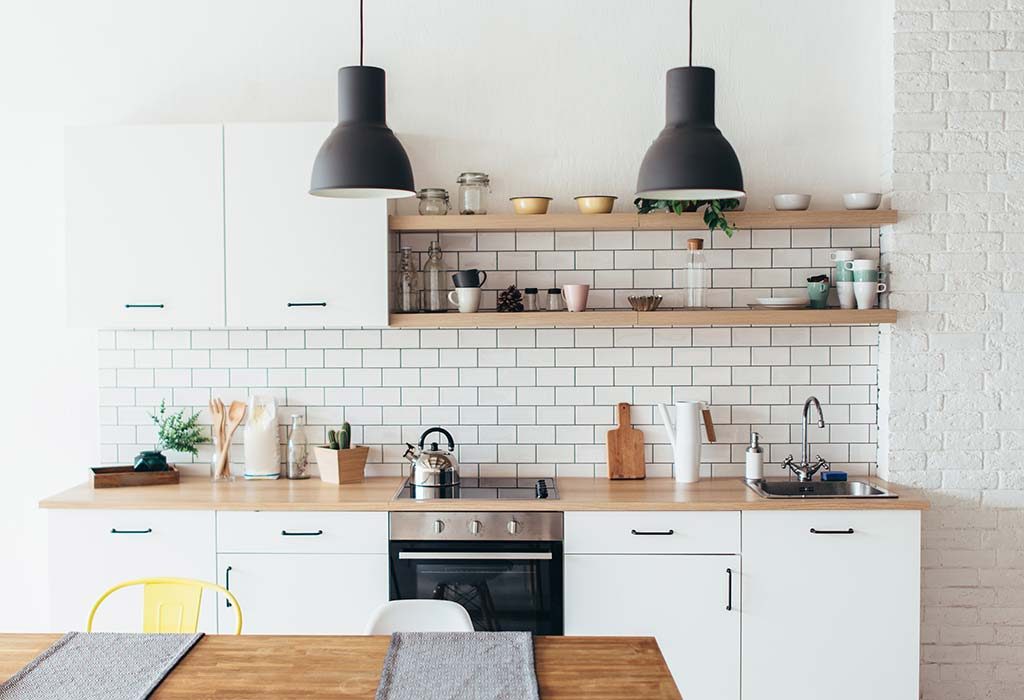 Have you ever stood in the middle of your kitchen and wondered how to fit so many things into this limited space? If yes, then don't feel left out because you are not the only one with this thought. Most people clutter their cooking space without any idea of how to implement the concept of space utilization. If you take a good look in your kitchen, you will realise that there is a lot of space in it, it's just you don't know how to make the most of it. In this article, we bring to you a compilation of splendid ideas on how to organize your kitchen drawers and cabinets to up the utility value and declutter. This will give you an idea of exactly how much extra stuff you have that you probably never used in life.
How To Organize Your Kitchen
The first step to organizing your kitchen is to remove the clutter and the unwanted pots, pans, knives, gadgets, and expired food items! Some of the ideas mentioned below will help you to be more organized.
1. Decide a Specific Place for Everything in Your Kitchen
Everything in the kitchen should have a specific place for it. Items that are used most often should be placed to be easy to reach. Every item should have a fixed location, so it is always easy to find. This will certainly reduce your frustration while trying to reach out for things. Reduce the number of items that you use. Throw out all the junk that you have never laid hands on. Reuse anything that can be doubled up on utility. Old mugs can be used to hold ladles, spoons, straws etc. Recycle anything that can be recycled.
2. Use Maximize Space on the Shelves
If you can't see something on your shelves, it will expire right there. Keep your food products in such a way that everything is visible. Group ingredients by the kind of dishes they are used in, if possible. Using a revolving server for a place that is difficult to reach can be helpful.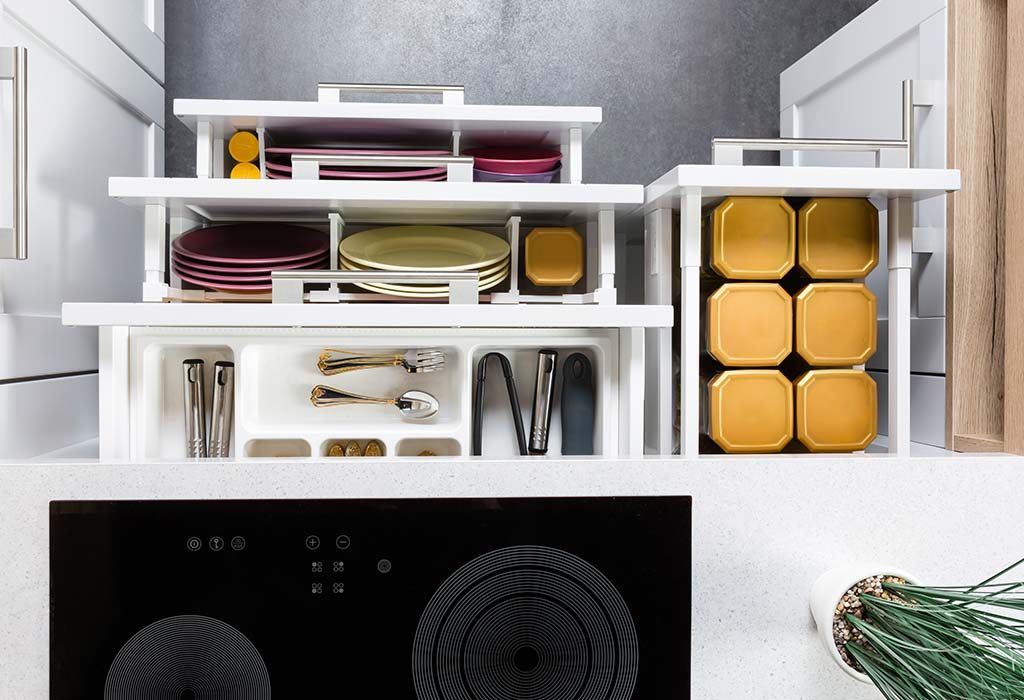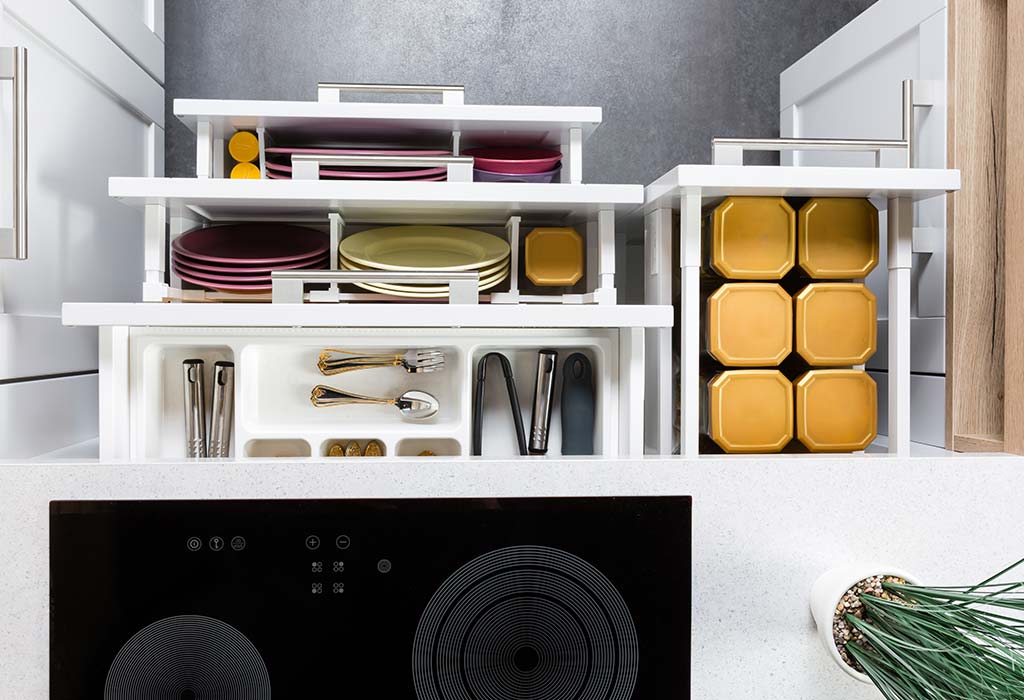 3. Store Food Properly in the Refrigerator
Organizing your refrigerator is key to reducing clutter in your kitchen. Every dish and every type of food has a place in the fridge. Following this reduces wastage, lets food keep fresh for longer, and prevents your kitchen counter from untidiness. Always use the First-In-First-Out system to reduce wastage.
4. Store the Necessary Ingredients in Transparent Containers
It makes sense to use uniform containers for storage. It improves maximization of space. Rectangular or square containers stack well and take up less space. They are also microwave safe and reduce the number of containers you may require. Circular containers use a lot more space and space in between two containers cannot be utilized properly.
5. Create Work Space According to Zones
All sensibly designed kitchens have a triangular area that encompasses the sink, oven, and refrigerator. It helps organize your kitchen into similar zones even if it is built differently. A separate zone for food storage, preparation, cooking, and cleaning will certainly make you more organized in your kitchen. If you have more than a single person cooking, make sure that there is extra space available in your preparation area. You could even have designated workstations for baking, roasting, or deep-frying items.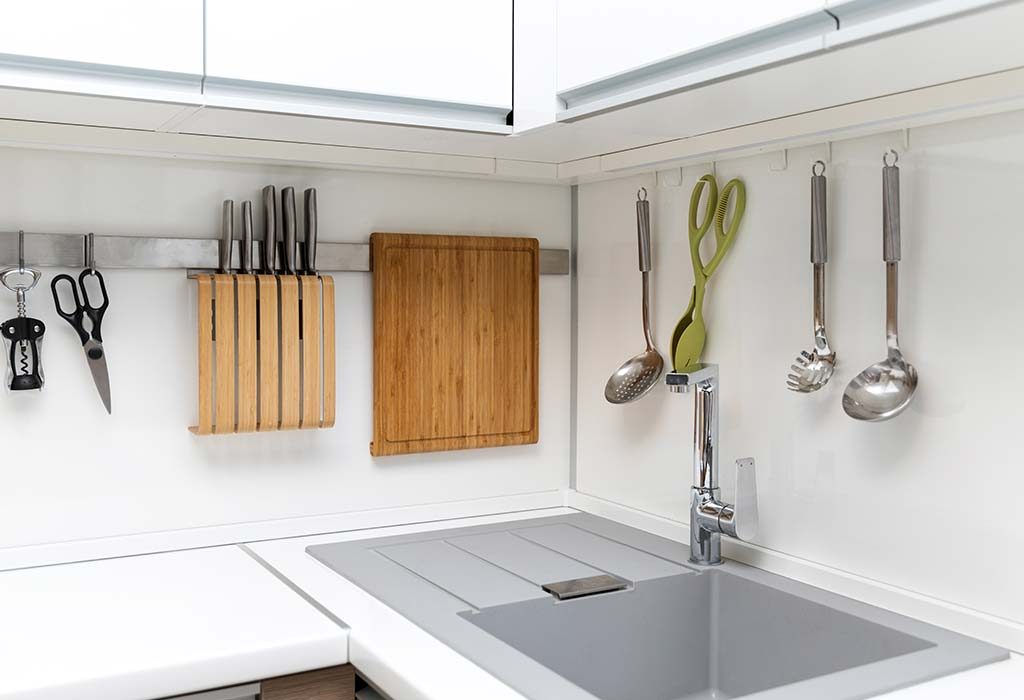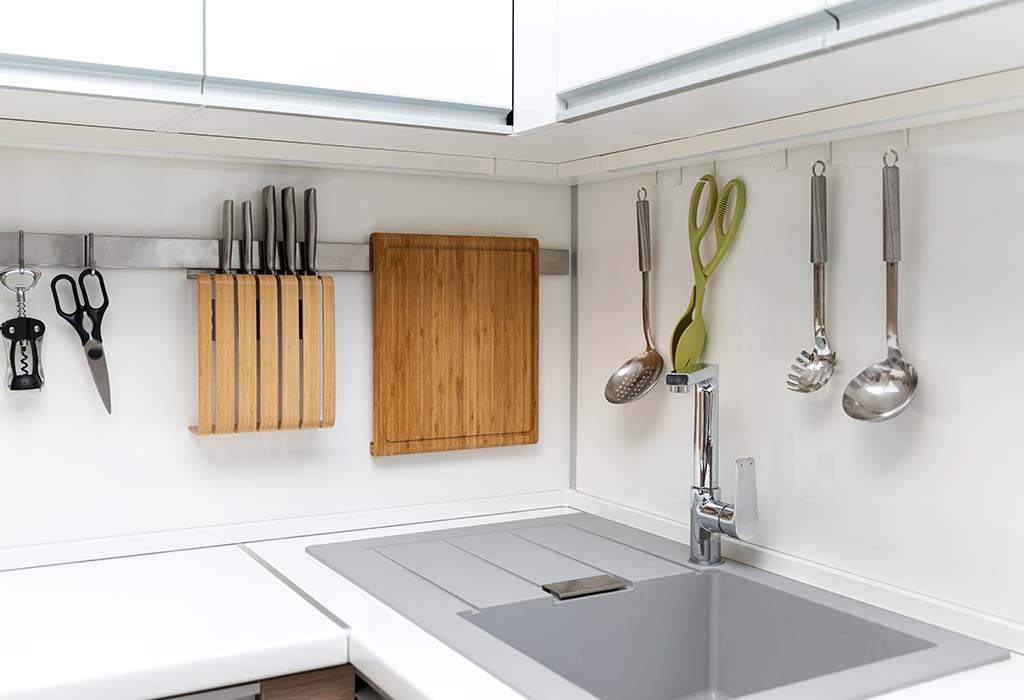 6. Utilize the Back of Your Doors to Hang Things
Your cabinet doors can be used for storage purpose. Small command hooks attached to the back of cabinet doors will allow you to hang small pots, pans, pot covers, or hold all your cutting boards. Small packets of spices, snack, rubber bands, clips, kitchen cloths, cooker weights, or even fruit picks can be stored in small organizers that hang behind the cabinet door.
7. Keep the Rarely Used Appliances on the Top Shelves
Appliances like your blender or other items that are rarely used should be stacked on the top of the shelves. Even crockery that you bring out for special occasions could be kept on the uppermost shelves. However, If it's kept too high, you'll forget about it. Therefore, never place spices and other perishable ingredients on the top shelves.
8. Stack Your Snacks in Baskets or Boxes
Use storage boxes to keep your snacks, biscuits, and other savouries. This will keep them in sight for you and you certainly won't have to go digging into drawers when you are hungry and want a snack. You can use tiered holders to store fresh fruits. Storing it there will keep them within sight and you can always have them when you are hungry.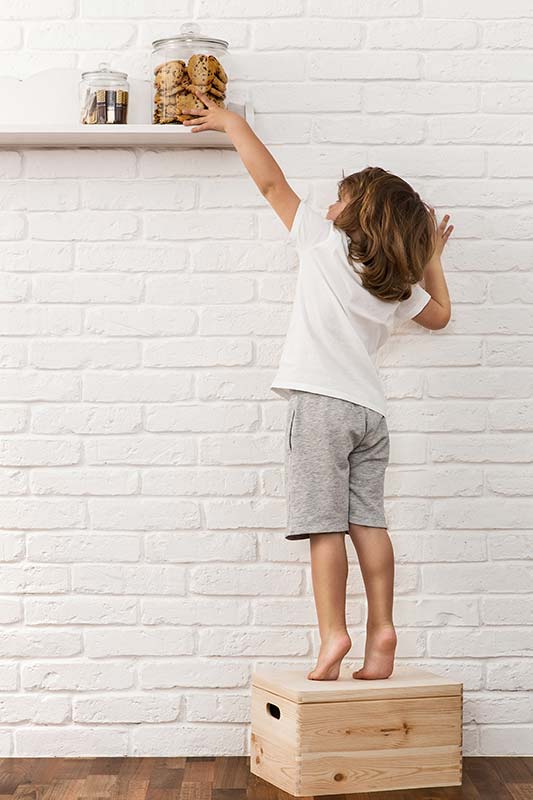 9. Use Shelf Risers Over Door Organizers
Sometimes we forget to use ingredients that are placed at the spots that are not within eyesight. Shelf risers are a little step like tools that allow theatre style placement of your perishables. This way you will never lose an ingredient again! Over-the-door organizer frames will help you use the front or back of a door to nestle some bottles, recipe books, etc. Canned food organizers can also help you hold cans and stack them high. Shoe organizers come in handy to utilize the back of the doors to put stuff away.
10. Hang Your Mugs, Pans, or Ladles
Anything that can be hung, hang it! It saves space and it is easy to access when required. But remember that ceramic mugs and cups are easy to clean and can afford to be hung outside. A kitchen is a place that is prone to collecting grime from all the oils used in cooking. If you decide to use hooks, place them inside cabinets, or away from the actual cooking area.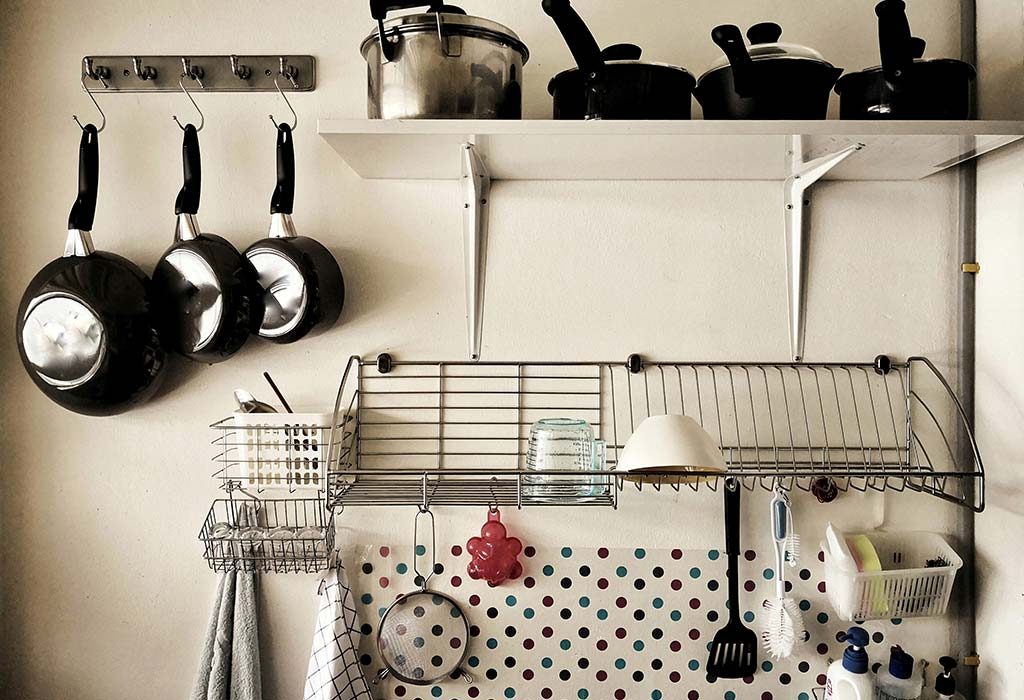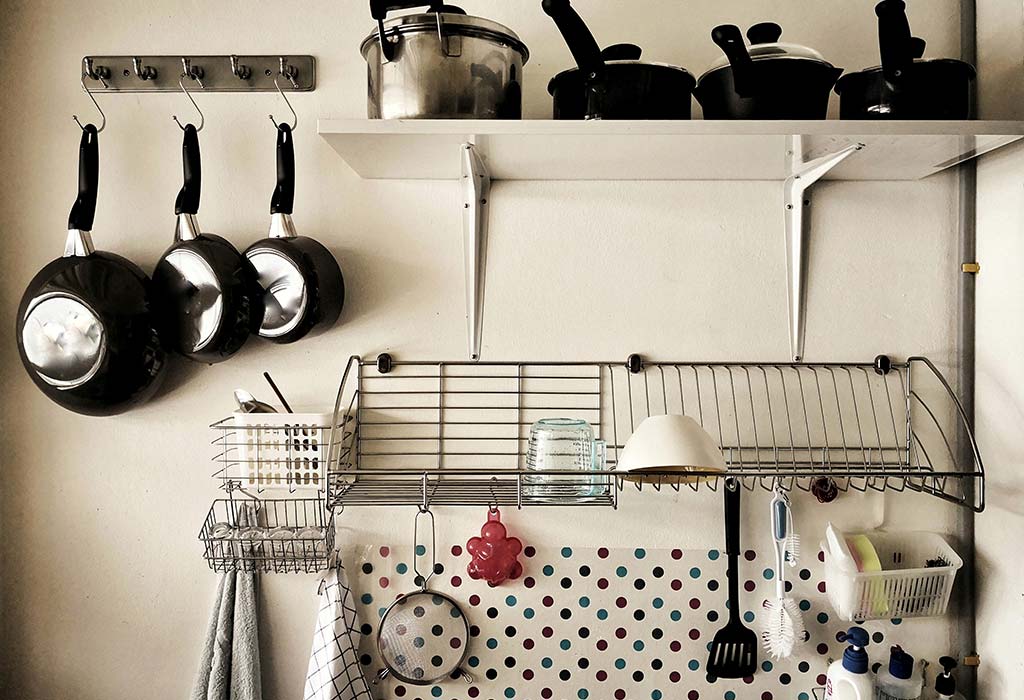 How to Organize Kitchen Drawers and Cabinets
It is not enough to organize and declutter your kitchen counter and work table. Keeping your drawers and cabinets systematized is also important. Here are some brilliant ideas to organize your kitchen cabinets:
1. Divide Your Shelf Spaces
It doesn't matter what you want to store in your cabinet – vertical storage is the best. Undershelf baskets can be used to create more space for storage in tall shelves. You could also use hooks on the roof of the cabinet or shelf for hanging small cups or coffee mugs. That will certainly make space for other containers on your shelf. If you have a breakfast bar or a kitchen island, then make sure that the cupboards below are accessible and made to the right sizes. Very tall cabinets serve no purpose at all and you would have to get them modified to make better use of them at some point.
2. Sort Your Plates and Dinnerware
Stackable shelves are the answer to sorting plates correctly. Keep your starter plates apart from the dinner and dessert plates. Mixing bowls should be nested together but sorted by types. Mixing bowls, dips bowls, cereal bowls, and sauce boats should be kept separate from each other.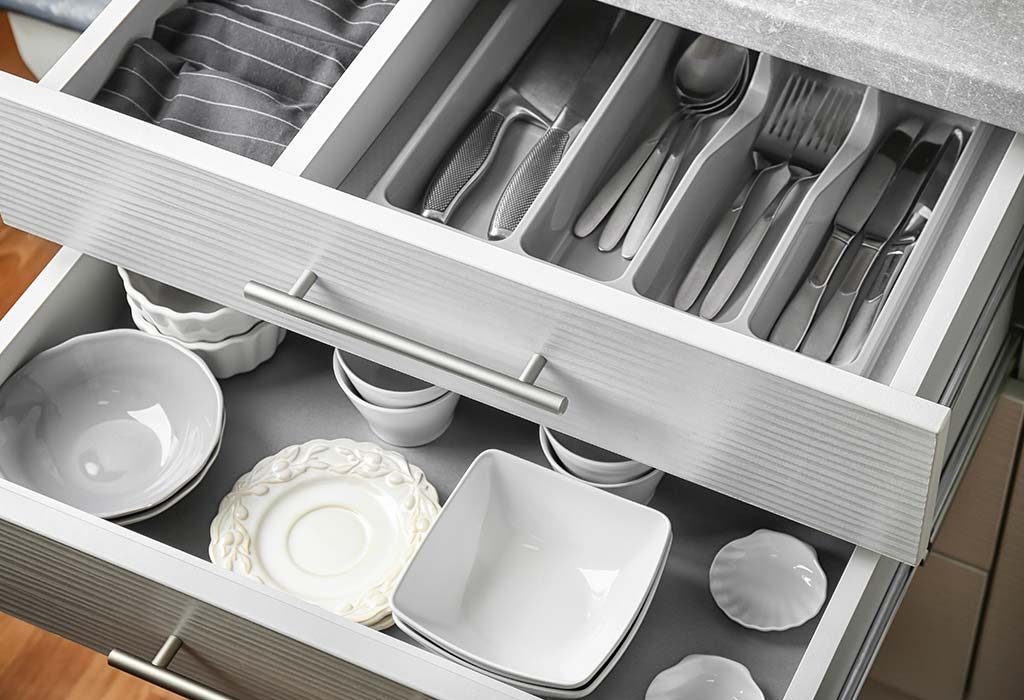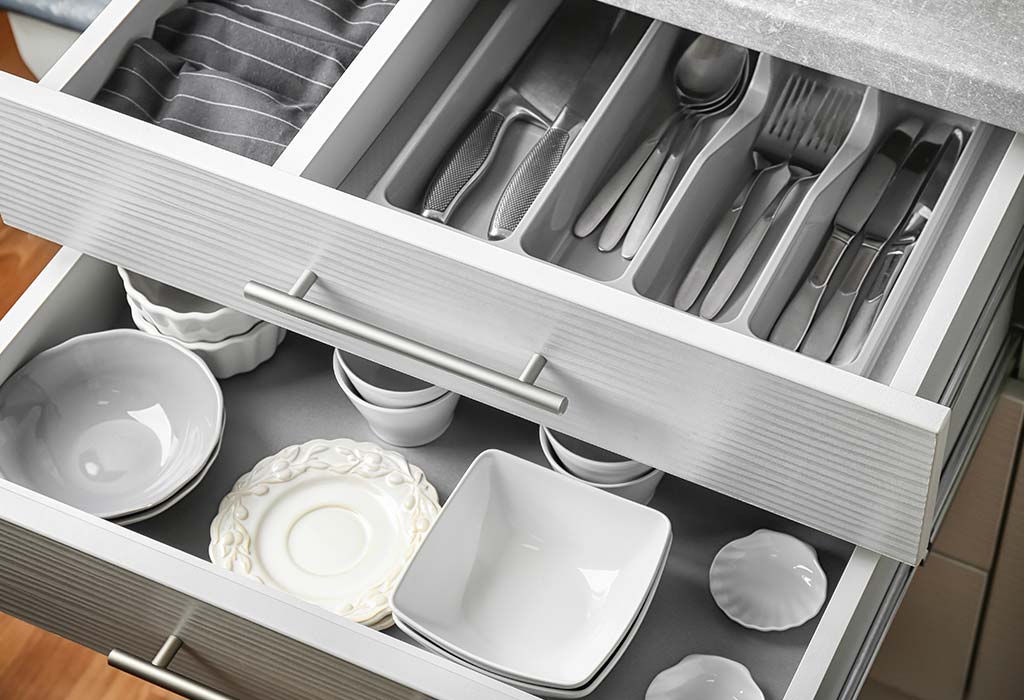 3. Use Wicker Baskets or Pull-out Baskets
Pull out baskets make awesome additions when you need extra space. Wicker baskets too come in real handy to sort oil cans, spray bottles, or even kitchen towels. Even see-through wire baskets help you grab a quick snack. Pull out drawers can be mounted in just a few minutes but can save you hours in the kitchen by making you more prepared.
4. Store Cookie Sheets/ Baking Tray Upright
All your baking trays, cookie sheets and other flat utensils can be stacked upright or filed by using a free-standing frame that is easily available in the market. A non-tiered file organizing frame too would serve the purpose. If you do not have a free-standing file, use a toe-kick drawer at the bottom to pile up your trays in. You could even squeeze them down in between tension rods in your pantry.
5. Keep Pots in Drawers
Pots look cool when hung. Your kitchen will look modern and chic, but it would be difficult to maintain. The grease, dirt, and grime will pile on. Sort your pots according to their size and then nest it into your larger drawers. It will certainly take a bit of the mess away from your kitchen counters.
The most important step towards a more organized kitchen is to get rid of unwanted stuff. There are things in your kitchen that have not been opened since the day you received them as gifts. Take out everything from the shelves or cupboard in your kitchen and check if you really need them. If you haven't used it in over six months, it is likely that you will never find a use for it. Throw away all such items from your kitchen and your kitchen will look spacious. Do not hoard on cutlery, baking tools, or any other equipment. Some of us believe that we could never have enough spoons or cookie cutters or chocolate moulds. But trust us, you can have enough and then some more but that's just called hoarding and it is the least utilitarian way of being organized! Declutter, divide by creating shelves and conquer your kitchen in style!
Also Read:
Simple Kitchen Arrangement Tips to Help You Cook Faster
Effective Tips for Organizing Your Kitchen
Important Kitchen Vastu Tips You Should Know