Top 12 Parenting Resolutions for the New Year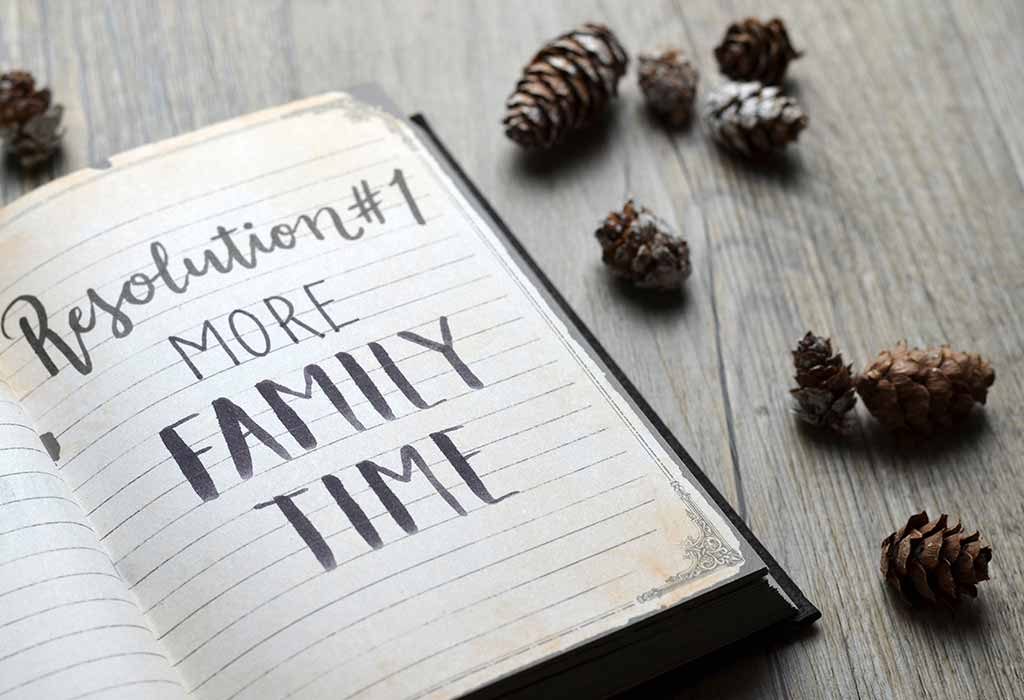 As a parent of a growing kid, you are on the constant lookout to do something special for him every now and then. Why not take a parenting resolution for the coming year to dedicate 365 days of extra focus and attention to the child? A novel decision taken now would go a long way in his upbringing.
Amid the Christmas festivity and New Year skylarking every year, most of us are subconsciously engaged with the same old 'ritual' – setting the New Year resolution and attempting hard to make it unique this time. Not much to surprise, the majority of New Year resolutions are either around health or are about changing a long time habit 'this year'!
In the process, we plainly forget to look beyond the customary and resolute something which would add value to the kids' lives. We are at the doorstep of yet another New Year, which means the time is apt to put on the parent's cap for setting the resolution. To help you think out of the box and power up your decision, have a look at the top ten highly rewarding parenting resolutions for the coming year!
1. A Dedicated Hour Each Day
You might be having a stipulated special time for involvement with the child on weekends. But, if you want to gift him something special this year – give the most precious gift – your time. Resolute to spend an active time of thirty minutes to one hour with the child every day; he won't have to wait for whole six days for the 'turn'. Declaring this as your New Year resolution means you have reserved more time for him this year than the previous!
2. A Better Way to Say 'No'
Can you recall the number of times you used words like 'no', 'don't', etc., in a harsher voice pitch? Well, that is where the clue lies. How about a resolution like, "I would rather use alternate methods to express denial, than often using 'don't or 'no'." That means you will keep the words more suggestive in nature.
3. Enhance his Involvement
Ever thought of taking him along to the gym, or maybe to the retail outlet for grocery purchases? Implement the thought this year, which would help in promoting his real-life knowledge and practical skills.
4. Associate With Some Social Cause Together
Cleanliness, environment, health, or anything of that sort can be the social theme of your choice. Engage your child with you and notice how promising his sensitivity is towards society.
5. Assign More Responsibility This Year
Your kid is growing up with every passing year, right? To sensitize him towards the significance of shouldering responsibility, assign him some tasks to be done individually, as often as possible.
6. Some Professional Advice
This year, talk with him about different professions, how they operate, how one fits in a certain profession, the benefits of each, and know his inclination.
7. More Communication
Resolve to be more attentive to the kid this year. Your communication with the child might be frequent, but the resolution for the coming year is for more 'uninterrupted focus'!
8. Be a Friend As Well As a Parent
Being the "less authoritative and more friendly" parent has long been an ideology. Bring it to practice this year by resolving to be such a parent.
9. Learn From Mistakes
Let the child do more mistakes than last year by increasing his purview of activities. Then accept mistakes as it is and share the learning out of his mistakes.
10. Maintain Discipline Minus Punishment
You have had enough of it this year as well; break the 'punishment' routine on misbehaviours, and instead resolute to return the misconduct with a calmer reaction.
11. Induce the Habit of Resolution in Him
Since he is growing up, he also needs to start making resolutions on his own. You can have a nice chat with your kid about what he would like to promise himself to achieve. Listen to him and together make a resolution.
12. Teach Your Child About Good Touch and Bad Touch
Children are gullible and go to whoever they like or feel comfortable with. Hence, it becomes important for us, parents, to teach our kids about what good touch and bad touch are. If they find themselves in any such situation, they will be able to express themselves effectively and find a way out.
With some changes, you can make the New Year a spectacle experience for your children.
Also Read
1). New Year Eve Party Dinner Ideas With Recipe
2). Top Movies to Watch on New Year's Eve With Family