Top 10 Dance Songs For Your Holi Party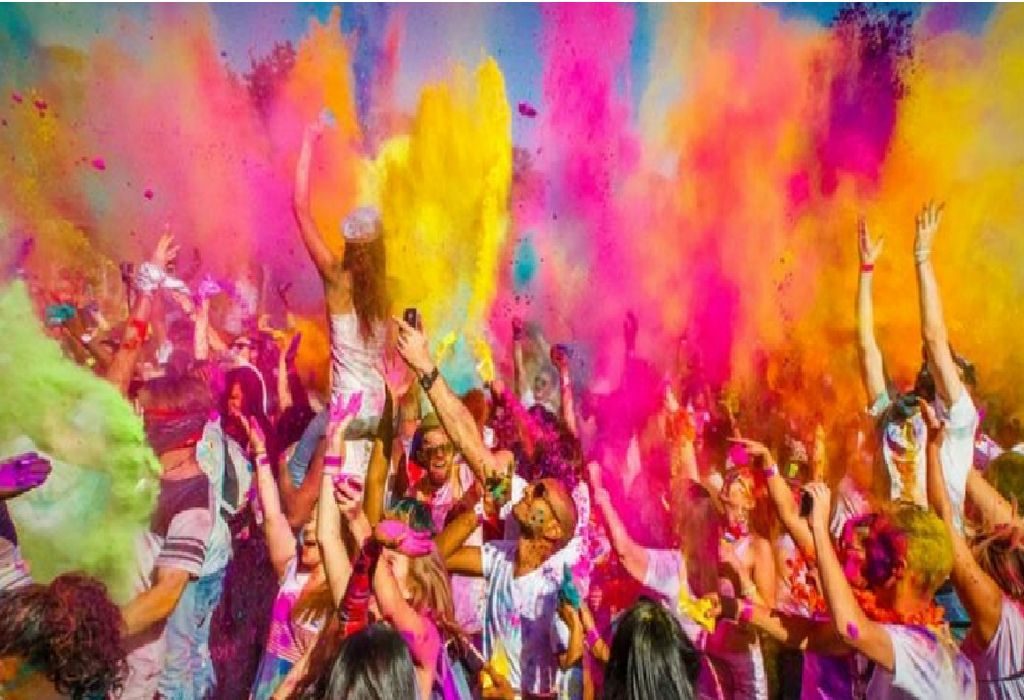 In this Article
What's playing in your music player this Holi season? If you haven't started putting together your festival playlist yet, we are here to help!
Over time, Bollywood has been generous with super hit Holi songs that never fail to become chartbusters. Every year around this time, children start getting excited about this day spent playing with colours, indulging in delicious Holi food, and dancing to their favourite, peppy songs.
Here's our Holi songs collection that is sure to get your feet tapping and your kids dancing in glee. Whether you have a Holi party or not, these songs in the background will add unlimited zest to the day!
List of Famous Bollywood Holi Songs
1. Holi Khele Raghuveera Awadh Me
Awadh, a city in Uttar Pradesh, is popular for its colourful and vibrant Holi celebrations. This Big B and Hema Malini starrer is one of the most popular Bollywood holi songs. Tune into the madness at your party venue and watch everyone get groovy!
2. Are Ja Re Hat Natkhat
This one is an oldie but goodie. A classically endearing Holi song, where the male and female characters are portrayed by the same actress. Perfect for a little fancy dress activity for the kids at your Holi party.
3. Soni Soni Ankhiyon Wali
If you have a large gathering coming over for the Holi party, this is your ideal song. Melodious, fun and easy to hum along, this has King Khan's written all over it!
4. Holi Ke Din Dil Mil Jaate Hai
This classic Holi dance song from Sholay is all you need to teach the kids a valuable lesson this festival – the lesson of unity and togetherness. Holi is fun only when everyone plays together!
5. Balam Pichkari Jo Tune Mujhe Mari
This new age Holi blockbuster is one the latest Holi songs that has become a rage. Deepika and Ranbir's dance moves in this rhythmic number will have all the pichkaris operating at top speed!
6. Do Me A Favor, Let's Play Holi
This one has just the right amount of pep to get everyone on the dance floor. Just make sure you remind the kids to do you a favour and keep the celebrations outdoors!
7. Lahu Munh Lag Gaya
Lahu Munh Lagya from Ram Leela offers a delightful mix of sensuality and festive fervour. This song is sure to set your feet tapping!
8. Aaj Na Chodenge Bas Humjoli
Recreate Rajesh Khanna's unique charm with this soulful Holi song. We think this is one the best Holi songs to shake a leg on with your husband this season.
https://youtu.be/hCLW9VOLpuc
9. Badri Ki Dulhaniya
This fun twist to the classic 'Muniya' song is exactly what a great Holi party needs! A super zippy beat!
10. Rang Barse
This one is an inevitable entry to this Hindi Holi songs list. There's no Holi without Bachhan Saab singing Rang Barse Bheege Chunar Wali in his thick baritone voice, right?