Tomato soup for babies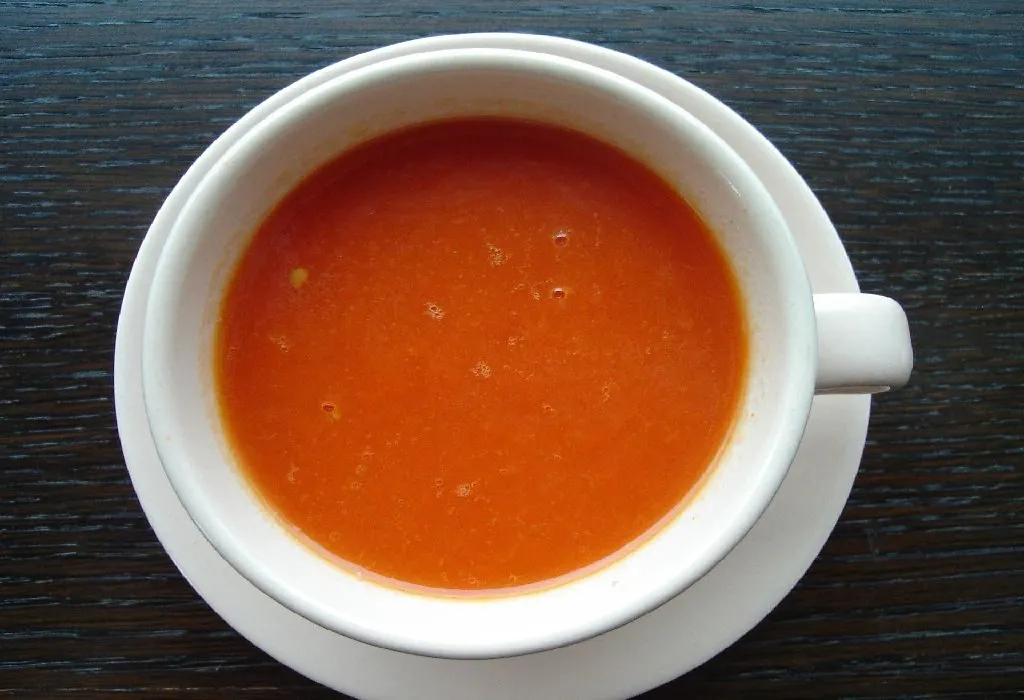 In this Article
Babies get quickly attracted to anything that's red. Tomatoes are red because they are a rich source of anti-oxidant lycopene, which imparts the bright red color to tomatoes. Your kids are bound to love this tangy, red soup.
| | | |
| --- | --- | --- |
| Serves | Preparation Time | Cooking Time |
| 2 People | 5 Minutes | 15 Minutes |
Ingredients
4 tomatoes
A pinch of salt (optional)
1/2 tsp butter
1/2 cup water
Method
Step 1
Wash, deseed and chop tomatoes into large pieces.
Step 2
Boil the tomato pieces along with water and let the tomatoes cook with lid closed.
Step 3
Peel the tomatoes off its skin. Let it cool a little.
Step 4
Puree the tomatoes with little water.
Step 5
Heat a pan and add butter to it.
Step 6
Add the puree to it and let it simmer for 1 minute.
Step 7
Salt can be added if required. Note: butter has salt in it already.
Step 8
Tasty and hearty tomato soup is ready to be served. Serve lukewarm.
Nutritional Information
Serving Size 1 cup (8 fl oz) (244 g)
| | | | |
| --- | --- | --- | --- |
| Calories | 73 | Calories from Fat | 6 |
| Total Fat | 0.7g 1% | Saturated Fat | 0.2g 1% |
| Polyunsaturated Fat | 0.2g | Monounsaturated Fat | 0.2g |
| Sodium | 664mg 28% | Potassium | 273.28mg 8% |
| Carbohydrates | 16g 5% | Dietary Fiber | 1.5g 6% |
| Sugars | 9.7g | Protein | 1.9g |
| Vitamin A | 9% | Vitamin C | 26% |
| Calcium | 2% | Iron | 7% |
*Based on a 2000 calorie diet