Tomato Rasam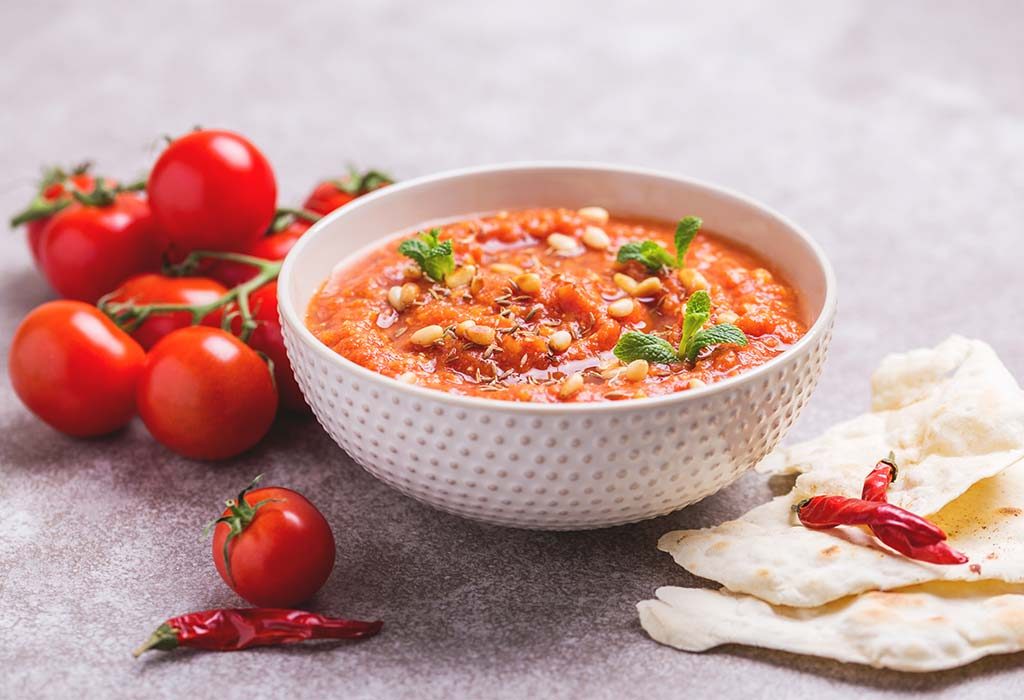 In this Article
Rasam is highly underrated, but the benefits of slurping on it are many. The spices in Rasam cause a slight increase in body temperature and aid in digestion. A strong Rasam is like the vegetarian version of chicken soup, it can relieve you of cold and is an ideal food when your digestion is on a low. This comfort food tastes great with rice; idli soaked in rasam are a lesser known delicacy.
| | | |
| --- | --- | --- |
| Serves | Preparation Time | Cooking Time |
| 4 People | 10 – 15 Minutes | 15 – 20 Minutes |
Ingredients
Lemon sized ball of tamarind soaked in hot water for 15 min
1 tomato
Rasam powder (recipe below)
To Temper
1 tsp Mustard
1 tsp Cumin seeds
One sprig of curry leaves
2 dry red chillies
4 garlic cloves
1/2 tsp turmeric powder
Coriander for garnishing
Method
For Rasam powder
1Dry roast one tablespoon cumin seeds, one tablespoon pepper and a teaspoon of fenugreek and grind them into a fine powder. Your aromatic rasam powder is ready!
For Rasam
Step 1
Soak the tamarind beforehand to extract the maximum amount of juice. Extract juice using little water.
Step 2
Take the juice extract in a bowl and add to it salt, turmeric powder and crushed garlic cloves and a cup of water.
Step 3
Taste this mixture, add more water if it is very sour. Keep aside.
Step 4
Blanch and grind the tomato to a fine pulp and set aside.
Step 5
In a kadhai, heat one tablespoon oil. Add all the tempering ingredients to it and drop a little hing.
Step 6
Pour the extract-mixture, ground tomato and add 3 to 4 teaspoons of the rasam powder and let it come to a boil on medium flame.
Step 7
You can also add boiled and mashed urad dal to the rasam.
Step 8
Garnish with coriander leaves and serve.
Nutritional Information
| | |
| --- | --- |
| Calories | 180 K cal |
| Proteins | 2.8 g |
| Fats | 1.8 g |
| Carbohydrates | 8.9 g |
| Cholesterol | 9 mg |
| Sodium | 15 mg |
| Potassium | 198 mg |