Tofu with Stir Fried Veggies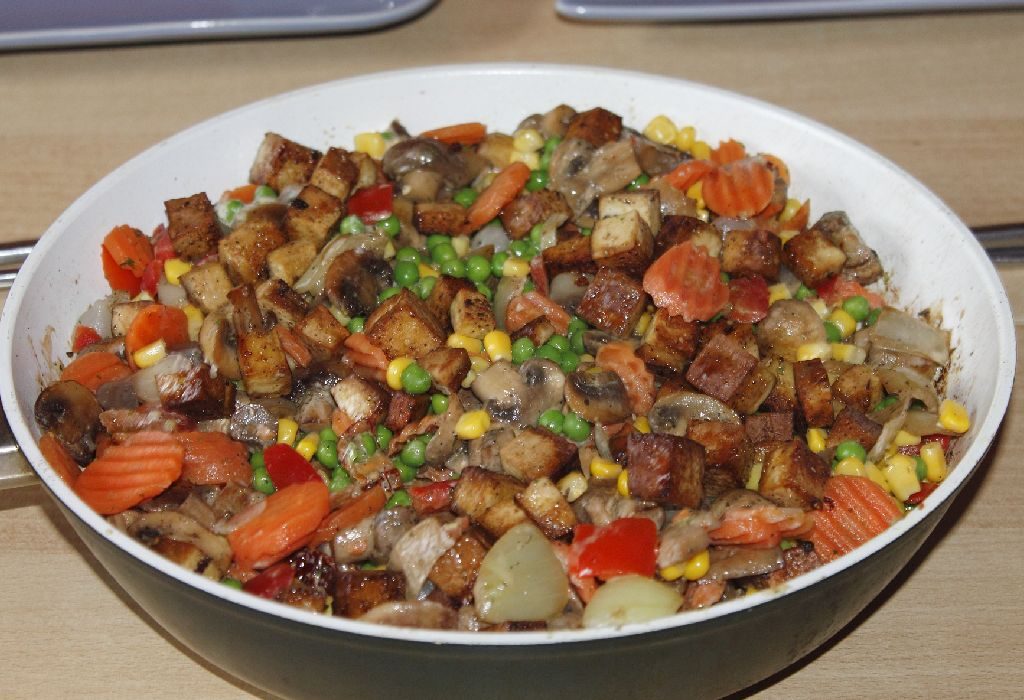 In this Article
Bring teens into the kitchen with real-meal dishes and give them healthier alternatives to their favourite fast-food versions. This recipe contains ingredients which have to be simply thrown in and sautéd for 5 minutes. Nutritionally, this dish is high in minerals, vitamins and fiber, while being low on cholesterol.
| | | |
| --- | --- | --- |
| Serves | Preparation Time | Cooking Time |
| 4 People | 5-10 Minutes | 10-15 Minutes |
Ingredients
1/2 tsp sesame oil
1/2 tsp olive oil
1/2 cup chopped asparagus (about 6 spears)
1/2 bell pepper (red or orange), sliced
1/2 cup broccoli florets, chopped
1/2 cup carrots, chopped
4 oz firm tofu (let drain for 5 to 10 minutes before stir-frying), cut into 1/2 inch cubes
1 tbsp low sodium soy sauce
pinch of salt and pepper
Method
Step 1
Take a wok or a large frying pan, and pour sesame and olive oil into it. Keep it on medium-high heat.
Step 2
Add broccoli and carrots and saute for about 4 minutes, or until tender.
Step 3
Remove the broccoli and carrots, and set aside.
Step 4
Next, add asparagus and bell peppers to the same wok and saute for about 3 minutes, or until tender.
Step 5
Add broccoli and carrots back to wok.
Step 6
Add tofu, soy sauce, salt and pepper and saute for an additional 2 to 3 minutes.
Nutritional Information
| | |
| --- | --- |
| Calories | 56 Kcal |
| Proteins | 3.9 g |
| Total Fat | 2.5 g |
| Total Carbohydrates | 5.5 g |
| Cholesterol | 0 mg |
| Sodium | 174 mg |
| Potassium | 237 mg |