Tips to Pick The Right Paint Colour for Your House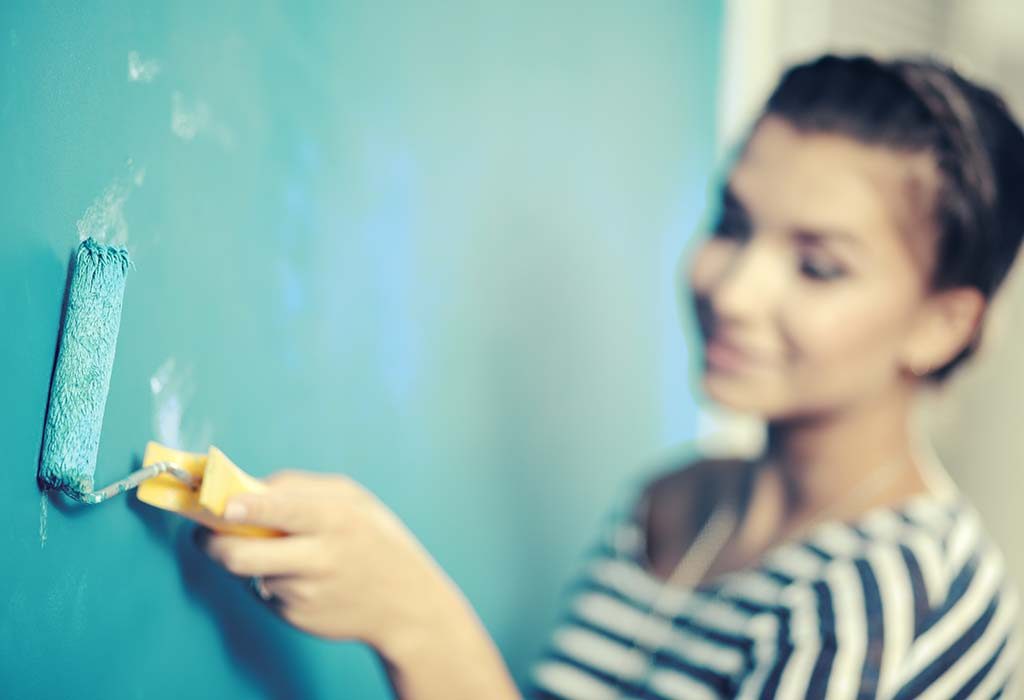 Choosing a colour for home design may seem like a daunting task. Sometimes you're just too overwhelmed with the options and aren't sure where to start. The trick to learning how to choose colour palette for home is to start by learning about the way colour works. But that takes time; and if you're like us, you would much rather learn things hands-on.
Worried about how to select a colour scheme for your home and not mess it up? Don't worry, we relate. We'll tell you how to get started.
How to Choose Paint Colours for Your Home – 10 Smart Tips
To start off, here are some handy tips on how to choose a colour palette for home overall:
1. Start with Furniture
Don't pick a paint colour from your head right off the bat and pair it with your interiors. That makes it a lot harder. The simple and efficient way is to take a piece of furniture's colour and pair that with the rest of your indoor elements. Makes colour matching or complementing a breeze.
2. Use Pinterest
Pinterest is jam-packed with tons of boards of home design colour palettes. There is plenty of room for inspiration, but we recommend to create 5 boards for each room and fill them up with pictures of designs you like. It will give you a big picture view of what you like overall.
3. Use Neutrals
If you want the focal point in your living room to be the walls, add a dominant colour to one side and stick with neutrals for the rest. This helps direct the viewer's eye without overwhelming him with his surroundings at the same time. Some colour suggestions for neutrals include Silver City, Passive Gray (Sherwin Williams), Repose Gray (Sherwin Williams), Requisite Gray (Sherwin Williams) and Park Avenue (Behr Marq.)
4. Consider Testers
Testers not only save you money but also let you try out a different colour scheme for home ideas to see and get the feel of your visual design. Plus, you don't have to worry about getting a new paint job. Buy a bunch of testers and apply colours of the same type to each wall in different shades. Leave it on for a week and check out the rooms at different times of the day and night to see how the light hits the wall. Don't paint on white walls, and if you must, make sure to spread out the tester paint over large areas.
5. Learn Undertones
Your undertones are those tiny bits of warm or cool colours that pop up in different shades. To understand undertones better, get two to three strips of the same colour but in different shades. Let's say we're dealing with a brown colour strip. Start by noting the colour at the bottom.
Is it dark brown or chocolate brown? Go up a few shades. It is getting warmer or cooler? Warm how? Is the warmth more akin to a red or brown undertone? Now you're getting it. Repeat this for different colour strips to make sure the undertones go well together.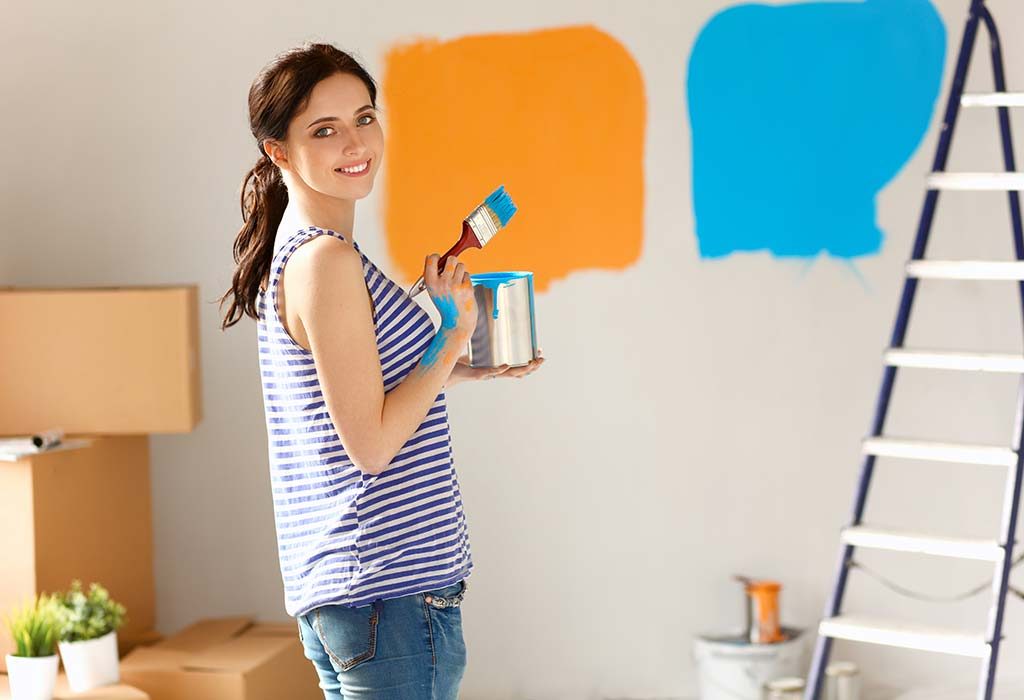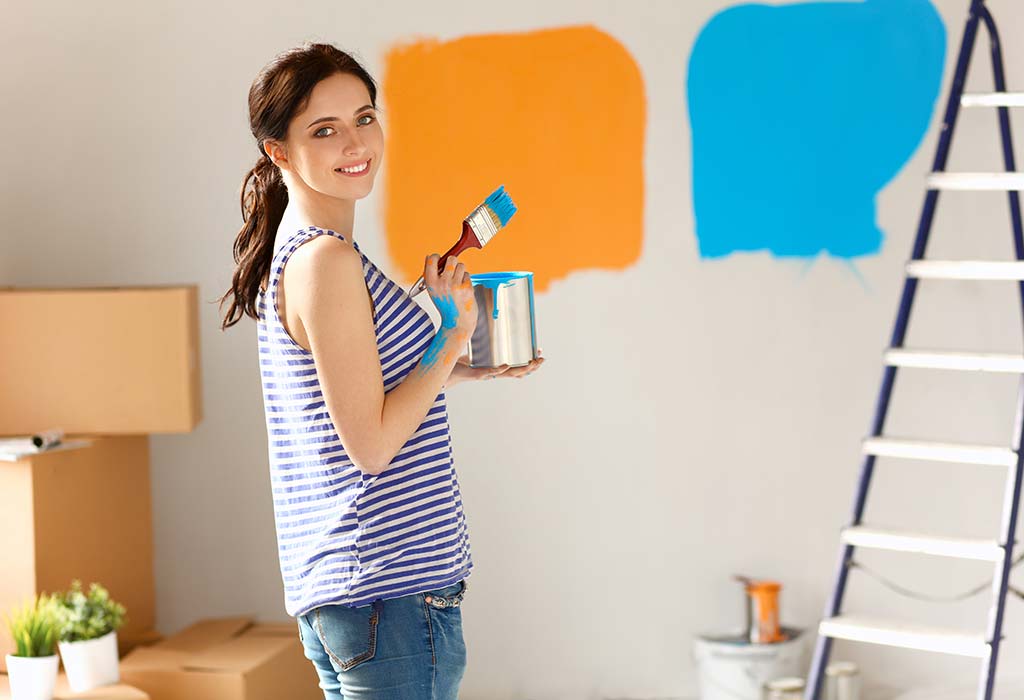 6. Have a Whole Home Colour Palette
We don't mean to overwhelm, but we believe in the big-picture look. When selecting paint colours for house interiors, make sure that the rooms blend in well together. If you'd like to stick to neutrals for the theme and accent your home with the colours of furniture and fabrics, then examples from model homes could serve as a reference.
7. Factor in Patterned Textiles
Remember our tip on starting with the furniture colour? Well, here's another option: textiles.
Yes, you can buy a bunch of fabrics for your home, including mats and carpets, and plan out the colours for your walls. In fact, choosing a colour palette will go much easier if you start with the textiles and furniture since you'll be having reference points.
8. Think Lighting
The way light bounces off your walls will set the mood and emotions for your eyes. The lighting will reveal your undertones and make rooms look different at nights. That's why we talked about testers before but lighting matters – ideally, your colours should look good in both artificial and natural lighting.
9. Hire a Professional Interior Designer
The best way to learn more about colours is to hire a professional interior designer yourself. If you have the money, get one's help and ask him to mentor you. You'll learn hands-on and a lot faster that way. It'll expose you to various angles.
10. Finish with the Finish
Your finish will wrap up paint colours for your house exterior and interiors. Get this part right and you won't have to worry about things going awry. Here are some of the popular options:
Flat-finish – Is not shiny at all and difficult to clean up
Eggshell finish – Low shininess but it's ideal for dining rooms
Satin finish- Perfect for rooms with high-traffic such as the hallways
Semi-gloss finish- Gives a subtle shine and is very easy to clean
High-gloss finish- If you're going for a polished look, go for a high-gloss finish. It scrubs well and is resistant to stains.
Selecting Colours for a Specific Room
Whether you're choosing a roof colour for a brick home or selecting paint colours for whole house, working your way room to room is a good start. Below, we give some ideas for which colours go well and make recommendations for different rooms. Go with what works for you and remember, the final product must exude the feeling you're looking for.
1. Living Rooms
Your living room is arguably your largest space (in most cases). If you have patterned upholstery, start by picking a neutral paint colour for living room with grey or beige undertones for a nice complement.
Start with your living room and pick one colour from the scheme for your other spaces and their accent.
You can take inspiration from your wardrobe and use colours from your everyday clothes to design the colour palette for your living rooms.
If you want a bit of impact using, add a touch of black to every colour in your room.
Gray is the best when it comes to neutrals. It pairs excellently with both warmer and cooler colours (and even pastels).
When in doubt, go with the 60-30-10 rule. 60% dominant colour, 30% secondary colour, and 10% for accents. Makes your rooms blend flawlessly and work with the colours.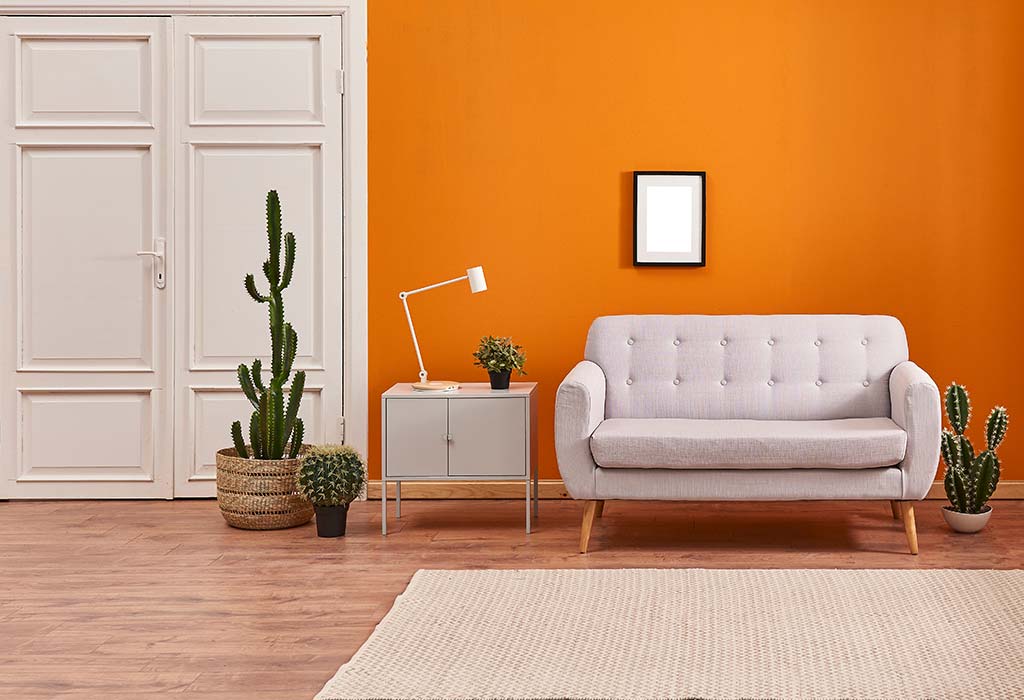 2. Bedrooms
Go from dark to light- dark for the floor, medium for the walls, and light shades for the ceiling.
Analogous colour wheels work great for bedrooms, like blue and green.
Warm, honey-coloured undertones work well with cool greys to spice up your bedrooms.
Want to really make your bedroom look passionate? Try opting for a red, black and white colour scheme. It revs things up fantastically.
If you'd like to make your bedroom pop, use soft grey neutrals for the ceiling, walls and accessories and use vibrant red bed sheets, cushions, and elements to breathe energy into the serene atmosphere. It works like a charm every time.
If you like a squeaky clean vibe, opt for a combo of sky blue and white. Add earth-toned furnishings to make it seem down-to-earth or at-home.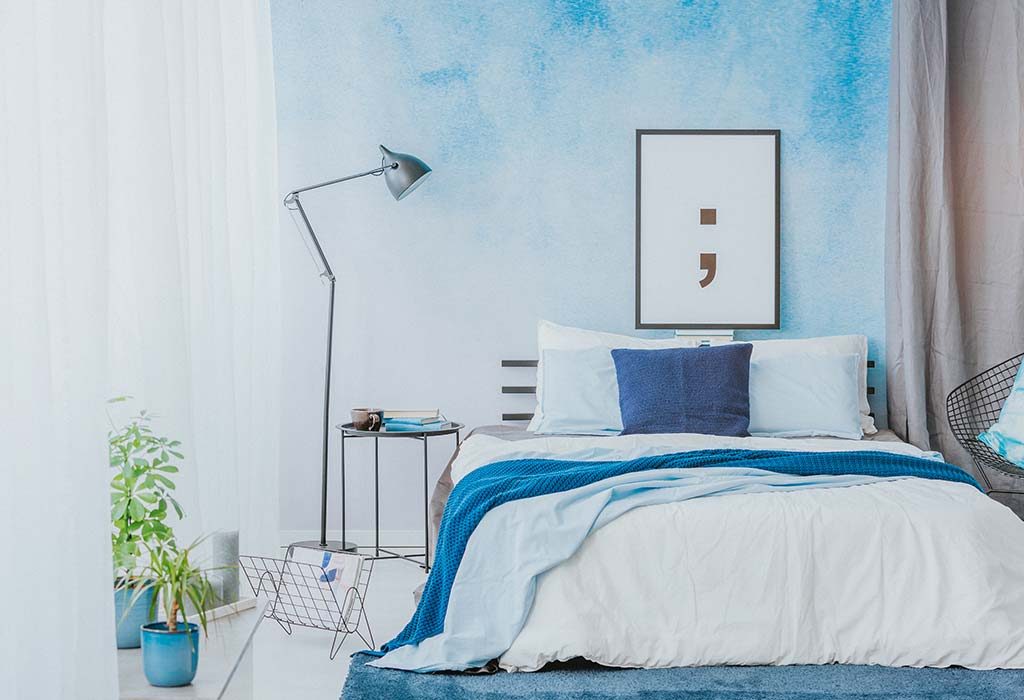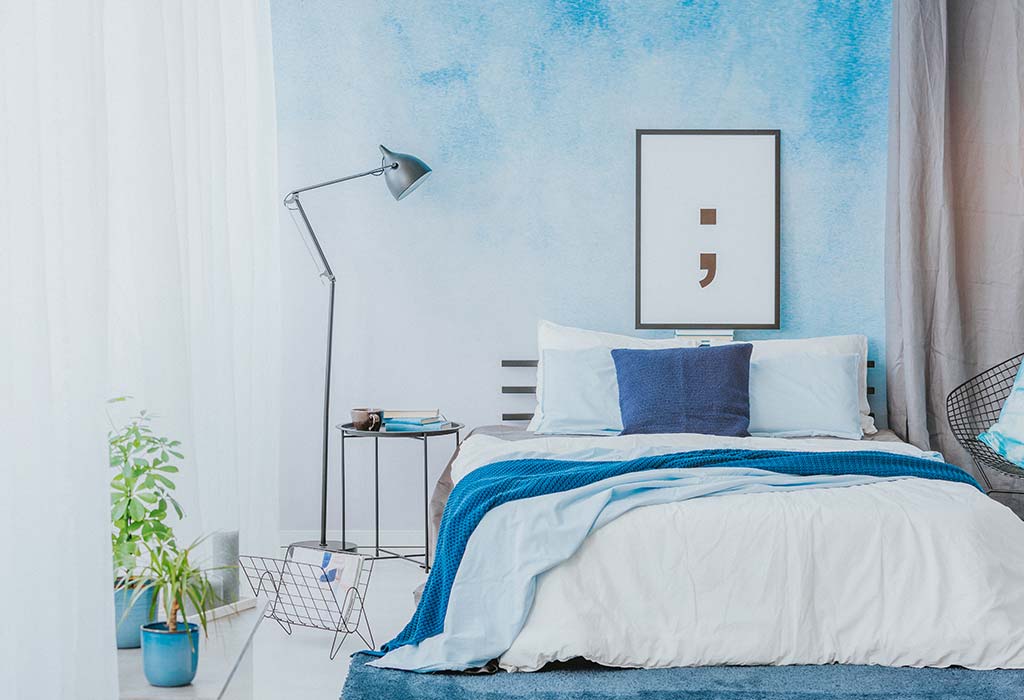 3. Kitchens
If your kitchen is small, make it pop with darker colours like navy blue and make the spacious rooms pop with white.
Chic black and white with a metallic gold undertone never gets old and tells a good story.
Deep blue and light blue colours make the space look expansive, sort of island-like. A good combo is Sea Ridge and Tropical Pool.
If you'd like your kitchen space to be vibrant or "grassy", go with Alabaster (white) and Paradise (green) from Sherwin Williams.
If you'd like to stick to classics, a trendy combo would be Poppy orange for shelves and cabinets and ebony for the surrounding spaces. You can pair contrasts of sheen in a fantastic way with these two working together.
If your kitchen has a huge wall, you can get away by adding some fuchsia and pairing it up with light neutrals for a modern spin.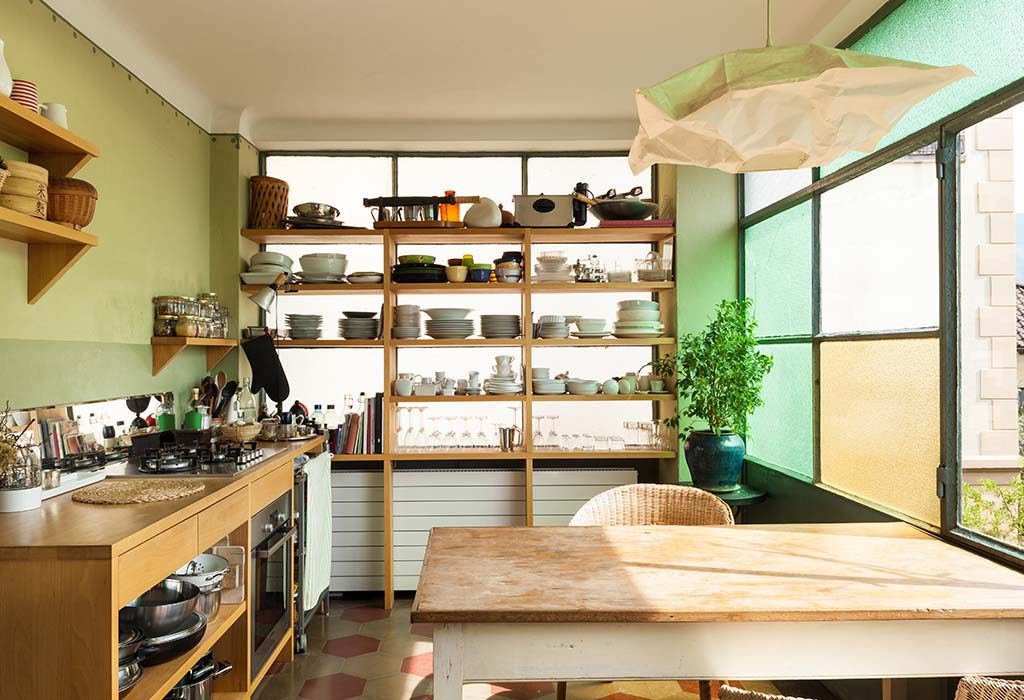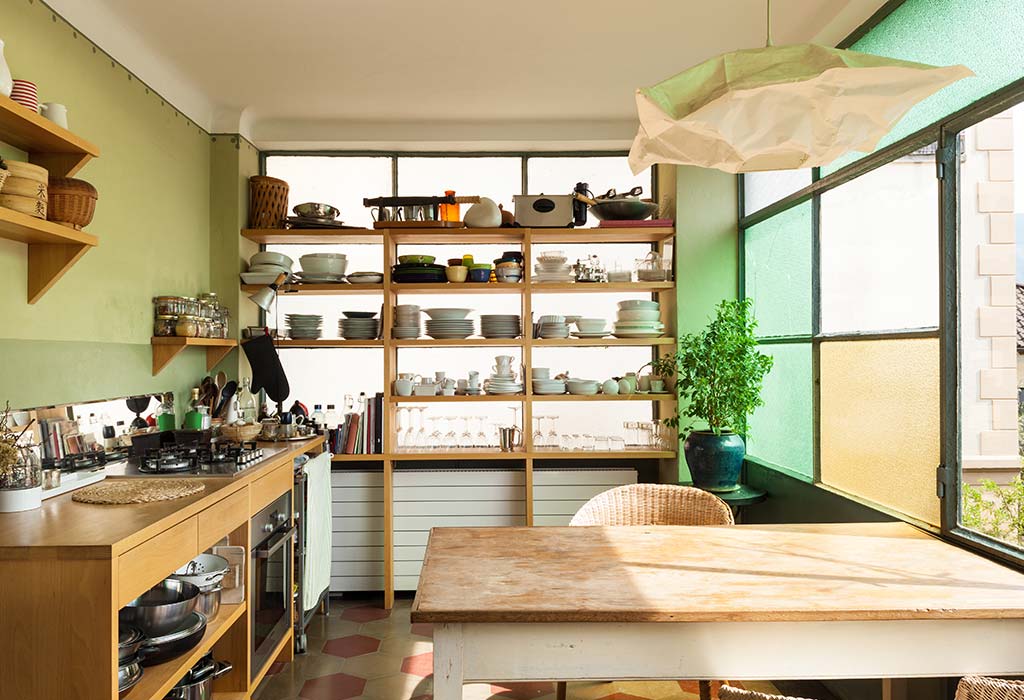 4. Dining Rooms
Have metal chairs lying around? Use a botanical green wallpaper and pair it with comfy fabrics like sheepskin for a friendly vibe.
Put up abstract art pieces on the walls, a geometric chandelier, and use bold yellows and white for the perfect eclectic touch.
Sunny yellows with bright Cittron tables will pop your living space to life.
A monochromatic look with green and white could turn your dining room from meh to fab.
Use your personal style – pick three colours of your choice and make it look good with the distribution technique. You won't regret it – don't forget to pair up your background elements with art and any furnishings you like!
Use the colour wheel – pick colours next to each other, ones that are opposite to one another, or just go with a colour and use different shades for a nice monochromatic vibe. When choosing accents and sheens, determine if your primary hue is warm or cool and whether it exudes an active, passive, or neutral look.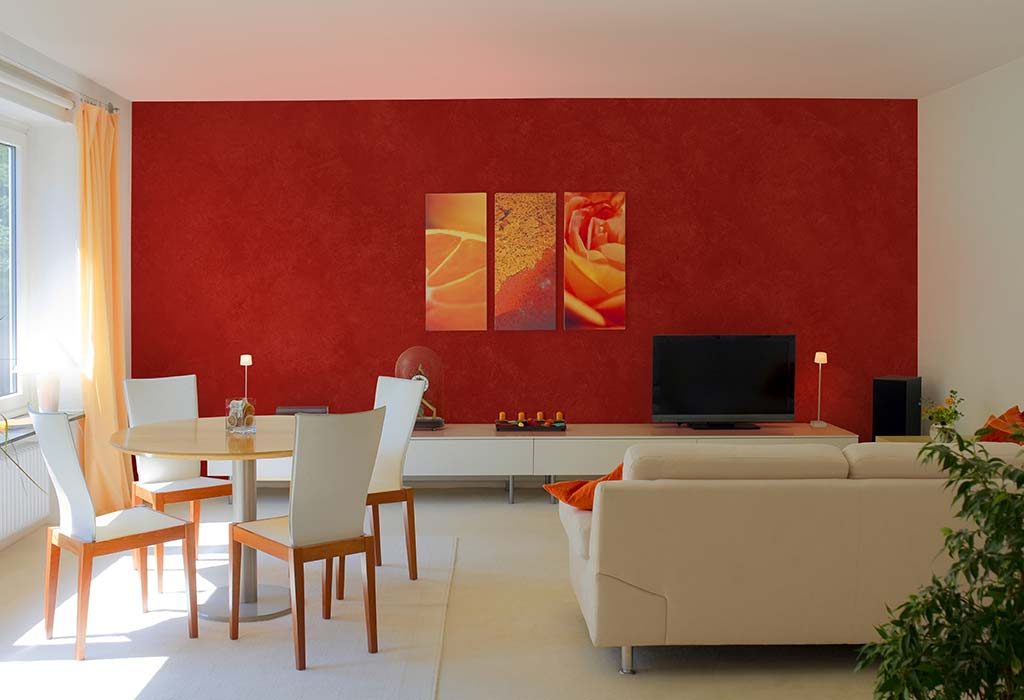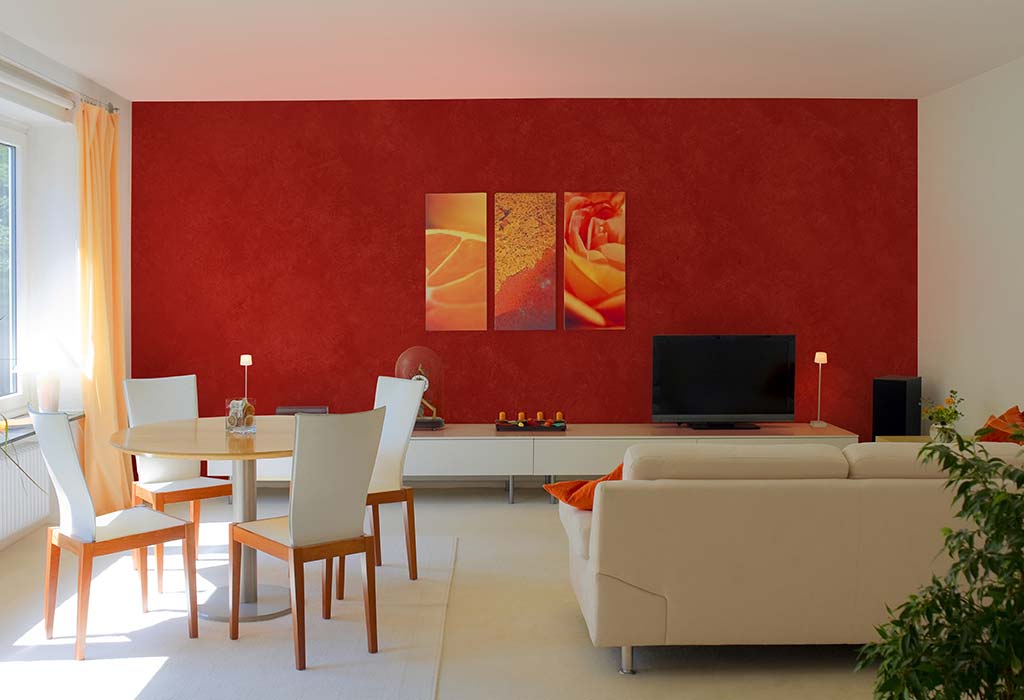 5. Bathrooms
Use the rule of three with the distribution being 70/20/10 this time. Use the lightest colours for 70%, 20% for the second lightest and 10% for your dominant colour. A nice pairing is white, cocoa brown, and light green but if you'd like energy, then white, cocoa brown and bottle green.
Use a colour palette for your bathroom. Purple and yellow go well together because they're complementary but you can use analogous colours like blue and green too.
If you want to design with just two neutrals like grey and white, go for 70-30 distribution. For a floor tiling complement, use patterns like herringbone, veined marble, and wainscoting.
Use the second rule of three – that is, using a colour you pick three times in the bathroom. This distribution makes your colour palette look intentional and random.
You can use darker bolder hues if you have plenty of white bathroom fixtures for a visually interesting contrast. Mercury glass and mirrored lamps are an interesting combo and recommended highly by designers.
If you like plants, you can add some to your bathroom counter tops and use nature-inspired designs like turquoise and sky blue for an organic touch.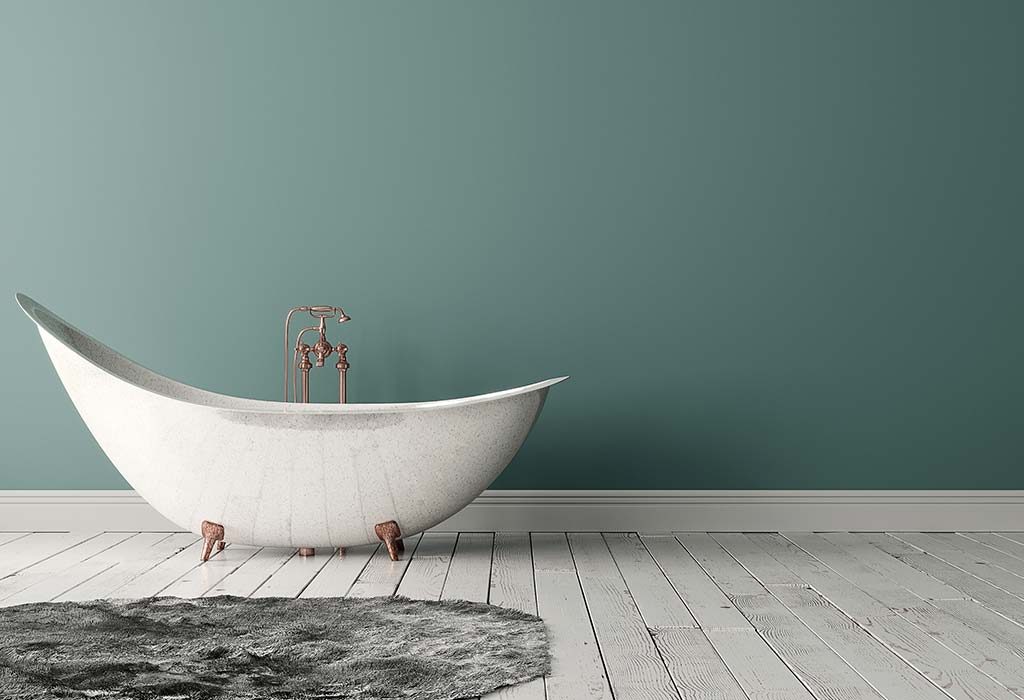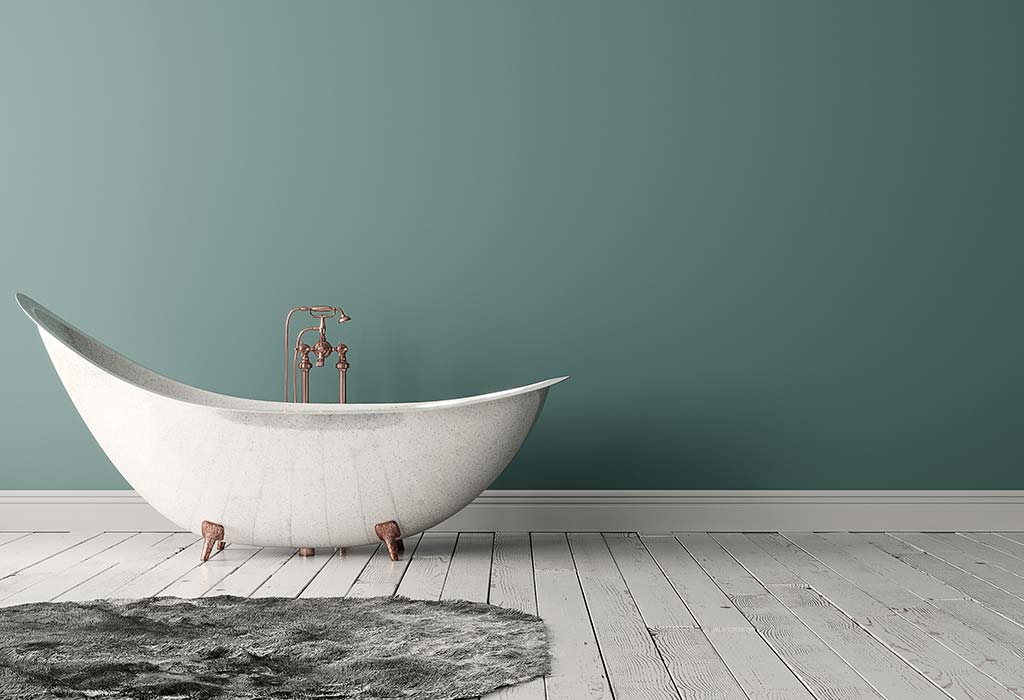 Colour tells you stories and gives out the feelings you want to feel when you look at it. You can use these visual design ideas and add your own little twist to personalize the colour schemes to your tastes.
Try these out and let us know how it goes.
Also Read:
Steps to Follow While Painting Home Cabinets
How to Paint Creative Stencils on Walls
Easy Design Ideas Can Make Your House Look Bigger With Paints