This Christmas Playlist Will Put You in the Right Mood to Celebrate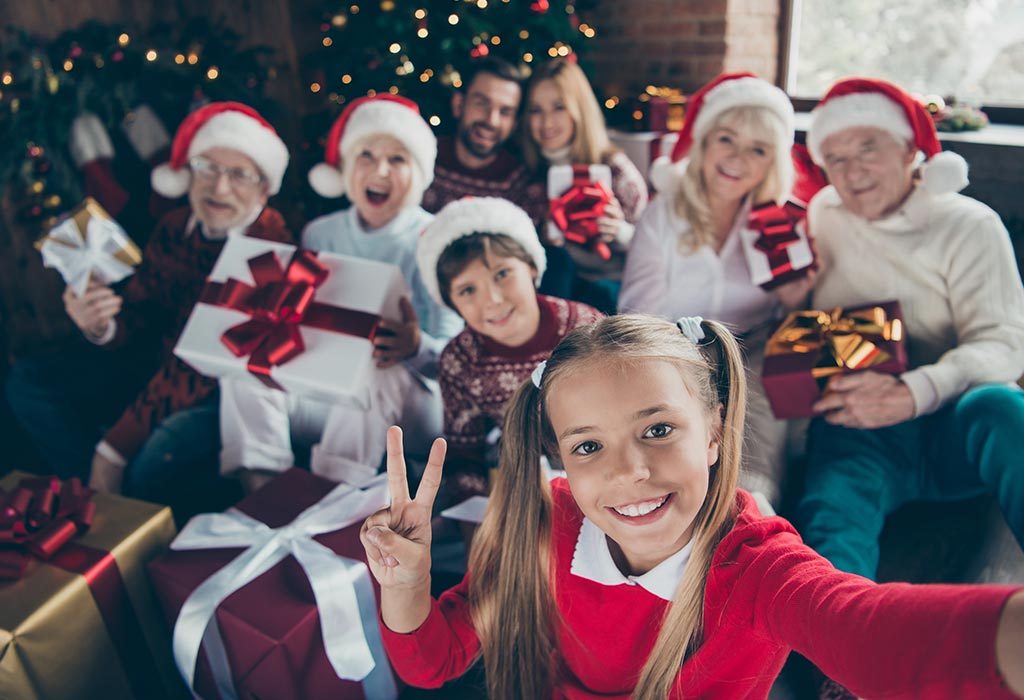 In this Article
What a wonderful time of the year December is! It's the last month of the year, and we can all sit back and relax a little, enjoying the warmth of the house and the company of our family and friends. There is the feeling of having come full-circle, as we gear up for the start of a brand new year. But before that happens, we have one of the most widely celebrated festivals around the world that all children love – Christmas!
Christmas Songs Playlist to Sync in With the Festive Cheer!
The best way to enjoy Christmas is to gather around in a big group with a mug of hot chocolate topped with marshmallows, and put on some festive music! So here is our pick of the 17 best Christmas songs, old and new, that will drive away your winter blues!
1. Last Christmas – Wham
Even someone who doesn't like Christmas will know this song! Celebrated as one of the best heartbreak songs, it is perfect for reminiscing about long-lost friends and lovers, while being grateful for the new ones!
2. All I Want for Christmas – Fifth Harmony
Several artists have covered this song throughout the history of western music. Our favourite is this sizzling rendition by Fifth Harmony. Although the band has split up now, fans can rejoice that they gave us such a beautiful song before that happened. One way to have fun with this song is to sing it to your partner for Christmas!
3. Have Yourself a Merry Little Christmas – Frank Sinatra
Frank Sinatra's voice is the magic of this song – it's warm and leisurely. It is difficult to imagine this song in anyone else's voice, and so for this popular number, 'there's no school like the old school'. This one is perfect for the entire family to sing together too – the words are not so difficult to learn, and it is a universally loved Christmas song.
4. Jingle Bell Rock – Glee
Were you waiting to see the name of this song since you started reading the article? Of course, you were! No Christmas celebration can be complete without this peppy, upbeat song! This song can be a great way to get everyone dancing. Children will especially love this one since it has a simple harmony and a comfortable pace for them to bounce around on.
5. I Saw Mommy Kiss Santa Claus – Amy Winehouse
Another classic that has been covered by many artists, this one tells the story of Christmas – as seen from the eyes of a child! Daddy usually becomes Santa Claus, but the child never knows that! So it is natural for the child to be shocked at seeing mommy kissing Santa Claus!
For this song, we went for Amy Winehouse's version; it is still hard to believe she is no more. Her death was indeed the biggest shock to music fans all around the world. One of the things we have to be eternally grateful for when it comes to Amy Winehouse, however, is making this song immortal for us.
6. Silent Night – Mariah Carey
Another Christmas classic! Mariah Carey is still regarded as one of the biggest pop sensations of her time. So, parents, this one is going to be super nostalgic for you to share with your children! Something about this sexy diva crooning this soulful number creates unparalleled magic. When Mariah starts to sing, all you want to do is close your eyes, and get lost in her voice!
7. Let It Snow! Let It Snow! Let It Snow! – Dean Martin
Even though there are only a handful of places in India where it snows, but snow and Christmas are inseparable – be it in movies, stories, or songs. So how can we celebrate Christmas without a single song about snow? You can bring spray cans or use cotton to create artificial snow in your living room, for your kids to enjoy a proper 'White Christmas'.
8. Santa Tell Me – Ariana Grande
Ariana Grande makes for the perfect impish kid who has been naughty all year round; and rightly so, she seems to be making a very specific demand of Santa – a boy! One who won't break her heart and will be around for next year's Christmas too! You can use this song to indulge in some harmless teasing, dedicating it to your partner! A little bit of jealousy and possessiveness is adorable, so your partner might just be pleased to know you feel so about him! By the way, make sure you watch this video right till the end to enjoy some fun 'behind the scenes' moments.
9. So This is Christmas – Celine Dion
Another crooner we could not have possibly left out of the list! Some people are just born with an angelic voice, that adds a touch of 'divine' to Christmas songs. Celine Dion is definitely one of those people! This song also has a fascinating history, it was written by John Lennon and Yoko Ono at the end of the Vietnam war, making it a beautiful song with a story that you can share with your children.
10. Rudolf the Red-Nosed Reindeer- Harry Connick Jr.
This popular Christmas carol has been covered by many artists, but Harry Connick Jr. made the song so peppy and upbeat that it will lift your Christmas spirit. The wonderful thing about this song is that it can be sung by kids and adults alike, and everyone will love singing along. The best part is that the singer has kids singing in the background, adding to the fun of singing this song.
11. Joy to the World- Aretha Franklin
Another well-known Christmas carol that is sung and played around the world, Aretha Franklin's version of Joy to the World will leave you surprised and enchanted. Her electrifying cover is full of beautiful high notes that will make you want to play it again and again.
12. It's Beginning to Look A Lot Like Christmas- Michael Bublé
No Christmas music playlist is complete without Michael Bublé's songs. He has covered and created numerous Christmas songs, and this is one of his best original songs. His soothing voice and the magical composition will put you in the mood for Christmas at any time of the year. Once you listen to this song, you too will feel that the world around you is beginning to look a lot like Christmas.
13. Santa Claus is Comin' to Town- Bruce Springsteen
Santa Claus is Comin' to Town is a fun, and energetic song and Bruce Springsteen's magical performance of this song will make you wish you were at one of his concerts. His magnificent voice and the saxophone playing in the background make this song so special that you wouldn't want to ever celebrate Christmas without listening to Springsteen's powerful rendition of this classic Christmas song.
14. Santa Shark- Baby Shark Christmas Song
Wondering which song your kids will relate to and enjoy the most during this Christmas season? Don't worry! If you have heard your child singing the Baby Shark song one too many times, get ready for one of the most popular Christmas songs for kids this year- Santa Shark. Written along the same lines, Santa Shark is a Christmas version of the Baby Shark song, and your kids will love singing along to this one as well. It's easy and repetitive lyrics, and slow pace makes the song perfect for young kids, and they would already know the music since it's the same as the Baby Shark song.
15. Christmas is All Around – Billy Mack
We end the playlist with an out-and-out celebratory song! This one too holds a special place in most people's hearts, because of the movie that it was a part of – Love, Actually. One of the best ensemble casts and small yet beautiful roles played by some of our favourite British actors, make it a crowd favourite. Maybe later you and your partner can watch the movie together too (but after you've put the kids to bed since it has a few adult themes as well).
16. Run Rudolph Run – Chuck Berry
This funky blues song is probably everyone's favourite when Christmas comes. Even though it didn't make it to the top charts of 50, it has endearingly become every person holiday favourite. A hot mocha or a drink of your choice, this music, and a dance is something you will definitely enjoy this Christmas.
17. The Star – Mariah Carey
Sung by international singer, Mariah Carey, this song is a magnificent piece of music taken from the movie – The Star. The movie follows the story of the birth of Jesus. The song alone teaches us to have the courage that all our paths will lighten up.
So there you have it – 17 smash hits to help you celebrate Christmas! Gather your family, cut everyone a slice of a delicious Christmas cake, put on this playlist, and share a beautiful time making Christmas memories to last a lifetime! Have a merry one!
Also Read:
Christmas Songs, Poems And Carlos for Kids
Awesome Christmas Cake Decoration Ideas
Fun Christmas Games & Activities for Kids
Amazing Christmas Gift Ideas for Everyone
?>