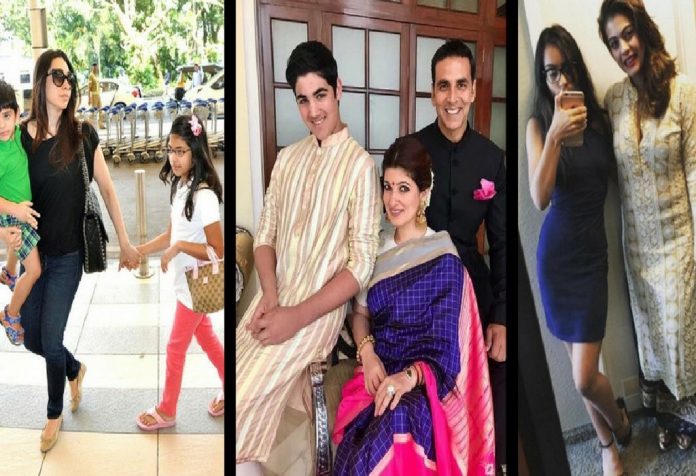 Last Updated on
Spending quality time with their child is important for every mom. This time will fly by before you know it so you better make the most of it! Just look at how these celeb moms' little kids have grown up! Feels like yesterday when we ourselves were teenagers following the style quotient of these celebs!
Celeb or not, every mom loves to flaunt her kids to the world and share every cute moment on social media for family and friends. And these celeb moms are just like you and us with their Instagram posts and Facebook updates. Their social media is a testimony to just how much their kids have grown! The time really flies by and how!
We have collected for you some of the most adorable mommy posts by celeb moms that show just how much their kids have grown! It's time to throwback and relive those beautiful moments of growing up with kids.
6 Bollywood Moms' Adorable Instagram Posts About Their Kids!
1. Twinkle Khanna
The former Bollywood star has a lot on her plate nowadays – author, columnist, interior designer and film producer, and most important of all – full-time mommy! With two cuties, Aarav and Nitara, to run behind, her life sure is a busy one! Just look at how far they've come too!
2. Karisma Kapoor
Single Mommy Karisma Kapoor has made sure to keep her children far away from the limelight as much as possible! With a very public divorce, her children needed a little extra care and she made sure they got all of it! The little munchkins have sure grown up to make mamma proud!
3. Gauri Khan
Gauri Khan may not be a Bollywood actor, but she sure is a Bollywood celeb with her superstar husband SRK always in the limelight! She is also quite the personality herself juggling multiple roles of film producer, interior designer and co-owner of a production house! The couple are very well-known for being family-oriented and Gauri's posts about her brood of kids, Aryan, Suhana and Abram, surely shows it!
4. Amrita Arora
Amrita Arora, Bollywood actress and besties with fellow mommy Kareena Kapoor, has her own little ones, Azaan and Rayaan who are 7 and 5 respectively. As per Amrita's posts, they sure know how to keep their mommy on her toes!
5. Kajol
Kajol, a leading Bollywood actress in her own right, is mom to two with Hubby Ajay Devgan! Little Nysaa has grown up beautifully, and Yug, as Kajol's captions suggest, is proving to be a mischievous charmer!
6. Malaika Arora Khan
Malaika Arora Khan, who sets fitness goals for most mommies around, is a proud momma to two just like sister Amrita. And her kids have sure grown up to be handsome little men!With such a cute brood of celeb babies, we're sure to see a slew of fashionistas prettying up Page 3 in the future! We'll be keeping an eye out for them.