The Ultimate Winter Skin Care Routine for Your Skin Type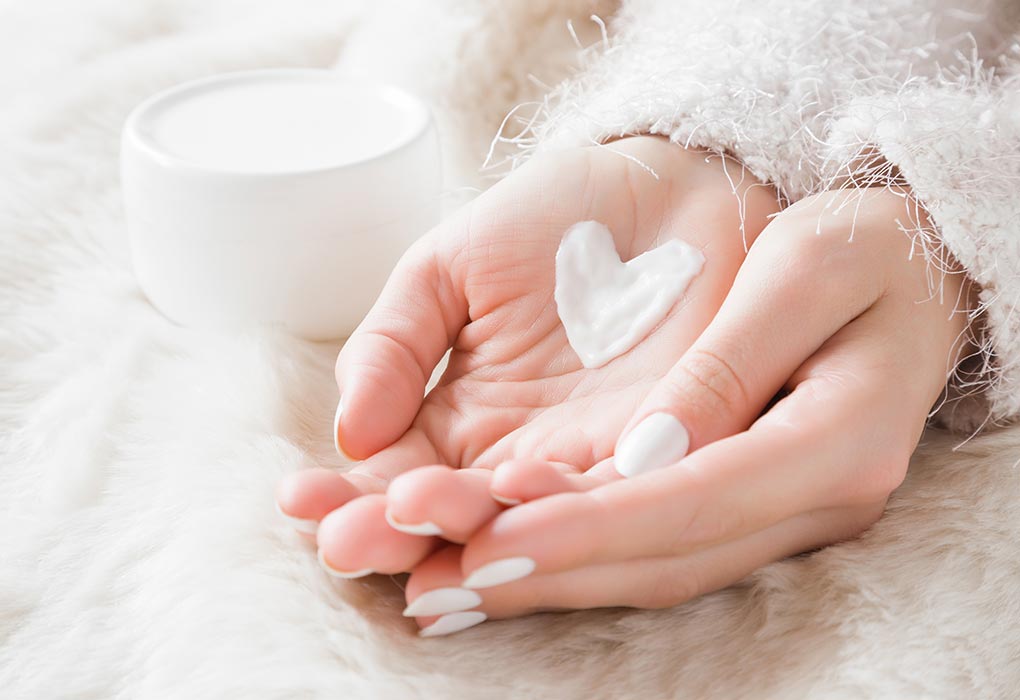 In this Article
Women look forward to winter for various reasons – some wait for that rosy glow on their cheeks, while others just can't get enough of the winter fashion. Some look forward to the holiday season, while others are all set for Christmas. Amidst all of this, just the thought of dry, itchy and flaky skin can bother most women. The added haste of everyday life also would not have given you much time to chalk out a skincare routine for the cold weather. Well, read on to put an end to your worries! We've touched upon winter skincare routines for all skin types – you're about to get a kiss of organic goodness!
Best Winter Skincare Routines for Different Skin Types
When the cold and dry wind is at play, your skin loses most of its natural moisture and leaves you with pale, itchy skin. For women with sensitive skin, cosmetics and skin creams can be really tricky. Since women with different skin types combat various skin problems during the chilly months, the solution for each varies. Scroll on to brush up on your winter skincare routine based on your skin type.
1. For Normal Skin
If you're one of those few lucky women who is blessed with normal skin, you already know that you need not go through an extreme winter skincare routine to keep your skin healthy during the season. Keep a few tips handy so that your skin remains soft and supple in this harsh weather.
Morning Routine
Hydrate your skin in the morning to help it retain its moisture throughout the day. First, rinse your face with lukewarm water as soon as you wake up, to get rid of excess dirt in your pores. While bathing, use a gentle facial cleanser that is ideal for all skin types to wash your face. Then, pat it dry but don't dry it out entirely. Apply a light moisturising cream while your face is still damp so that the cream blends well and spreads evenly. Do this every morning, and your skin will not complain.
Night Routine
Fortunately, the winter night skincare routine for women with normal skin is quite simple. To keep your skin hydrated while you're asleep, all you need is some rose water, glycerine, and a cotton ball. Make a light mixture of the glycerine and rose water and soak the cotton ball in it. Gently dab it on your forehead, cheeks, under-eyes and chin. Keep it overnight. You can store the rest of the mixture in the refrigerator. This works wonders to keep your skin hydrated and even-toned. Stick to this routine to get that pink blush on your cheeks, naturally.

2. For Sensitive Skin
If you have been dealing with redness on your skin, have been facing a reaction to certain products or cosmetics on using them for the first time, or often see bumps and rashes on your face, it's highly likely that you have sensitive skin. All these problems amplify during winters. Here is a great winter skincare routine for women with sensitive skin.
Morning Routine
As far as sensitive skin is concerned, you should be extra careful while choosing your facial cleanser. Opt for a gentle face cleanser and do not apply it more than once per session so that your natural oils stay intact. Next, pat your face dry completely. Then, apply a mild moisturiser that suits your skin and doesn't cause an allergic reaction.
Night Routine
During winters, it's best to ditch the chemicals and stick to pure coconut oil. Apply it on your face and wash with a mild facial cleanser, and while it's still wet, apply some raw honey. Using your fingers, spread the honey evenly on your face and let it stay for about 10 minutes. Then, rinse your face with lukewarm water and pat it dry. Honey has anti-bacterial properties and is perfect for sensitive skin. Women who are allergic to honey can use natural aloe vera gel.
Pro tip: While purchasing cosmetics, read the contents thoroughly; long, complicated words indicate the host of unnatural ingredients present in the cosmetic which might not always be safe for sensitive skin.
3. For Dry Skin
Most women fall prey to dry skin during winters, no matter what their skin type, because cold winds tend to absorb most of the moisture from your skin and leave it rough and dull. The air outside is dry, but your skin need not be! Simply follow this simple winter skincare routine for dry skin, and you're set.
Morning Routine
If your skin is naturally dry, exfoliating it on a regular basis will only make it worse. Also, you should steer clear of foam-based face washes because of their tendency to dry out the skin. It's best to stick to a gentle facial cleanser that is not just hydrating but also efficient in retaining your skin's natural moisture. Before going for a bath, apply some glycerine on your face and hands and let it stay for an hour or so. While bathing, opt for a gentle shower gel and avoid scrubbing your skin too much. You can go for an oil-based moisturiser for your face and arms so that it hydrates your skin effectively.
Night Routine
Make sure you clean your makeup and wash your face thoroughly before going to bed. Glycerine and aloe vera go a long way in hydrating the skin and protect the skin's natural moisture. Make a mixture of these two readily available ingredients and apply it to your face before going to bed. Leave it overnight, and you will notice your skin feel soft and hydrated the next morning.

4. For Oily Skin
If your skin is greasy, you might think that the cold winds will dry out the excess oil in your skin – but that is not true. The dry, harsh weather tends to seep into the skin's natural moisture barrier and causes the skin to lose a lot of moisture. This, in turn, causes the skin to release more oil into the pores to compensate for the loss, keeping your skin oily. Well, we have an effective winter skincare routine for oily skin that will help you tackle these problems.
Morning Routine
Oily skin needs to be treated with care, especially during winters. The best thing you can do in the morning is exfoliating. Scrub your face and body thoroughly, but don't be too harsh. Use a gentle exfoliating gel packed with vitamin E at least twice a week. Most importantly, ensure that your last rinse is with cold water so that the pores close and do not allow excess dirt from slipping in. Next, moisturise. Make sure to pick a gel or water-based moisturiser so that your skin can breathe after application and does not get smothered with more oil. This is an effective skincare routine for oily skin in winters.
Night Routine
Before going to bed, ensure that you remove your make-up and rinse your face using a gentle facial cleanser. This is essential to avoid dirt, sweat and cosmetics from mixing with the excessive moisture in your skin. Fuller's Earth, commonly known as Multani mitti is the best cleansing agent for oily skin. Mix it with some milk and rose water, make a smooth paste, and apply it to your face before going to bed. It naturally absorbs the excess oil from the skin and helps maintain your skin's pH levels. Wash it off with cold water after some time. You can apply this mask to your face twice a week, and you will surely notice your skin's oiliness reducing.
Pro tip: For soft and supple skin, bathe with warm water mixed with a few drops of tea tree oil. This will keep your skin well-hydrated.
5. For Combination Skin
Combination skin can be tricky, especially when specific patches of your face are oily and others are dry. Women with this skin type often use different products for their T-zone (forehead, nose & chin) and others for their cheeks. This frightful weather can just worsen the situation for you. Here's a simple winter skincare routine for combination skin that you can follow to prevent your skin from winter damage.
Morning Routine
If you fall into this category, avoid products that make your skin greasy. Stick to a facial cleanser that is gentle on your skin. Make sure it's good enough to maintain the balance between the oily and dry areas of your skin. Opt for a water-soluble facial cleanser and a toner that will keep your skin moisturised throughout the day. It's best to stay away from richer and creamy textured moisturisers.
Night Routine
Lemon and aloe vera gel will be your best buddies this season. You need only mix a few drops of lemon in organic aloe gel and apply it on your face in the evening. Wash it off with cold water after 15-20 minutes. This will soothe your skin keep it well-hydrated.
No matter what the skin type, most women have to make some adjustments to their winter skincare routine. But this does not mean that you have to spend a fortune on high-end skin products. Feed your skin some organic ingredients, and it'll make your winters a lot easier. It's that simple!