The Easiest Way To Do a Perfect Home Manicure In 8 Quick Steps!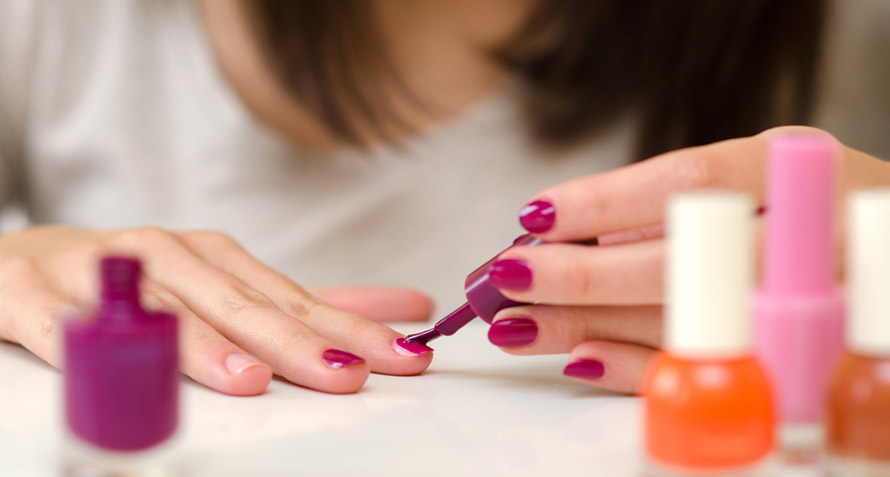 In this Article
The elegance of perfectly manicured, beautiful hands is unmatched. But maintaining them all the time – especially while running around behind kids and managing house chores – seems next to impossible! Those monthly manicure sessions at the salon are sure to add up to the cost and time that you don't have to spare. So, is there a solution?
Yes – a home manicure! You don't have to compromise on having healthy and beautiful hands; you can just get a manicure at home! With these simple steps you can imitate a salon-like manicure at home in 15 minutes, all the while saving a ton of money.
What You Need
Nail Polish Remover
Cotton Buds
Soft Towel
Nail Filer and Nail cutter
Moisturising Hand Lotion
Nail Polish
Shallow Bowl
Warm Water
Cuticle Cream and Stick
Base Coat and Top Coat
Anti-bacterial Liquid Hand Soap
Getting Started
Step 1: Prep Time
Remove your nail polish (if any) with a cotton bud and nail polish remover. Wash your hands with soapy water.
Step 2: Trim It All
Use a nail cutter to trim your nails, if required. Then, shape them using a nail filer. Move the filer smoothly in one direction, moving from one end towards the other. Do not saw back and forth.
Step 3: Time To Relax
Fill up a shallow bowl with warm water and a few drops of anti-bacterial liquid soap. It's time to relax – soak your fingers in this water to soften cuticles before gently patting them dry. Remember, as tempting as it may be, over soaking your fingers can cause harm to your skin – so keep it to 3 minutes or less!
Step 4: Time for Some Cuticle Care
Apply cuticle cream liberally and start pushing back the cuticles gently using a cuticle stick. Remember to not go overboard. Any free edge of the cuticle needs to be trimmed and not torn off – it's not only painful, but will also rip off the cuticle bed that protects your nails from bacteria and infections. Wash your hands with clean, warm water once you're done.
Step 5: The Most Important Step – Moisturizing
Apply some hand cream and massage your hands well till the cream is absorbed completely. Before moving on to the next step, wipe off excess cream from your nails gently using a cotton bud.
Step 6: Build Your Base
Apply a base coat – preferably with a nail strengthening formula and let it dry for a few minutes.
Step 7: Time For Some Colour
Pick your favourite nail colour and start applying it to your nails. Keep in mind the three strokes method – one stroke in the center of the nail before two strokes on the side! Take your time and apply the nail polish smoothly for minimal mess. Nevertheless, keep some cotton buds dipped in nail polish remover handy.
Step 8: Stay Safe With a Second Coat
Once the first coat dries (ideally in 10 minutes), apply a second coat in the same way. Make your nail polish last longer with another top coat. Keep in mind to let the previous coat dry completely to avoid smudges!
And you're done! Time to show off your pretty manicure! Weekly manicures at home are sure to keep your hands looking beautifully elegant at all times. Now, let your hands do the talking with their shine!