The Birth Story of Aamir Khan's Son Azad Is a Powerful Read For Every Parent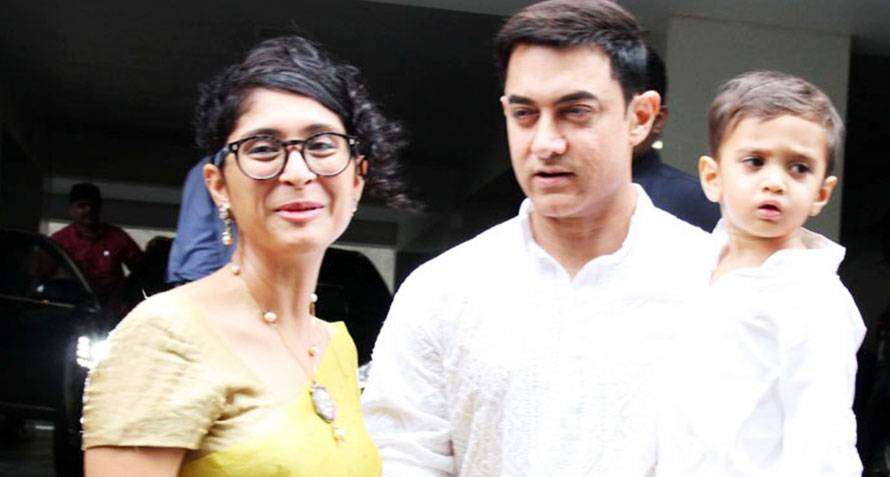 Becoming a parent is an experience that transforms us. To have a little person calling us Mamma and Papa and loving us endlessly is a surreal kind of joy. While some couples have a relatively smooth experience as far as pregnancy and childbirth are concerned, not everyone is as fortunate. Repeated visits to the doctor, surgical procedures, fervent prayer – there's no stone left unturned when you're trying for a baby. But does all this really work? Is it perhaps just not possible for some people to become parents, much as they want to? Aamir Khan and Kiran Rao were going through this phase not too long ago. Their story is a powerful reminder that destiny creates its own path…
Aamir and Kiran were struggling for a baby. However, they were constantly running into difficulties via the natural conception route. This only left them in deeper longing to become parents. When Aamir was younger, his mother used to tell him – "When you will be a parent it is only then that you will realise what it is to be a parent." And he used to wonder.
When their struggle had seemingly reached a dead-end, something happened that rapidly changed things for the better. They were introduced to IVF (In Vitro Fertilisation) and surrogacy – a procedure which is no less than a miracle for those facing difficulties in conceiving naturally.
"We had a lot of trouble while trying to have a child. And I really didn't think it would be possible to have a baby…"
In the process of IVF surrogacy, a gestational carrier or surrogate carries your baby in her womb for nine months and delivers him to you at the end of gestation. The treatment uses the technique of IVF where the egg from the mother and sperm from the father is fertilised to produce an embryo. This embryo is then inserted into the uterus of the surrogate. When Kiran had started to lose all hope of ever becoming a mom, it was this scientific breakthrough that came to her aid. The medical team at Jaslok Hospital, especially Dr. Firuza Parikh, helped her keep faith that her son, Azad, would eventually enter her life. And the day he did, his parents' life changed forever.
"I don't know what I did for those 20 years before Azad was born. My life is so full now. I feel so full and humbled by the joy and the completeness he makes me feel. We have no words to thank (the doctor) and we wake up every morning blessing her and thanking her."
Even though the procedure of IVF and surrogacy is completely scientific, it continues to be a social stigma in India. Speaking at the launch of the Fertiltree International Fertility Center, Aamir shared his personal experience with the procedure. The couple had no hurdles opting for the technique. It was just a medical intervention that made it possible for him to become a father again. Everything was as usual – from the joy of first holding him in his arms to seeing him now as a rapidly growing young man. Aamir feels it is important that people should understand there is NOTHING WRONG about this approach. It is high time that couples are confident enough to explore this miraculous solution and not feel stigmatised.
"Nature blesses us many advantages and disadvantages. We have to take everything in our stride and today in the age of medical miracles it is easy to avail help and have a child. There are so many parents — even single parents — who are unable to have a child and the fact that Dr Firuz and Jaslok are able to give this joy to so many people out there is really wonderful. It's really changed the lives of many people."
Following their lead, many other Bollywood celebrities are also coming out in the open and becoming parents through IVF. Recently, actor Tusshar Kapoor also became a single Daddy to baby boy Laksshya using this approach. He too underwent his fair share of stigma and societal pressure. In fact, his parents even encouraged him not to announce his decision in public! But Tusshar is a proud Daddy and he let everyone know. Laksshya is his son and everything else is just secondary.

"Initially my parents were a little bit apprehensive whether I should announce the child to be one born through IVF and surrogacy or not. "Because they were like 'You don't know how it is going to be taken in India, why even announce it, why don't you just tell friends, then the friends will tell more friends…'"
Having a baby is an experience you shouldn't lose out on. In fact, if it warrants struggle, going out of the way, or standing up against an unfriendly society – do it! Nothing will compare to the joy you will feel when your baby grips your fingers with his. IVF is just another way of making it possible for you to feel this joy if nature has been harsh on you otherwise. Embrace it, be strong, and don't let anything stand between you and the baby who comes in your dreams every night.