Tandoori Prawns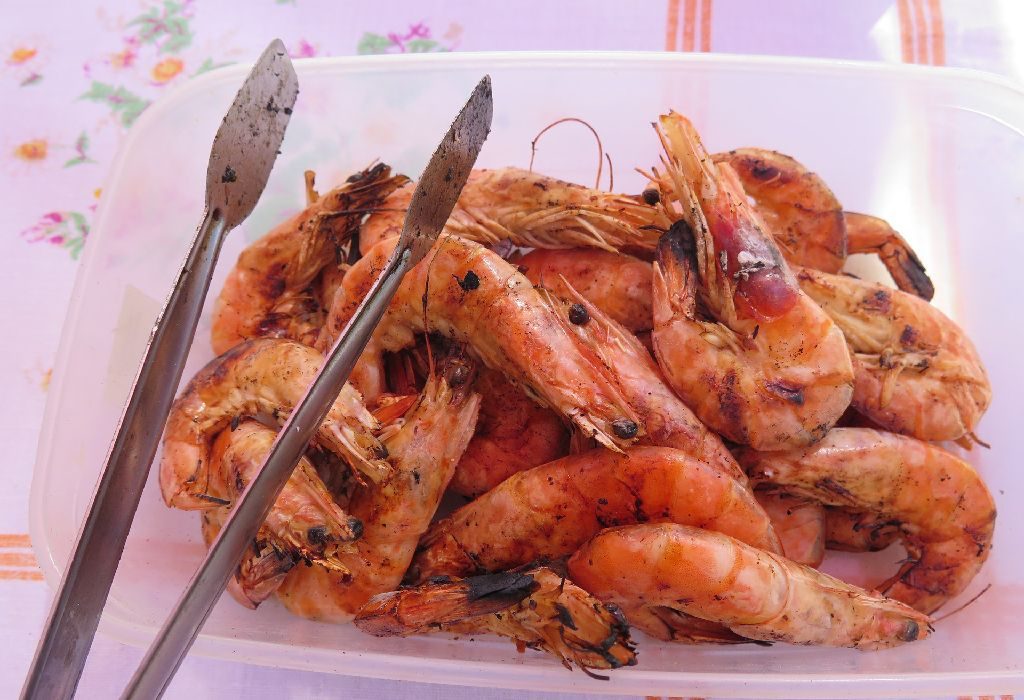 In this Article
This weekend, cook up this crowd-pleasing main course dish for a family get-together and be at the center of all the praises, compliments and the please-tell-us-the-recipe inquests. Serve this full-flavoured lovely starter dish with a side of cucumber raita or boondi raita to cool off its fiery hotness.
| | | |
| --- | --- | --- |
| Serves | Preparation Time | Cooking Time |
| 4 People | 15-20 Minutes | 15-20 Minutes |
Ingredients
500 gm tiger prawns, de-veined and shelled
2 tbsp black peppercorns
10 gm cardamom
10 gm coriander seeds
4 cloves
1 tbsp turmeric powder
2 bay leaf
2 tbsp cumin seeds
2 tbsp garlic paste
2 tbsp ginger paste
Salt to taste
Food colour, red (optional)
Method
Step 1
Take de-veined and shelled tiger prawns and wash them properly.
Step 2
In a bowl, take turmeric powder, red chilli powder, ginger and garlic paste, crushed peppercorns, cumin seeds, coriander seeds, cardamom and cloves. Mix it well.
Step 3
Add prawns to the above mixture and let the masala coat the prawns well. Allow it to marinate for 15 – 20 minutes.
Step 4
Heat a lightly oiled chargrill pan or barbeque on medium-high heat and thread prawns onto 3 – 4 skewers.
Step 5
Keep rotating the sides of the prawns so that it cooks well. It will take around 15-20 minutes.
Step 6
Roast it till it develops a golden brown.
Step 7
You can even add food colour in the marination, but its best to avoid it.
Step 8
Serve hot with green chutney.
Nutritional Information
| | |
| --- | --- |
| Calories | 184 Kcal |
| Proteins | 29.8 g |
| Fat | 3.1 g |
| Carbohydrates | 8.3 g |
| Cholesterol | 263 mg |
| Sodium | 313 mg |
| Potassium | 360 mg |