Tandoori Chicken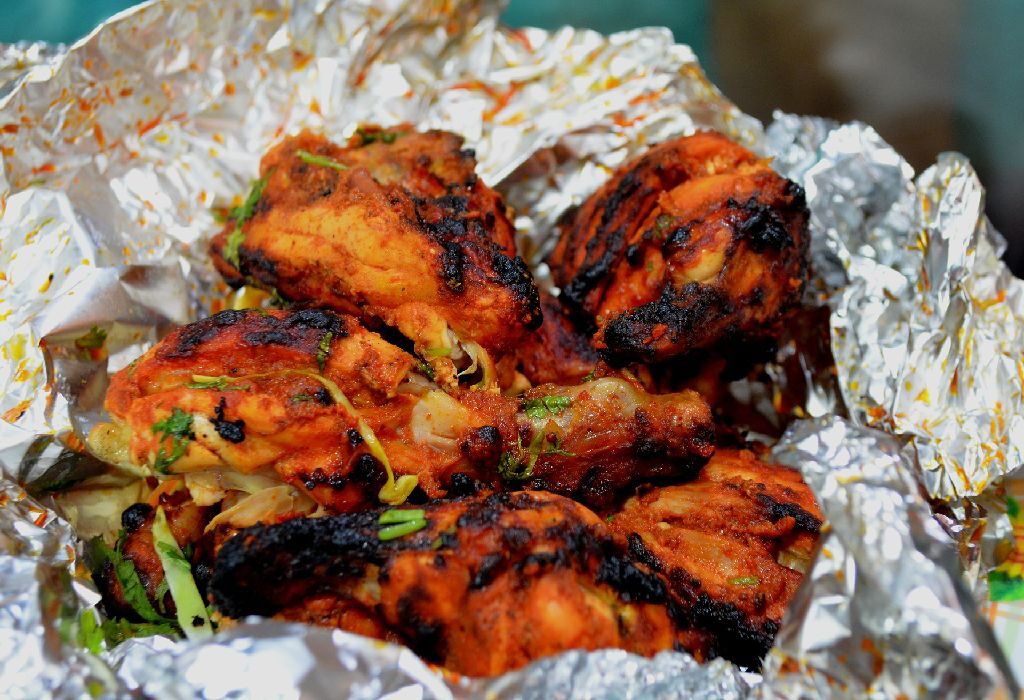 In this Article
Tandoori chicken really needs no introduction. The flavour, colour and the aroma of freshly ground spices used in preparing chicken tandoori makes it what it is. The combination of blazing hot appearance and the fiery taste is something that would compel even the pickiest of eaters for one more piece of this decadent aliment. Given forth is an interesting recipe which you can easily create in your own kitchen.
| | | |
| --- | --- | --- |
| Serves | Preparation Time | Cooking Time |
| 4 People | 15-20 Minutes | 25-30 Minutes |
Ingredients
6 chicken pieces (2 each of breasts, thighs and wings)
For Marination
4 tsp red chilli paste
2 tbsp ginger paste
2 tbsp garlic paste
1 tbsp chaat masala
4 tbsp curd
1 tbsp lemon juice
For Tandoori Masala
1 cinnamon stick
2 tbsp black peppercorns
10 g cardamom
10 g coriander seeds
4 cloves
1 tbsp turmeric powder
2 bay leaves
2 tbsp cumin seeds
Method
Make deep cuts in chicken pieces so that the masala gets marinated in the pieces nicely.
For Marination
Step 1
In a bowl, take red chilli paste, ginger paste, garlic paste, chaat masala, and lemon juice. Mix all the ingredients. Now add curd to the bowl and stir it well.
Step 2
Add the chicken pieces and mix it properly with the marination paste.
Step 3
Allow it to rest for 45 minutes.
For Tandoori Masala
Step 1
In a mortar and pestle, add cinnamon stick, black peppercorns, cardamom, coriander seeds, cloves, turmeric powder, bay leaves and cumin seeds. Grind into a smooth powder.
Step 2
Apply the ground masala to the marinated pieces and keep it for another 5 mins.
Step 3
In the meantime, grease your tandoor or a barbeque stand with oil, so that the chicken pieces do not stick to it.
Step 4
Place the chicken pieces in the tandoor or on the barbeque stand and allow it to cook for about 15 – 20 minutes. Keep rotating the sides, to ensure that it cooks from every side.
Step 5
Serve it hot with pickled onions or mint chutney.
Nutritional Information
| | |
| --- | --- |
| Calories | 261 Kcal |
| Proteins | 43.4 gm |
| Fat | 6.3 gm |
| Carbohydrates | 8.0 gm |
| Cholesterol | 109 mg |
| Sodium | 207 mg |
| Potassium | 523 mg |