Tamarind dates chutney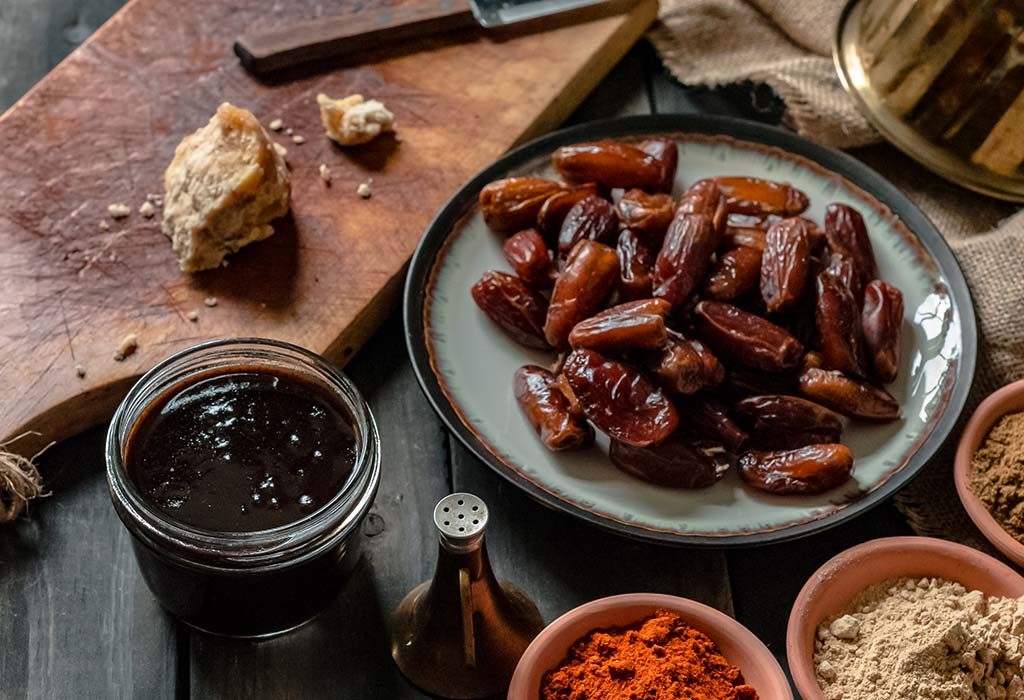 In this Article
This khatti – meethi chutney is made from seedless tamarind, dates and jaggery. It has a sweet and tangy taste. It is one of the must have three chutneys for chaat recipes like bhel. It is a must-have dip or a stir-in-mix in many Indian snacks or street-food recipes like kachori, dahi-vada, aloo tikki chat, chole chat, samosas, pakora, and so on. You can make a big batch of this chutney as it stays for more than a month in the refrigerator and if you freeze it, then, it is good for 3-4 months.
| | | |
| --- | --- | --- |
| Serves | Preparation Time | Cooking Time |
| 6 People | 15 Minutes | 20 Minutes |
Ingredients
1/4 cup seedless Tamarind (Imli)
1/2 cup seedless Dates
1/2 cup Jaggery (Gud)
1/2 teaspoon Red Chili Powder
1/2 teaspoon Cumin Powder
1 teaspoon Coriander Powder
1/4 teaspoon Garam Masala
3 cups hot Water
Salt
For Tempering (optional)
1 Green Chili, finely chopped
1/4 teaspoon Cumin Seeds
1/2 teaspoon Ginger-Garlic Paste
1/4 teaspoon Sesame Seeds
1½ teaspoons Cooking Oil
Method
Step 1
Chop dates and jaggery into small pieces. You can also grate jaggery.
Step 2
Soak chopped dates, jaggery and tamarind separately in hot water for 10 minutes.
Step 3
Boil them together over low flame for approx. 8-10 minutes or until dates become soft and tender.
Step 4
Turn off flame and allow to cool for 10 minutes.
Step 5
Transfer tamarind, dates, jaggery and water to a blender and puree them.
Step 6
Place strainer over a bowl and pour the puree in to it.
Step 7
Strain the puree using a spoon through it. Squeeze the residue for leftover pulp.
Step 8
Discard any residue and transfer the strained puree to a pan.
Step 9
Add salt, red chili powder, cumin powder, coriander powder and garam masala and mix well.
Step 10
Transfer to a bowl and serve with or without tempering. Tempering is optional and following are the steps for tempering.
Step 11
Heat oil in a small pan.
Step 12
Add cumin seeds; when seeds begin to crackle, add chopped green chili, ginger-garlic paste and sesame seeds.
Step 13
Sauté for 30-40 seconds. Turn off the flame and immediately pour the tempering over prepared chutney, mix well.
Nutritional Information
Serving size: 1 tbsp
Calories
27
Sodium
118 mg
Total Fat
0 g
Potassium
0 mg
Saturated
0 g
Total Carbs
6 g
Polyunsaturated
0 g
Dietary Fiber
1 g
Monounsaturated
0 g
Sugars
5 g
Trans
0 g
Protein
0 g
Cholesterol
0 mg
Vitamin A
0%
Calcium
1%
Vitamin C
3%
Iron
2%
*Percent Daily Values are based on a 2000 calorie diet.
Your daily values may be higher or lower depending on your calorie needs.
Tips:
Do not temper if you want to store this chutney.
Reduce the amount of water to 1 cup to make a thick dip or you can add more water to prepare a diluted dip. Add water to only the needed portion, and not to the whole batch otherwise, it decreases the shelf life of chutney.